A SIDE-BY-SIDE COMPARISON
Formlabs Fuse 1+ 30W vs. Markforged X3, X5, X7, Mark Two
Looking for a versatile, professional 3D printer for producing strong, long-lasting parts? See why the Formlabs Fuse 1+ 30W is the leading industrial-grade SLS 3D printer for engineers and manufacturers.
Request a Free Sample Part
Print Technology
Formlabs Fuse 1+ 30W
Selective Laser Sintering (SLS)
Selective laser sintering is the most common additive manufacturing technology for industrial applications, trusted by engineers and manufacturers across different industries for its ability to produce strong, functional parts. 
The Fuse 1+ 30W is the first benchtop industrial SLS 3D printer that offers high quality, compact footprint, and a complete, simplified workflow at a fraction of the cost of traditional industrial SLS systems.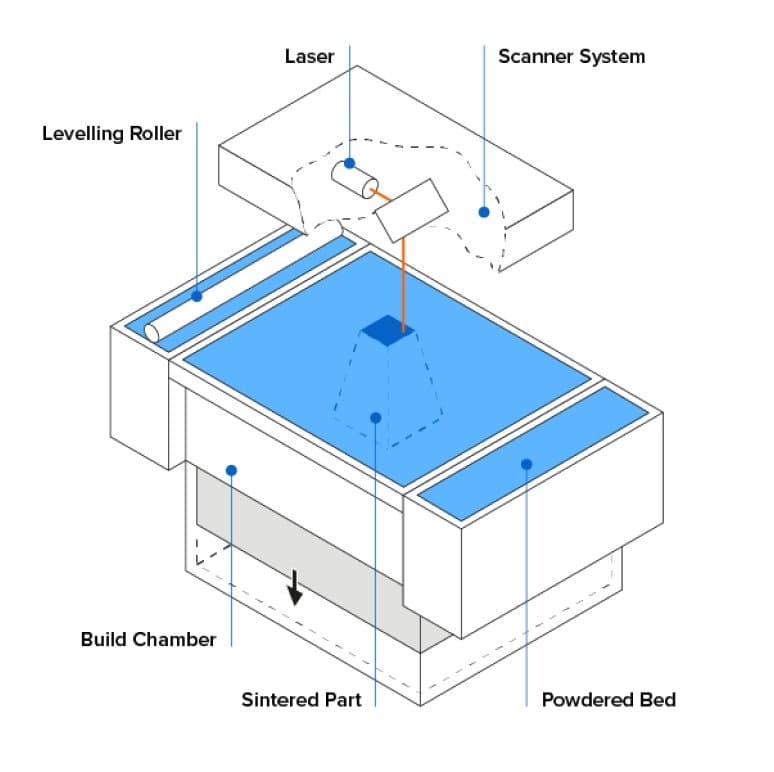 BENEFITS
Excellent mechanical properties
Great accuracy and print quality
No need for support structures
High throughput
Cost-efficient for large production runs
Production-ready
DRAWBACKS
Lower strength than continuous fiber-reinforced parts
Manual workflow to extract and clean parts during post-processing
APPLICATIONS
End-use parts
Short-run, bridge, or custom manufacturing
Functional prototyping
Long-lasting, durable manufacturing aids
Medical devices, prosthetics, and orthotics
Print Quality
Formlabs Fuse 1+ 30W
Accurate and repeatable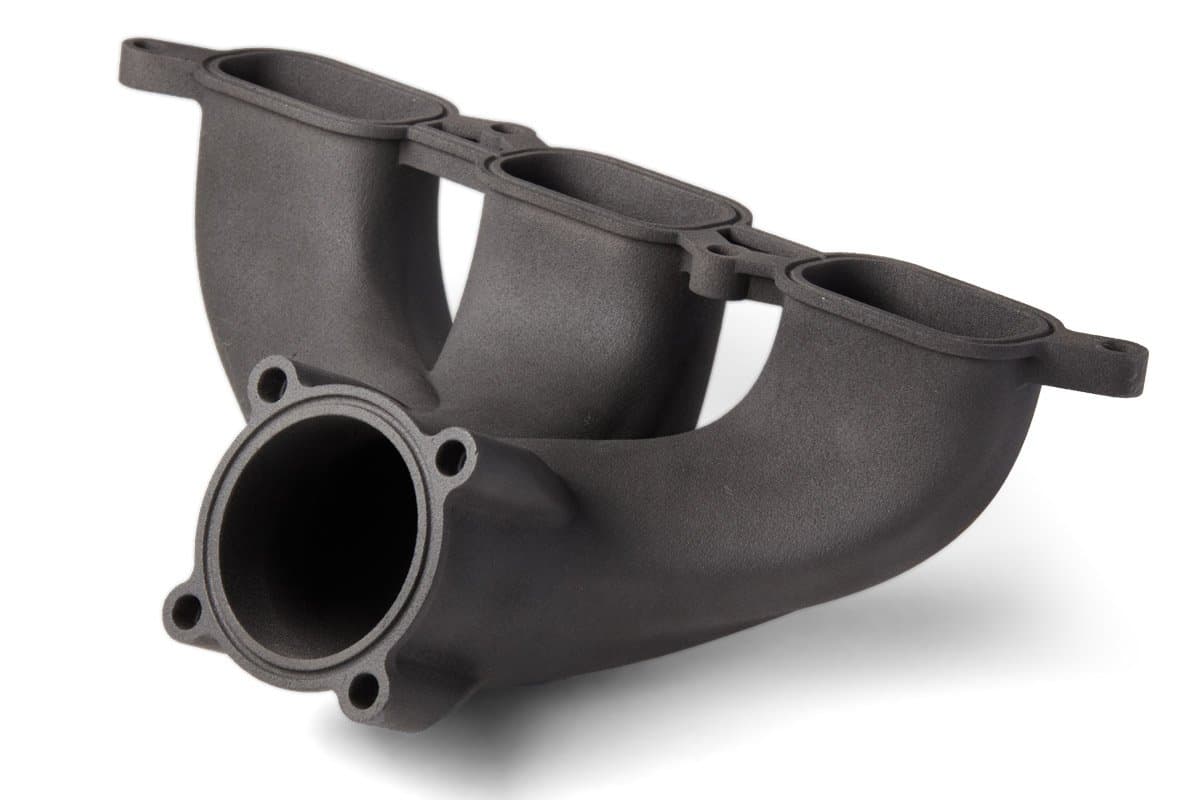 SLS 3D printers use a high-powered laser to fuse small particles of polymer powder. The unfused powder supports the part during printing and eliminates the need for dedicated support structures. This makes the Fuse 1+ 30W ideal for complex geometries, including interior features, undercuts, thin walls, and negative features. Parts produced with SLS printing have excellent mechanical characteristics, with strength resembling that of injection-molded parts.
Request a Free Sample Part
Costs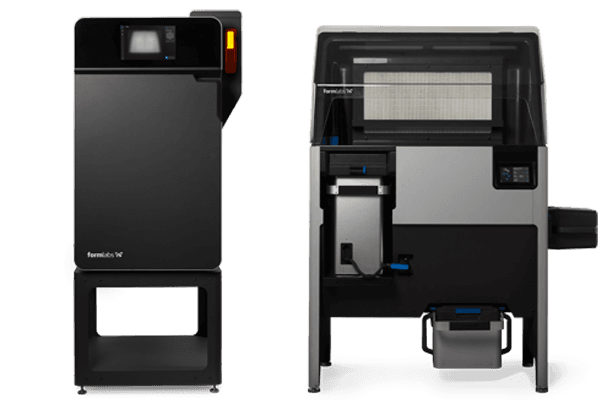 Formlabs Fuse 1+ 30W
Starting at $27,999
The $27,999 starting price includes all the essential tools required to start printing and access to all software features. For $40,535, the complete setup includes an advanced post-processing and powder recovery station, and a professional service plan for one year for a turnkey solution.
Build your quote in our online store and buy directly from Formlabs via sales or locally from a worldwide partner network.
MATERIAL COSTS
Affordable
Formlabs Nylon Powders start at $100/kg and even the most expensive carbon-fiber reinforced powder is only $166/kg.
Build Volume
Formlabs Fuse 1+ 30W
16.5 x 16.5 x 30 cm
6.5 x 6.5 x 11.8 in
Throughput
Formlabs Fuse 1+ 30W
High
SLS 3D printers allow you to pack parts tightly to optimize each build for the highest productivity. The Fuse 1+ 30W is designed for nonstop throughput; it comes with a removable build chamber, allowing you to start new prints right after the previous print has finished to minimize downtime. Post-processing a large batch of parts with the Fuse Sift also allows you optimize for the lowest time per part.
Try PreForm Now
Materials
Formlabs Fuse 1+ 30W
Four high-performance materials, more coming soon
The Fuse 1+ 30W currently prints with Nylon 12, Nylon 12 GF, Nylon 11, and Nylon 11 CF.
Nylon 12 is a general-purpose, versatile material with high detail and great dimensional accuracy.
Nylon 11 is a ductile, strong, flexible material for when durability and performance are key.
Nylon 12 GF is a glass-filled material with enhanced stiffness and thermal stability for demanding industrial environments.
Nylon 11 CF is a carbon-filled composite for end-use applications that require both high stiffness and superior strength. More materials are coming soon.
WASTE
Zero waste printing
By optimizing packing density and powder recyclability, the Fuse 1+ 30W can print without any waste, enabling lower cost per part and improving sustainability.
Markforged X3, X5, X7, Mark Two
Print Technology
Markforged X3, X5, X7, Mark Two
Continuous Fiber Reinforcement (CFR)
Markforged technology is based on fused deposition modeling (FDM), also known as fused filament fabrication (FFF), which is the most widely used form of 3D printing at the consumer level.
The Mark Two, X5, and X7 models can also lay down a combination of continuous carbon or fiberglass threads and polymer on the XY plane to selectively enforce certain planes or axes of pressure.
BENEFITS
Good accuracy and print quality
Reinforced parts as strong as metals on the XY plane
Minimal post-processing for simple designs
DRAWBACKS
Anisotropy (weaker in Z dimension)
Lower resolution and worse surface finish
Limited ability to print complex parts
APPLICATIONS
End-use parts
Functional prototyping
Long-lasting, durable manufacturing aids
Resolution
Markforged X3, X5, X7, Mark Two
Varies
Markforged 3D printers build parts by melting and extruding thermoplastic filament, which a printer nozzle deposits layer by layer in the build area. This technology offers lower resolution and accuracy compared to SLS and printed parts show more visible layer lines. It is well-suited for simple parts that might typically be machined, but complex designs or parts with intricate features require excessive support structures to print successfully.
Cost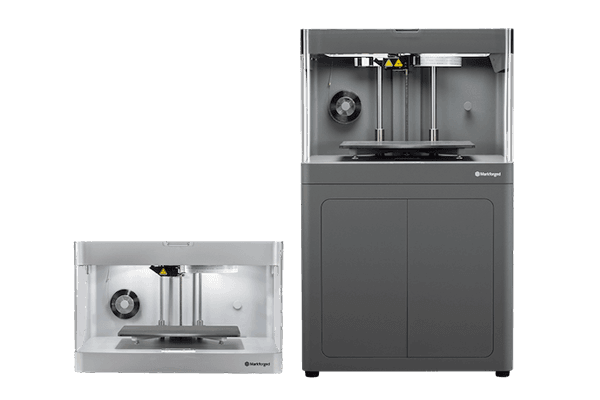 Markforged X3, X5, X7, Mark Two
Starting at $19,900 to $77,990
The desktop-format Markforged Mark 2 starts at $19,900, while the large-format industrial X series starts at $39,990 for the X3 and tops out at $77,990 for the flagship X7. Service plans cost an additional 10% of the cost of the printer per year. 
Complicated and opaque pricing, requires multiple quote requests and negotiation.
MATERIAL COSTS
Expensive
The Onyx carbon-filled nylon filament costs $200/kg, while reinforcement materials are substantially more expensive, up to $2500/kg for carbon fiber.
Build Volume
Markforged X3, X5, X7
33 x 27 x 20 cm
13 x 10.6 x 7.9 in
Markforged Mark 2
32 x 13.2 x 15.4 cm
12.6 x 5.2 x 6 in
Resolution
Markforged X3, X5, X7, Mark Two
Low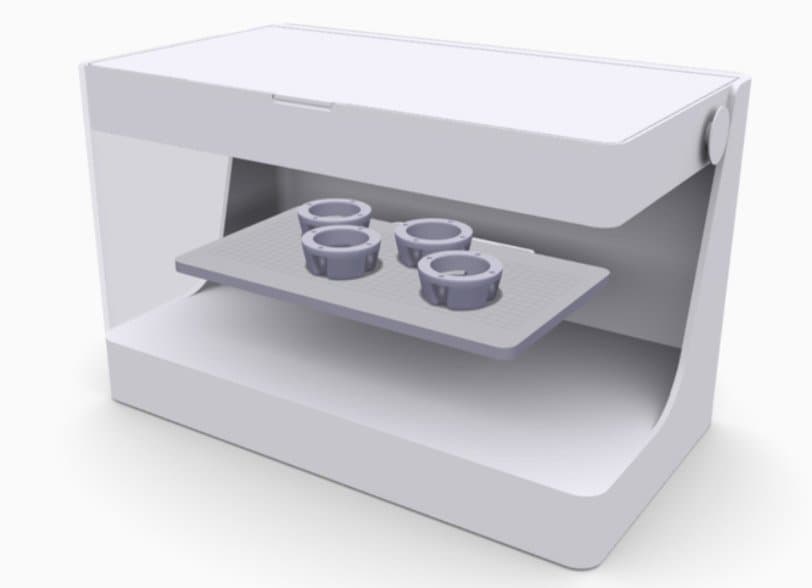 Filament-based 3D printers only allow you to lay out parts on the build platform, which means that most of the build volume is generally not usable. With Markforged printers, this is further exacerbated by the fact that the reinforcements can only by laid down on the XY plane, which complicates the orientation of the parts.
Materials
Markforged X3, X5, X7, Mark Two
Four to five base plastics, zero to five reinforcement options
The base material for Markforged printers is Onyx, carbon-filled nylon filament. Onyx is also available in ESD-safe and flame-retardant varieties. Depending on the printer model, common FDM materials like nylon, PLA, and TPU are also available. Continuous fiber reinforcement materials include carbon fiber, kevlar, and fiberglass.
WASTE
Wasteful
Depending on the complexity of the design, support structures are required for printing parts successfully, which leads to excessive waste.
Do you have more questions about the differences between these solutions?
High Quality Parts, Quickly and Affordably
Reduce costs, iterate faster, and bring better experiences to market with our advanced 3D printing materials designed to deliver beautiful final parts for a wide range of applications.
Weekly Throughput
10 bindings
70,000,000 Parts Printed With Formlabs Technology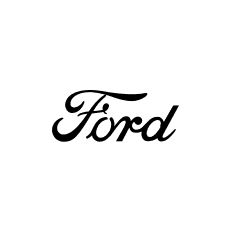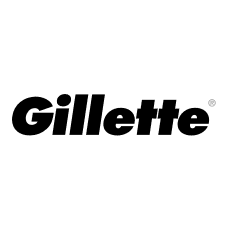 Request a Free Sample 3D Print
See and feel Formlabs quality firsthand. We'll ship a free sample part to your office.
From Fuse 1+ 30W to Fuse Sift:
A Convenient, Intuitive Workflow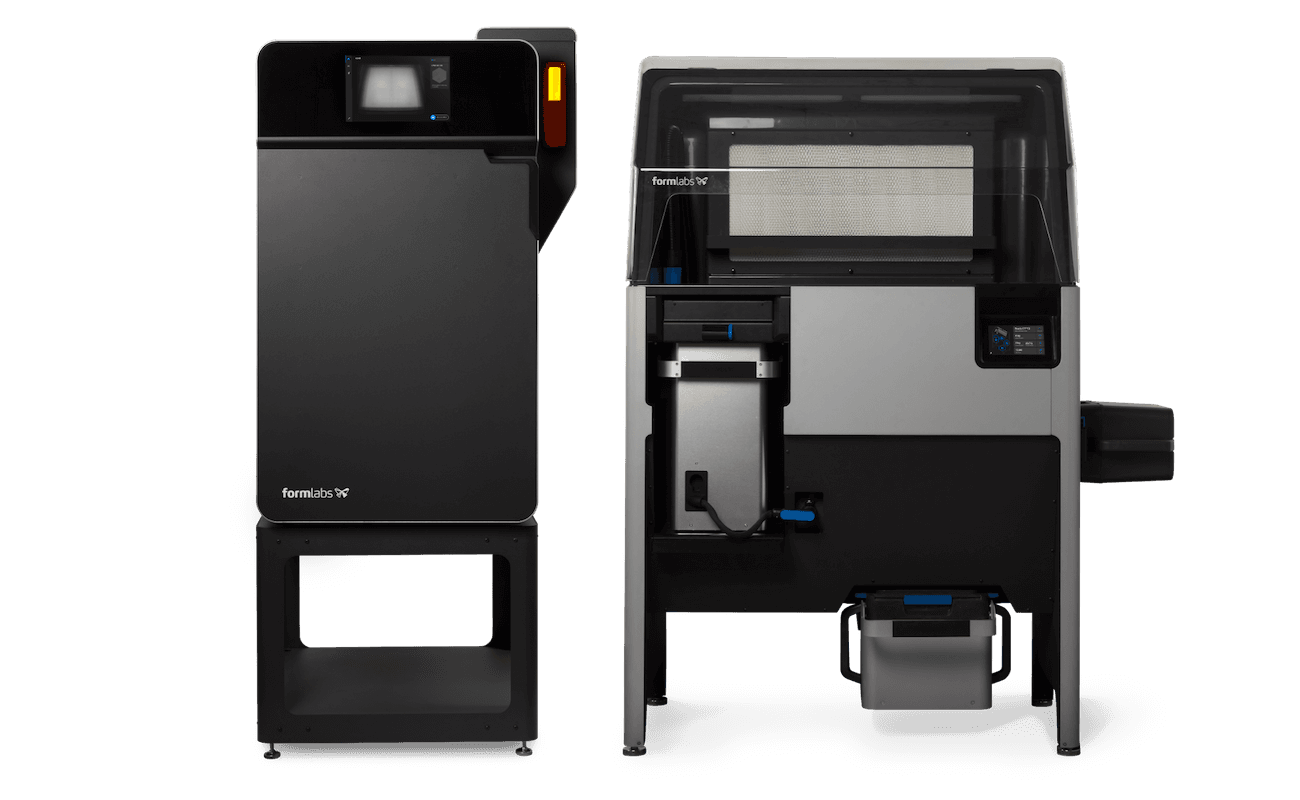 Fast, Simple
Maximize prints with minimal setup.
Use our free print preparation software, PreForm, to import STL or OBJ files, orient models, estimate print times, and monitor prints.

PreForm's part packing algorithms can automatically arrange many models in a build to maximize the packing density, reduce print time, and limit waste.
Try PreForm
Manageable
SLS, made manageable from wherever you are.
During setup and printing, an intuitive Touch UI walks you through every step.

The touchscreen displays a live stream of the print bed so you can watch each new layer take shape. This camera view is also available from your computer in PreForm so you can monitor your print without leaving your desk. 

Take control of your production across multiple locations and machines. Track print jobs and material flow all in one cloud-based Dashboard to ensure minimum downtime and maximum output.
Consistent

Reliable, consistent printing.
SLS 3D printing fuses powder layer by layer. The unused material supports the parts during printing so you can create complex, interconnecting designs with no need for support structures.
Patent-pending Surface Armor technology creates a semi-sintered shell around the surface of each part, enhancing mechanical properties and surface quality without the hassle of a large, industrial footprint. These qualities are heightened even further when using the inert gas print option available with Fuse 1+ 30W.
Powder Recovery
All-in-one powder recycling and recovery.
Our all-in-one powder recovery station, Fuse Sift, combines part extraction, powder recovery, storage, and mixing in a single device.
Produce fully-functional parts with competitively high powder recyclability to enable less waste and lower cost per part.
Fuse Sift will dispense and mix used and new powder automatically so you can reduce waste and control your powder supply.
Nonstop Throughput

Designed for
24/7 throughput.
Achieve faster-than-ever printing speeds to deliver prototypes and small series of end-use parts in under 24 hours.

Enable continuous throughput by adding a second, removable build chamber to any Fuse Series workflow.

Industry-leading rapid cooldown times allow you to start a new print within 1-2 hours of your previous print job.