In-House 3D Printing For Next-Generation Oxygen Tracking
After receiving a diagnosis of severe pulmonary hypertension (PH) due to Eisenmenger Syndrome (irregular blood flow in the heart and lungs), Shavini Fernando knew she had to find a way to monitor her oxygen levels. While working on a solution, she personally experienced multiple medical emergencies, including cardiac arrests due to a precipitous decline in oxygen levels, necessitating self-CPR to revive her heart.
Fernando's long and uncertain journey led to her inventing OxiWear, an ear-wearable, vital signs monitoring, and emergency alert accessory that sits comfortably over the upper ear. Unlike other oxygen saturation (SpO2) monitors that give a single reading when a user is stationary, the OxiWear device provides constant monitoring throughout the day. Fernando's invention has the potential to monitor over 30 conditions for which declining oxygen levels are a significant concern, and help bring a sense of normalcy to patients' lives.
In this post, we sit down with company founder Shavini Fernando to hear about how she built this innovative new device, why she uses multiple 3D printing materials, and what's next for OxiWear.
Continuous Oxygen Tracking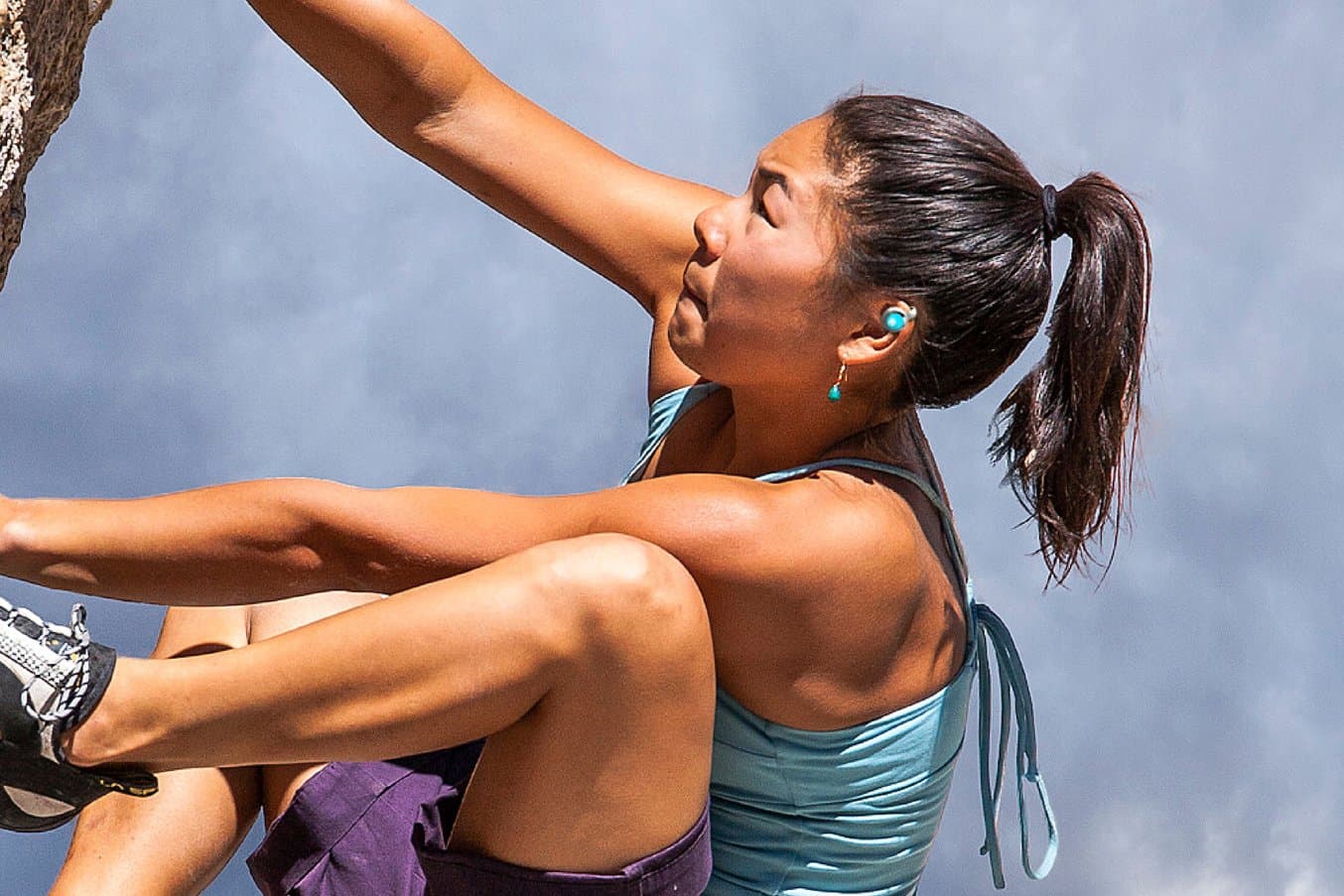 OxiWear is an ear-wearable oxygen tracker, the first of its kind to offer continuous oxygen saturation and vitals monitoring. Fitting snugly over the users' upper ear, the device is meant to track your vital signs without being intrusive or uncomfortable. Small in size, light-weight, water-resistant, and with multiple customizable cosmetic options, Fernando said that she is "aiming to make the device smaller, and even more stylish. I don't want it to look like a medical device, but rather something I would want to wear."
Under the hood, the OxiWear device packs a serious punch. The device pairs with a mobile app to provide real-time monitoring allowing users to track their own progress and set alerts if vital signs fall below a specific threshold. Fernando told us that, "Before COVID, we had a hard time convincing people that they needed continuous oxygen tracking." However, after several years with public health and respiratory symptoms top of mind, the use cases have now become readily apparent.
Despite being new to the market, OxiWear has already secured the support of a prestigious and highly competitive partner. Athletes participating in the World's Highest Obstacle Course Racing (OCR) and Altitude OCR taking place on Mount Everest need to have their oxygen levels monitored for safety, but at the same time the device can't be intrusive for the participants. The company chose to partner with OxiWear because they want to detect and prevent life threatening medical conditions, such as high-altitude pulmonary edema (HAPE), high altitude cerebral edema (HACE), and altitude sickness, all caused by hypoxia, or low oxygen saturation in the body tissues.
Dave Pickles, Co-Founder, World's Highest OCR & Altitude OCR

"We are delighted and excited about the new partnership. We are keen to start testing the OxiWear product and believe it will help contribute in a strong, effective and quality assured way. The transferable technology is clear for us to see and will help collect data in the remote and austere environments in which we operate."
Prototyping parts and Creating ESD Resin Jigs
Like many hardware startups, prototyping and manufacturing costs were a huge barrier for Fernando when trying to develop OxiWear. The team wound up using a single Form 3B to not only prototype their device, but to create static-dissipative jigs printed in Formlabs ESD Resin.
Fernando told us that, "As a new company just getting started, 3D printing in-house was huge for us, greatly reducing costs over the course of the development lifecycle and it allowed us to test multiple prototype designs simultaneously.  Before 3D printing, each time we had to outsource a prototype, it was about $200 USD.  Each device prints on the Form 3B for pennies."
Formlabs printers are versatile, and a single printer can print in over 20 materials, making sure that users have the perfect material for their application. OxiWear used three different materials when prototyping and producing their device:
Elastic 50A Resin: The softest Engineering Resin offered by Formlabs, this 50A shore durometer material is suitable for prototyping parts normally produced with silicone. Choose Elastic 50A Resin for parts that will bend, stretch, compress, and hold up to repeated cycles without tearing, and spring back quickly to their original shape. That is why OxiWear turned to Elastic 50A Resin to prototype the soft ear molds, making sure they had the perfect shapes to fit on the user's ears.
Grey Pro Resin: Grey Pro Resin's high precision, moderate elongation, and resistance to deformation over time make it a versatile material suitable for a wide range of engineering applications. It's dark grey complexion makes it an excellent choice for looks-like prototypes. OxiWear used Grey Pro Resin to prototype the hard carry case for the OxiWear device.
ESD Resin: Use ESD Resin to prototype and validate electronics production workflows, print static-dissipative parts that repel dust and powder, and create enclosures to protect sensitive electronics from static discharge. OxiWear used ESD Resin to create custom manufacturing jigs.
Prototyping the product's charging case was important to determine where the charging ports would go, and to make sure the earpieces fit perfectly. Any change to the earpiece meant the charging case also had to be adjusted, which was as easy as 3D printing a new case. While creating the charging case, Fernando joked that "my house was like a small factory" given the amount of prototypes and parts she printed. Once the team was happy with the case, they sent the file off to be mass produced via injection molding.
While evaluating the devices, a new problem emerged during manufacturing, as the internal circuit boards were short-circuiting. Fernando turned to ESD Resin to create a series of custom jigs and figures for her manufacturing partners in South Korea. The new jigs and fixtures prevented damage to the circuit boards by allowing the static to dissipate, a key property of the ESD Resin.
Electrical engineer George Beckstein, OxiWear's CTO, oversees the transition to large-batch production for OxiWear. Looking to reduce yield loss during manufacturing, he turned to ESD Resin for the custom fit fixtures. "Due to the small size of our parts, they can be hard to manufacture. And if we lose a motherboard to ESD shock, you're looking at $30-$40 of materials gone to waste. I couldn't find any print services that were offering this type of material, but it was perfect that Formlabs was offering it," Beckstein told us.
Oxygen Monitoring, On Your Ear
OxiWear is rolling out its device in the United States for athletic tracking this year, with future plans to gain FDA approval for medical use. Fernando told us her ultimate goal for the company is "to have every person wearing OxiWear. The device has potential to service a huge audience, from nursing homes, athletes, and even infants one day."
To learn more about OxiWear, you can meet Fernando at the 2022 Formlabs User Summit.