Patents for Humanity 2023: 3D Printing COVID-19 Swabs
The United States Patent and Trademark Office periodically awards the Patents for Humanity, which "recognizes innovators who use game-changing technology to meet global humanitarian challenges. The program provides business incentives for reaching those in need: winners receive an acceleration certificate to expedite select proceedings at the USPTO, as well as public recognition of their work."
Earlier this year, University of South Florida Health, Northwell Health, Tampa General Hospital and Formlabs earned national recognition for 3D-printed nasal swabs used during the COVID-19 pandemic.
The official award states: "USF developed 3D-printed nasal swabs used when nasal swabs used in covid tests were in short supply at the height of the pandemic …. Completing a multisite national clinical trial out of Tampa General Hospital in two weeks, a process that typically takes years, the team produced a swab that cost between $0.25-$0.46 each, depending on an institution's print and lab resources, compared to an average of $1 each for commercially produced swabs. The USF team collaborated with Formlabs to optimize the design and maximize the number of swabs that could be printed .…Since the first batches of 3D-printed swabs were processed, over 100 million of these USF Health–invented devices have been used in more than 60 countries.
Recognizing the University of South Florida
When the COVID-19 pandemic first hit, there was an acute shortage of test swabs. Teams from USF Health, Northwell Health, Tampa General Hospital, and Formlabs worked together to develop a 3D printed swab prototype.
Turning to Formlabs' 3D printers and biocompatible materials, particularly Surgical Guide Resin, prototypes were created and benchmarked against traditional test swabs. After establishing a design and printing process that worked, the design was shared with hospitals, health systems, the U.S. military, and clinics around the globe. To date, the USF-patented design for the 3D printed nasopharyngeal swab has been printed over 100 millions times in countries all over the world. The swab design was shared free of charge to help accelerate adoption.
3D Printed Test Swabs at a Glance
Material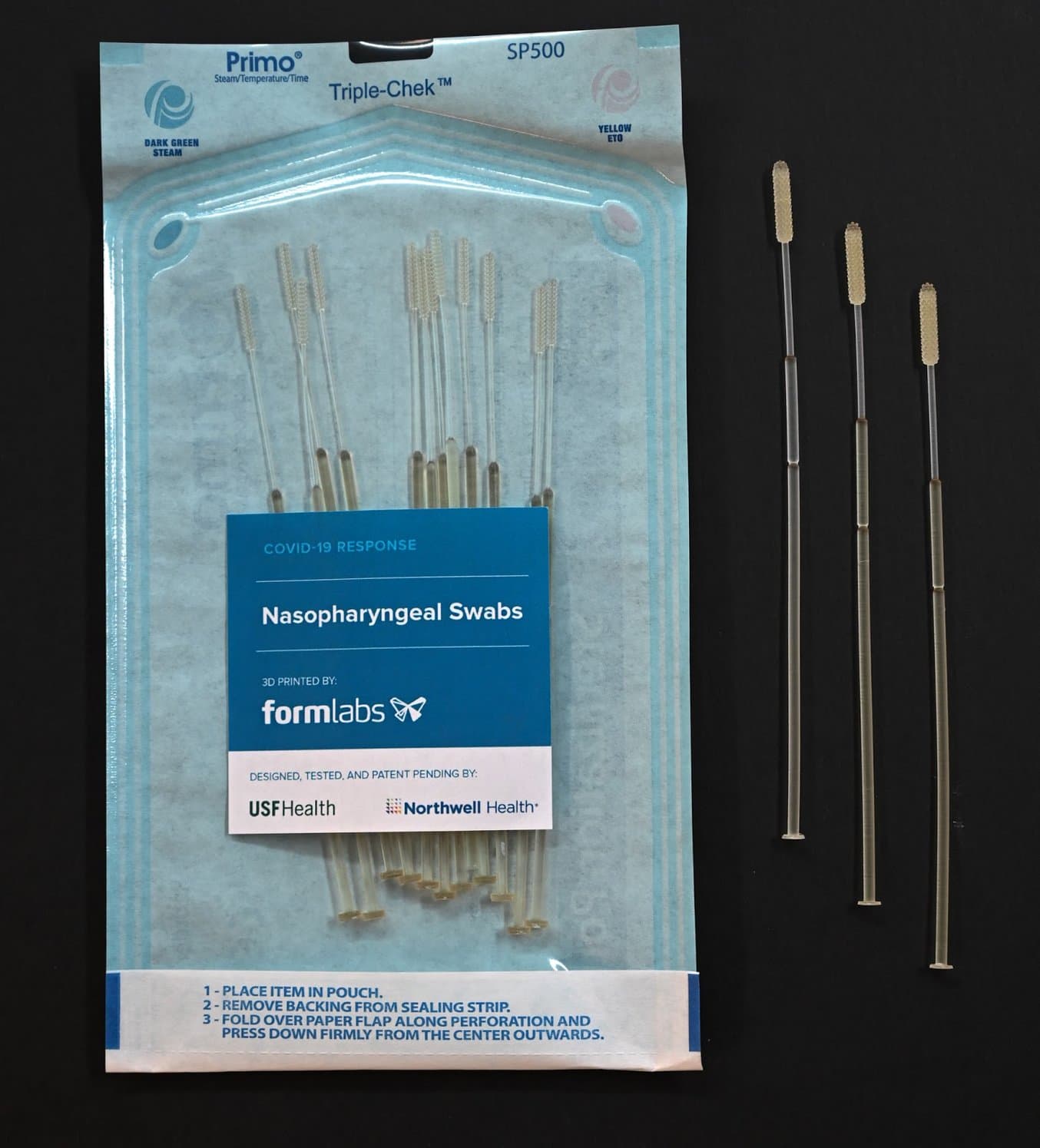 Dimensions
| | | | | |
| --- | --- | --- | --- | --- |
| Length | 6.00" (150.00mm) | | | |
| Head Diameter | 0.15" (3.85mm) | | | |
| Head Length | 0.73" (18.60mm) | | | |
| Neck Diameter | 0.06" (1.50mm) | | | |
| Body Diameter | 0.10" (2.45mm) | | | |
| Break Point Location From Tip | (70mm) | | | |
"I am so proud of how our USF Health team stepped forward to combine their expertise and innovation with the teams from Tampa General Hospital, Formlabs and Northwell Health to help save lives around the world," said Charles J. Lockwood, MD, MHCM, executive vice president for USF Health and dean of the USF Health Morsani College of Medicine, and executive vice president and chief academic officer at Tampa General Hospital. "This recognition by the U.S. Patent and Trademark Office validates both the tremendous power of academic medicine, especially during a crisis, and the values and commitment these teams have for contributing to the greater good."
In a press release from Tampa General Hospital, Summer Decker, PhD, professor in the USF Health Morsani College of Medicine, and director for 3D Clinical Applications in USF Health's Department of Radiology, who led the 3D printed NP swab team said, "Our goal from the start was to help as many people as possible, as fast and safely as possible. In order to do that, we assembled a team of experts in our fields and worked together toward a real-world solution. We then made our files public so that any hospital, clinic or health system could print them for their own facilities and get them to the frontline of COVID-19 testing in patients. Only when you know what you are truly facing, in this case COVID-19, can you actually fight it. This swab was a critical, missing component of the global medical community's ability to do just that. We are very humbled by this recognition by the U.S. Patent and Trademark Office for our efforts and very grateful for this incredible opportunity to help not just USF Health and Tampa General Hospital, but also other hospitals and medical centers throughout the world."
"With quick thinking and action from USF Health, the global shortage of traditional nasopharyngeal swabs was minimized with an entirely 3D printable design that could be easily printed in health care facilities around the world," said Gaurav Manchanda, director of Medical Market Development at Formlabs. "We were honored to help in this effort and pleased to see the reliability, scalability, and accessibility of our 3D printing solutions put into action. By combining the centralized quality, regulatory, and medical manufacturing expertise at Formlabs with a decentralized production network of global medical customers, local health institutions were able to print and use millions of swabs needed during the shortage. Formlabs is proud to be recognized alongside USF Health, Northwell Health, and Tampa General Hospital in the USPTO Patents for Humanity COVID-19 category."
This remarkable story underpins the strategic advantages that 3D printing brings to the table. The rapid response by the medical industry to the COVID-19 pandemic highlights many of the disruptive ways 3D printing is changing the medical industry:
Rapid and nimble product development: Medical emergencies often require fast responses. Be it an emergency operation, or quickly address supply constraints, in-house 3D printing allows teams to rapidly respond to events.
Eliminating outsourcing and reducing costs: In-house 3D printing is a way to take more control over your means of prototyping and production, and save money and time utilizing a technology that is already familiar to the organization. Outsourcing can add multiple days or weeks to production timelines, slowing down the creation of new devices such as test swabs.
Prototyping multiple designs in parallel: Due to the fast print times, medical professionals can test and gather feedback quickly, and reprint a new design in hours.
Geometries not previously possible: 3D printing enables the creation of a wide range of geometries, something that is especially important when doing with objects that need to conform to the human body.
Printing with biocompatible materials: Because Formlabs printers are compatible with a family of biocompatible materials, medical professionals can print without having to go through a lengthy regulatory process. View certifications and standards.
Formlabs Medical: A Proven Treatment For The Status Quo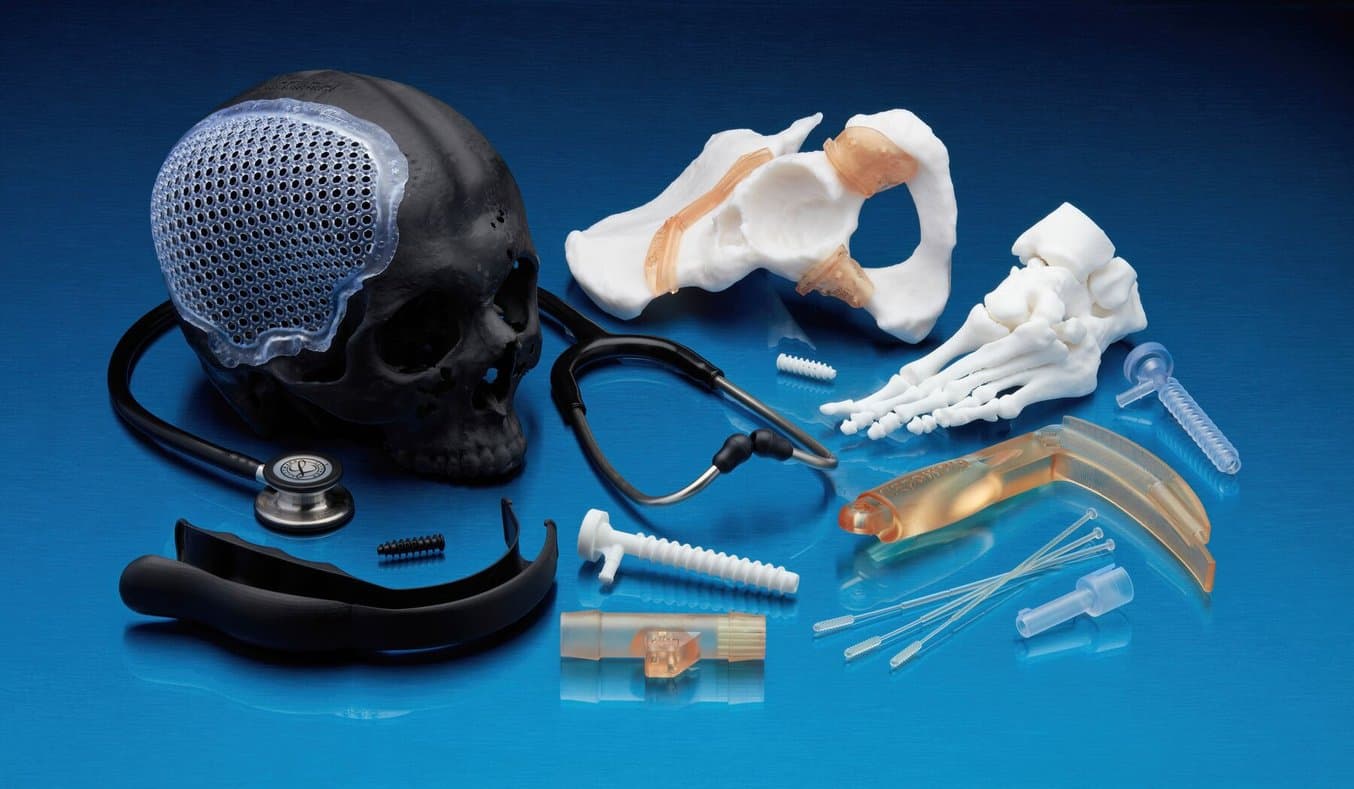 Formlabs is committed to advancing healthcare around the world by offering a powerful suite of 3D printers and materials. We're incredibly proud of the work hospitals like USF Florida are doing to innovate and bring new medical solutions to market.
To learn more about 3D printed test swabs, you can view our webpage for this project which was created in 2020 as the swab project was first being made public.
To learn more about 3D printing for medical applications, visit our website.