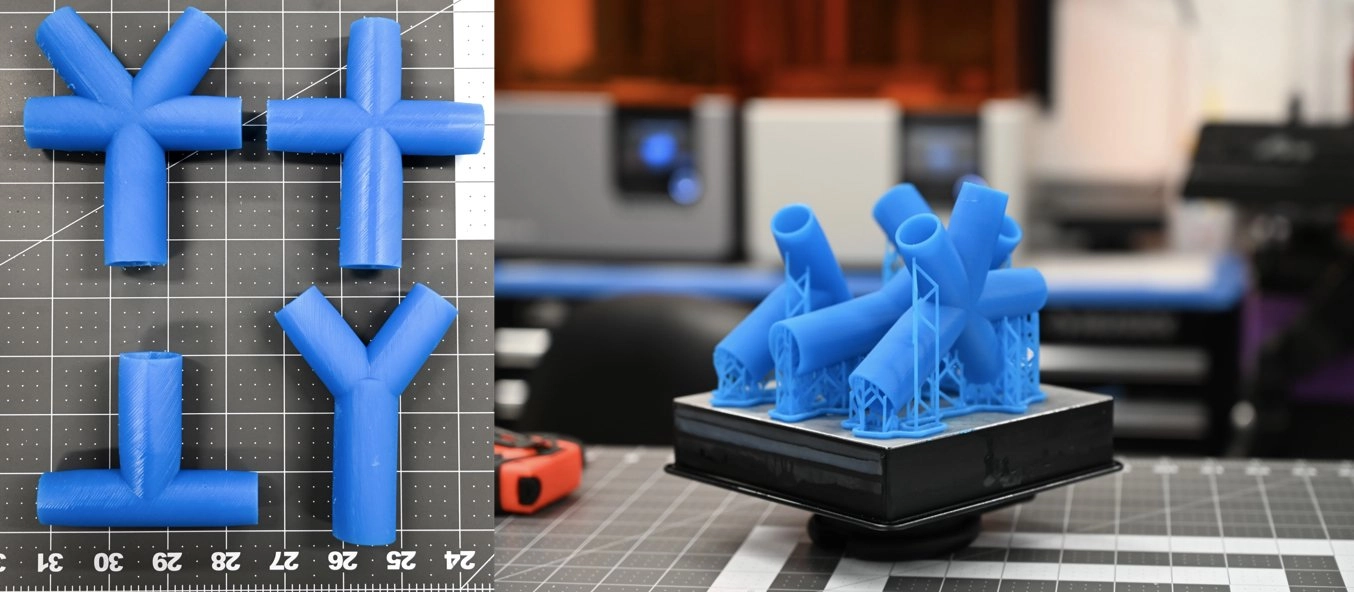 What are Ventilator Splitters?
Problem
As the number of patients in critical condition grows, mechanical ventilation is required to provide sufficient oxygen into the lungs and body. Ventilator machines are limited in supply, and hospitals can run out of machines faster than they can order new devices.
Experimental Solution
Adding an adapter to one ventilation system to be used with more than one patient may help expand capacity. These adapters could allow for two, three, or four patients with similar needs and conditions to potentially use one ventilator.
Several Formlabs customers are working on this problem, including Northwell Health and Southern Maine Community College.
The 3D Design and Innovation Lab at Northwell Health has provided Formlabs with STL files that fit standard tubing. These files allow for a HEPA filter to be placed at each end then connecting patient vent tubing.
A professor at Southern Maine Community College posted an instructional video and .form files on his design, which was tested at Maine Medical Center.
Note:
Ventilator splitters should only be considered as a last resort and with appropriate protections in place. Multiple medical associations have discouraged the use of ventilator splitters. Healthcare organizations need to assess and make decisions based on their own circumstances and judgement.
Validation Status
Northwell Health has conducted lab testing and states that while this would allow one to split a ventilator in a life or death situation, there are certain caveats one needs to be aware of.
Northwell is currently writing clinical protocols. Neither Northwell Health, nor the CDC, have studied ventilation splitting on human patients.
A respiratory therapist at Maine Medical Center in Portland, Maine conducted a 36 hour test using the Southern Maine Community College device and reported no issues. Maine Medical Center is assessing how this resource can be utilized to best support current or future patient needs.
While there is the new capability to ventilate multiple patients for a short period of time without utilizing front line clinical staff, patients likely need to be similar in height, IBW (weight), lung dynamics, and COVID-19 carrier status. Also, heavy sedation / paralytics may be necessary to eliminate asynchrony, and tandem weaning.
Looking for More Information?
Please watch Dr. Charlene Babcock explain how to modify a ventilator and the risks involved, or watch Dan Abbott at Southern Maine Community College explaining how he created and tested his ventilator connector.
Disclaimer
Formlabs has created this website and has become involved in varying degrees with the projects described here during a global medical crisis.  Formlabs is working on many projects to address global healthcare-related supply shortages around the world, but in trying to mitigate these shortages, patient safety is still Formlabs' top concern. We must remind those who are helping to alleviate these shortages that masks, swabs, face shields, and other 3D printed products intended to prevent or treat COVID-19 are medical devices. These devices must be safe for their intended purpose and anyone considering the manufacturing of these products should consider the following items:
Formlabs is a manufacturer of 3D printing materials capable of fabricating finished devices according to their labeling and any other product manufactured from these materials should be verified and validated according to their intended purpose.

You may be fabricating a device that does not have the required regulatory approvals and clearances. If you are fabricating devices, follow the guidelines on the label for each material.  You may seek to obtain reliable regulatory advice. 

Please consider local regulations, material safety data sheets, software capabilities, sterilization requirements, and institutional requirements before 3D printing medical devices.

Regulatory agencies (such as the FDA) may consider expedited review of manufacturing information and/or premarket submissions.
Formlabs cannot warrant that any products not manufactured by Formlabs are suitable for their intended purpose.