How 3D Printing Helps Save Patients With Aortic Aneurysms
Aortic aneurysm is one of the most frequent arterial diseases. In acute cases, a patient must be immediately operated because the rupture of the aneurysm can lead to severe complications and even death. In these cases, a standard surgical method is the implantation of a stent-graft through the femoral artery.

The condition becomes even more difficult to cure when the aneurysm is located in the aortic fragment from where other arteries leave. In these cases, a prosthesis with holes must be implanted. As each patient is different, these cases require expensive personalized aortic prostheses that take up to 4 to 6 weeks to produce, a timeframe that increases patients' likelihood of mortality.

As an alternative treatment, surgeons can create holes in a standard stent-graft, matching the holes to the patient's anatomy based on CT scans and manual measurements just before the surgery. However, this is not a precise method and may result in incorrect placement of the holes and subsequent partial blocking of blood flow.

To handle these complex cases reliably, Paweł Rynio MD, PhD, of the Department of Vascular, General and Angiology Surgery in Szczecin, Poland, has developed an innovative new method for preparing stent-grafts using models produced on a Formlabs stereolithography (SLA) 3D printer.

By 3D printing the prosthesis model and delivering it to the patient in under 24 hours—instead of waiting 6 weeks for delivery—physicians are able to improve the patient's clinical outcomes after an aortic aneurysm and limit severe complications.
How to Make a Personalized Prosthesis?
Dr. Rynio sought a solution that would facilitate his work, shorten delivery time, and provide better treatment for the patients. 
He realized that by using an exact aortic model corresponding to the patient's anatomy, he could insert a standard stent-graft model and then burn out the arterial holes in the desired places. 
To produce the models, Dr. Rynio chose 3D printing, knowing that this technology was suitable for creating custom parts.
"Without 3D printing, we cannot get a precise physical model of the organ anatomy. Each model is different, so serial production is not possible."

Paweł Rynio MD, PhD, Department of Vascular, General and Angiology Surgery, Szczecin, Poland
Printing Personalized Models Using SLA 3D Printing
What does the process of preparing a personalized aortic prosthesis look like? 
First, a CT scan is performed to capture the exact anatomy of the patient. Then, under supervision of a vascular surgeon or radiologist, the DICOM file is processed in specialized segmentation software. The digital model of the artery is then imported into Formlabs' PreForm software to prepare the file for 3D printing.
The models are printed on a Formlabs SLA 3D printer in a 1:1 scale to create an accurate reproduction of the patient's anatomy. 
For printing, Dr. Rynio uses Clear Resin, which simplifies the insertion of the stent-graft and burning of the holes at the subsequent stage thanks to its rigidity and transparency. 
After printing, the model goes into an automatic Form Wash washing station followed by a Form Cure post-curing station. Before the model goes to the operating theatre, it is sterilized in an autoclave. 
For more information about sterilizing BioMed Clear, Clear, and several other Formlabs resins, please download the information here.
---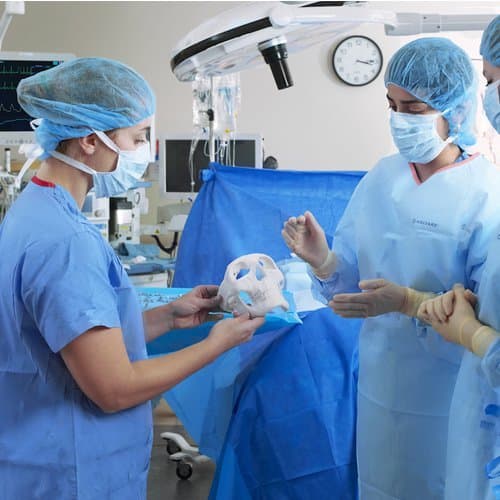 White Paper
How to 3D Print Anatomical Models for Preoperative Planning and Enhanced Patient Consent
Download our white paper for a practical walkthrough for physicians and technologists to get started creating 3D printed anatomicals models from patient scans, reviewing best practices for setting up a CT/MRI scan, segmenting datasets, and converting files to a 3D-printable format.
Download the White Paper
---
Choosing the Right Technology and 3D Printer
Dr. Rynio tested different 3D printing technologies and devices before selecting a Formlabs Form 2 SLA 3D printer. Fused deposition modeling (FDM) 3D prints were not as translucent, and their surface was too rough, damaging the stent-grafts. Cheap SLA printers, on the other hand, were cumbersome to use and did not guarantee reliable results.

"My models are geometrically complicated, especially those of the aortic arch. As a result, prints [with other FDM and SLA printers] used to fall off or break away from the platform. I never knew if I would have a 3D model for the morning and if we could operate on the patient. This caused a lot of frustration. However, thanks to these attempts, I understood that what I wanted to do was possible—I only needed reliable equipment. Of course, I don't have such problems with Form 2," explains Dr. Rynio.
Making a personalized prosthesis based on a 3D printed model is cheaper, faster, and more precise. Furthermore, the whole process takes place in the same hospital under the supervision of specialists who take care of the patient.
We'd like to thank our partner CadXpert for advising Dr. Rynio on Formlabs 3D printing solutions.