Affordable SLS 3D Printing For Patient-Specific Prosthetic Solutions
Partial Hand Solutions is dedicated to advancing technology for amputees of all ages. Since the company's inception in 2007, they've provided functional solutions for many active soldiers and individuals with partial hand and finger amputations, along with children with more extensive prosthetic requirements.
Founder Matthew Mikosz has been creating patient-specific prostheses for a long time, but until recently has had difficulty overcoming a fundamental problem: how to make a durable, custom prosthesis at an affordable price. 
For the last two years, Matthew used an outsourcing injection molding workflow to deliver prosthetic fingers to patients young and old, helping them improve mobility and increase functionality. But each patient is unique, and the outsourced parts come in only one of five sizes while taking up to two weeks to arrive. 
Founder Matthew Mikosz wants to offer patients products currently out of their reach by delivering true patient-specific outcomes. Over time, he's explored various technologies to achieve that goal: from injection molding machines to stereolithography (SLA) and fused deposition modeling (FDM) 3D printers. One area that has always been of interest is 3D printed SLS nylon parts, but due to their high costs, he's been unable to truly experiment with selective laser sintering (SLS) 3D printing. 
Recently, Matthew has had the opportunity to use a new Fuse 1 SLS printer from Formlabs, along with the Fuse Sift post-processing station, that opens up new possibilities for a custom prosthesis, and does so at a much more affordable price per part. "I've always wanted an SLS printer, but they are unattainable at their current price points. The Fuse 1 is perfect for small businesses like Partial Hand Solutions." 
PDF Download
Affordable SLS 3D Printing For Patient-Specific Prosthetic Solutions
Would you like to save this article, print it, or share it with colleagues? Download it as a PDF.
Download as PDF
What Is?
Selective laser sintering is an additive manufacturing technology that uses a laser to sinter powdered plastic material into a solid structure based on a 3D model.
The Fuse 1 is an affordable, production-ready SLS 3D printer from Formlabs with competitive print quality, small footprint, and a simple workflow. 
The Fuse Sift is a powder recovery station for the Fuse 1, used to remove the print from the build chamber, clean the parts, sift the loose powder, and recycle powder.
 
Equipped with the Fuse 1 and the Fuse Sift, Matthew feels like he finally has the capability to produce high performance, patient-specific 3D printed prosthesis. For the first time, he's printing lightweight, durable, long-lasting parts on a budget suitable for a small business. 
What's different about SLS 3D printing with the Fuse 1 compared to other SLS printers Matthew has used before? Matthew has identified two core benefits:
The efficient workflow, which reduces costs and maximizes design time.
The high-quality parts that enable his small business to produce exceptional, long-lasting custom prosthesis.
Part 1: The SLS Workflow
"The Fuse 1 and Fuse Sift work incredibly well together and it's exactly what I would expect from this caliber tool."

Matthew Mikosz
Matthew, like many efficient designers, is methodical about how he sets up his office space. Efficient workflows are vital to reducing wasted time and frustration. Most importantly, they allow him to spend more time on design work and less time cleaning messy parts.
The Fuse 1 and Fuse Sift were made to work together. Formlabs is known for designing additive workflows that make industrial-quality 3D printing manageable for businesses of any size. The marriage of the Fuse 1 and Fuse Sift is the result of years of design and product testing, delivering the most simple and efficient SLS workflow available on the market. 
When creating his prosthetic pediatric M Fingers, Matthew follows these steps:
Prepare the file in PreForm. Matthew has two Form 2 desktop stereolithography printers that he uses for prototyping parts, so he had extensive experience using PreForm, the print preparation software for Formlabs printers. PreForm is already designed to be easy to use, and his past experience made the transition even easier.,  "Even if you have not used a Formlabs printer before, PreForm is really easy to set up. It makes it simple to get your print file ready."
Prepare the Fuse 1. Powder is added to the Fuse 1, and a clean optical cassette inserted. The Fuse 1 comes with a built-in preprint checklist on the touchscreen with written and visual instructions that explain each procedure step by step. "After going through the process a few times, I didn't really even need to follow the instructions anymore. I got the hang of the printer after a few prints."
Sift the parts after printing. Fuse Sift dispenses and mixes used and new powder automatically so you can reduce waste and control your powder supply. Nylon 12 Powder can produce robust, fully-functional parts at a 30% refresh rate, meaning users can print with up to 70% reclaimed powder. "The Fuse and Sift are beautifully designed. Being able to pull the parts out of the machine, walk two feet over, and clean it in the Fuse Sift, is fantastic."
Dye and assemble the parts. Parts may be spray painted, dyed, lacquered, electroplated, and coated to achieve different colors, finishes, and properties, for example, watertightness (coating) and conductivity (electroplating). Matthew places his M Fingers in a solution of pro-grade dye in heated water, stirred for 10 minutes. This gives his parts a beautiful black finish. 
When creating the pediatric M Finger (a custom molded, high strength controllable prosthetic  finger), this process, from software to printing to post-processing, allows Matthew, by himself with a single printer, to create a high-quality end-use prosthesis in just a couple of days. 
When printing with SLS, the ability to recycle powder is crucial for small businesses. The Fuse 1 was meticulously designed to provide maximum throughput at the lowest possible cost per part, with a build platform that can be densely packed to maximize each print run. 
The Fuse 1 and Fuse Sift just work - and then it's on to the next batch.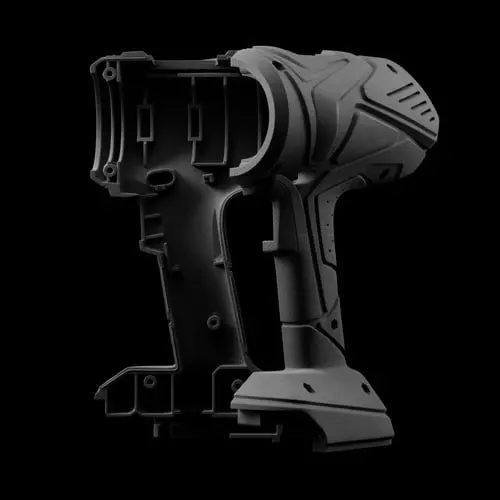 White Paper
Introduction to Selective Laser Sintering (SLS) 3D Printing
Looking for a 3D printer to create strong, functional parts? Download our white paper to learn how SLS printing works and why it's a popular 3D printing process for functional prototyping and end-use production.
Download the White Paper
Part 2: Benefits of Nylon Parts
Matthew has been able to completely replace his injection molding outsourcing workflow with a single Fuse 1 3D printer. This is due, in part, to the Fuse 1's ability to efficiently create high-quality parts.
According to Matthew, Fuse 1 nylon parts deliver four main benefits:
Low material costs. Nylon is an affordable material, and the Fuse 1 is optimized to allow for printing with recycled powder to minimize waste. "I thought the Nylon powder seemed expensive, but when you calculate the cost per part, the fingers were affordable on a per print basis."
Design freedom. During printing, the parts are supported by the powder, so no supports are required. This allows for printing overhanging features, intricate geometries, interlocking parts, interior channels, and other complex designs easily. "Using the Fuse 1 has expanded my horizons when it comes to future design work. Now I'm thinking about how I can improve my work and create better patient outcomes."
High productivity and throughput. SLS printing is the fastest additive manufacturing technology for functional, durable prototypes, and end-use parts. Many parts can be tightly arranged during printing to maximize the available build space. "Waiting two days for a full build platform of printers blows away the weeks I use to wait for my injection molding parts to arrive."
Proven, end-use materials. Nylon prints on the Fuse 1 are high-quality thermoplastics with mechanical properties comparable to those created with conventional manufacturing methods like injection molding or high-end SLS machines. "I have used the HP SLS printer before. The Fuse 1 parts look as good if not better than the ones I got from the HP."
The M Finger: Eliminating Post-Processing Steps
The M Finger is the flagship product for Partial Hand Solutions, and was originally developed for soldiers coming back from Afghanistan.
By applying the minimum moving part spacing, Matthew is able to print functional joints with minimum post-processing steps. Matthew claims this will "help me reduce assembly time in the future; these parts are moving as desired, smoothly with minimal play. I'm impressed with the ability to print functioning joints. I'm never going to need to outsource these parts again." This type of pre-assembly, in which functioning joints can be printed, is a unique property of SLS printing which eliminates an entire post-processing step present in Matthew's previous outsourced workflow. 
The Fuse 1's compact size doesn't require much space on the workbench, but at first glance, Matthew wasn't sure if he would be able to print at the volume of parts he required. But as he started packing parts into the build chamber, he realized the Fuse 1's compact look was deceiving. "At first I thought the Fuse 1 build volume would be too small. But you can really pack a lot of parts in there. I am able to print 160 fingers in two days. That was impressive."
Moving forward, Matthew is constantly looking to create new finger designs to improve upon the M Finger. He believes that in-house SLS 3D printing has opened pathways to new techniques that will permit him to create enthralling prostheses for future patients. 
Replacing Carbon Fiber: The Socket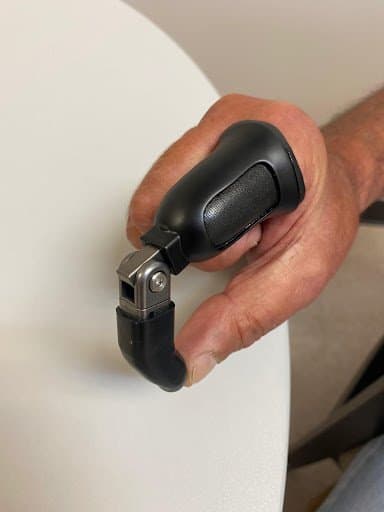 Above, a Titan finger joins a 3D printed socket which is connected to the patient's body. Along with fingers, the socket allows other types of prosthetic devices such as gripping tools to be attached. Traditionally, Matthew has used carbon fiber to make his sockets, which is an expensive and labor-intensive process. 
Now a wide array of sockets can be created in-house affordably, and even customized or tweaked for specific patient needs. Best of all, when compared to his carbon fiber parts, the quality and function of the sockets held up and will be used as end-use parts given directly to the patients. According to Matthew, "on these Fuse 1 prints, I don't notice any layer lines at all. I followed the recommended tolerances, and I was amazed at how the parts came out. The finish quality is exceptional on the socket. I was really surprised and pleased with the overall quality of the part. I am able to use them right off the printer." 
Printing Large: The Elbow
Pediatric patients in need of prostheses are often saddled with parts made for adults. These parts can be heavy for the children until they age into a standardized prosthesis. 
Matthew designed this pediatric elbow and shoulder for a 10-year-old boy, equipped with Fuse 1 nylon parts that contain sliding actions and ratchets that function when assembled. Despite its size, the shoulder maintains the part quality expected from nylon parts on the Fuse 1. Given the size of the part, Matthew found that the shoulder was even easier to clean in the Fuse Sift than the fingers due to a reduction in small crevices and leftover powder. And although the print time on the elbow was longer when compared to small parts, Matthew said that "I felt the timeframe for such a large part was appropriate given its size."
White Paper
3D Printing in the Orthotics and Prosthetics Industry
Download this report for an overview of the current O&P marketing, and how 3D printing is disrupting traditional workflows.
Download the White Paper
The Fuse 1 SLS 3D Printer For Medical Applications
Formlabs is excited to offer the Fuse 1 SLS 3D printer, along with the Fuse Sift powder recovery station, to reduce outsourcing costs and increase turnaround times for businesses of all sizes. Take control of your entire product development process, from iterating on your first concept design to manufacturing ready-to-use, biocompatible, sterilizable products in production-ready Nylon 12 Powder. High-performance 3D printing is finally within reach with the Fuse 1, an affordable SLS 3D printer with a small footprint and simple workflow.
Whether you're printing patient-specific prostheses, medical device prototypes, or surgical tools, the Fuse 1 brings high performance medical 3D printing within reach, with truly customized products available for your patients. The combination of benefits exceeded what Matthew was expecting when he first received his Fuse 1, ultimately declaring "I love the machine. With the Fuse 1 and the Fuse Sift, everything just makes sense. Overall, I give the Fuse 1 a five out of five".
If you're ready to try in-house SLS and experience the Fuse 1 printer for yourself, contact us for a free Nylon 12 sample part. 
White Paper
SLS 3D Printing vs. Injection Molding: When to Replace Molded Parts With 3D Printing?
This white paper showcases the cost-dynamics for real-life use cases, and presents guidelines for using SLS 3D printing, injection molding, or both.
Download the White Paper