Start Small and Scale Up: From a Lockdown Hobby to a Professional Engineering Service Provider
3D Nation is a professional 3D printing service provider with a focus on the automotive and aerospace industries. Located in the south of Germany, the company was founded after an engineer's lockdown hobby of 3D printing turned into a full-scale business. 
Today, 3D Nation is developing and prototyping new products and brand concepts for automotive companies and private airplane manufacturers. The new company is currently building up its end-use production facilities with a large fleet of SLA and SLS 3D printers, including eight Fuse Series selective laser sintering (SLS) 3D printers, as well as advanced post-processing technologies such as vapor smoothing. 
We talked to Jon Yates, founder of 3D Nation, about how he turned his 30 years of experience in engineering and his interest in 3D printing into a successful 3D printing business. 
From Keeping Busy During Lockdown to Scaling Up to a Professional Service Bureau
Founded in 2021, the story of 3D Nation began a year prior as a hobby during the COVID-19 lockdowns of 2020. Like many others, Yates spent the first few phase of lockdown contemplating ways to keep busy. With an engineering background and a couple of small product ideas in mind, there was never a better time to try something new, so he bought a cheap FDM printer and got to work. Luckily, one of his first designs instantly kicked off.
"The first big order that we ever made were practical mask holders for the FFP2 masks, that you could clip onto a ski helmet. I did the design in about 10 minutes in CAD and the next day we had 150 of them on the ski slopes. Within three months we sold 17,600 pairs of mask holders. And that's what paid for our second two machines from Formlabs," Yates tells the story. 
After the initial success, he upscaled to a Fuse 1 printer, turning the lockdown hobby into a real side business. In the beginning B2C designs like these and spare parts for antique cars were 3D Nation's main source of business. Now they are working with well-known names in the automotive and motorsport industry as well as in the private airplane sector, collaborating on large engineering projects. 
"Our business really grew at full speed. We started off with a €250 3D printer from Amazon, and now we have over €300,000 in machines in our workshop."

Jon Yates, founder, 3D Nation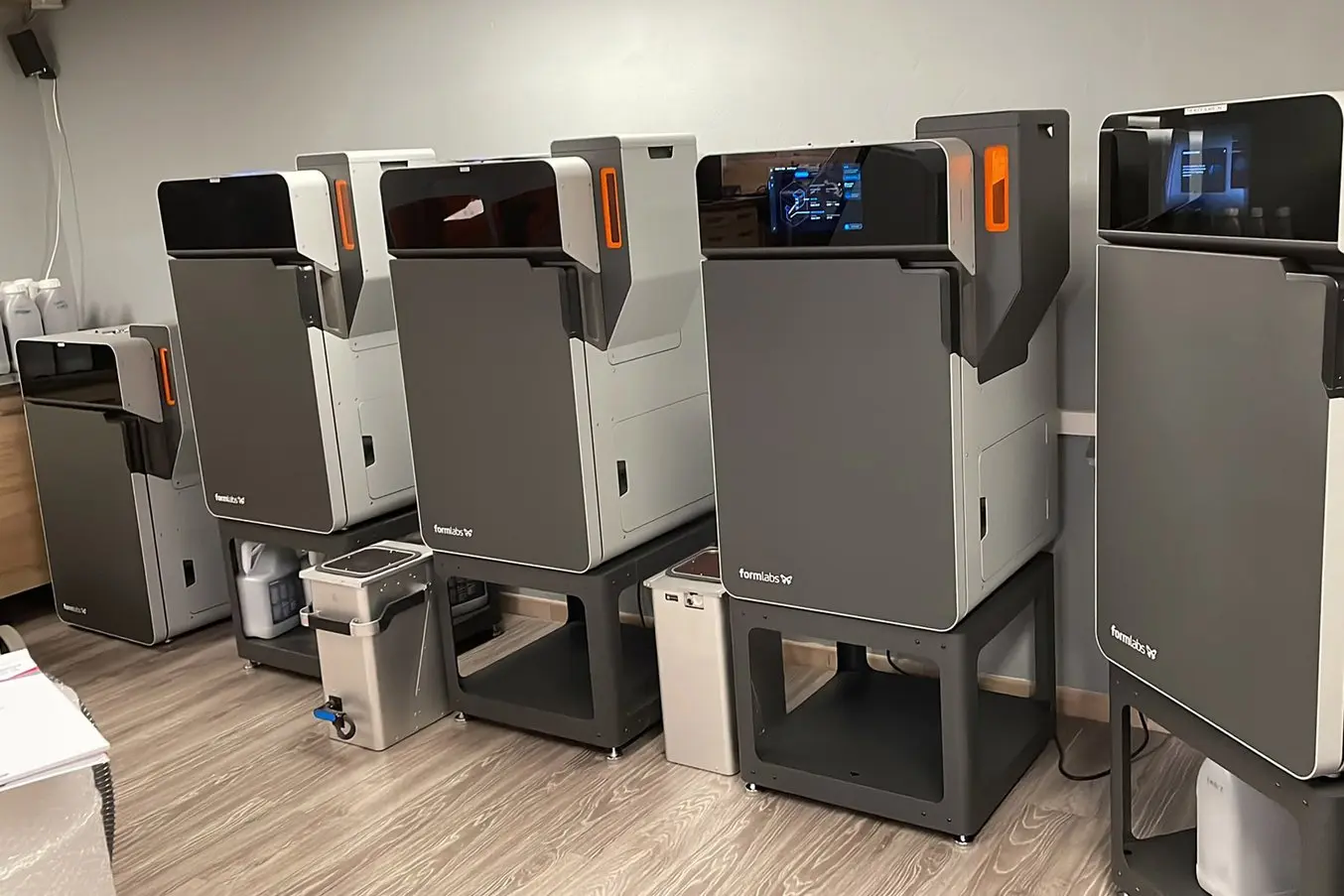 3D Nation's machine fleet currently includes eight Fuse Series SLS 3D printers, Form 3L and Form 3 SLA 3D printers, as well as multiple FDM 3D printers.
3D Nation's steadily growing fleet of 3D printers counts eight Fuse 1 SLS 3D printers, one Form 3L large-format SLA printer, three Form 3 desktop SLA printers as well as three FDM printers, and a range of post-processing machines also including two vapor smoothing machines that have the potential to upscale their business even more rapidly in the future. 
Combining SLA and SLS 3D Printing for Automotive Applications
A wide range of 3D printers and materials enables 3D Nation to also offer a broad spectrum of 3D printing services and applications. 
Starting with rapid prototyping during the development of new engineering concepts in the automotive and motorsport sector, to printing one-off spare parts, and now also moving into the series production of internal and external car parts supported by their newly introduced vapor smoothing machines.
Yates closely works together with the engineers of automotive OEMs on the CAD models and supports them throughout the whole process of iteration.
"One of our customers changed the design daily. They gave us an order in the morning and in the afternoon they picked the parts up, tested them, and then made the changes. Then the next day we were printing the next prototype, until we got to the final product."

Jon Yates, founder, 3D Nation
For producing end-use automotive parts, the combination of the SLA and SLS technology leverages the high heat resistance and watertightness of SLA materials like High Temp Resin and Rigid 4000 Resin, as well as the high heat resistance and impact strength of SLS parts. 
"We often need the tolerances of our designs to be very small and with the SLA 3D printers we've got it down to an art. I mean, we've got designs down to five-tenths of a millimeter and this is what the engineering companies need," Yates explains.
For most of the housing and external parts in the automotive sector, 3D Nation uses their Formlabs SLS 3D printers. With the process of vapor smoothing, Nylon 12 Powder and Nylon 12 GF Powder parts provide visually and functionally outstanding results that can be used reliably as end-use parts.
The combination of these two 3D printing technologies enables them to provide a service that would not be possible with conventional methods and satisfy their customer's individual requirements and quality demands. 
"Our machines at the minute are averaging around 5,000 hours since January 2022, when we got them. That's pretty much 24 hours a day, seven days a week."

Jon Yates, founder, 3D Nation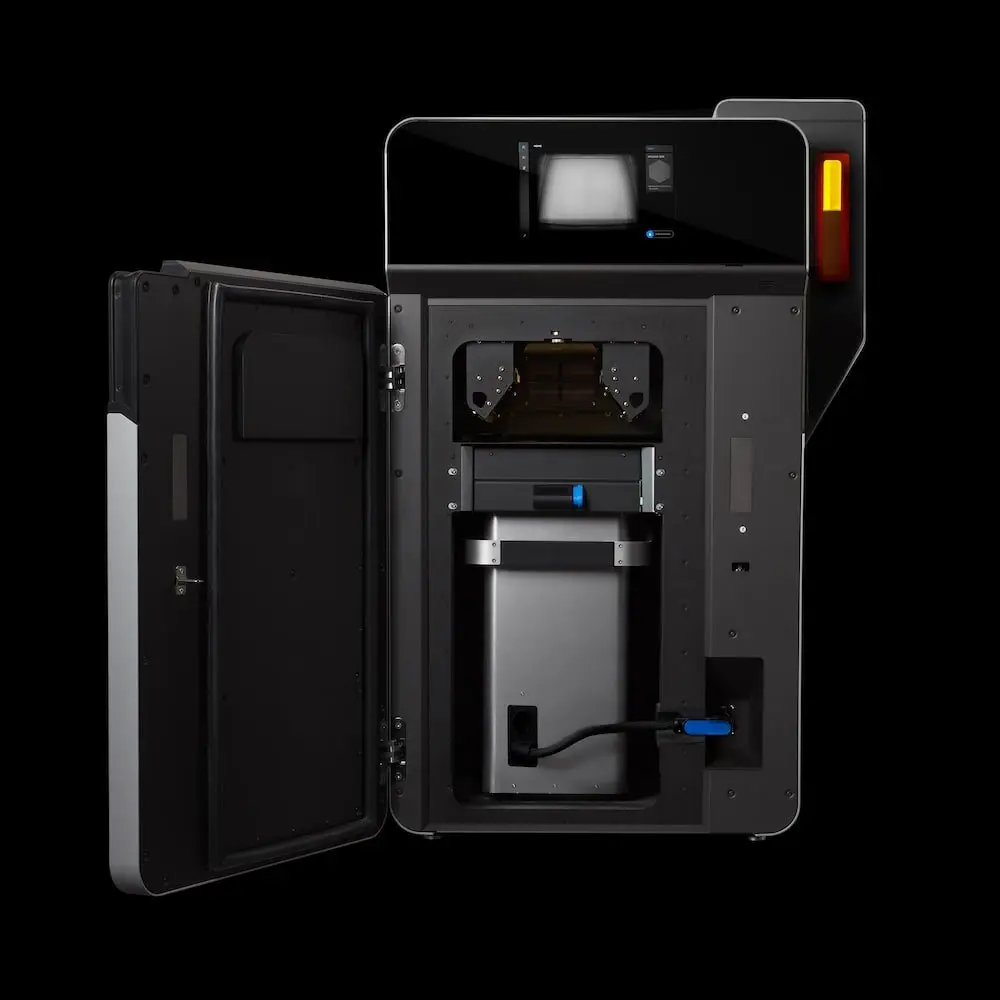 Webinar
Rapid SLS Production of High Performance Parts with the New Fuse 1+ 30W
Watch our product demo for a walkthrough of the Fuse 1+ 30W and SLS 3D printing with Formlabs experts.
Watch the Webinar
Vapor Smoothing: 3D Nation's Competitive Edge in Additive Manufacturing
Post-processing SLS 3D printed parts is a highly sought-after service, especially when it comes to end-use parts. With the purchase of two vapor smoothing machines (AMT PostPro 50 &  Powerfuse S) 3D Nation has taken its business to a new level. 
"By using the vapor smoothing technology we can skip the process of injection molding after the rapid prototyping phase. The parts that we print on our Fuse 1 printers and post-process with a vapor smoother look very similar to an injection molded part and have very compelling material properties," Yates explains.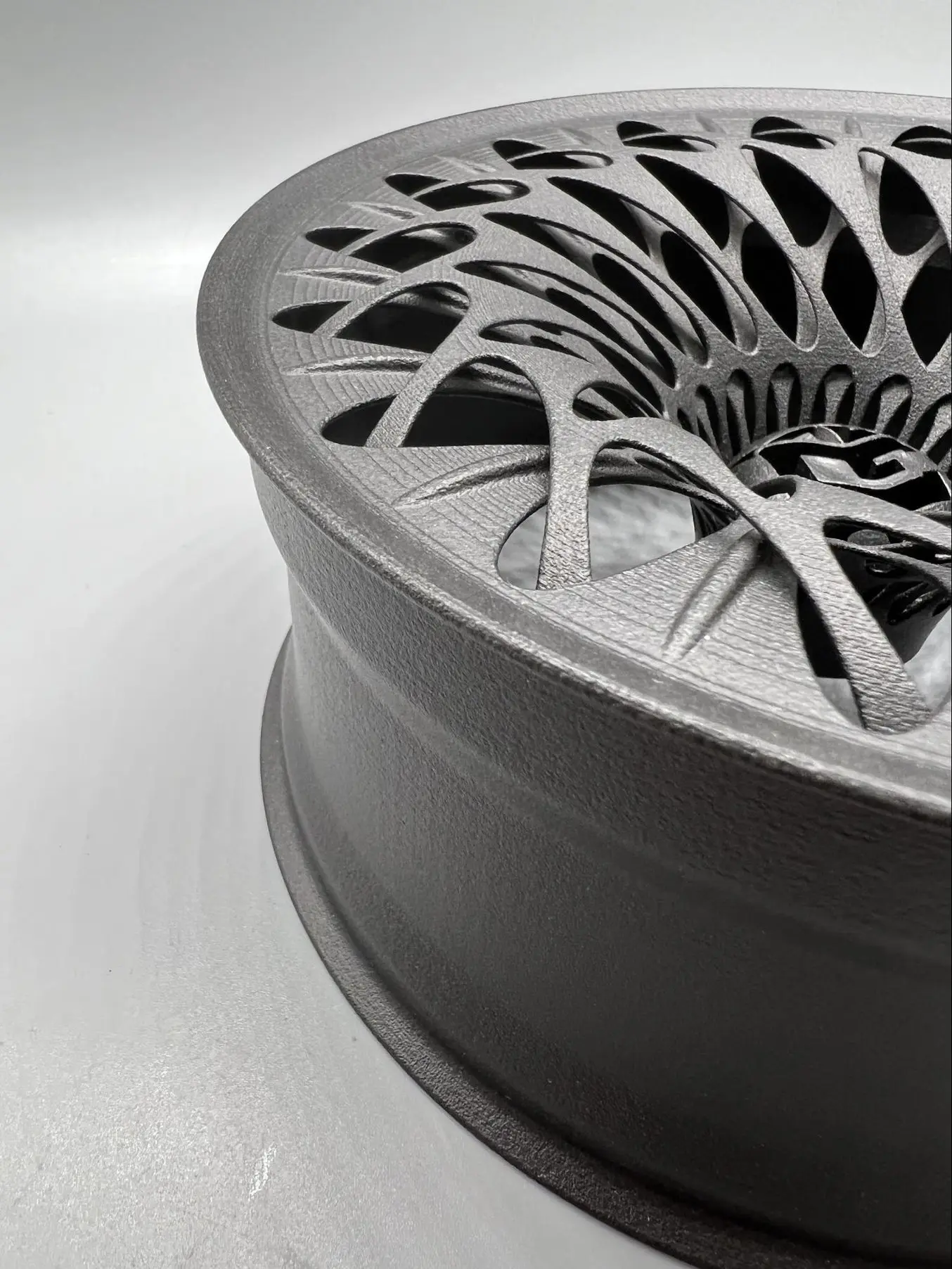 Vapor smoothing seales the surface of SLS 3D printed parts, so that they can come into contact with fluids, chemicals, and oils without any absorption. Furthermore, vapor-smoothed SLS 3D printed parts can be safe for food and drug use, making them well suited for a wide range of applications in the medical and engineering sectors.
The superior surface quality of vapor-smoothed parts, even without further painting or coating, makes them suitable for end-use applications, where finishes, textures, and imperfections are of paramount importance. 
"For any parts that are going to be under a lot of stress or have to withstand a lot of temperature changes, we use vapor smoothing. For instance, for the ducting for cooling breaks on race cars, because at the front of the ducting it's taking cold air in, and at the back of the ducting it can be 150 °C to 200 °C. Here, a vapor smoothed part out of Nylon 12 GF Powder does a perfect job," Yates says.
SLS End-Use Parts for Classic Cars
3D Nation still offers B2C services for classic cars, despite it being a smaller part of their business now as orders from industrial customers have increased. Yates's passion and expertise still lie in the automotive sector, and so working on classic cars is a welcome break from more transactional orders.
Owners of classic cars often have a hard time getting their hands on spare parts to keep their vehicles running. This is where reverse engineering comes in. Yates 3D scans broken parts on the car, recreates the original design, and then 3D prints the end-use replacement parts, which can include exterior as well as interior parts of the vehicles.
"We've used [reverse engineering and 3D printing] on an old timer for the plastic corners that go onto the bumper. We printed those for a customer in Nylon 12 GF Powder and vapor smoothed them. You can't tell the difference between that and the original parts."

Jon Yates, founder, 3D Nation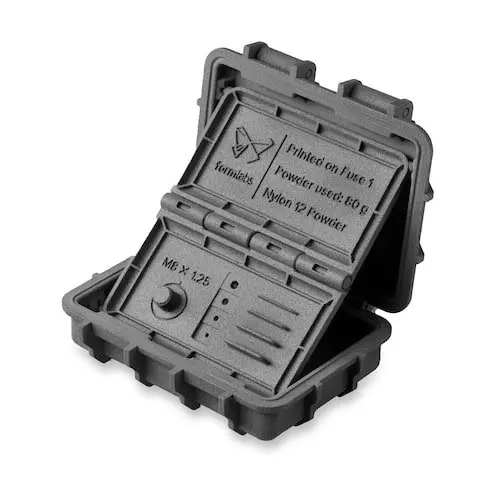 Sample part
Request a Free SLS Sample Part
See and feel Formlabs quality firsthand. We'll ship a free SLS sample part printed on the Fuse 1+ 30W to your office.
Request a Free Sample Part
Replacing Traditional Production Methods With a Modern 3D Printer Fleet
For 3D Nation, the biggest benefit of working with printers is the fast turnaround time. Without a 3D printer, customers in their industry would typically need to accept delivery times of three to six weeks. With the combination of different 3D printing technologies, 3D Nation is able to offer delivery times of only one to three days.
"The turnaround time is the biggest difference. You could never do this with a CNC machine or an injection molding process."

Jon Yates, founder, 3D Nation
Additive manufacturing also empowers the production of complicated parts like interlaced features or very small-scale details. 
"Once we built internal parts for a pump. The way that these were constructed, it could previously only be done in an injection molding process. But by the time you get a tool for molding, it can take up to three months. When you then actually make the part and realize that it's wrong, you have wasted precious time and money. This is the big selling point of 3D printing for me, especially when it comes to making prototypes. The speed and also the low cost of the parts," Yates states. 
Start Small and Scale Up
For Yates, Formlabs 3D printers were a perfect fit to start his business model and later upscale their capacities continuously. 
"When I was starting off, I didn't have a lot of money. [Traditional] SLS printers played in price ranges I couldn't afford so the Formlabs printers were perfect to kickstart my little business. I thought, with printers for this money I could scale up the business once I built it up and I am on a good way there," says Yates. 
3D Nation is actually heading towards its biggest growth spurt yet. They've grown out of their first space, where the initial idea was formed and first orders fulfilled, and are opening up a second branch this year to expand their capacity.
With greater capacity and their ever-growing range of technologies and expertise, 3D Nation will be ready to meet the increasing demand for prototypes as well as expand into end-use part production. To do so, Yates plans to expand his Formlabs 3D printer fleet with a Fuse 1+ 30W printer soon, and eventually planning to scale up to a machine park of around 30 machines in total.