PrintCity Introduces Clients to Form 3 and Fusion 360
PrintCity is a 3D additive and digital manufacturing facility based in Manchester, a UK city with a rich industrial history. Based within Manchester Metropolitan University, the facility serves as an education and consulting hub for companies both within the Manchester area, and internationally. PrintCity is also a campus fabrication space for students in the university's MSc in Industrial Digitalisation program.
PrintCity has grown quite rapidly since its launch in 2018. They have expanded from only one to 23 staff members, and currently have 65 printers of various types, representing FDM, SLA, and metal printing technology which they acquired through Formlabs largest partner in Europe, Additive-X. The staff at PrintCity consults with companies of all sizes on which digital technologies they should adopt in their own organization, and helps guide products through R+D and manufacturing stages.
We recently sat down (virtually) with product development specialist Mark Chester to discuss how PrintCity uses accessible tools like Fusion 360 and the Form 3 to help his clients embrace and leverage digital fabrication.
In this blog post we cover:
How PrintCity educates clients about a variety of digital tools
Where education and business consulting intersect at MMU
How UK water company United Utilities evaluated optical scanning, Fusion 360 and the Form 3 for printing replacement parts on demand
Consulting With Clients of All Sizes
PrintCity's diverse fleet of 3D printers are always a starting point for discussing digital tools with clients. Mark says that "Companies that come in to see us maybe have never accessed 3D printing before, and they are completely new to this type of technology. So it is important for us to share a wide spectrum of printers available." Mark works with companies ranging from textiles designers, to sports equipment companies, to utilities providers, to manufacturers. Although these companies differ in terms of company size and product category, he sees a lot of common threads in the needs and concerns of his clients, and also the solutions that accessible tools like Fusion 360 and the Form 3 can bring.
One common theme of Mark's work is to break a problem down into smaller parts, so you can go through multiple iterations in the same day rather than taking a week or more. Ultimately this reduces time to market. To address this need, PrintCity staff can print same-day prototypes for a client on an FDM machine or on the Form 3 with Draft Resin, then later move to higher fidelity iterations with Formlabs Standard or Engineering Resins. 
Many companies' designs are destined for injection molding for mass production, and the Durable and Tough family of Formlabs resins can be a good mimic for end use parts. However, an increasing number of clients are thinking about additive manufacturing for end use. In one recent example, Mark evaluated Rigid resin for a company that designs embossing rollers for impressing textures into paper media. The client specifically required a high fidelity textured part in a high strength material.
"Fusion 360 has a shallow learning curve for clients who don't have previous CAD experience. It's cost effective as well."

Mark Chester, Product Development Specialist
In addition to physical outcomes, accessibility is also key. "I think for all companies, one of the barriers is always money. We always need to do a cost-benefit analysis to see if adopting a certain technology will benefit your company." The Form 3 fills a need for an approachable desktop solution that delivers professional results. The same can be said for his CAD tool of choice, and Mark turns to Fusion 360 both for his clients and his personal projects. "Fusion 360 has a shallow learning curve for clients who don't have previous CAD experience. It's cost effective as well." Mark commented that Autodesk is also consistently updating their software with new features, and pushing those features to customers. "Autodesk is always listening to their customers."
Another unique challenge arises when it comes to working with larger companies: Mark sometimes sees resistance to change. A team that has successfully relied on the same workflow for many years can often be hesitant to try something new. To reduce the fear and risk associated with change, Mark will frequently offer to conduct a feasibility study. These research studies help answer fundamental questions about whether a technology will have the intended outcome, and whether it will integrate seamlessly into an organization.
On-Demand Replacement Parts for United Utilities
United Utilities, the UK's largest water company, contacted PrintCity for a feasibility study to identify technologies that could improve their core services. Mark worked with the utility company's Continuous Improvement team to investigate ways to quickly produce replacement parts for repairing mechanical assemblies. If issues arise in the field, a replacement for a broken part can take days or weeks to be delivered, which can result in service interruptions for customers. Perhaps 3D scanning and 3D printing could enable the manufacture of functional replacement parts on demand. For this feasibility study, PrintCity needed to evaluate three technologies: the scanning method, the printing process and materials, and the CAD software that links these two physical steps together.
Mark's proposed workflow started with scanning a worn part with a tripod mounted laser scanner called the Hexagon Absolute Romer Arm, capturing high surface detail in the process. Next the raw data was imported into Autodesk Fusion 360. Scan data can technically be converted directly to an STL for 3D printing, however the raw data alone is not likely to form a watertight part that is suitable for Additive Manufacturing. The key feature of Fusion 360 that Mark used was the Mesh Workspace, which enables users to directly import and clean up the scan. Fusion's powerful parametric modelling tools also allowed Mark to reverse engineer a crisp new part that matched the precise geometry needed for end use.
From Fusion 360, the parts were taken straight into Preform for print preparation, and then printed on the Form 3. By using this integration between Fusion 360 and Preform, a maintenance crew from United Utilities can import a scan, clean up, and print parts on the fly without needing to save STL files for dozens of single use parts. 
As part of the study, PrintCity also introduced the client to a range of material properties from Formlabs' resin library. Draft Resin was a good choice for high speed form and fit prototypes, while end use samples were provided in the Tough and Durable family of resins, as well as Rigid Resin. These resins mimic the mechanics of plastics commonly used in the water service industry such as Acetal and ABS.
"The quality of the 3D printed products produced was excellent. [We're] really impressed by how quickly PrintCity manage[s] to get the gear turned around when changes need to be made."

Continuous Improvement team at United Utilities
Autodesk Fusion 360 and the Form 3 enable Mark's team to quickly identify a feasible workflow and present it to their clients, no matter the size of the organization. At the end of this feasibility study, Mark delivered a report to United Utilities detailing the digital workflow of 3D scan to 3D print, and the associated costs. At this point in the study, 3D printed parts appear to function just as well as the originals.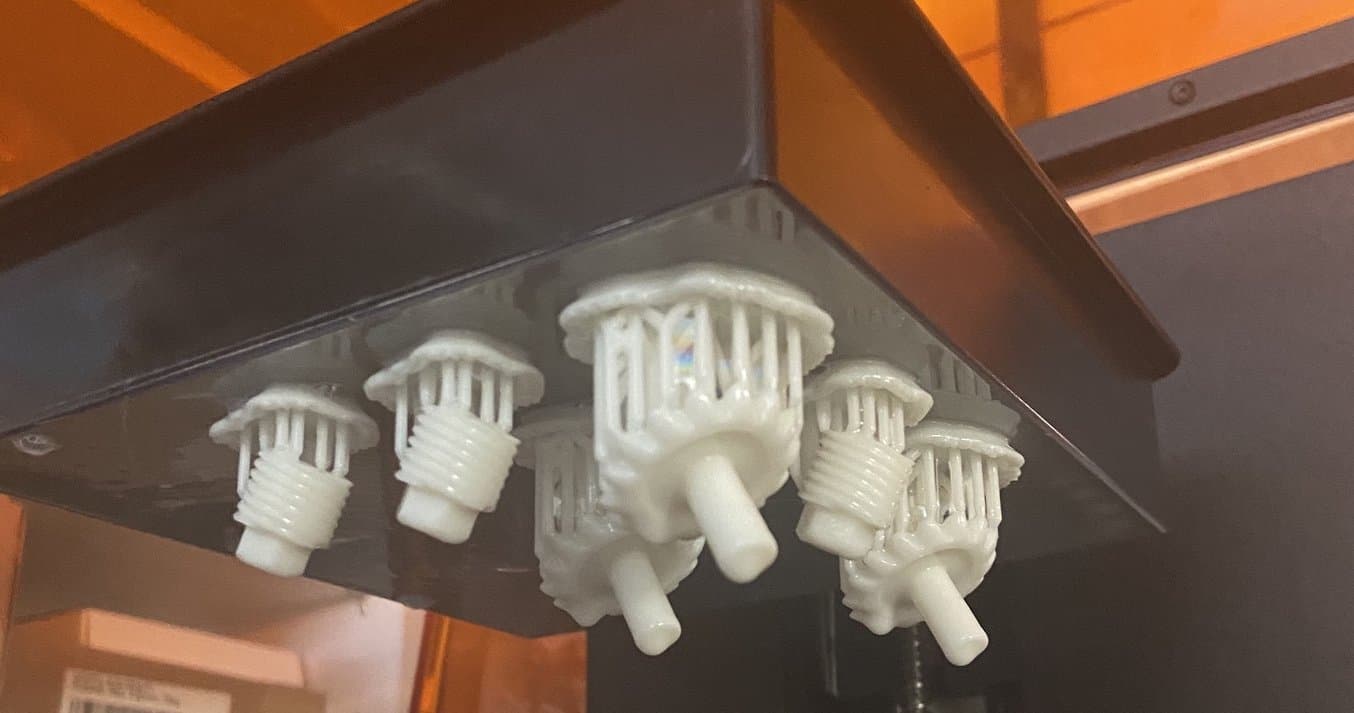 Collaborating Remotely
Remote communication has been the standard for many workplaces during 2020 and early 2021. For PrintCity, following social distancing recommendations was challenging for a business model that normally relies on in-person demos and meetings. 
According to Mark, there is enormous power in being able to physically handle a 3D printed prototype, and they are looking forward to getting that back. "With 3D printing, you really need to hold and see the 3D print. That has been missing over the last year or so. With a lot of our clients, once they have a 3D print in their hand, they have a lightbulb moment where they say '...this is exactly what we need.'"
In the meantime PrintCity has been relying on the mail to deliver prototypes to clients. To some extent, technology has helped bridge the gap between Mark and his clients. One particular benefit of Fusion 360 is being able to digitally share files with customers through the cloud. "We can send a link to a client with a 3D model, they can look around it, provide comments, or even download it." 
Bridging Education and Industry
In addition to learning directly from PrintCity's staff, companies can tap into some of the great student talent at MMU. Often after completing a feasibility study with a client, a logical way to step forward is to match a student with that company for an internship position. According to Mark, "we can do a bit of what we call 'reverse mentoring' where students can teach the skills that they have learned, and bring [those skills] into the company." Many students even go on to get their first jobs at these companies while continuing to leverage accessible digital tools like Fusion 360 and the Form 3.
At the end of our conversation, Mark left us with some great advice for product developers tackling new problems. He says that it's not uncommon for a company to have a specific 3D printing technology in mind, and then steer in a different direction after exposure to many different technologies. "Gain experience, fail fast, and fail often. What might fail for one product or project, might work well for another."  
Learn More
Formlabs Integration with Fusion 360
Formlabs and Autodesk's Fusion 360 have partnered to streamline your digital workflow with a new CAD software for 3D printing integration. Visit our integration hub to learn about the newest Fusion 360 features for SLA, read more user stories, and download our design guide.
Learn More