How A Biotech Startup Used the Form 3L to Create Large Covers for Customer Prototypes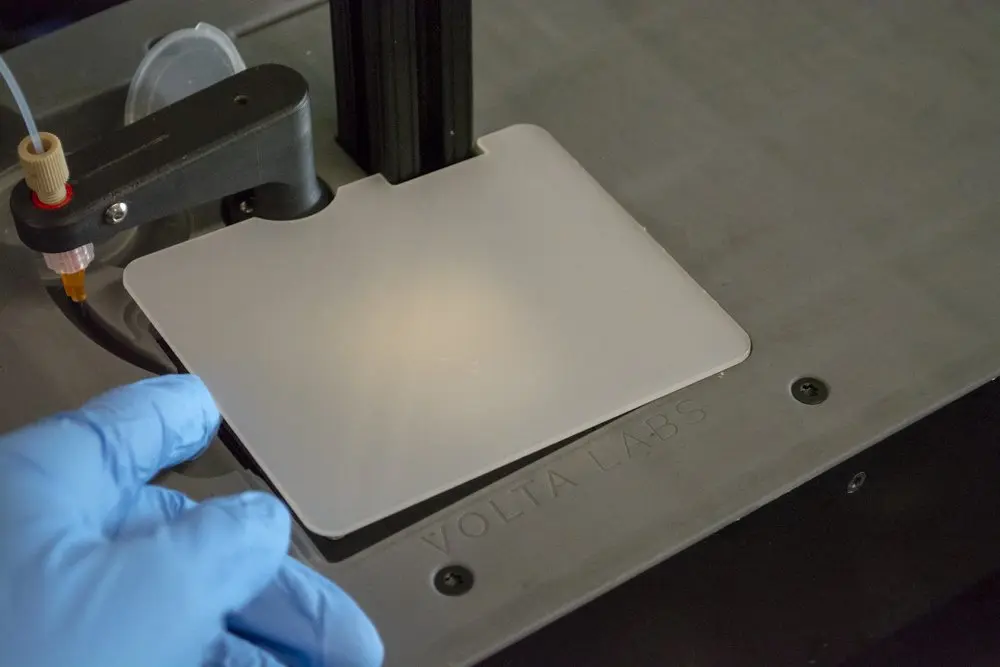 Will Langford, head of engineering at Volta Labs, was missing one essential part for his new microfluidic instrument: a custom, customer-facing cover. Before shipping early access units to customers, the team required a high quality cover for their product which offered both functionality to protect the expensive electrics inside the device, and aesthetics. 
Product Engineer Ishaan Govindarajan turned to both in-house and outsourced FDM and SLS 3D printers. Left unsatisfied with the part quality and turnaround time, he next got his hands on some prints from the Form 3L. Govindarajan put it succinctly when he said "Formlabs tools have been essential toward prototyping components that other 3D printers are not able to."
Form 3L For Prototyping and End Use Parts
Volta Labs has embarked on an ambitious agenda to replace standard pipettes and large liquid handling machines with biological automation as agile, scalable, and reliable as digital electronics. This means a single, desktop platform that can perform end-to-end biological protocols by manipulating tiny water droplets with very few moving parts. It does this using a phenomena called electrowetting to shuttle liquid droplets across the surface of an array of insulated electrodes while performing biological operations through the use of mixing, heating, and magnetic bead washing. In addition, the company is developing a series of software solutions  for creation and sharing of biological protocols, and, to manage and visualize biological data, with the goal of "digitizing biology". 
The team created a custom enclosure to house their complex machine, with the enclosure cover offering both functionality and protection. Furthermore, since the device was designed as a desktop machine, the cover also had to be aesthetically pleasing to look at. To meet all of these requirements, the team knew they would need 3D printing to produce the final part. 
Volta Labs had access to multiple FDM printers from Prusa3D, but quickly discovered parts printed on these 3D printers had problems. Due to the restricted build volume size, printing the cover in two halves and connecting them didn't create a secure enough environment to protect internal electronics. Govindarajan claimed that "we wouldn't be comfortable deploying this, it looks tacky, and it may allow agents to seep inside and damage the electronics." The Prusa3D printer was ruled out. 
Govindarajan tried printing on a Stratasys FDM machine, but the surface quality of the print wasn't good enough to serve as a customer facing part. Next, the team tried outsourcing SLS parts, but the turnaround time was over one week. The cover design had to be tweaked multiple times, and the team wanted to try various prototypes. The turnaround time was a significant cost and time barrier that a startup like Volta Labs didn't want to deal with. Langford said "outsourcing a part this size would be a considerable cost for a startup, if we were doing a print like this every week."
So the team kept looking. They needed a 3D printing technology that created parts in a reasonable amount of time, had a high quality surface finish suitable for customers, and was affordable for a small startup in the early/alpha stage of their product development. 
That's when they started looking at the Form 3L. Formlabs supplied parts printed in Grey Resin, and after a few iterations, the team had what they needed. They quickly realized that the Form 3L parts would meet their three requirements: surface quality, size, and affordability. The entire cover could be printed, in one part, over the weekend. The team could quickly iterate on the model, make small tweaks, and have a new print in a few days instead of a week or more with outsourcing. Grey Resin is perfect for general purpose prototyping and design, and excellent for capturing small details when used as a final use part. 
With the cover complete, the early access products were ready to ship to customers. Langford said "When the Form 3L launched, I didn't think it was something we would need to use. But after seeing this part, I totally get it. For external facing components, you are going to want high quality SLA printed in one large part. The full size printing creates parts that are continuous and seamless."
Get Started With the Form 3L
Volta Labs will soon begin shipping units with their Form 3L cover to users. Any feedback they receive from on the surface cover will help them perfect the design as the product moves into mass production. "From my perspective, what Formlabs is doing really well is professional level rapid prototyping. It's allowing us to deliver high quality customer facing parts with a low turnaround time," said Langford. 
The print possibilities are endless with the Form 3L. Take control of large-scale part production, increase your throughput, and bring your biggest ideas to life with a cost-effective large format 3D printer that doesn't compromise on the details. No project or initiative is too big for the Form 3L.
Volta Labs is building a world-class team of antidisciplinary scientists and engineers to develop technologies at the intersection of biology, engineering, and computer science. Their instruments automate biological workflows on a digital fluidic chip to drastically reduce the size, cost, and labor required to prepare samples for genomic sequencing and synthetic biology.
White Paper
Why Large-Format Printing Matters
Want to learn more about the Form 3L and Form 3BL ecosystem, and how they compare to other methods of creating large prints?
In this free report, we look at how in-house large-format 3D printing with the Form 3L stacks up against other methods of production, chiefly outsourcing and using FDM printers. We also compare costs between methods, and review when it would be best to bring the Form 3L in-house.
Download Now