How Skydio Leads the Drone Industry in Autonomous Flight With Help from Formlabs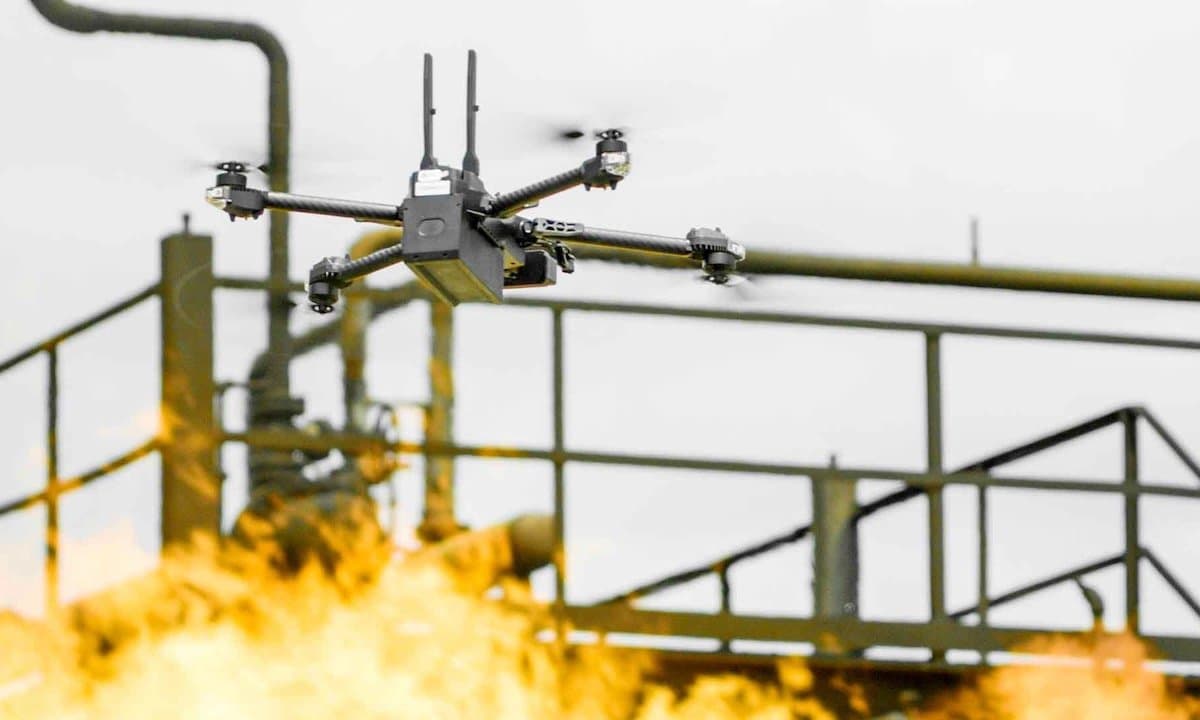 As manufacturers across the world look to adapt and respond to the proliferation of artificial intelligence, one drone company has set the standard for AI-powered systems. Skydio is a leading U.S. drone manufacturer and a world leader in autonomous flight. Their line of unmanned aerial systems (UASs) and new Dock products open up new opportunities in industries like energy utilities, transportation, public safety, environmental research, and more. 
Skydio's engineering and design teams rely on Formlabs Form 3+ stereolithography (SLA) printers in the product development phase for prototypes to get them as close as possible to final mass production designs. The Form 3+ printers do everything from functional testing to tooling and fixtures by leveraging the extensive range of materials Formlabs offers. Skydio has two types of drones, the Skydio 2+ and the Skydio X2, a heavy-duty drone for enterprises and defense. They've also introduced the Skydio Dock, a new, innovative product that allows drones to be deployed to far-flung sites, transmitting information without human interaction or monitoring.
Senior Hardware Development Specialist Eric Weinhoffer spoke to us about their design to production workflow, and how 3D printing helps the hardware team keep pace with Skydio's advanced software development.
What Sets Skydio Apart
In the early days of the drone industry, UASs, sometimes referred to as unmanned aerial vehicles (UAVs), required a remote pilot at the helm. To facilitate a reliable connection, the pilot had to be physically close to the drone, limiting its range and effectiveness. In the last few years,  drone companies have started to integrate some measure of autonomy into their systems, unlocking new use cases and allowing drones to gather more information. 
Skydio has flown ahead of the competition by focusing on software development first — introducing a fully autonomous flight system. "Historically, piloting these drones requires a lot of skill. With traditional drones, you'd have a lot of crashes, or just really poor video. Our drones won't crash — not only will they set up a perfect shot, but they'll also avoid trees, navigate smartly, and follow a subject automatically. We're the world leaders in autonomous flight," says Weinhoffer. 
That level of autonomy opens up a whole world of new opportunities for drones. Public safety agencies can use them when surveying an accident or crime scene to digitally reconstruct what happened — without expending manpower to monitor the drone or paying to hire a service. Utilities, civil engineering firms and state agencies rely on Skydio drones to complete extensive inspections of their sites and can deploy drones with a permanently installed Dock— setting up near-continuous monitoring without additional resources. Because these applications are often in hard-to-reach areas, Skydio's drones need to be durable and well-designed. SLA 3D printing enables them to get as close to the final injection molded part as possible when evaluating requirements for their prototypes.
Constant Compromises of Weight, Speed, and Range
Designing drones is an exercise in negotiating trade-offs. Ruggedized drones can't fly for as long as lighter drones. Very light drones can't hold the computing power required to operate autonomously but adding all the necessary computing for autonomous flight adds mass and, therefore, affects flight time. It's a constant series of slight design changes, incremental tweaks, and extensive testing. "We're doing so much computing on board to support autonomous flight. Every decision is a performance trade-off that affects every piece of the hardware and electronics."
To make small changes to component geometry and test how it affects flight time or impact resistance, the hardware teams rely on overnight printing to support and inform the development process. 
"With 3D printing, the speed gives us the ability to consider making a trade in some way. We can make a comparison between two slightly different geometries and test those tradeoffs."

Eric Weinhoffer, Senior Hardware Development Specialist
Skydio's ability to move quickly through these decisions and testing protocols has allowed them to hit deadlines and secure contracts. For a Major Program of Record for the US federal government, many drone companies entered an open bid process. Entrants were held to a strict and competitive time frame to present products that met the government's specifications. Skydio was able to win the bid because they were able to make hardware developments at a fast pace, thanks in part to their Formlabs printers.
"We didn't have control over the date — it was super critical we develop the hardware and software together. The lead times for getting production parts made were most limiting to us. The Form 3+ was instantly running nonstop, and then it was very easy, the hardware we needed to change was right there," says Weinhoffer. 
Finalizing Designs and Functionally Testing
In an external testing environment like the federal bid, having stopgap 3D printed parts that can simulate the ruggedness and durability, as well as strength and rigidity of injection molded or machined parts, is critical. Though Skydio uses fused deposition modeling (FDM) parts for quick form or fit tests, they rely on the Formlabs machines for functional testing final stage prototype designs. "SLA is helpful because it's all about the speed and ability to get as close to the production part as possible, as quickly as possible. Having parts that are close to the production material properties is incredible," says Weinhoffer. 
Skydio utilizes Rigid 4000 Resin for its balance of heat resistance, impact resistance, and strength, while they use Tough 2000 Resin for its similarity to injection molded plastics. The surface clarity of Clear Resin is integral for use in inspection phases to see how wires are routed throughout the electronics-heavy drones. For quick tooling applications, or functionally testing new gasket and seal designs, the teams will use Elastic Resin or Durable Resin.
"The Formlabs parts come out looking and feeling like solid molded parts. The ability to get close to what the part will eventually be in production is really powerful. Extrapolate that across different areas like fit and finish, they give our designers a better sense of how something might perform or feel the heft of something in our hands in order to do a drop test or fly prototypes. They give us the confidence to put them on flight tests."

Eric Weinhoffer, Senior Hardware Development Specialist
Webinar
Rapid Tooling and Manufacturing Aids for Any Size Aerospace Supplier
Watch the webinar to learn how additive manufacturing is being used by aerospace suppliers beyond just rapid prototyping. 3D printed tooling, jigs, and fixtures help companies of all sizes save time, cut costs, and deliver better products to market. Join experts from Formlabs to learn about proven case studies that push the boundaries of aerospace, aviation, and manufacturing..
Watch the Webinar
Sample Part
Request a Free Sample Part
See and feel Formlabs quality firsthand. We'll ship a free sample part of BioMed Durable Resin to your office.
Request a Free Sample Part
Fixtures for Functional Testing
Strength matters for testing fixtures as well as on-vehicle components. The team will design testing fixtures for drone components on the Form 3+ printers to take advantage of Rigid 4000 Resin's mechanical strength or Tough 2000 Resin's impact resistance. 
During the radio frequency (RF) testing phase of drone development, the team places drone parts in an antenna measurement chamber that eliminates external radio waves. They needed a strong fixture to hold the parts on a robotic turntable, but couldn't use metal because it would disrupt the experiment. Weinhoffer designed a fixture and printed it in Rigid 4000 Resin to attach to the chamber and keep the antennas in proper alignment for testing.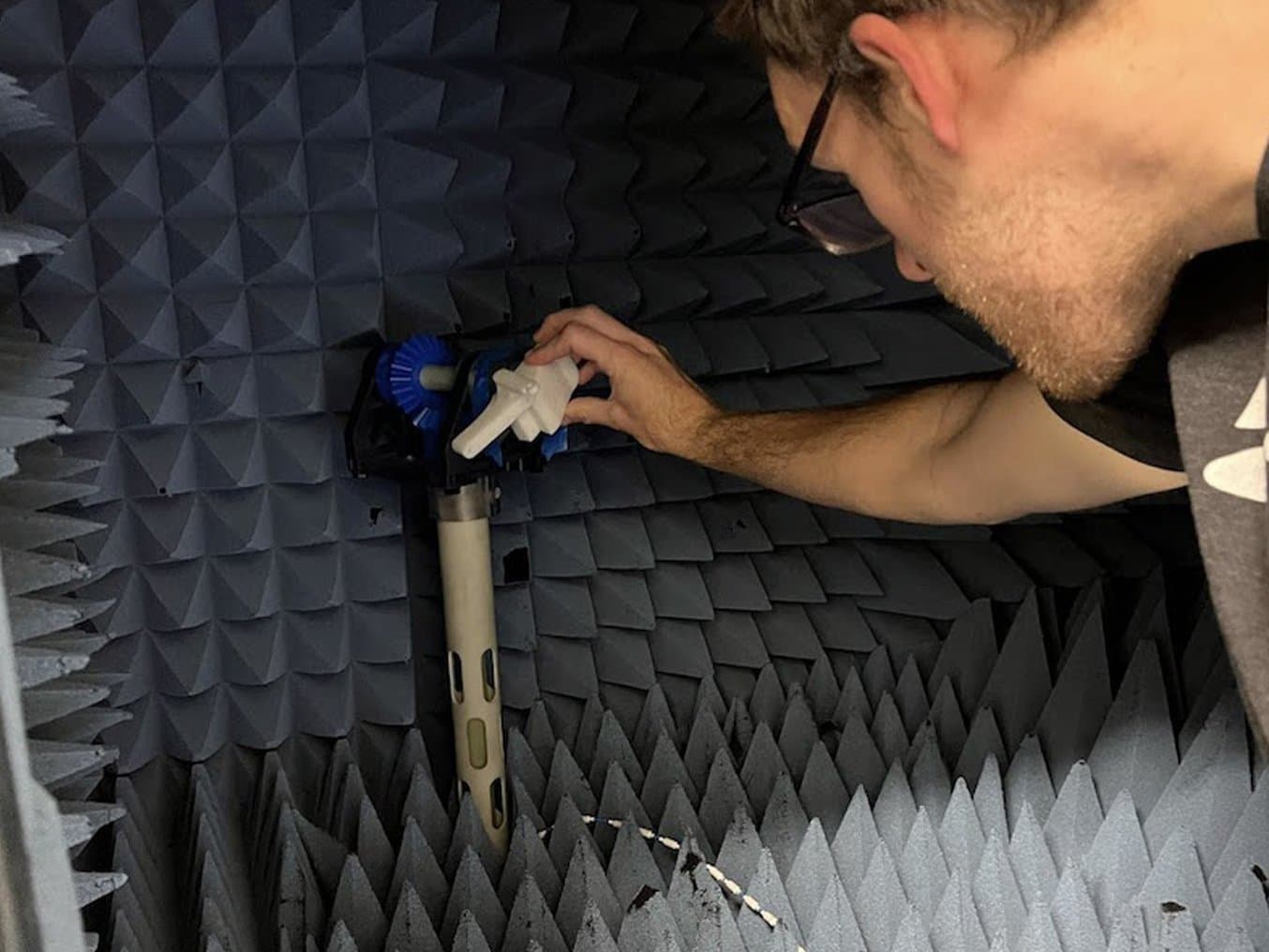 In another instance, the team needed to find a way to prototype rubber vibration isolators in-house, but requesting variations of the soft parts from vendors was expensive and time-consuming. Taking inspiration from a Formlabs whitepaper, the Hardware Development team printed out several mold masters which were used to test out the vibration isolation ability of several different designs.
"The biggest advantage by far is the suite of materials and material properties of the Formlabs resins."

Eric Weinhoffer, Senior Hardware Development Specialist
White Paper
Silicone Part Production With 3D Printed Tools
This report provides a step-by-step guide on 3D printed tooling for silicone part production, with best practices and customer case studies.
Download the White Paper Now
Ease of Use Increases Utilization
Part of Skydio's appeal to such a broad range of industries and customers is their accessibility and ease of use — the autonomous flight is advanced enough to take the worry or planning out of a deployment. Law enforcement can focus on collecting information at crime scenes instead of focusing on flying and construction conglomerates can deploy a drone and Dock for a years-long project without worrying about gaps in inspection. Weinhoffer uses that same philosophy for 3D printing as well; if it's not an accessible technology, it's not proving its value in the lab. "The Formlabs printers are so easy to use, and so many members of our engineering team can access them. Adding more Form 3+s and giving our engineering teams a day or two of extra time, letting them move quickly, that's hugely influential for us," says Weinhoffer. 
As Skydio has expanded its product lines and developed more custom solutions, 3D printing has become more than just a tool — it has enabled the hardware teams to support the breakneck pace of its software. 
To learn more about how 3D printers like the Form 3+ are enabling aerospace and defense manufacturers to optimize their workflow, win important contracts, and reduce production and development costs, visit the industry page or contact a specialist.