Formlabs Year in Review: Top 10 Moments of 2021
2021 was a year of constantly shifting expectations, evolving regulations, and a changing understanding of what it means to live, work, and create during the COVID-19 pandemic. Formlabs, like so many businesses, needed to be agile to continue delivering industry-changing products to our customers, so that anyone can make anything. 
Together with an amazing community, we released new products, hit new business milestones, and empowered an incredible variety of customers to change the way things are made. Here are our top ten moments of 2021. 
Shipping the Fuse 1 SLS Printer
Before the Fuse 1, selective laser sintering (SLS) was the domain of expensive, high-end systems, out of reach for most product designers and manufacturers. In January of 2021, Formlabs concluded a rigorous beta testing schedule, and began to ship the first affordable, industrial quality SLS system–the Fuse 1 printer and Sift post-processing machine. 
To reach this incredible milestone, Formlabs doubled down on our own technology, using the Fuse 1 prototypes to print end-use Fuse 1 parts for production units sent out to customers.  Over the course of 2021, Formlabs customers have done amazing things with the Fuse 1 and Sift, from scaling up service bureaus, to printing automotive and gender sensitive prototypes, and end use parts. Just as the Form 1 changed the stereolithography (SLA) 3D printing market, the Fuse 1 is poised to change the SLS market, and 2021 has shown that it's off to a great start.
Jewelry Casting Gets a Modern Update with Castable Wax 40
The jewelry industry is steeped in tradition and most jewelers use the same techniques as generations before them. Despite cost and time savings associated with 3D printing jewelry mold masters, most jewelers are wary of relying on such a new technology. To help ease the transition to digital jewelry manufacturing, Formlabs released Castable Wax 40, a resin and wax composite material that allows jewelers to create fine-detailed, intricate pieces that can be cast consistently and cleanly. 
In partnership with Rio Grande Jewelry, Formlabs validated Castable Wax 40 through an intensive process that ensured the new resin would print fine details that stayed clean and defined through the casting process. Castable Wax 40 Resin allows jewelers to rely on a proven, accessible 3D printing system, so they can spend more time on design, and less time carving wax by hand, or finishing a 3D printed part.
Scan to Model
Formlabs released its first software tool designed specifically for the dental and orthodontic industries, Scan to Model, empowering dental professionals to create print-ready 3D files directly from digital impressions. Previously the process to go from intraoral scan to printable file required an expensive and complicated software system, costing time and money for dental clinics and labs.
With Scan to Model, Formlabs Dental provides an easy entry point for in-house digital dentistry for simple applications requiring no CAD. Using the Scan to Model tool in PreForm, users can import intraoral scans, trim away extraneous features, and turn them into solid, printable files in just a few clicks. The release of this feature marked Formlabs' continuing investment in improving digital dentistry workflows and belief that our dental customers are of vital importance to the success of our company. 
Nylon 11
Just five months after shipping the Fuse 1, Formlabs announced a second material for the SLS workflow, Nylon 11. The addition of a second SLS material demonstrates the importance Formlabs places in material versatility. Just as our wide library of materials for our SLA printer line opened up new applications for our customers, adding another material for the Fuse 1 printer enables more customers to print industrial quality, end-use parts at an accessible price point.
Nylon 11 is the ideal solution for printing parts that bend and need to withstand repeated impact. Using the Fuse 1 printer and Sift post-processing machine, Formlabs customers can create end use parts like hinges or orthotics. The expansion of the SLS materials library further affirmed our position as the complete solution for SLS printing, and set the stage for more exciting things to come in 2022.
Medical Device Applications Had a Breakout Year
Customers in the medical device industry used 3D printing more than ever in 2021, and Formlabs helped fuel massive growth as customers utilized our SLA and SLS products to design and manufacture end-use medical devices. 
Coalesce Product Development in the UK used a fleet of Form 3s to prototype and iterate innovative drug delivery devices like inhalers and injectors, while US veteran Mychael Overstreet used the Fuse 1 to manufacture his Tension Square device, which holds needle decompression secure in place and prevents kinking or folding of catheter tubes.
VO2 Master Health Sensors was able to turn a historically unaffordable medical device, VO2 analysis machines, into a consumer product by leveraging the stiffness and strength of Tough 1500 Resin and a fleet of Form 2 and Form 3 printers. Using 3D printing at multiple points in their design, testing, validation, tooling, and production processes helped them cut costs, and thus deliver a better VO2 analyzer to market for a fraction of the cost of typical models.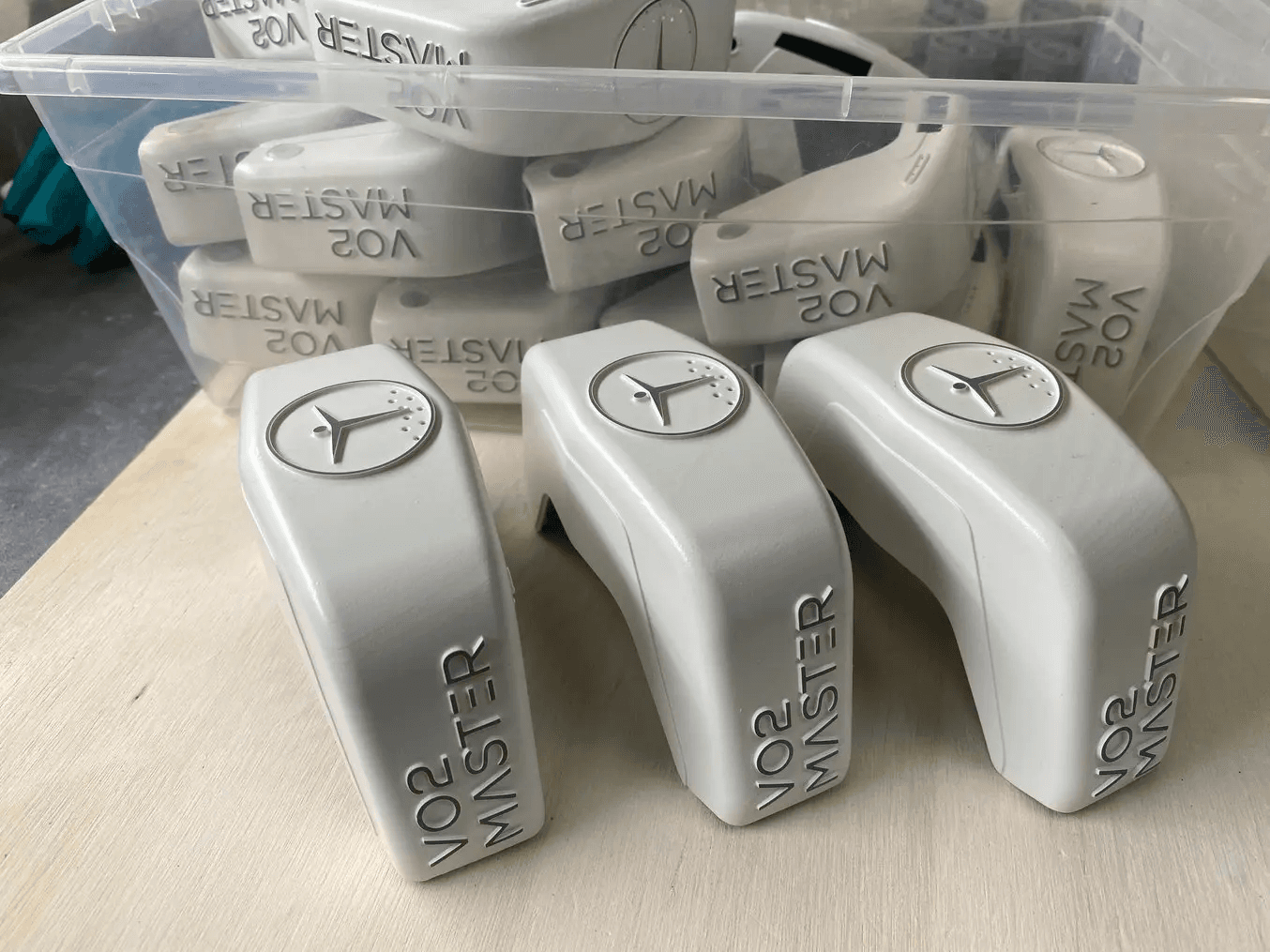 Series E Funding: $150 million Raised, Valuation Rises to $2 billion
In May of 2021, Formlabs announced a $150 million Series E funding round, led by Softbank Vision Fund 2, to double the company's valuation to $2 billion. Softbank's vote of confidence, and their history of investing in innovative and fast-growing hardware companies reaffirmed Formlabs' place as a leader in the 3D printing industry. Formlabs also presented a detailed plan for the proposed use of the funds, funneling the cash influx towards research and development of new hardware products and materials.
Formlabs Turned 10
October marked the 10 year anniversary of Formlabs, and reminded us of how much the company has grown. From just a handful of engineers in 2011 to a multi-national company of over 600 employees, offices in Massachusetts, North Carolina, Ohio, Germany, Hungary, China, Japan, and Singapore, and three product lines covering two 3D printing processes, Formlabs has achieved so much in just our first decade.
Though typically Formlabs looks forward towards the future, the 10 year anniversary prompted moments of reflection. Milestones like launching the first affordable, industrial grade SLS printer, inventing the first 3D printable nasopharyngeal swab with collaborators at USF and Northwell, and hitting the 100,000 printers sold benchmark are all achievements that reflect the hard work and passion that Formlabs employees put into our products. As the world's demand for high quality 3D printed parts has grown, Formlabs has grown with it, developing hardware, software, and materials so that anyone can make anything.
Formlabs User Summit (FUS)
Though many events returned to an in-person format in 2021, Formlabs continued with a second year of our virtual Formlabs User Summit. Hosting the User Summit virtually meant enabling access to amazing content for so many more people in our global community. 
Customers from 148 different countries tuned in to hear speeches in 7 languages from keynote speaker Grace Tan, principal systems engineer at NASA, Amy Alexander of the Mayo Clinic, Kat Erman, technical designer at Peloton, and more. Over the course of two days, Formlabs virtually hosted 150 sessions covering a wide range of 3D printing topics, from digital dentistry, to product design, to agile manufacturing. 
Over 2,900 people attended FUS, for a year over year growth of 92%. The engagement and excitement of the audience was a bright reminder that though the pandemic may have spurred the shift online, it also created a wonderful opportunity to connect with Formlabs enthusiasts and experts across the world.
Shipping the Wash L and Cure L
Formlabs continued its mission of providing end-to-end 3D printing solutions for our users with the release of the Wash L and Cure L, post-processing machines for our large format SLA printers, the Form 3L and Form 3BL. The Wash L and Cure L streamline users' workflow and make it easier than ever to print high quality parts in a clean, industrial environment.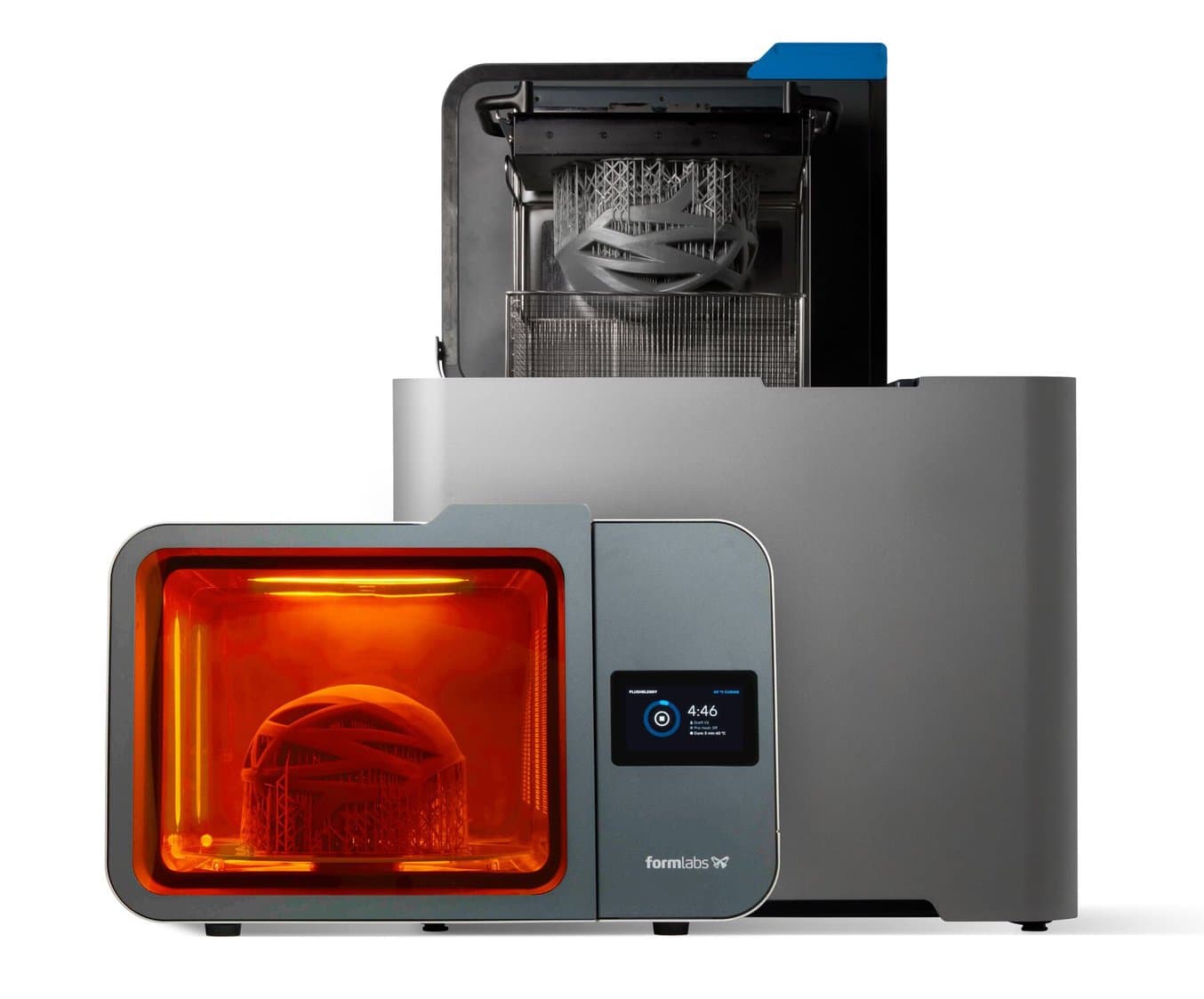 With the Wash L, customers can clean their prints using the automated settings, reducing mess or odors associated with isopropyl alcohol. The Form Cure L makes it possible for parts to reach their optimal material properties with pre-set times and temperatures for our materials library. Together, the Wash L and Cure L make the large format SLA workflow cleaner, easier, and more accessible.
Formlabs Help Break the Box Office
Whether for stage or for screen, set designers need the power to create scenes with incredibly specific detail, often on a tight timeline and budget. In 2021, both the behemoth Marvel Studios and the boutique design agency Lamp and Pencil used the Form 3 to create worlds with such intricate detail that audiences suspended their disbelief, whether on the couch, at the movies, or in a theater box.
Russell Bobbitt, head of props at Marvel Studios, has been 3D printing since 2009, and now uses Formlabs printers for creating items like Thor's Hammer, as well as for set pieces themselves in futuristic labs on screen. Across the Atlantic, the design and creative agency Lamp and Pencil uses the Form 3 and a variety of resins to produce custom lighting fixtures, brackets, and covers so that each play has a unique and dynamic atmosphere. Though Bobbitt and Lamp and Pencil might be creating for different sized audiences, they each use Formlabs printers to create magic, transporting audiences out of their seats and into another world.