The Biggest 3D Printing Event of 2022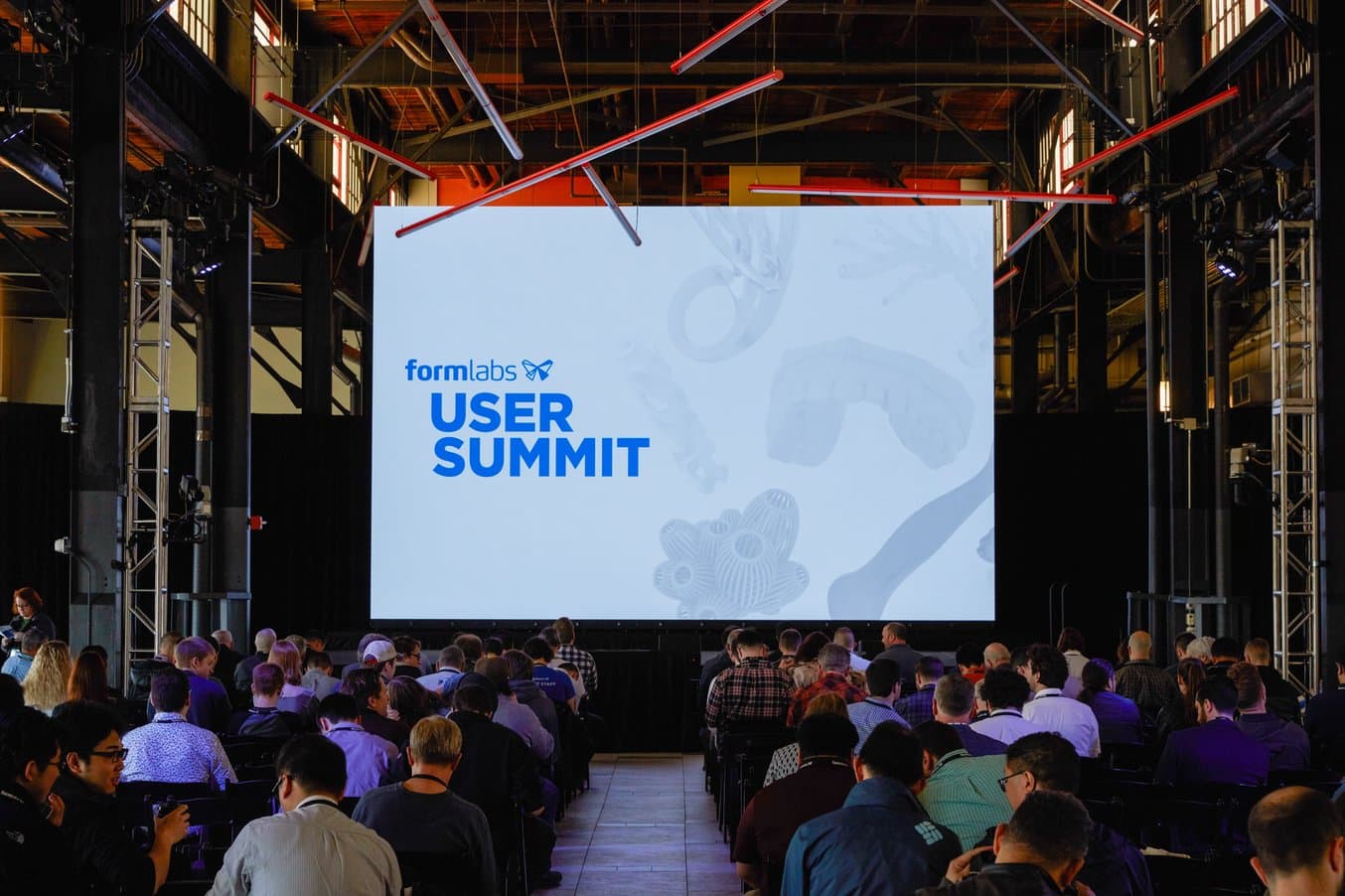 The 2022 Formlabs User Summit will take place October 26 (Wednesday) and October 27 (Thursday). This fully virtual event is set to be the biggest 3D printing event of the year, packed with learnings and insights from 3D printing users across a dozen industries, taking you from the operating room to the machine shop floor and beyond. Join us to celebrate the creativity and innovation of Formlabs stereolithography (SLA) and selective laser sintering (SLS) users, and learn from your peers along the way.
What will be at this year's event?
Exciting speakers, including Nervous System, Penn State, and award-winning practical prosthetics maker Dreamsmith. Last year we were joined by NASA, Peloton, Tapestry, Raytheon, Mayo Clinic, and more.
Sessions that will cover advanced 3D printing workflows, from injection molding to electroplating, to help you and your business drive innovation and efficiency.
A multi-leveled Formlabs University track that will help you level up your 3D printing skills. Learn from and interact with Formlabs 3D printing experts to have your questions answered.
A chance to connect with other additive manufacturing innovators from around the world and across industries.
And much more to be announced! 
Printed By Formlabs, Created By You
The yearly Formlabs User Summit is a unique gathering of passionate Formlabs users defining what's possible with digital fabrication. This year's global virtual summit will celebrate the innovators shaping the future of manufacturing from desktop printers to digital factories. Our goal is simple: to unite and inspire people who are shaping a future where anyone can make anything.
Last year, we focused on the theme of "changing with the world" as we highlighted users deploying the latest innovations and use cases for additive manufacturing. Over 8,000 members of the Formlabs community from 150 countries and every industry imaginable came together to participate in the live broadcast of the User Summit. 
This year, we've celebrated our user's biggest milestone to date: Printing 100 million total parts. These 100 milion parts represent a community effort, to try, iterate, innovate, scale-up, pare down, reinvent, and overhaul. Those parts have helped reduce costs, bring new products to market, save lives, and build businesses.
"The User Summit is an opportunity to connect professionals driving value in digital fabrication today to learn from each other's successes, solutions, and challenges, and continue to push what's possible with 3D printing."

Max Lobovsky, co-founder and CEO of Formlabs
Not currently a Formlabs user? That's ok, because the Formlabs User Summit will cover a range of content that is applicable to innovators at all levels of their additive manufacturing journey, from those evaluating new processes and solutions, to organizations scaling their in-house 3D printing capabilities and expanding their use of Formlabs products and materials.
Whether you're just getting started or leading the way, the user summit is your chance to connect with and learn from these communities and get behind-the-scenes access to the Formlabs engineering team. Attend to immerse yourself in success stories and interdisciplinary discussions, and learn actionable tips and techniques for perfecting and scaling your own 3D printing designs, workflows, and parts through hands-on workshops in eight languages.
Register Now for the 2022 User Summit
Formlabs is excited to invite you to join the biggest 3D printing event of the year. Over the next few months, we will be rolling out an extensive list of speakers and events, so follow us on Twitter to stay on top of the news. Or better yet, complete the registration below for your free tickets and join us on October 26th and 27th.