Workflows for the new industrial era
3D Printing Solutions for Manufacturing
Accelerate each stage of production.
Insulate your supply chain with stop-gap production and rapid tooling.
Improve efficiency with on-demand jigs, fixtures, and replacement parts.
Rapid Prototyping From Concept to Pre-Production
Bring additive manufacturing capabilities in-house to save time, cut costs, and keep sensitive IP inside your organization.
Communicate your ideas to clients and suppliers with high-quality prototypes.
Test and validate components before moving to mass production
Watch the video: How the Concept Cars of Tomorrow Are Made With 3D Printing
See Also
Case Study: Looks-Like Prototypes
How the Concept Cars of Tomorrow Are Made With 3D Printing
Case Study: Functional Prototypes
Rome Snowboards Takes Functional Prototyping to New Levels
Streamlined Production With In-House Manufacturing Aids and Rapid Tooling
Reduce downtime by streamlining your manufacturing process with custom jigs and fixtures.
Customize your assembly line without overhauling your equipment.
Eliminate reliance on external providers by 3D printing tooling for injection molding, thermoforming, and more.
Reverse engineer and replicate existing components for on-demand repairs, eliminating costly downtime.
Watch the video: How Ashley Furniture 3D prints custom jigs and fixtures for their manufacturing site.
See Also
Case Study: Jigs and Fixtures
Ashley Furniture: From One Idea to 700 3D Printed Parts in the Factory
Case Study: Pilot Production
How a Contract Manufacturer Uses 3D Printed Molds for Low-Volume Production
Superior Quality End-Use Parts
Take control over your production with high-performance materials that are up to the challenge of extreme environments.
Insulate your supply chain and avoid the middle-man with bridge production in-house.
Get your business started without over-spending on tooling.
Watch the video: How Hasbro produces mass customized action figures. 
See Also
Case Study: Mass Customization
Hasbro and Formlabs Make Anyone a Hero With Custom-Made Action Figures
Case Study: Low Volume Production
Producing Custom Control Systems for Machines and Vehicles Using SLS 3D Printing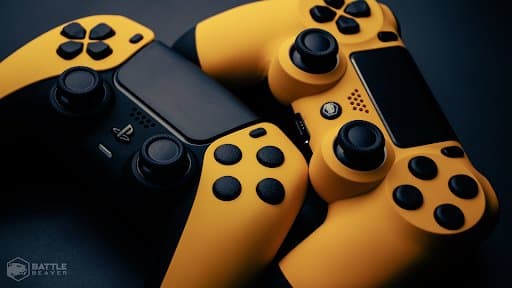 Case Study: Low Volume Production
Battle Beaver Uses SLS 3D Printing to Customize Game Controllers
From Design to Final Product Faster Than Ever Before
Never again wait weeks for tooling and parts to arrive from a supplier. Create end-use parts in a matter of hours, right in your office or on your factory floor to save months of development time and be able to respond to customer demands faster.
Step 1
Design and Iterate
Leverage Formlabs' extensive range of materials and the same tools that you'll use for production to iterate and improve your designs each day. Forget about the design restrictions of traditional processes—custom parts and complex designs can be produced with 3D printing in a cost-efficient manner.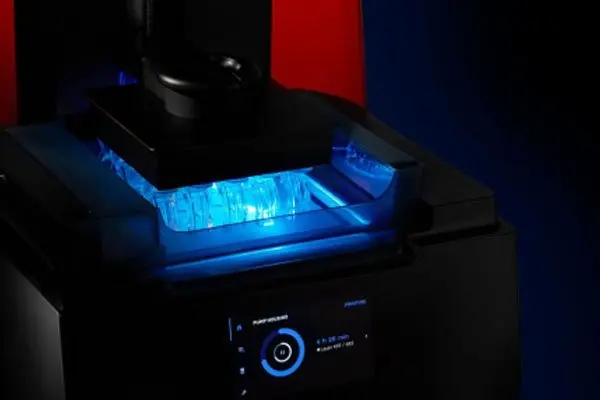 Step 2
Manufacture
Move to production by relying on the repeatability and consistency of the Formlabs SLA and SLS 3D printers. Produce end-use parts directly with 3D printing, use 3D printed rapid tooling with your traditional manufacturing methods, and shock-proof your supply chain by printing manufacturing aids and repair parts in-house. 
Step 3
Deliver to Market Faster Than the Competition
Complete your workflow with Formlabs post-processing solutions, use the 3D printed part as a component or sub-assembly in manufacturing, and beat your competition to market by streamlining operations.
Step 4
Scale Up and Be Agile
Scale up as the demand grows without excessive equipment costs, diversify your operations, and answer to the market and your customers faster than your competition without needing to invest in costly tooling changes.
Reduce Costs and Improve Stability by Bringing 3D Printing In-House
Prepare for the unexpected and minimize downtime with on-demand repair and replacement parts, protecting your investment in expensive industrial manufacturing equipment.
For a production facility, every minute without a replacement part represents lost value. With an in-house industrial SLS 3D printer like the Fuse 1+ 30W, manufacturers easily design and produce replacement parts in just a few hours. 
Download Our ROI White Paper
Calculate Your Time and Cost Savings
Crank Handle Replacement Part
A Full Suite of 3D Printing Solutions
Form 3+
---
Small to mid-size prototypes and parts
Molds and dies
Connectors and brackets
QA and go/no-go gauges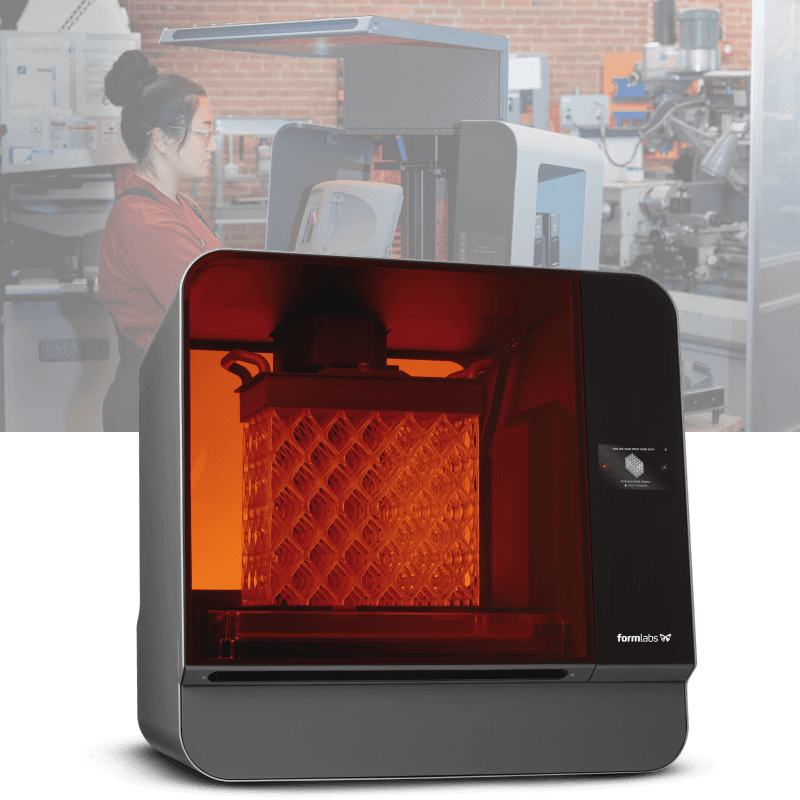 Form 3L
---
Mid-size to large prototypes and parts
Molds and dies
Assembly jigs
Toolholding and fixtures
Fuse 1+ 30W
---
Functional prototypes
End use parts: enclosures, connectors, manifolds
Long-lasting, durable jigs and fixtures
High-Performance Materials for Engineering and Manufacturing
Formlabs has an extensive library of proprietary 3D printing materials suitable for even the most demanding applications.