How Lush Cosmetics Take Ideas From Concept to Reality in Under 24 Hours with 3D Printing
Step inside one of Lush Cosmetics global retail stores, and you'll be captivated by the huge range of products, available in a variety of shapes, sizes, and colors. Founded in 1995 by British entrepreneurs Mark Constantine and Liz Weir, the company set out to revitalise the high street with their fresh take on cosmetics, championing ethical buying and 100% vegetarian ingredients.
With 928 stores spanning across 48 countries, the handmade cosmetics retailer known globally for making creative and crowd pleasing products such as Massage Bars, Body Butters, Bath Bombs and more, attributes its success to being able to respond quickly to trends and customer demand. 
To enhance its product design capabilities, the organisation opened a state of the art research and development facility in 2018, equipped with a range of additive manufacturing technologies. 
To learn more about how the retail giants utilise 3D printing, we spoke with their Innovation Lab Manager, Damien Carter. 3D design extraordinaire and maker of molds, Damien leverages their fleet of nine Formlabs 3D printers - supplied by Additive-X, Formlabs largest partner in Europe - to give the company a competitive edge by rapidly bringing new products to market that can't be found elsewhere.
Behind the Scenes at Lush Cosmetics State of the Art R&D Facility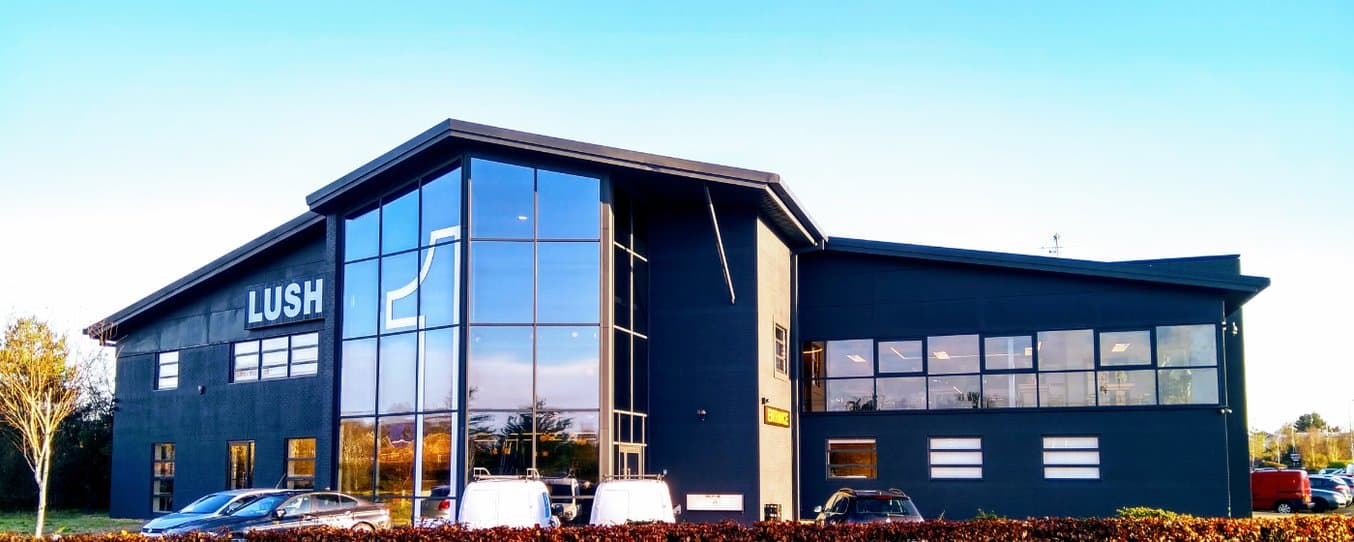 Positioned at Lush's global headquarters in Poole in the south of England, Unit 1 is the multi-million pound research and development centre that enables Lush's team of product designers to sandbox ideas and trial new engineering processes. 
The centre is equipped with a wide range of additive manufacturing technologies, including six Formlabs Form 2 stereolithography (SLA) printers, two Formlabs Form 3 printers, in addition to several FDM 3D printers, vacuum forming and CNC milling machines, along with 3D scanning and design equipment. The team at Unit 1 works closely with the product inventors to finalise the production process before final designs are sent to manufacture.
The facility also offers support to Lush's global manufacturing sites across the UK, Japan, Australia, Croatia and Germany, allowing them to stay true to their promise of delivering fresh products to every store.
"At Unit 1 most of our product development takes place on our Formlabs printers, as we're able to achieve the high-level of precision at a low cost that makes our products standout. Having Formlabs technology at our core development sites in the UK and Japan enables us to share product designs quickly and effortlessly across the globe."

Damien Carter, Innovation Lab Manager, Lush Cosmetics
Rethinking Traditional Workflows with 3D Printing
Prior to using 3D printing, Lush crafted the master molds for their hugely popular products by hand, with a mixture of clay modelling and stone cast carving. This was often a laborious and time consuming process for the development team. As a result, product iterations were less flexible, as each mold could take several days to create. Creating molds by hand prohibited the team from reaching their full product development potential.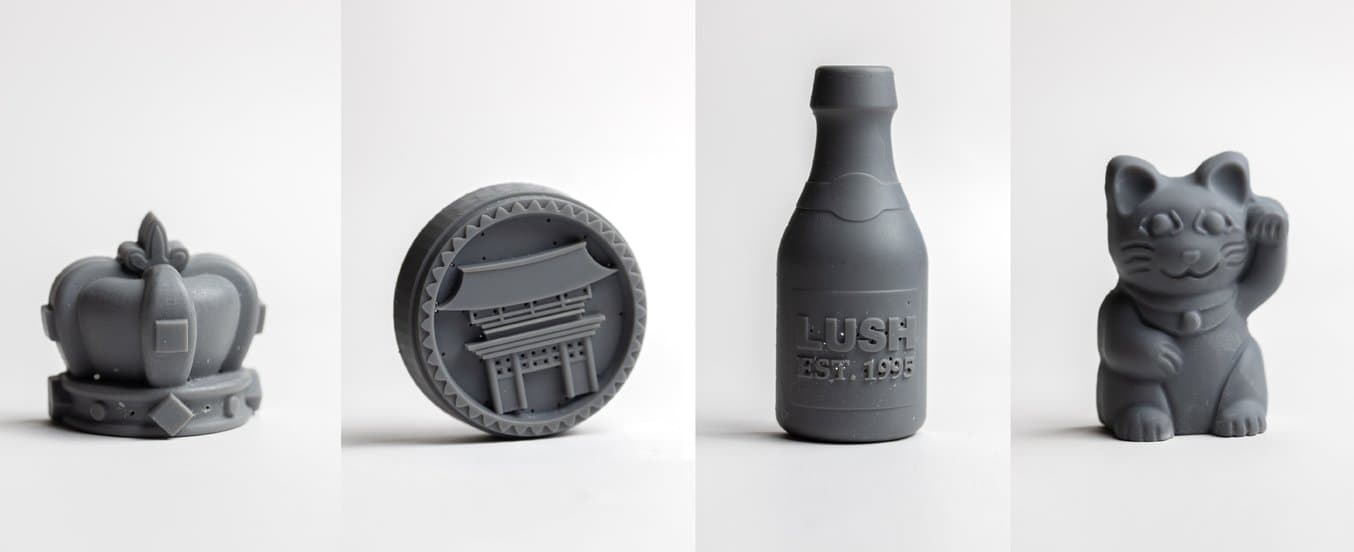 In an effort to optimise the process for creating detailed product designs that were particularly troublesome with hand tooling, Lush acquired their first Formlabs stereolithography (SLA) 3D printer in 2016. They selected an SLA machine as they knew the printer was able to deliver with highly-accurate printed parts. The technique involves using a precise laser to cure liquid resin into hardened plastic through a process called photopolymerization, ideal for detailed designs with custom lettering. Boasting a smooth surface finish, SLA 3D printing can also reduce post processing time.
Alternatively, when accuracy is less critical for a project - for example, creating soap dish prototypes - the team would use one of their fused deposition modeling (FDM) printers, where a lower micron setting could be used.
"We use our Formlabs 3D printers for a mix of mold creation, custom tooling, and end-use parts. We're a reactive business and having this capability in-house means we don't need to share designs externally as we own everything in the product development process."

Damien Carter, Innovation Lab Manager, Lush Cosmetics
Damien utilizes vacuum forming techniques to create molds for new cosmetic designs. The process of vacuum forming is quite simple and requires four basic elements: a precise mold or tool that will create the shape of the final part, a sheet of plastic, a heat source, and a source of vacuum.
A sheet of plastic is heated as evenly as possible, until it becomes soft and pliable. It is lowered over a mold and pulled into place with a vacuum to effectively pull the thermoplastic sheet into the shape of the mold. The part is then allowed to cool before being removed from the mold.
3D printing the mold designs with their Formlabs machines is extremely effective for Lush as it enables the fast production of new prototypes. Additionally, 3D printed molds can easily incorporate small features like lettering and intricate textures without impacting part cost.
White Paper
Low-Volume Rapid Thermoforming With 3D Printed Molds
Download our white paper to see how to create complex molds with 3D printing fast and learn about tips and guidelines that you'll want to follow when preparing your mold parts.
Download the White Paper
From Design to Print in a Matter of Minutes
Using either Solidworks or ZBrush CAD software, Damien and his team can model new designs and send them with Formlabs remote printing feature to their printers. Ensuring they have a digital footprint of each iteration in CAD allows them to recycle and reuse designs, saving time and production costs down the line. 
"The reason we've stuck with Formlabs printers is usability and reliability. We just plug them in and can expect to get great results every time. The 3D renders also help our colleagues visualise the intricate details of the product before sending the designs to production."

Damien Carter, Innovation Lab Manager, Lush Cosmetics
With this process Damien can simply email STLs (a file format native to 3D printing) of his designs to colleagues across the globe, which can help move ideas forward during busy product sprints, or around high development periods like Christmas. Previously it could take several days, or even weeks, to ship new molds between offices for testing. The team also relies on the ability to 3D scan and print existing products if there is no master STL available, or to take inspiration from everyday life.
Australian Bushfire Relief Project With Custom Koala Soap
Another example of how 3D printing has enabled Lush to stay reactive is their 'All The Wild Things' relief project that took place last year. In January 2020, Lush began selling koala shaped soaps to raise money for the Bush Animal Fund, a charity helping the wildlife affected by the Australian bushfires.
The soaps quickly sold out, with 50,000 pieces available worldwide to represent the number of koalas in Australia. Fans of the soap begged Lush to bring back the limited-edition item.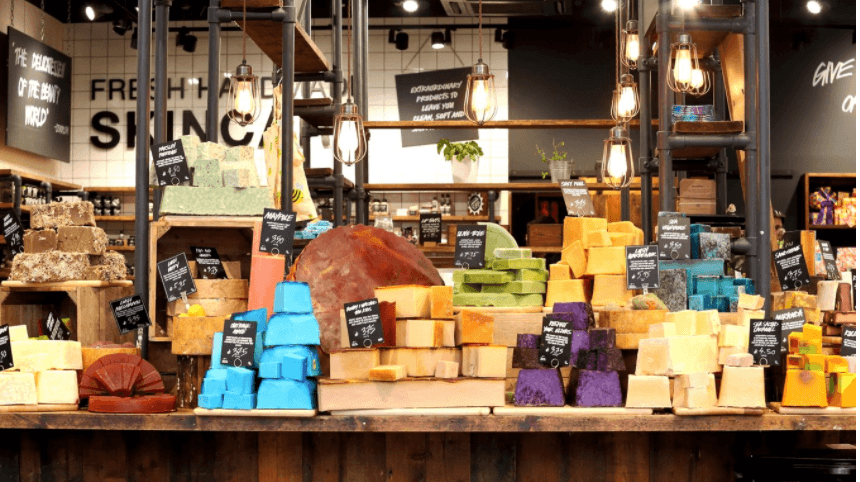 "I was extremely proud to be part of the team working on the All The Wild Things relief project to raise funds for animals affected by the Australian bushfires. We were able to turn around the mold designs within 24 hours with Formlabs printers and the custom Koala soaps went into production within under a week."

Damien Carter, Innovation Lab Manager, Lush Cosmetics
Thinking Outside of the Cosmetic Box
Formlabs 3D printers helped Damien and his team beyond creating products inside Lush's retail stores. When it came to designing their new additive manufacturing unit, the engineers wanted to be able to fully visualise the building and optimise the large open space.
To help plan for new equipment, or mockup retail stores internally, they wanted to create a to-scale architectural model of Unit 1. At first they reached out to a design bureau which quoted £15,000 for the project including labour, materials and shipping. 
Keen to try his luck in-house, Damien made a mockup of the space with Solidworks. He was able to print the design on their Form 2 3D Printer using a mix of Formlabs standard engineering materials: White Resin for main structure, Grey Resin for the internal worktops and Clear Resin for the windows. When he calculated the in-house project costs including labour and materials, he estimated that the model cost just under £900 to deliver - a 94% cost saving versus the external quote.
"Using Formlabs printers helped us save over £14,000 and several weeks of production time when printing a scale architectural model in-house of our new R&D facility. We found this to be a great tool in terms of spatial planning, meaning we can 3D print our equipment and we can tangibly look and feel how something may fit within units."

Damien Carter, Innovation Lab Manager, Lush Cosmetics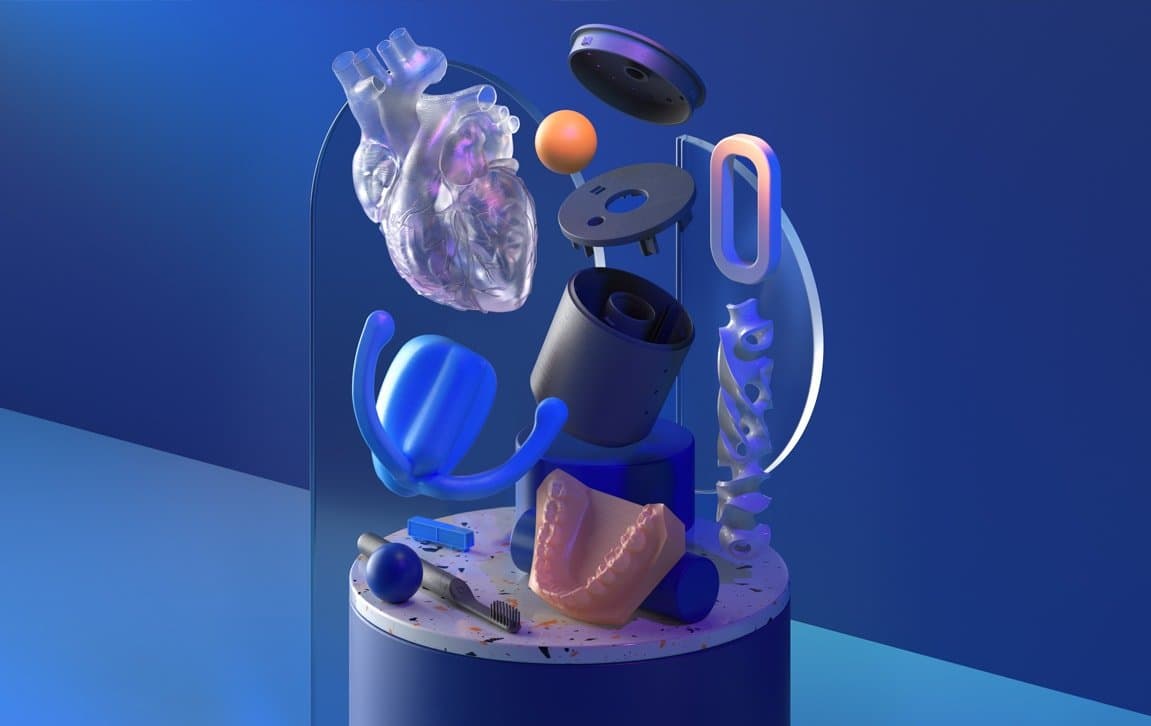 Event Archive
Formlabs User Summit 2020
Revisit Damien's talk from the Formlabs User Summit 2020 along with over 50+ recorded sessions from speakers across the globe.
Visit the Archive
Saving Costs and Increasing Productivity
Looking into the future, in-house 3D printing with Formlabs has opened up opportunities for Lush Cosmetics employees to creatively solve problems and quickly respond to customer demand. The team is now able to take ideas from design to manufacture in under 24 hours, with the average design taking just 4.5 hours to print. Previously the mold creation alone took two to three days for one iteration.   
With access to a full range of digital fabrication tools, the R&D facility was able to fulfil 580 requests in the first half of 2020, saving a considerable amount of time and labour. In doing so they were able to be more reactive and efficient when the pandemic hit, and prioritise the projects that made the most notable impact to the business. 
Their new approach has also empowered them to be more future proof, as they have a complete digital library of casts which they can adapt for new product lines.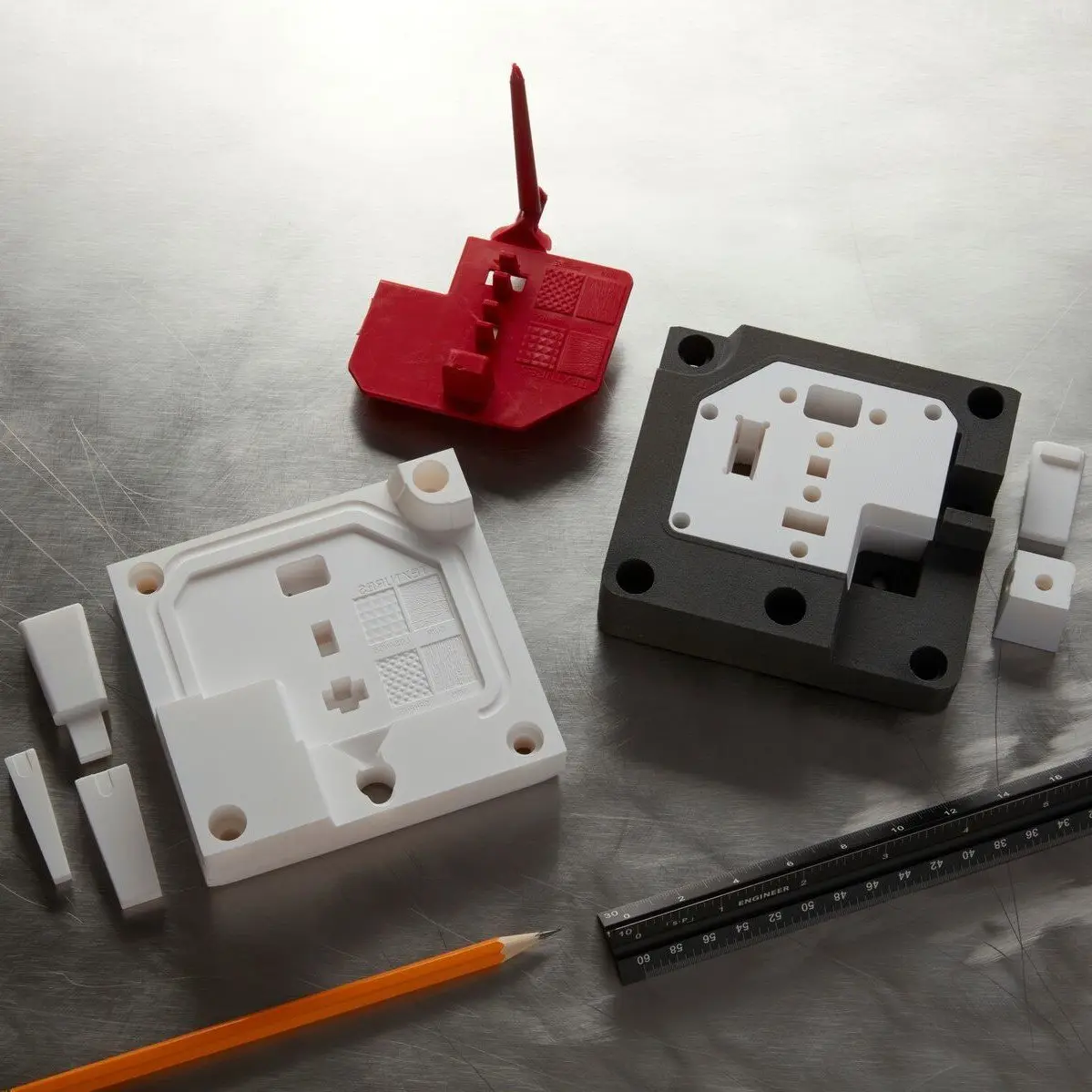 White Paper
Guide to Rapid Tooling
In this white paper, learn how to combine rapid tooling with traditional manufacturing processes like injection molding, thermoforming, or casting.
Download the White Paper
The ROI of In-House 3D Printing
| Product | Material Used | Cost to Outsource | Cost to 3D Print on the Form 3 (including labour) | Cost Saving |
| --- | --- | --- | --- | --- |
| "Thank You" Coin Mold | Formlabs White Resin | £114 | £6 | 95% saving |
| Architectural Model of Unit 1 | Formlabs White, Grey and Clear Resins | £15,000 | £900 | 94% saving |
| Custom Tooling | Formlabs Grey Resin | £99 | £4.50 | 95% saving |