How Tessy Plastics Uses the Fuse 1 to Reduce Downtime on the Shop Floor
Tessy Plastics is a contract manufacturer for custom plastic injection molded products serving the medical, pharmaceutical, diagnostic, and consumer industries. Tessy Plastics Research and Development Engineer, Brian Anderson, is an expert in using additive manufacturing on the shop floor to improve project outcomes. Tasked with new challenges on a weekly basis, he finds creative solutions to the array of obstacles that appear at their facility from broken machines to the creation of custom fittings and tooling. As issues arise, Brian's job is to ensure Tessy meets client deadlines.
Recently, Brian was able to get his hands on a Fuse 1 selective laser sintering (SLS) 3D printer to complement his fleet of 3D printers and manufacturing tools. Read more to learn how Tessy used their first affordable SLS 3D printer.
Additive Manufacturing at Tessy Plastics
"The first thing our team did was try and break the nylon parts. They're strong!"

Brian Anderson
The team at Tessy is equipped with a wide range of in-house 3D printers. This includes two fused deposition modeling (FDM) printers, a Stratasys J750 PolyJet machine, and two Formlabs stereolithography (SLA) printers. Multiple departments use this printer lineup, with each printer called on to serve different needs.
This year, the team added their first in-house nylon powder printer: the Fuse 1. The SLS printer was brought on to create high-functioning production replacement parts when machines break, extending their uptime and keeping production on track. Brian also used the Fuse 1 to create production-ready and functional prototypes to solve unique challenges his SLA, Polyjet, and FDM printers could not.
Creating End-Use Parts With SLS 3D Printing
Brian felt that having the Fuse 1 SLS printer in-house "gives us a better opportunity to arrive at the best possible solution for the tasks at hand." This is due to the versatility of SLS printing and the high quality nylon plastic parts it produces. Nylon is a proven, high-quality thermoplastic with mechanical properties comparable to those created with conventional manufacturing methods like injection molding.
When outsourcing SLS parts, teams effectively have one shot to make sure their designs are adequate. Designs are created and sent to be printed, arriving weeks later and leaving no room for further modifications. With the Fuse 1, multiple prints can be created and designs optimized with a turnaround time of just a few days, creating a better end product than was possible when outsourcing. 
Let's take a look at some of the different obstacles Brian was able to overcome with his Fuse 1.
Standard Timing Belt Pulley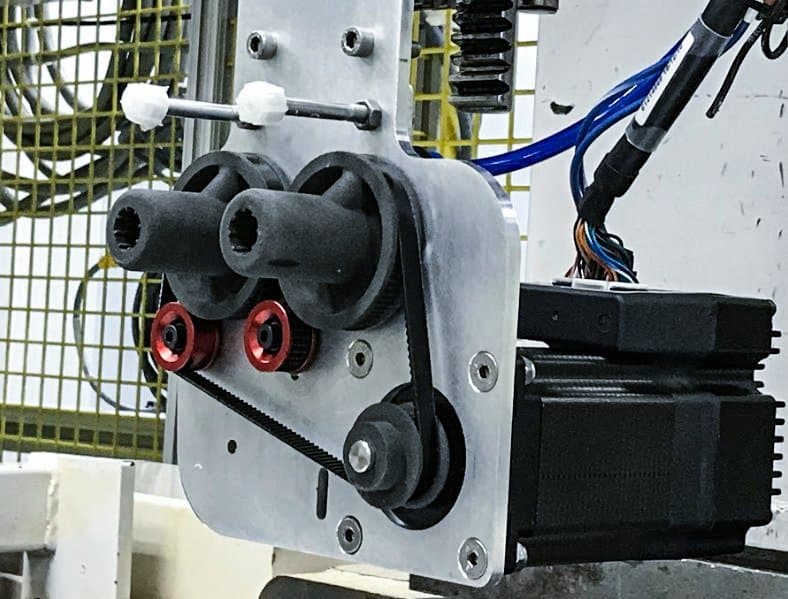 Halfway through prototyping a customer request, the customer made a substantial change to the part design. This should have required a new mold for the customer's part due to newly required geometry, an alteration that would have delayed production of the customer part. 
Tessy printed a new pulley system with the Fuse 1 to use on the molding machine to stand in for the new mold action. After three weeks of use, the 3D printed pulleys still look and run like new. Tessy was able to quickly turn around thousands of parts for their customer by using the Fuse 1 pulleys as end-use parts instead of stopping production until a new mold was made.
"The custom pulleys printed last week are working well in production as functional parts. They have very delicate splines on the inside of the vacuum tooling that are holding up well unscrewing molded parts from the core."

Brian Anderson
Fitting Tools
On the molding floor, dozens of pneumatic push-to-connect fittings are used on various machines. Oftentimes inserting rubber tubes into the fittings can be difficult, with employees damaging parts with screwdrivers or their fingers. 
A custom screwdriver fitting tool was created to remove rubber tubes from the pneumatic push-to-connect fittings. The strength of SLS parts allows custom tools to be created and in-use on the floor within a few days of conception. Brian was able to study a complication on the molding floor, come up with a solution, and print a variety of different fitting tools for the production team.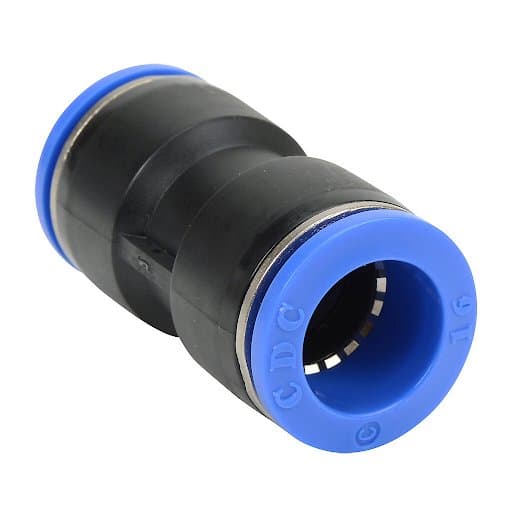 The fitting tool makes it easier to take the rubber tubes on and off, reducing damage to the fittings, which can cost $20–$30 each if they need to be replaced. Because of the low cost per part on the Fuse 1, it becomes more affordable to create fitting tools instead of buying replacement parts each time a fitting breaks.The cost savings from reduction in damaged pneumatic fittings is another indirect savings attributed to the Fuse 1. 
Lowest Cost Per Part in 3D Printing
"We expect the Fuse 1 to be well worth the investment."

Brian Anderson
The Fuse 1 allows companies like Tessy to bring the industrial power of SLS into their business with an affordable, compact system for production-ready nylon parts. Most companies have experienced outsourcing nylon 3D printed parts before, but never possessed the ability to print them in-house at an affordable price. 
One way Tessy measures the ROI of the Fuse 1 is reduction in downtime for production machines. The ability to print replacement parts using high-performance nylon parts means reducing potentially crippling production shutdowns. For example, the aforementioned ability to create millions of the COVID test kits while waiting for replacement parts helps Tessy justify the ROI on bringing SLS printing in-house. Being offered at a price point significantly lower than the ~$200,000 typically attached to industrial SLS systems, the Fuse 1 is a printer designed to deliver ROI to firms operating on smaller and more realistic budgets. 
Comparing the Fuse 1 and Other Formlabs Printers
According to Brian, for affordable in-house 3D printers like the Form 2, the printers can pay for themselves immediately depending on the project.  "The Form 2 was inexpensive enough that we purchased two of them for a specific project and they paid for themselves in the first month". Brian views the Fuse 1 as a longer term investment than the Form 2, but one that will nonetheless easily pay for itself. 
"We see the Fuse 1 as a different device as the Form 2. We are not selling the printed parts. It helps with tooling, with product development, with creating functional parts. It's a three year investment and something we expect it to be well worth that investment". It also helps that the cost per part on the Fuse 1 is the lowest among Tessy's 3D printers. According to Brian, "the parts are very inexpensive. When we calculate the cost per print, the Fuse 1 parts come out to be the lowest price for us when compared to our other 3D printers."
Learn More: The Fuse 1 SLS Printer
"The Fuse 1 is like an industrial fire extinguisher."

Brian Anderson
The parts here are just a sample of the items Tessy printed on the Fuse 1. "We printed a few sets of replacement fan shrouds, a torque limiting screwdriver, an end of arm tool, and a block with a number of common threads printed in it. We tested the Fuse 1 across a range of applications." 
Formlabs is excited to offer the Fuse 1 SLS 3D printer to reduce outsourcing costs and increase turnaround times for businesses of all sizes. SLS 3D printing is well-loved by engineers for its ability to print strong, functional parts without supports, but the technology has historically been expensive and difficult to use. With the power of SLS on your benchtop, engineers like Brian Anderson are empowered to solve whatever problems are thrown their way.
Be the first in line to receive the new standard in industrial 3D printing.
More About Tessy Plastics: Founded in 1973, Tessy Plastics is a global contract manufacturer headquartered in Skaneateles, NY, specializing in injection molding and custom automated assembly solutions. We have facilities in New York, Pennsylvania, and China. All of our facilities are FDA/GMP compliant and add up to more than 1.7 million square feet, including 147,000 square feet of ISO Class 7 & 8 clean room manufacturing. Through comprehensive engineering and research & development, we provide superior quality and speed to market.  Contributing to the Medical, Pharmaceutical, Diagnostics, and Consumer markets allows us to leverage our expertise over a wide range of products. Our capabilities include product design & development, rapid prototyping, tool design & build, medical automation design & build, plastic injection molding, and complex medical & consumer assembly.
White Paper
SLS 3D Printing vs. Injection Molding: When to Replace Molded Parts With 3D Printing?
This white paper showcases the cost-dynamics for real-life use cases, and presents guidelines for using SLS 3D printing, injection molding, or both.
Download the White Paper