3D PRINTING FOR DENTAL PROFESSIONALS
3D Printing is the Catalyst for Digital Dentistry

The Formlabs Form 2 makes high precision digital workflows accessible for dental businesses of any size.
Since 2016, Formlabs has been driving a new phase in digital dentistry. The introduction of the Form 2 revolutionized dental 3D printing, bringing reliability, high quality, and ease of use to the technology, at a fraction of the price.
Leader in dental
Biocompatible materials
Streamlined workflows
200,000+
BIOCOMPATIBLE APPLIANCES
1,000,000+
DENTAL PRODUCTS PRINTED
10,000+
DENTAL PROFESSIONALS
Trusted by Dental Industry Leaders
With 75+ support and service staff and 150+ engineers, Formlabs backs its products with the strongest team in 3D printing. Form 2
3D Printing for Dental
The Form 2 makes digital dentistry affordable for dental businesses of any size, enabling cost-effective, mass-customized production of a wide range of indications.
Professional precision
Easy to use
High throughput, low cost
Scalable
Request a Sample Part
Professional Precision
With accuracy tolerances for margin lines and die surfaces as tight as ±35 microns on Dental Model Resin, the Form 2 delivers the same precision as large-format dental 3D printers that cost $35,000 or more.
Larger Build Volume, Lower Cost
Print 2-3 times more parts in a single build compared to small build plate DLP printers on the market to spend less time handling your printer and more time on high-value tasks. Production environments can see 55% less labor time and costs compared to DLP.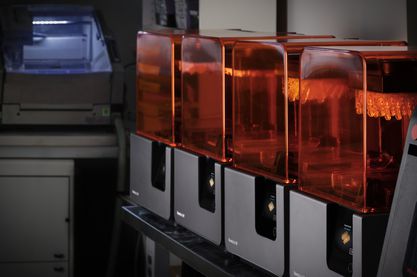 Small to Large Production
The Form 2 meets the needs of high production dental labs to grow; adding printers, curing, and washing systems is simple and affordable. This modularity allows for consistency, scalability, and redundancy of print production that large footprint printers cannot match.
Digital Workflows in Dental With Formlabs
The dental industry is going through a digital revolution, and Formlabs is at the forefront. Our accessible, impactful solutions make it easy to start 3D printing–but that's not the only piece of the puzzle. Explore our workflow guides and other resources to make the rest of your digital journey as smooth and straightforward as possible.
| 1. Scan | | | | |
| --- | --- | --- | --- | --- |
| Collect patient anatomy digitally using an intraoral scanner. Send scans to the lab with a digital prescription or to a design station. | | | | |
| 2. Design | | | | |
| --- | --- | --- | --- | --- |
| Import scan data into CAD software, where the virtual design takes place. | | | | |
| 3. Print | | | | |
| --- | --- | --- | --- | --- |
| Import the designed CAD files into PreForm print preparation software for print setup and send them easily to a Formlabs printer. | | | | |
| 4. Prepare | | | | |
| --- | --- | --- | --- | --- |
| Wash, dry, and post-cure printed parts. These parts can then be used intraorally or be used to produce various indications. | | | | |
One Printer, Many Applications
The Form 2's automated resin system enables switching between applications in under a minute, with no mess or waste. Explore other dental indications and applications that are possible on the Form 2.
Control Your Digital Future With Formlabs Dental 3D Printers
The Form 2 and Form 3 Complete Packages include everything you need to bring high precision 3D printing into your dental lab or dental office.
Order the Form 2 Now
See the Form 3
Contact Sales