Producing End Use Automotive Connector Seals With Silicone 3D Printing
HGM Automotive Electronics is a specialty manufacturer that designs and supplies leading-edge electronic systems for automotive aftermarket use.
Guy Cardwell, director of research and development at HGM Automotive Electronics, highlighted that one of the challenges they face at HGM Automotive is that it is quite difficult to find the parts to service or restore their engines since many of the vehicles they work with are vintage cars. Connectors and other electrical components become more challenging to find, particularly as the original production of these items phases out.
They turned to 3D printing for prototyping and low-volume production because it is the best option to fabricate parts on demand, in house. However, it's a regulated industry that needs to follow specific requirements such as ingress protection (IP) rating and chemical resistance, therefore the choice of material is very important. The most common material used in automotive connector seals is usually soft silicone, but there are really few options to produce it. While injection molding is cost-prohibitive for low-volume production, traditional silicone casting is a time-consuming method. 
With the introduction of Silicone 40A Resin, the first accessible 100% silicone 3D printing material for soft, pliable, and durable parts, Cardwell says they found "exactly the right stuff." Through rigorous chemical and mechanical testing, they demonstrated that the new material has excellent mechanical properties and chemical resistance for end-use automotive parts. The company was part of the beta program for the new materials and used it for prototyping, but their main goal now is to start producing end-use parts in low volume production.
"Silicone 40A Resin is just perfect. It greatly resembles the original material that would've come from the supplier."

Guy Cardwell, director of research and development at HGM Automotive Electronics
Sample part
Request a Free Sample Part
See and feel Formlabs quality firsthand. We'll ship a free Silicone 40A Resin sample part to your office.
Request a Free Sample Part
Elevating Connector Seal Design With Silicone 40A Resin
Compared Method
Advantages of 3D Printing With Silicone 40A Resin
Outsourced Injection Molding
Reduced lead time by 90%
Reduced costs by 98%
In-House Pourable Silicone Casting
Achieved challenging, complex geometry with fine feature resolution
Reduced labor, risks of mistake, and lead time
Repeatable and scalable from 10 to 1,000 units of production
With the success of the electrical connectors they produced, HGM Automotive started experimenting with custom seals. These are difficult-to-source components barely found on the open market, and if they are, then it's usually of very poor quality. The challenge of developing custom seals for the connectors arose due to the lack of a suitably pliable elastomeric material. They could make an injection mold and use a very soft urethane to produce the parts. The downside is that this mold would cost between $6,000 and $10,000 just to get started. The cost would be justified if they needed 10,000 of these parts, but the reality is a volume between 100 and 1,000 pieces a year. Additionally, once the mold is made, it is almost impossible to change the design. Specifically for connector seals that tend to be geometrically complicated, this represents a real obstacle. "It just comes down to a question of cost and flexibility," says Cardwell.
Lead Time
Cost
Outsourced Injection Molding
3-4 weeks
$10,000 tooling
$0.5 per part
3D Printing With Silicone 40A Resin In-House
6 hours for 25 parts
$1-2 per part
For a production volume of 100 units of connector seals, HGM Automotive reduced their costs by 98% and their lead time by 90%.
Originally they were printing the connector seals in the Formlabs soft and flexible Elastic 50A Resin, but even that material was not flexible enough. He adds that since the connectors are being assembled manually, it probably takes the harness builders two to three times longer to assemble a connector using a harder material such as urethane rather than having a silicone seal, "simply because they are working against the material."
Another option was turning to a regular pourable silicone casting, which they've done in the past for other parts. However this specific connector is designed to have nine wires penetrating the seal, so the design is highly intricate. It has holes and geometry that would make mold release difficult, and overall just a level of detail that requires the precision of 3D printing.
"You can do it in casting, but you have to be really, really careful [with intricate geometries] and it's time-consuming. So simply being able to 3D print it in a batch, it's a luxury by comparison to all of the other processes."

Guy Cardwell, director of research and development at HGM Automotive Electronics
"It's sort of the perfect material because it closely resembles the production material."

Guy Cardwell, director of research and development at HGM Automotive Electronics
Silicone 40A Resin allows HGM to keep the manufacturing processes for low volume production in-house and the fact that it can be used in many different ways is very compelling. The team already anticipates other uses for it besides connector seals. The main advantage of the new material lies in its close resemblance to the production material, offering the ideal properties for HGM Automotive Electronics' applications, especially in terms of elasticity, tear strength, and flexibility.
"Silicone 40A Resin gives me the flexibility to do designs that previously could only be done with a very expensive and time-consuming molding process, allowing us to explore new markets and manufacture products that would have been prohibitively expensive or complicated before. Other 3D printing solutions can print some kinds of elastics, but only the SLA Formlabs printer using Silicone 40A Resin was able to create soft connector seals that match the quality and durability of a silicone or TPU molded part."

Guy Cardwell, director of research and development at HGM Automotive Electronics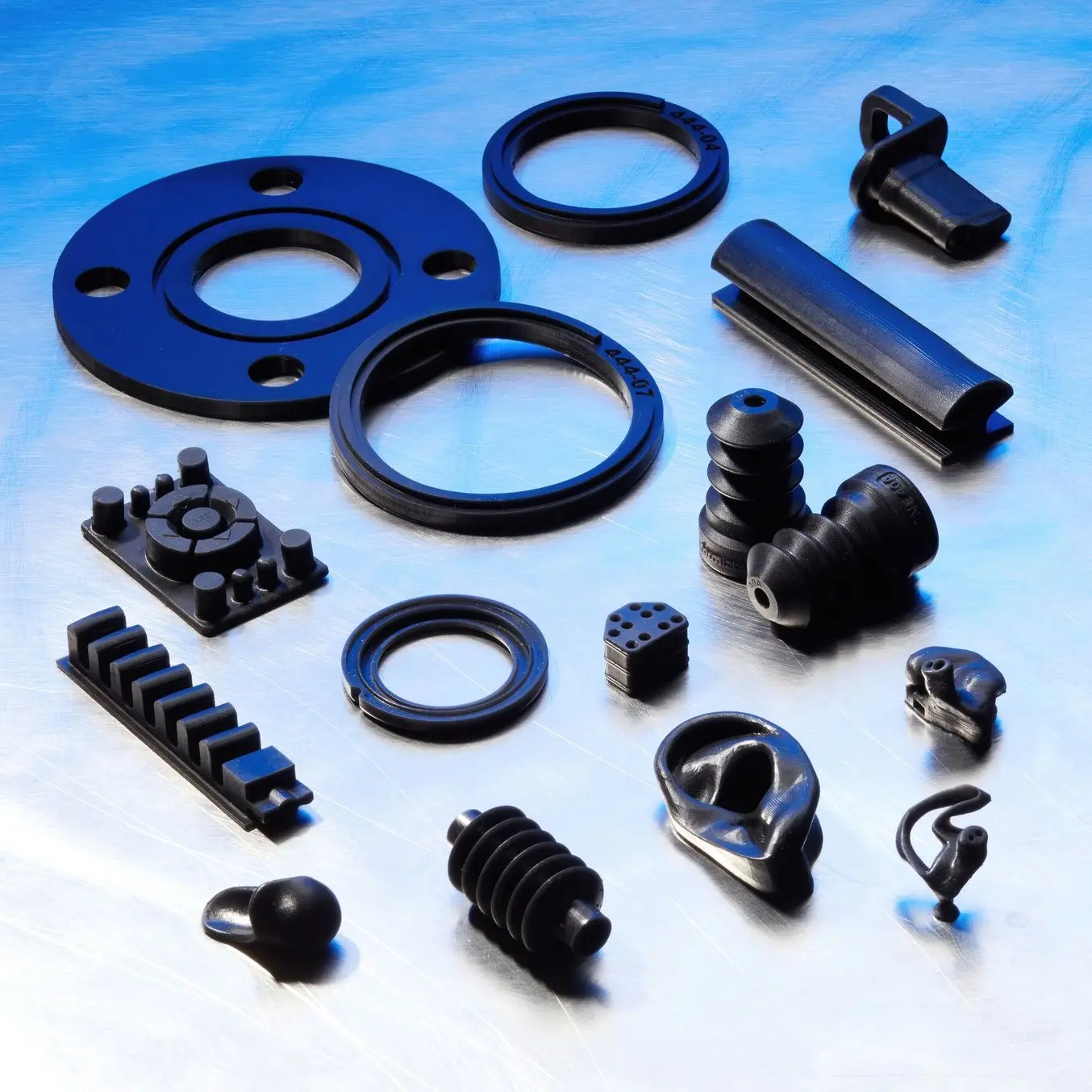 Webinar
Introducing Silicone 40A Resin
In this webinar, our 3D printing experts walk you through the key benefits and applications of Silicone 40A Resin and present the material properties and the workflow for this resin.
Watch the Webinar Now
From Testing to Triumph: Silicone 40A Resin Fulfills Industry Requirements on Temperature and Chemical Resistance
"Silicone 40A Resin has all of the right properties in terms of the pliability and workability that we need for this application. So far in our testing, the chemical resistance has been in line with what we would've expected from a cast or injection molded silicone that's being used in this application."

Guy Cardwell, director of research and development at HGM Automotive Electronics
In automotive applications, you typically deal with situations that require watertight seals that withstand a meter to two or three meters of depth rating, depending upon the application. In addition, there are chemical resistance requirements against all standard automotive fluids, with the main ones being water, oil, and transmission fluid. To test the parts, Cardwell printed several samples and functionally tested them in the engine bay of his car. The printed silicone samples were left in the engine bay under normal operating conditions to test for their temperature chemical resistance for more than six weeks. 
"We've left them in different fluids in the engine bay doing the thermal cycling. We've tested with water, we've tested statically with transmission fluid, and with antifreeze," says Cardwell. He adds that "the big one that these seals are actually preventing intrusion on, is typically water." After six weeks of thermal cycling and various fluid exposures, Cardwell highlighted the watertightness and the temperature resistance of the Silicone 40A Resin. Automotive electronics range between -40°C to 105°C. With its glass transition temperature (Tg) at -107°C and temperature resistance between -25°C and 125°C, Silicone 40A Resin perfectly matched their needs for temperature resistance. "I proceeded with the testing that we've done on the material under the assumption that this would behave similarly to a comparable injection molded silicone of its style," which it did. The material properties of Silicone 40A Resin aligned perfectly with his expectations of an end use material, making this the perfect addition to their arsenal.
After having gone through extensive in-field testing, the team at HGM is highly satisfied with the new 100% silicone resin and how it fits their requirements. They intend to use it for end-use part production of the connector seals and estimate it at 500 to 1,000 units per year. Cardwell is looking into developing their use of the resin even more and adds that "there are at least four products that are immediately attractive, just in connectors alone."
Unlocking Future Innovations at HGM Electronics
Silicone 40A Resin gave HGM Automotive the flexibility to develop designs that could only be done with expensive and time consuming processes, allowing them to explore new markets. 
"I remember just handing [some sample parts] out to the various employees in the company and everybody's jaw just dropped, 'Wow, how did you do this?' So, it's exciting for us as a material. And you don't know what the future applications are going to be until you actually use it, that's when you really start to understand. I don't anticipate we're going to stop with connectors. There's going to be a bunch of other stuff we do with this. There's just no question in my mind."

Guy Cardwell, director of research and development at HGM Automotive Electronics
Going forward, Cardwell is looking forward to being able to tell his clients that he can just produce a custom piece, made of soft rubber. He is thinking about developing different kinds of custom seals, gaskets, and new high-voltage silicone insulator boots, as seen below. 
"Can I tell you what I'm going to do with 3D printed silicones tomorrow? No, but I'm eager to find out."

Guy Cardwell, director of research and development at HGM Automotive Electronics