How GreenTeam Stuttgart Climbed to the Top of the World Rankings With SLS 3D Printed Components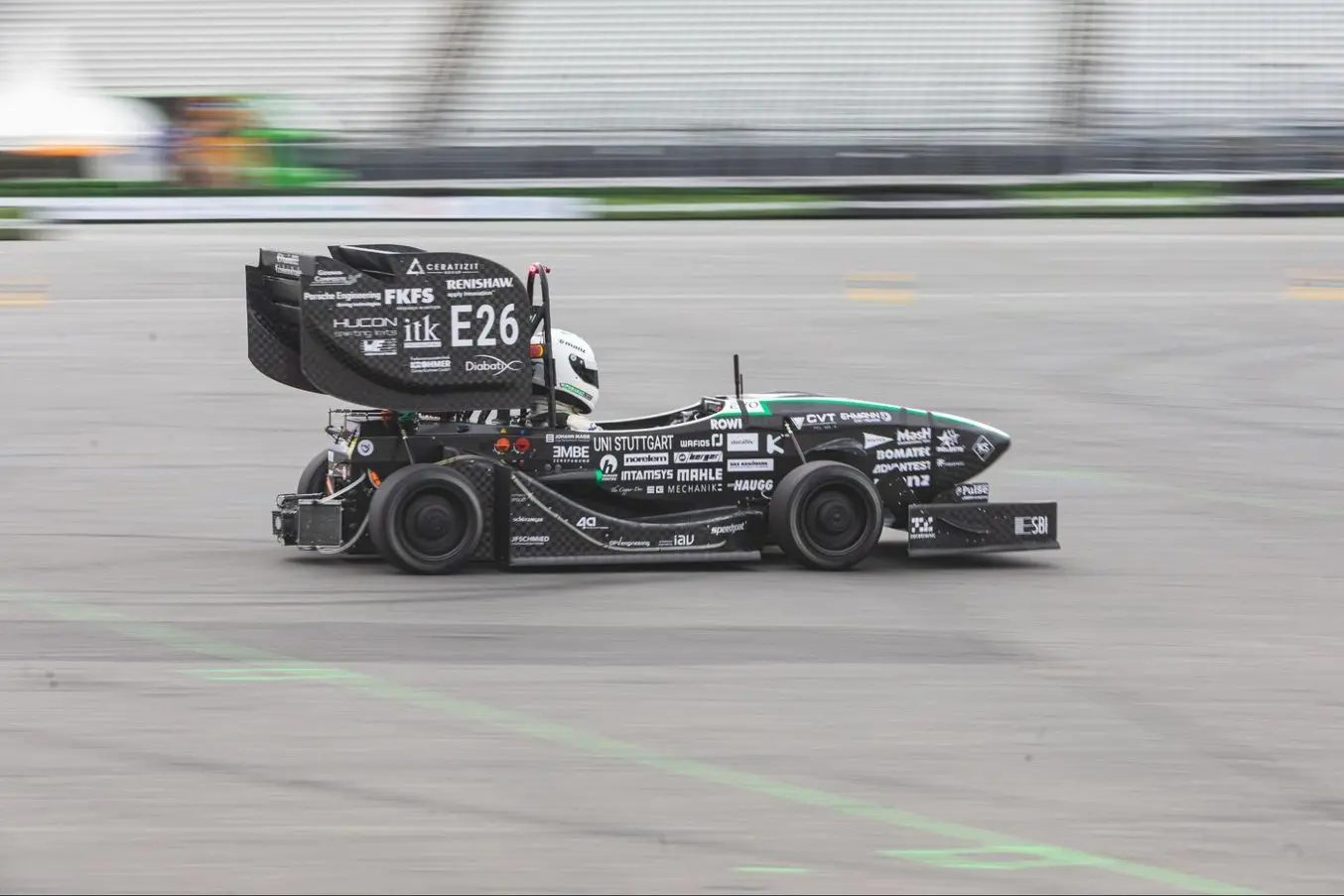 Building a racing car is always about maximum weight savings, acceleration, and flexibility. Every season during the Formula Student motorsport competition, Stuttgart University's GreenTeam strives to precisely fine-tune these areas in their prototype vehicle to the point of perfection, in order to beat competing student teams from all over the world. 
The team uses SLS 3D printing technology for various components and fasteners when engineering their vehicle. 
In an interview with vehicle and engine technology student and GreenTeam leader Oliver Spengel, we discussed how Formlabs supports GreenTeam's project and the advantages that 3D printing brings to students during vehicle development and competition.
To the Top of the World Rankings With Electric Power
Formula Student is an international student motorsport and design competition in which teams from all over the world compete against each other in various classes with self-designed and self-produced formula racing cars.
At the Formula Student Germany (FSG) in the summer of 2021, Stuttgart University's GreenTeam set a new point record in the electric class with a total of 936 out of 1,000 points. Due to this and other successes in Formula Student competitions throughout Europe, the renowned team is currently number 1 in the world rankings in the Formula Student electric class.
"In principle, the process matches that of real motorsport, albeit broken down to an extent that students can handle. You have one year to develop a prototype vehicle and use it to compete against Formula Student teams from all over the world," explains Spengel. 
The evaluation is conducted by a professional jury in both static and dynamic disciplines, thereby considering all aspects of the students' work. In order to attain a maximum score of 1,000 points, everything in individual evaluation factors such as vehicle acceleration, engineering, and financing must be perfect.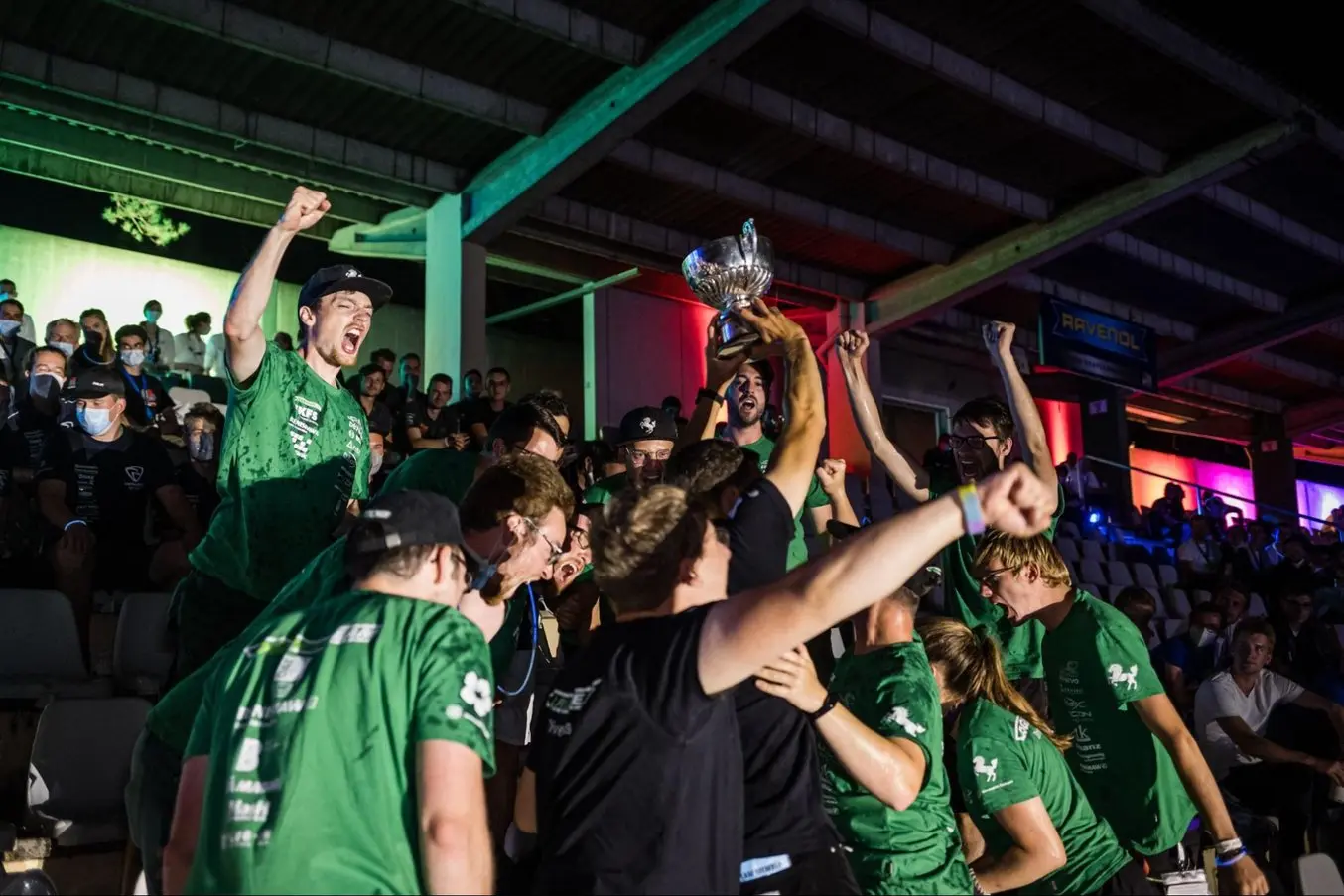 Building Lightweight and Complex Components Using 3D Printing
For several years now, the GreenTeam has been using 3D printed parts in the production of their vehicles. By doing so, they simultaneously overcome several fundamental challenges such as time pressure, scarce financial resources, and weight savings on the racing car.
The team uses 3D printing with selective laser sintering (SLS) for components in the cooling system and drive units, as well as fasteners on the car. 
"These parts are mainly used in the cooling system, because this consists of highly complex and small parts that cannot be produced using other manufacturing processes, or only at a great cost and with a high weight", explains Spengel.
"Generally speaking, that's also the major advantage of 3D printing. It offers you ample creative leeway; you can reduce the weight of parts dramatically and deliver major time and costs savings during manufacturing."

Oliver Spengel
The complexity of the parts is particularly evident in air cooling components.
To guarantee the most efficient air flow possible, the air cooling system relies on carefully designed guiding elements to direct the air towards internal fans or out of the components as quickly as possible.
Efficient air cooling of the HV battery, which drives the GreenTeam electric vehicle, is crucial in order to counteract a possible loss of power from the drive.
"It's always crucial to minimize power loss, because loss invariably leads to higher energy requirements. Conversely, this means that we need to use a larger battery, which in turn makes the vehicle heavier and slower," says Spengel.
In addition to creating efficient small parts, the nylon material used in SLS 3D printing also ensures that parts do not have a significant impact on the vehicle's overall weight. 
"When manufacturing such complex parts, 3D printing is the only manufacturing method that allows the vehicle to be built within this short period of time while meeting our quality expectations."

Oliver Spengel
Advantages Over Conventional Methods
Thanks to the GreenTeam's extended experience in motorsport, team leader Oliver Spengel can now draw comparisons between the production of individual parts using SLS 3D printing and conventional methods. 
As already mentioned, the advantages of SLS 3D printing are primarily weight, time, and cost savings. An example of these three areas is the direct comparison of conventional manufacturing methods to 3D printing technologies for small parts such as the mounts for the cooling pumps located in the side wings. 
"The mount for our cooling pump would otherwise be made of sheet metal, which is very heavy in itself. You would have to laser and then bend the sheet metal, which means that you would need two manufacturing partners to carry this out. After that, it would also have to be post-processed and, if necessary, coated," explains Spengel.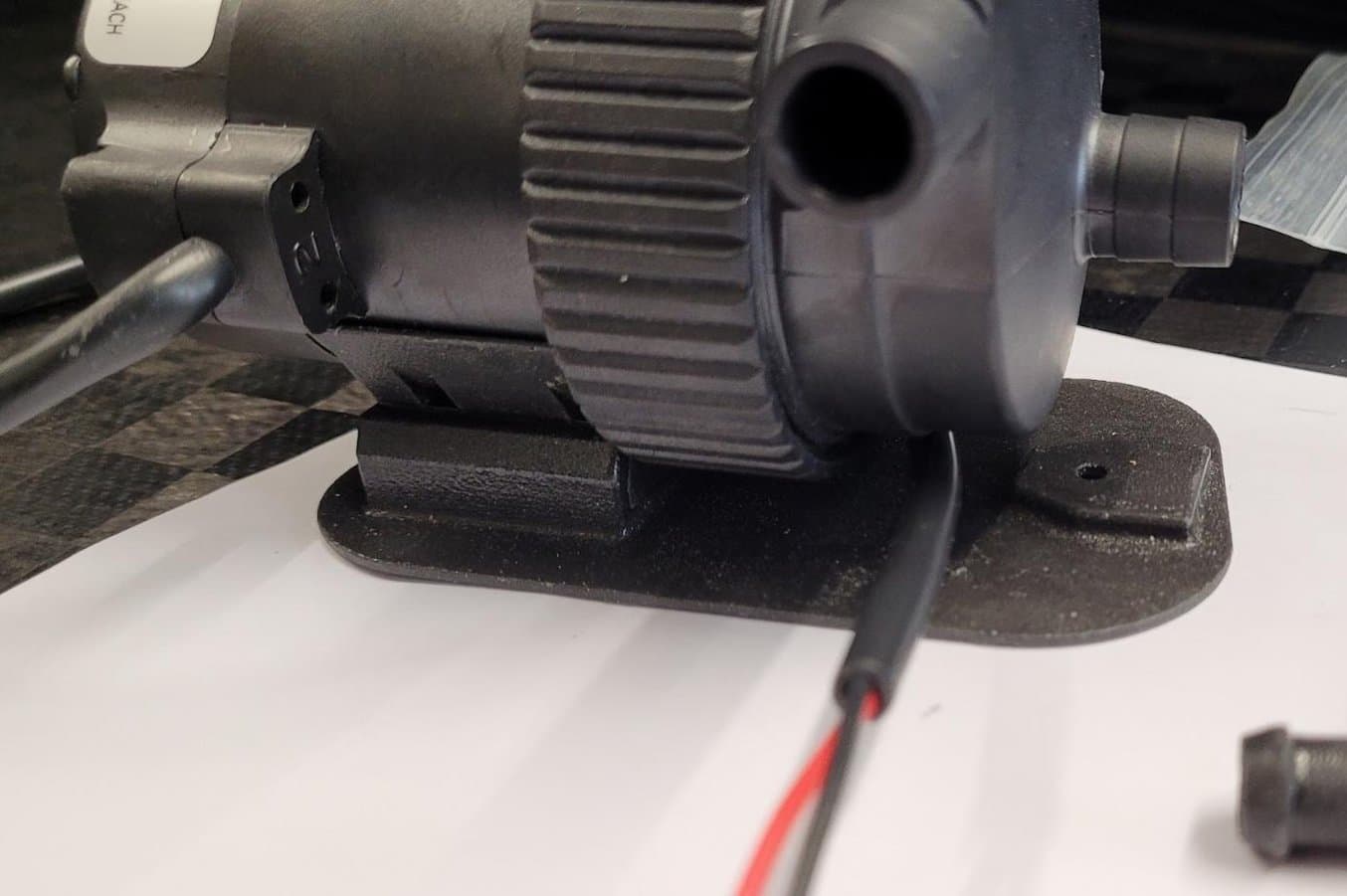 "Of course, SLS 3D printing is much easier, while allowing us relative engineering freedom. Just send the files to the printer, the part is printed, you take it out, and it's ready to use in the vehicle."

Oliver Spengel
Advantages of Nylon
The dimensional stability and chemical resistance of nylon components, which must also be maintained when the racing car runs under extreme temperature differences, are also essential.
"During the race, the water in our water cooling system reaches temperatures of around 60 to 80 degrees Celsius. Metals tend to corrode under such fluctuations in temperature. In turn, corrosion residues can damage sensitive components such as the water pumps. This particular problem can be avoided in many places by using SLS printed plastic parts," says Oliver Spengel.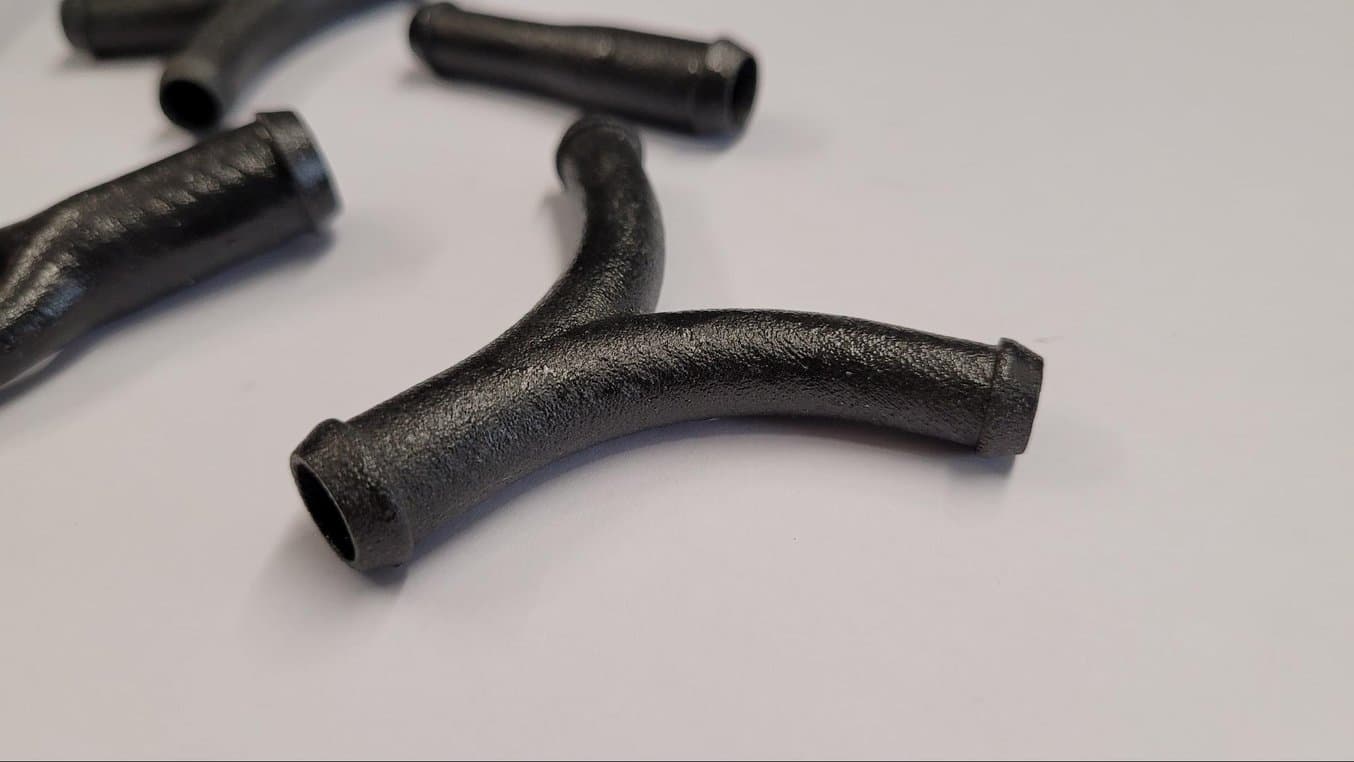 When used in water cooling, nylon components are impregnated during post-processing, to reduce the risk of water penetrating plastic parts or causing leaks.
In addition to SLS 3D printing, the Stuttgart student team also used FDM printing for simpler prototype elements. For the parts actually installed on the vehicle, however, they largely relied on SLS 3D printing due to the material properties of Formlabs Nylon 12 Powder.  
"FDM 3D printed materials are unsuitable for us because individual layers can separate from each other, causing the part to leak, which is extremely problematic," explains Spengel. 
SLS 3D printing has the significant advantage over FDM printing of enabling isotropic parts to be printed. These are better suited for withstanding various external influences on the car during the race, as they are very resistant to corrosion.
Due to the stated positive properties of nylon elements, such applications are already increasingly being used as end components in the automotive and aviation industries. The formula racing cars of the GreenTeam Stuttgart are an example of this.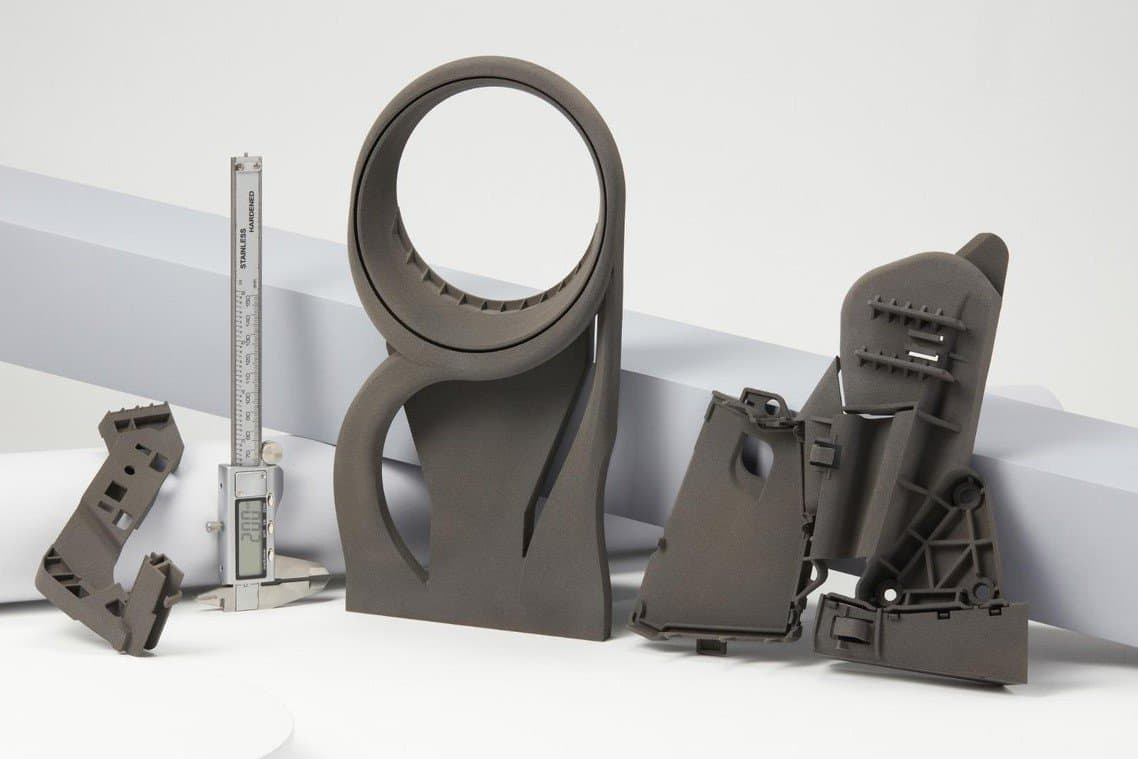 White Paper
Global automotive supplier Brose uses SLS 3D printing to produce parts for end use
Learn how Brose, one of the world's largest family-owned Tier 1 automotive suppliers, plans to use Fuse 1 and SLS 3D printing for mass manufacturing.
White Paper content:
Using Fuse 1 in an industrial environment
SLS for end use: spare parts and parts for end-of-life products
The future of SLS in series manufacturing
Download the White Paper
Next Step: Title Defense
After already qualifying for five competitions this year, nothing stands in Stuttgart University's way in the new season. Following the tight schedule, the team gives the final touches to the engineering of the racing car assembly, after which it is promptly put in motion for the first time in order to carry out test drives.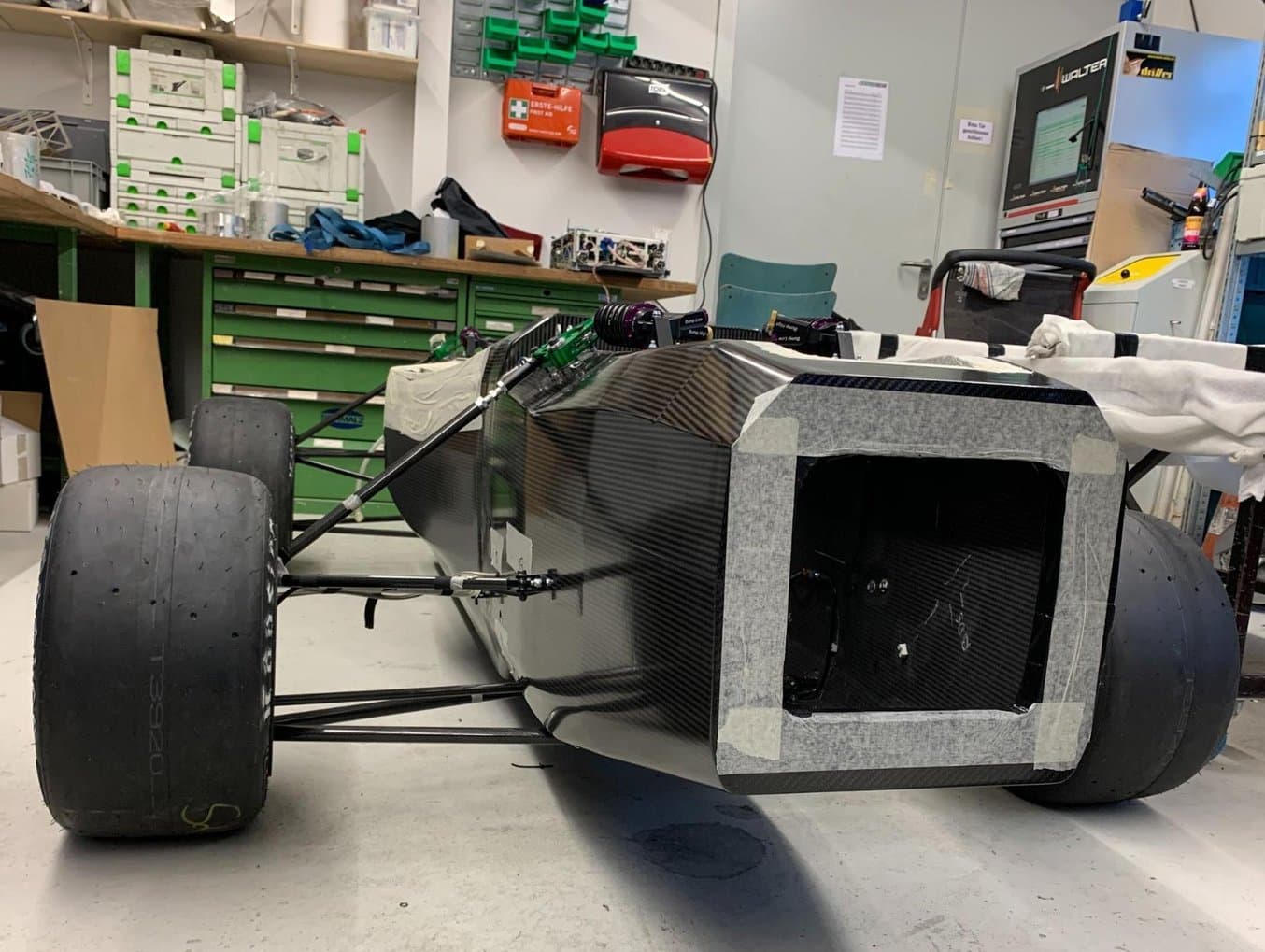 In addition to end components in the automotive and aerospace industries, SLS 3D printing is also used in prototyping for production tools or in product design.