Guide to Cerakote Ceramic Coating for SLA and SLS 3D Printed Parts
Ceramic coatings provide both performance and aesthetic benefits for a range of materials. Their inherent resistance to chemicals and temperature make ceramic coated parts ideal for a wide range of industries, such as automotive and aerospace, where extreme environments can damage parts, as well as consumer products, where superior surface is highly important.
This whitepaper will cover how to coat stereolithography (SLA) and selective laser sintering (SLS) 3D printed parts through the Cerakote process, a ceramic coating developed by NIC Industries.
Webinar
How to Create High Performance 3D Printed Parts with Advanced Ceramic Coatings
Watch our webinar now to discover how applying Cerakote ceramic coatings can enhance the performance of your 3D printed parts. 
Watch the Webinar Now
What is Cerakote?
Cerakote is a thin, high-performance ceramic coating developed by NIC Industries that provides numerous mechanical and aesthetic advantages. 
Benefits of Ceramic Coating
Cerakote has excellent temperature, chemical, and UV-resistant properties. These properties allow you to create 3D printed parts capable of withstanding harsh environments for extended periods of time. Cerakote can be applied in thicknesses ranging from 0.00635-0.0254 mm, and thus has minimal impact on the dimensional accuracy of a part. For parts within a functional assembly, a thick coating could disrupt delicate tolerances and create friction. Cerakoted parts have a predictable and very thin coating, allowing functional assemblies to operate smoothly. 
The thin application and strong, enduring adhesion of Cerakote can also add to the aesthetic benefits of Cerakoting a part. Cerakote is available in a wide range of hues allowing for unique end-use components in the color of your choosing. Cerakote can achieve a completely opaque solid color in everything from bright white to dark black, all without a base coat or primer. This single-layer coating is a unique option to create colorful SLA and SLS parts with a single application coating.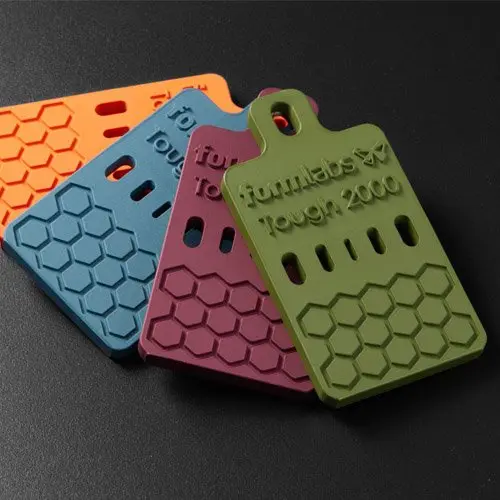 Webinar
Ceramic Coating for SLA 3D Printed Parts with Cerakote
Learn how to do ceramic coating to create aesthetically and functionally enhanced end-use SLA 3D printed parts with an easy, scalable Cerakote workflow.
Watch the Webinar Now
Cerakote and 3D Printed Parts
Traditionally, the majority of Cerakoted parts are metal, but with the growing adoption of 3D printing in demanding end-use environments, Cerakoted plastics are emerging as faster, less expensive options to metal parts. The heat resistance and chemical resilience of Cerakoted parts are qualities that are particularly impactful for 3D printed parts. Plastic 3D printed parts are sensitive to UV exposure and can degrade with longer exposure times, such as in end-use outdoor applications. With only a single layer, Cerakote can completely shield the parts from further exposure, allowing users to leverage the design freedom of 3D printed parts for applications previously out of reach due to their harsh environment, such as those in the automotive and sporting equipment industries, in which parts are exposed to the elements. Cerakote can also seal off and smooth some of the surface porosity, enhancing already performant materials like SLS 3D printed nylon, while simultaneously improving their aesthetics, chemical resistance, and heat resilience. 
The combination of Cerakote and 3D printing technologies opens up further opportunities through the design freedom and customization they enable. Traditionally manufactured metal parts may offer UV stability, but lack the design freedom of additive manufacturing. 3D printing offers design flexibility and customization capacity, but lacks the resiliency of traditional manufacturing techniques. Together, these two processes open up more opportunities for engineers, designers, and manufacturers to create rugged, attractive, and durable parts on-demand or in low volumes, which support a more sustainable manufacturing system.
How to Apply Cerakote
To create Cerakoted parts, one option is to find a certified applicator to coat parts for you. As an experimental process, or as a proof-of-concept for a one-off application, outsourcing is less expensive and can be done quickly. Cerakote has an extensive network of Certified Applicators all around the world. The database can also filter by the type of work accepted by the certified applicator, in this instance 3D printed parts.
For those interested in bringing the Cerakote process in-house, NIC Industries sells packages of the recommended equipment for different workflows and at different price points. The single largest expenditure is the required spray booth, and for those considering a Series H and Elite coatings, an additional post-cure oven. For those looking to produce Cerakoted parts at high volumes, NIC Industries has a versatile robotics platform that can unlock higher throughput on a daily basis.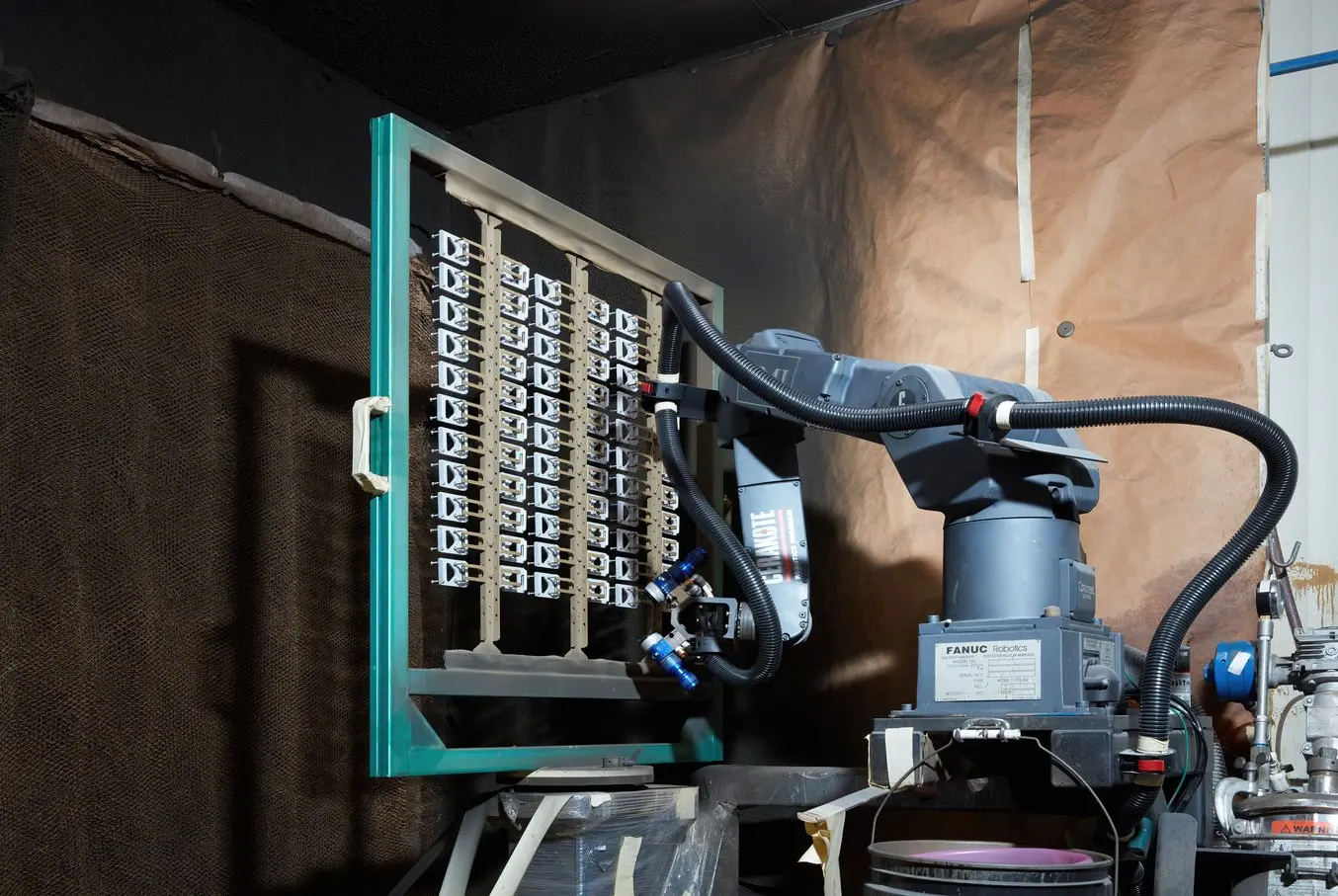 When applying Cerakote in-house, once you have purchased the necessary equipment and conducted appropriate tests, it is a straightforward process to apply the coating with an HVLP spray gun. 3D printed jigs, fixtures, and masking can be created to ensure complex geometries can be manipulated and handled in a way that ensures a full, even, and complete coating.
Quick Start Application Guide for Cerakote
Prepare the surface of the part by media blasting with 100 grit aluminum oxide or garnet sand at 40 PSI. 

Note: Blasting with glass bead media will not suffice — glass beads do not sufficiently etch the part's surface, and the coating will not adhere.

Wipe down the part with a cleaner, such as Prep ALL, to remove oils and contaminants.
Rack the parts so that they can be easily manipulated and turned for an even coating.
Mix the coating.

If a high-gloss coating is desired, mix the recommended Catalyst product with the coating itself before application. 
Once catalyzed, strain the coating mixture through a 100, 150, or 325 mesh, according to coating series instructions.

Spray the coating with an airbrush;
Post cure

For H and Elite Series parts, post-cure them for two hours at 180°F or 82°C.
For C Series parts, leave to air dry for five days.
 
3D Printed Masking for Cerakoting
Masking, the process of covering portions of a part during a painting or finishing process, is time-consuming and labor-intensive. For businesses that have integrated a Cerakote robot into their workflow, manually masking parts with tape has become a bottleneck for their production volume. 3D printed masks can be used over and over again, and designed specifically for each part, so that attaching and removing them takes only seconds. With 3D printing, masking no longer has to be a bottleneck for high volumes of Cerakoted parts. Both SLA and SLS printed masks are simply designed, printed en masse, and can be removed easily once the finishing process is done.
Testing of Cerakoted Parts
The efficacy of the coating process and the performance of the finished part are dependent on the adhesion between the coating and the part. Diverse chemical testing is another way to ensure proper adhesion and to ensure the combination of the given substrate and coating can withstand the demanding environments. These environments might include automotive engine components, where corrosives like diesel can degrade part quality, both metal and plastic. NIC Industries has conducted many of these tests themselves, and users should consult the results prior to exploring their own testing. 
To access the complete testing results, download the Cerakote whitepaper today.
Cost of Creating SLS 3D Printed and Cerakoted Parts
The combination of SLS 3D printed parts and high performance ceramic coating is an ideal solution for aesthetically and mechanically demanding end-use applications, offering a cost-effective alternative to injection molding for low-volume production and mass customization.
Using the sample part printed on Fuse Series SLS 3D printers by Formlabs and coated by Cerakote, we'll take a look at the cost of materials and labor to create end-use, Cerakoted consumer goods for low-volume production. 
| | Material | Material Cost | Labor Cost | Cost Per Part |
| --- | --- | --- | --- | --- |
| Printing on the Fuse 1+ 30W | Nylon 12 Powder | $4.48 (adjusted for powder lost) | $2.96 | $7.80 |
| Cerakote coating the top part | H-175 Robins Egg Blue | $0.80 | *$0.63 | $1.43 |
| Cerakote coating the bottom part | H-140 Bright White | $1.07 | *$0.63 | $1.69 |
| Complete Assembly | - | - | - | $10.92 |
*Based on a shop rate of $75/hr for a certified applicator, this price can be decreased dramatically through the use of Cerakote's robotic application platform. The Fuse 1+ 30W can produce 36 units of this VR remote assembly (36 top and 36 bottom parts) in 24 hours and 27 minutes, enabling the production of 200+ parts in a single week.
Applications for Cerakoted 3D Printed Parts
The need for 3D printed parts is only growing, and Cerakoting even further widens the number of industries and applications in which additive manufacturing can have a meaningful impact. In applications where a 3D printed plastic part might be less expensive to manufacture, but not strong enough for the application, Cerakoting can improve tensile modulus. Heat tolerance and chemical resistance broaden the spectrum further.
Automotive Manufacturing
Automotive manufacturers have already begun incorporating 3D printing into their workflows, for lightweighting traditionally machined parts, insulating supply chains, offering customization, and reducing costs with inexpensive and quickly-made jigs, fixtures, and repair parts. 
Now, with an easy 3D printing and Cerakoting workflow, parts can withstand higher temperatures and more UV exposure, making a wider variety of end-use applications possible. Whether for custom made one-off luxury cars or functional prototypes, Cerakoted 3D printed parts can be used in engines and on exteriors.
Tooling and Fixtures
The self-lubricating and high temperature resistance make Cerakoted parts an excellent choice for injection molding, sheet metal forming, thermoforming, or other tooling applications. The added strength of the Cerakoted 3D printed parts improve the durability of fixtures and jigs, so that you can rely on your manufacturing aids time and time again.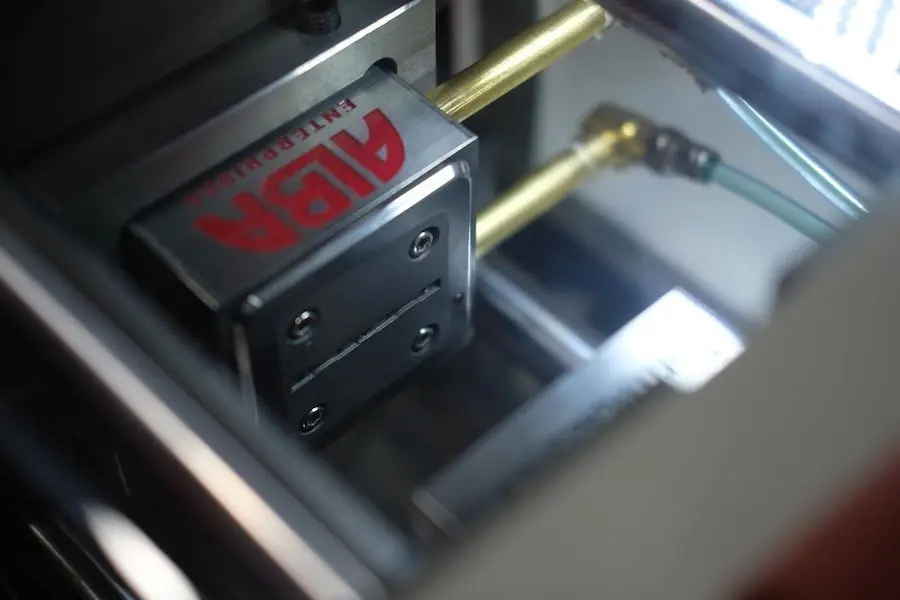 Consumer Goods
The hard-wearing and bright colors of Cerakote make it a powerful finishing option for end-use consumer goods. 3D printing has unlocked the possibilities for mass customization, and now Cerakote takes it one step further with the ability to create UV-stable, durable, and long-lasting end-use products, with all the attractive features of injection molded mass produced parts.
Get Started With Cerakote Coating 3D Printed Parts
If you are interested in learning more about Cerakote and how it can be applied to additive parts, then contact our experts.
You can also schedule a visit to either the Formlabs or Cerakote showrooms in Somerville, MA or White City, OR respectively.