3D Printing for Jewelry Retailers & Casting Houses
From retailers and designers producing custom jewelry to large casting houses manufacturing at scale, jewelers can scale their business with Formlabs' reliable ecosystem of jewelry products.

A Complete 3D Printing Solution for Jewelry
The Form 3+'s seamless print process, high accuracy, and smooth surface finish allow you to move directly from design to production. Whether you are 3D printing try on pieces for customers, ready to cast custom jewelry, or masters for reusable jewelry molds, Formlabs offers a material up to the task.
Investment Casting
Create castable parts in hours, cutting down on manual labor. The Form 3+'s rapid print process, accuracy, and surface finish allow you to move directly from design to production. Our verified burnout schedule ensures clean burnout and smooth surfaces on every piece.
Make Mold and Burn Out Printed Parts
Polish and Finish Jewelry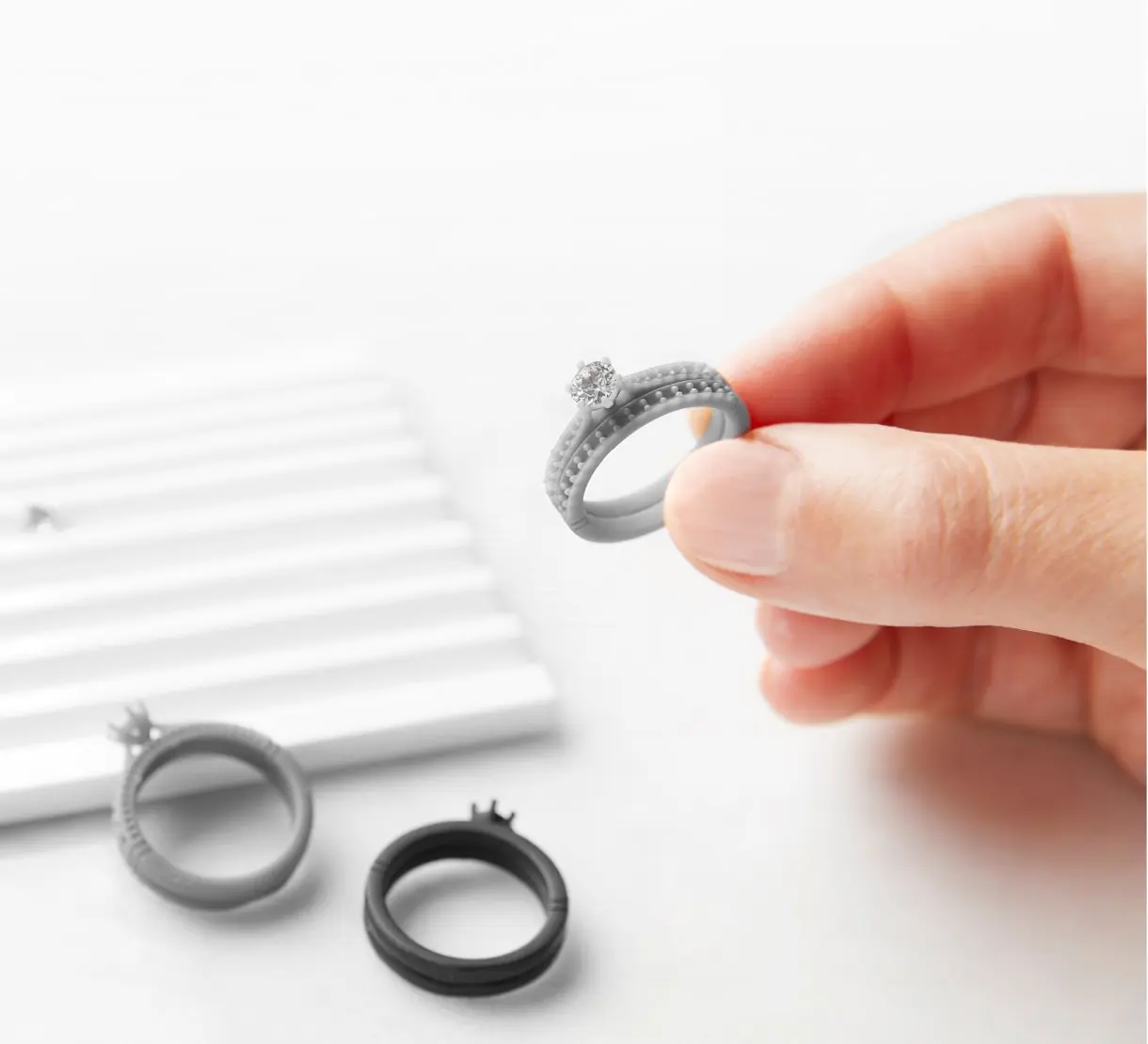 Fittings and Consultations
Take advantage of the Form 3+ to create "fitting pieces" to provide a consultative experience which builds excitement and delights your clients. SLA 3D prints are sturdier and more cost-effective than wax originals and can be reproduced or adjusted with a few clicks.
Rubber Molds For Production Casting
Make master patterns for rubber molding with 3D printing for faster iteration and lower costs. Use the masters to create molds that produce waxes in quantity for investment casting. Standard Resins are perfect for cold molding (RTV) and High Temp Resin withstands the heat of vulcanizing natural rubber.
Resources for Jewelers and Casting Houses
Learn how to integrate 3D printing into your workflow. Download
free white papers, watch webinars, and read our guides about 3D
printing workflows for jewelry.
"Casting thicker pieces in resin has always presented unique challenges, whether it was lettering on a class ring, models with thick cross-sections, or generally dealing with the casting defects. Castable Wax 40 Resin performed amazingly similar to regular injection wax, the high wax content allowed sprues to stick more securely, and the surface finish is top notch. It actually feels like wax in your hands. Casting larger items from resin has never been easier."
Go Digital with the Form 3+
Formlabs has lowered the barrier for entering the jewelry 3D printing market by creating accessible, easy to use products that have put stereolithography in the hands of more business than ever before. The Form 3+ offers a diverse material portfolio and a large build volume, allowing you to efficiently produce multiple high-quality parts in a single print. With easy to cast materials like Castable Wax 40 Resin, Formlabs is the ideal choice for any jeweler looking to go digital.