Print Anatomical Models in ⅓ the Time
According to a study led by Brigham and Women's Hospital and the Department of Orthopaedic Surgery at Harvard Medical School, the total burden or orthopedic injury in the United States is substantial, with over 1.1 million emergency orthopedic surgical procedures per year. In such trauma cases, which account for over 16% of all patients diagnosed with an orthopedic injury, the use of a patient-specific, 3D printed anatomical model at 1:1 scale can be invaluable for the surgeon, the OR team, and the patient. Naturally, print times for non-scheduled, urgent cases are critical when clinicians need a model quickly to visualize and communicate a plan and then obtain patient consent. With the help of our optimized print settings on the Form 3B and Form 3BL, along with the following helpful tips, you can have models ready for next-day or even same-day surgeries. In this article, we will show you the methods to increase print speeds without losing essential surface details or dimensional accuracy. 
Note: Form 3B and Form 3BL have been validated in multiple FDA 510(k)s for the creation of patient-specific models for diagnostic use. For more details, reaad our regulatory information.
1. Use Draft Resin
With the latest print settings for our Draft Resin, clinicians can take advantage of our faster-than-ever print times. This resin is specifically designed for the fastest print speeds possible on our Formlabs printers. Compared to our Grey Resin at 100 microns, Draft Resin at 200 microns can print models up to 75% faster.
You might be worried about loss of quality by printing at  200 micron layer height, but most MRI or CT scans are done with 1.0 mm slice thickness. You can fit five layers at 200 microns into that single 1mm slice thickness from the scan, so there will be no loss in quality from the scan to the print. Below you can see models printed in Grey Resin at 100 microns and Draft Resin at 200 microns with no discernable difference in surface detail or dimensional accuracy. 
-Jenny Zablah, MD. Assistant Professor of Pediatrics Interventional Cardiology at the Children's Hospital Colorado

"In the congenital cardiac catheterization laboratory at Children's Hospital Colorado, Draft Resin has revolutionized the turnover of educational models for the patients and their families. After a 3D angiogram is performed during the procedure and the images are processed, the print is ready in 1-5 hours in average instead of 12-18hrs as it used to be with usual resin."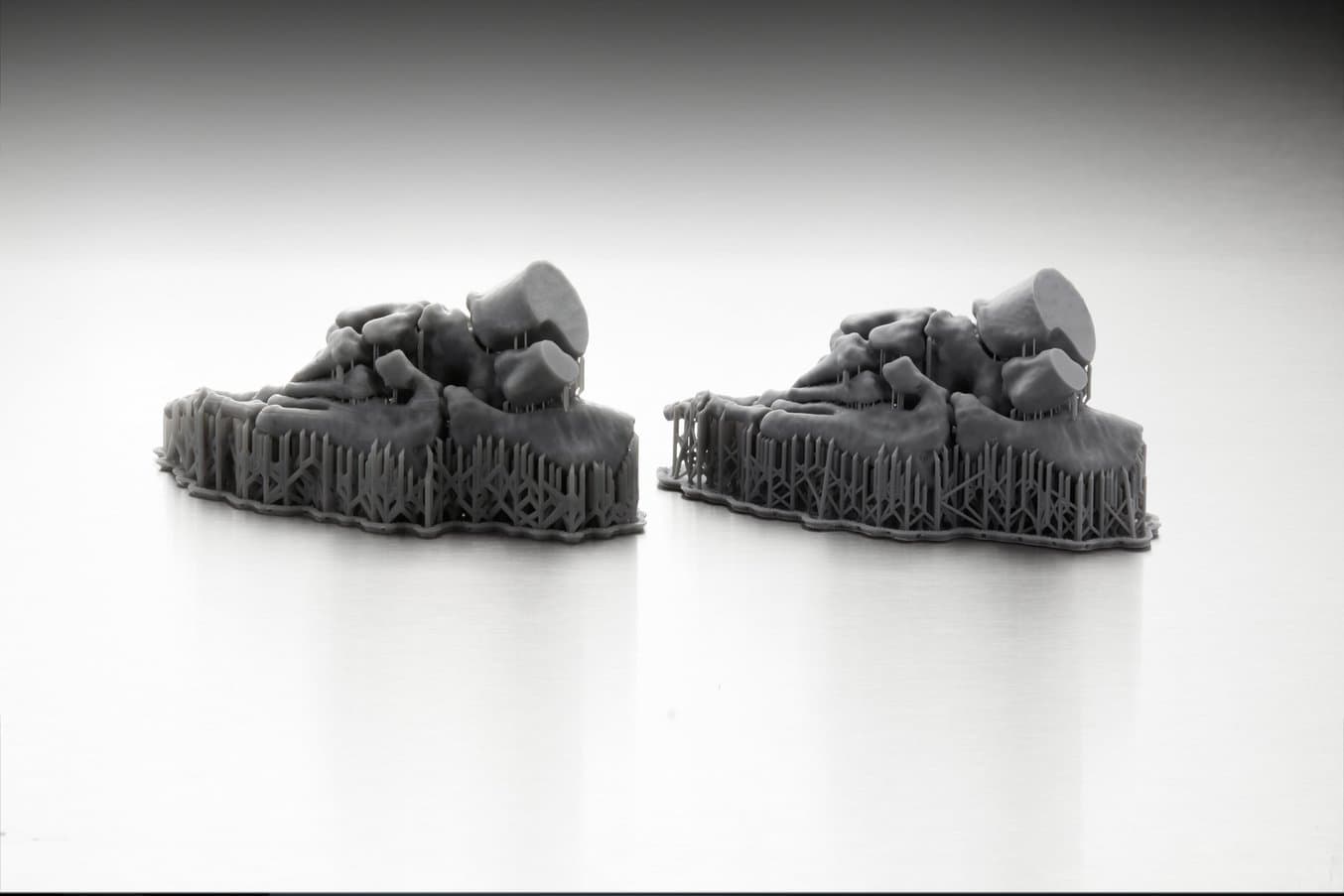 Draft Resin models on the left, Grey Resin models on the right in each image. 
2. Optimize Orientation with the Form 3BL
Large-format printers such as the Form 3BL enable the creation of large prints, but they also allow for faster printing of smaller parts.With the smaller build volume of the Form 3B, you can be forced into sub-optimal orientations. We will use the humerus bone as an example, which can only fit diagonally on the Form 3B. This orientation causes an increased number of layers and is the main cause for increased print times. On the Form 3B, you can see the 897 layer print will take just over four hours. On the Form 3BL we are able to flatten out the orientation of the model, drastically reducing the layers to 203 and the print time to one and a half hours, which is 66% faster.
3. Hollow Out Your Model
With the fastest resin and optimized orientation selected, there are a couple more tips that you can use to save time on your prints. You can use your CAD software to hollow out your model, reducing print volume and thus decrease print time.. Free software, like Meshmixer, is easy to use and adds the necessary drainage holes and the recommended 2-3mm wall thickness. In the animation below, you can see how easy it is to hollow out a model - Meshmixer: Edit → Hollow → Generate holes → Accept.
This method will work for most models, but the time savings are going to be more drastic on larger solid models. This adult pelvis will take 32 hours and use almost two liters of resin in Draft Resin. After hollowing out the model, the print time is reduced to 16.5 hours and uses just over 0.8L of resin, a 48% time saving and 60% material saving. 
4. Use the 3BL Laser Seamline
The Form 3BL uses two light processing units (LPUs) which can print a medical model simultaneously across the center seamline. This seamline is visible in PreForm. If you have a model that can fit on either side of the line, you can align it to the center of the build platform to use both lasers instead of just one. Try to have similar volumes on either side to take advantage of each laser. 
This half skull model will take 8.75 hours to print in Draft V2 when it is entirely on one side of the seamline, utilizing only 1 LPU. However when we move the model to the center of the build platform, we see a drastic reduction to just over 4.5 hours, which is 49% faster. 
Optimized Medical 3D Printing To Reduce Print Times
By utilizing every tip listed above, you can see in the chart below how much time each tip can save. Compared to a standard Grey Resin model on the Form 3B, using a hollow model in Draft Resin which is flattened across the seemline can result in print times that are 90% faster than the initial time. 
| | Form 3B Grey Resin | Form 3B Draft Resin | Form 3BL Flat Print Orientation | Form 3L Hollow Print | Form 3BL Seemline Print | Total Time Difference |
| --- | --- | --- | --- | --- | --- | --- |
| Adult Human Skull Hemisphere | 27 hours | Six hours | Four hours and 45 minutes | N/A | Two hours and 48 minutes | 90% |
| Adult Foot | 23 hours 30 minutes | Five hours | Four hours | Three hours and 45 minutes | Two hours and 15 minutes | 90% |
| Adult Humerus | 12 hours 45 minutes | Four hours and 23 minutes | One hour and 30 minutes | One hour and 15 minutes | One hour | 93% |
-Dan Crawford Founder & Chief Strategy Officer at Axial3D

"When printing medical 3D models the detail and complexity needed results in relatively long print times, however to provide models for fast turnaround and emergency settings this is not ideal. With Draft Resin a 3D print that would have taken us 30 hours now only takes us five hours, allowing us to print models and dispatch them in the same day, as well as allowing us to produce six times the number of models in a day."