The New Formlabs Automation Ecosystem: Eliminate 3D Printer Downtime and Reduce Cost Per Part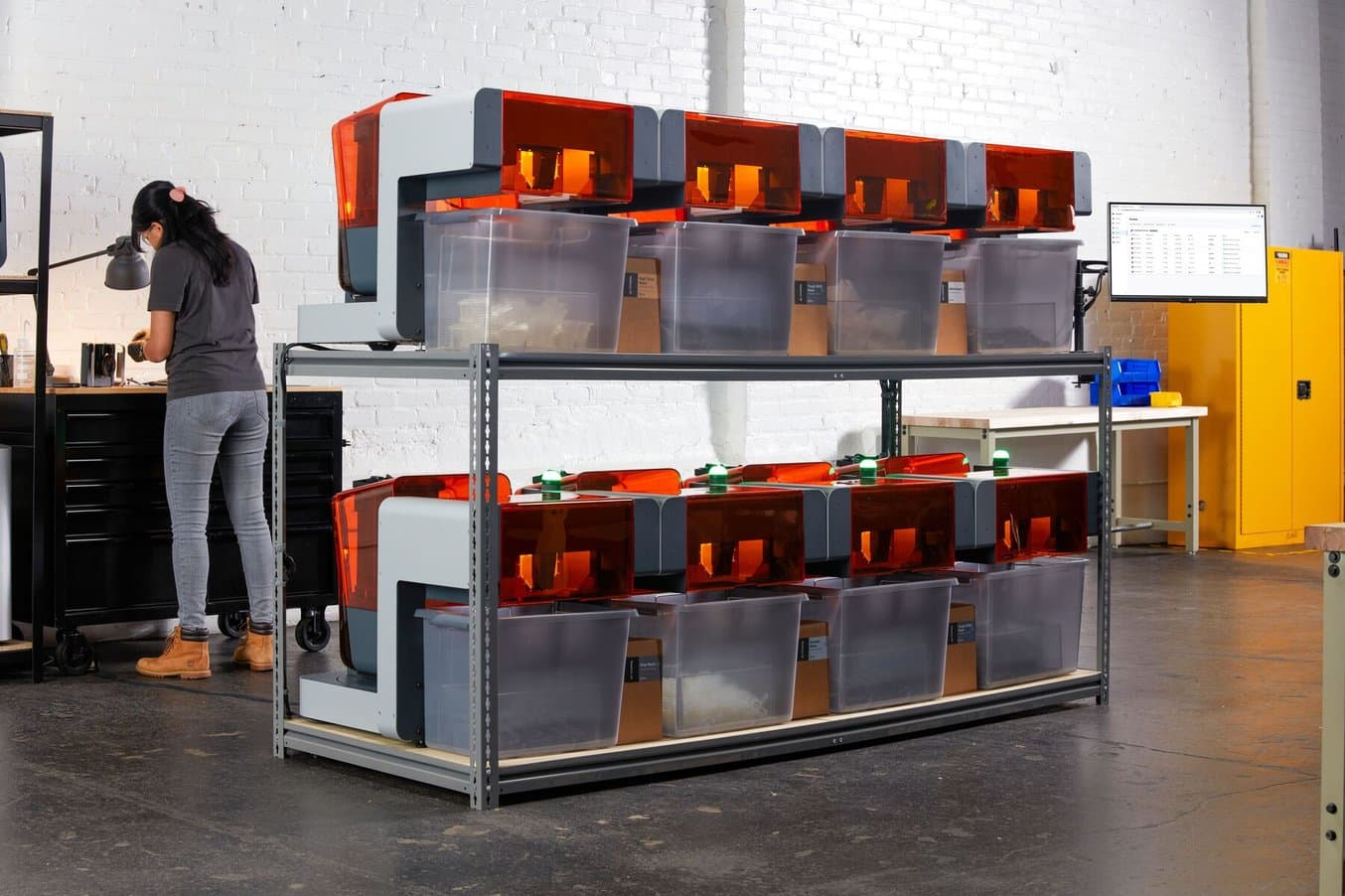 When printing around the clock, someone had to wind the gears, until now. Formlabs is excited to introduce Form Auto, Fleet Control, and High Volume Resin System — three new products that together make up the Formlabs Automation Ecosystem. These three products enable high-productivity 3D printing at scale, reduce cost per part, and improve users' experience managing multiple desktop stereolithography (SLA) printers. 
Form Auto is a hardware extension for the Form 3/B/+ printers that automatically removes finished parts from Build Platform 2 and starts the next print without the need for operator interaction. It can be purchased separately, or as part of a new printer package for current and new customers. 

Fleet Control is a suite of newly available, advanced features in PreForm and Dashboard that facilitate easier management of multiple 3D printers with centralized queue management and automatic printer assignment.

High Volume Resin System is a 5L Resin Bag and Resin Pump that expands the standard resin capacity of a Formlabs SLA printer, reduces waste, and minimizes cartridge handling tasks.
For many printers or for singular units, these products can be used together as the Automation Ecosystem or as separate products for your own specialized workflow. 
The Form 3/B/+ printers have enabled small businesses to build themselves up, large businesses to become more efficient and innovative, educators to engage their students, inventors to bring ideas to life, and so much more. And though the printers' ease of use has opened up so many doors, we never want to stop improving. 
Form Auto, Fleet Control, and the High Volume Resin System allow users to supercharge their productivity, reduce cost per part, and minimize the headaches that come with higher throughput through a series of features meant to make users' lives easier and products even better.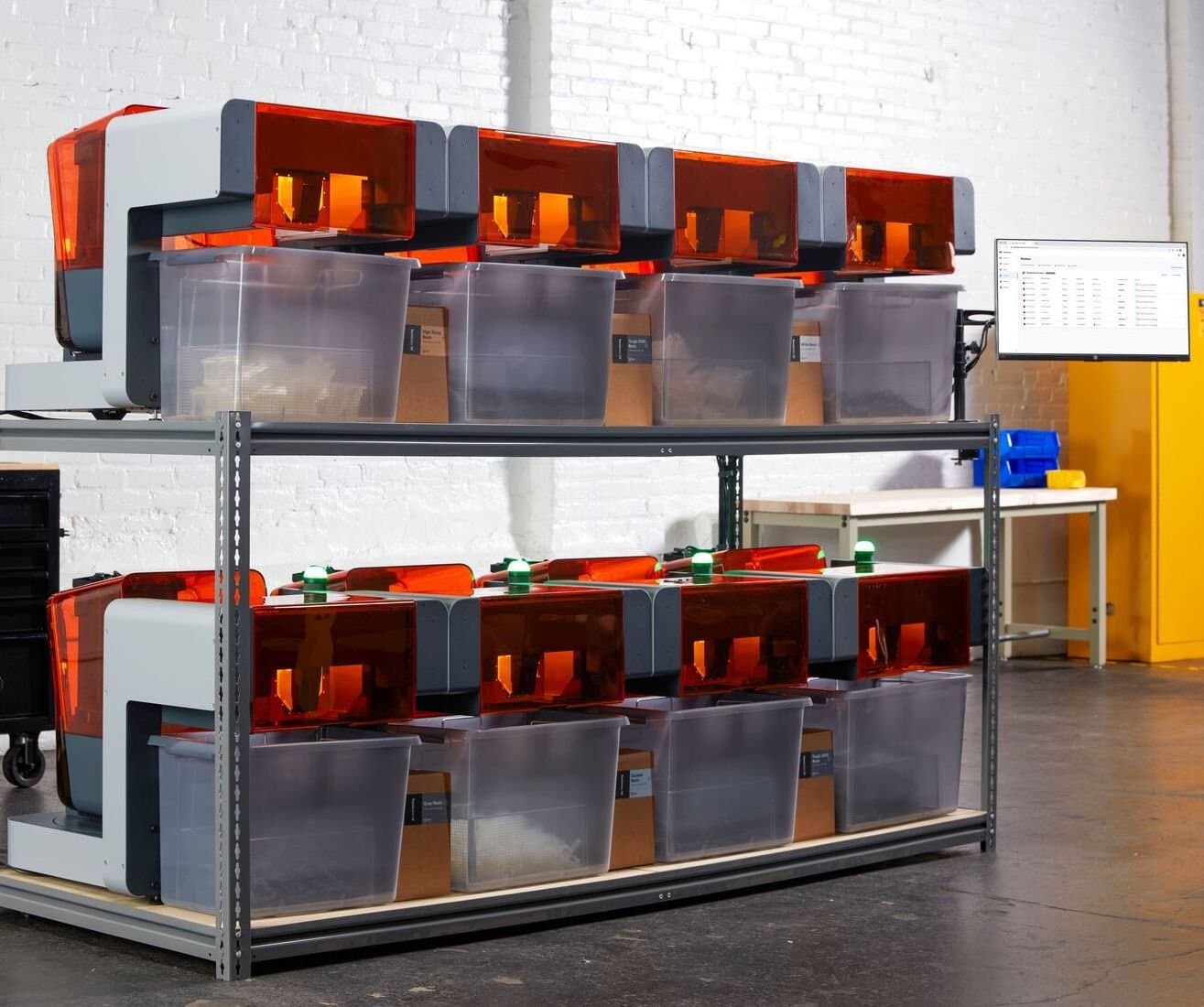 Webinar
Introducing the Formlabs Automation Ecosystem
Learn about the Formlabs Automation Ecosystem: From 24/7 non-stop part production that redefines throughput and productivity to an automated 3D printer fleet.
Watch the Webinar
Features and Benefits
Form Auto
Form Auto attaches to any Form 3/B/+ printer, and by using the patented Quick-Release Technology of the Build Platform 2, removes parts from the printer, detaches them from the platform, and deposits them in a holding bin, ready for the Form Wash. The platform is automatically reinstalled and the next print is primed and ready to go, with no user interaction required. The releasing action is recorded by an onboard camera, so that users can continuously monitor their production from the next room, a different building, or from another location entirely. 
Upon finishing a print, the Form Auto hardware attachment will raise the orange printer cover, remove the parts on Build Platform 2, and detach them into the waiting bucket. 
Automation is often associated with large, expensive robotic structures, complicated protocols, and inaccessible pricing. With Form Auto, hands-free, 24/7 printing is not only possible, it's affordable, and can be added to any existing Form 3/B/+ printer. Taking up minimal additional space, Form Auto is an advanced manufacturing tool made so that anyone can reach production volume and devote their time to more important tasks.
How to make 1000 3D printed rotating arms (Grey Resin) in three days*:
| Set up | With Automation Ecosystem | Without Automation Ecosystem | | |
| --- | --- | --- | --- | --- |
| Printers Needed | 10 | 28 | | |
| Number of cartridge changes | 2 | 12 | | |
| Operators required | 1 | 1 | | |
| Cost per part | £1.61 | £2.65 | | |
* Calculation based on dental arches printed in Draft Resin at 200µm. Calculation includes equipment and labor costs, and amortization.
Customers for whom internet privacy, sensitive IP protection, and sharing protocols are of utmost importance can still utilize Form Auto, which supports non-cloud print operations. When on Local Mode, Form Auto enables high-volume printing without the use of the internet. 
Users can manage the process from elsewhere in the building or from home, meaning that production doesn't have to stop when you leave work — Form Auto can continue printing models, helping you to scale your production without scaling your workforce or hours. Previously, printers would sit idle until a user removed the part which could slow down the whole operation, but with Form Auto, Fleet Control and Build Platform 2, part removal is hands-free and streamlined.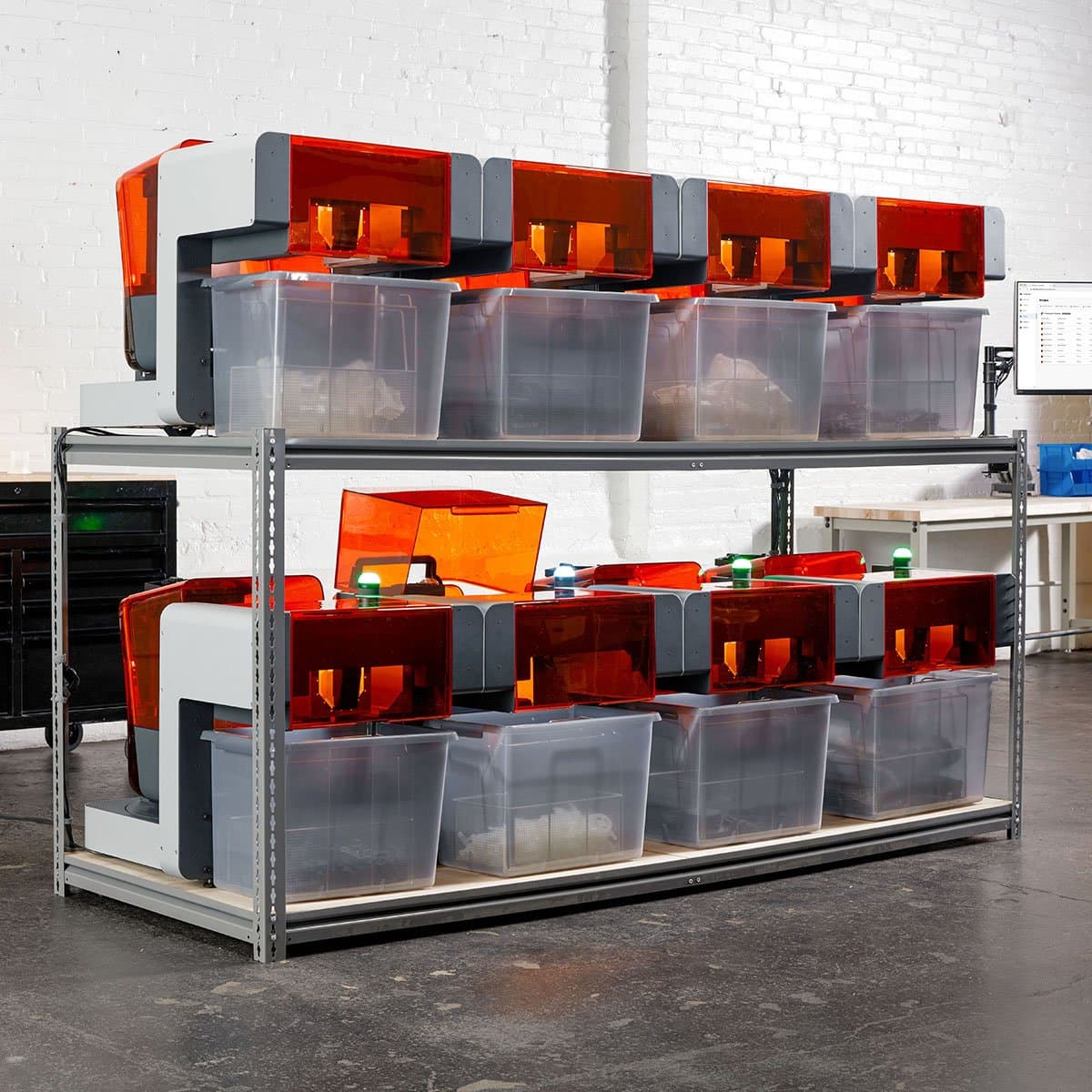 White Paper
Calculating ROI for the Formlabs Automation Ecosystem
The Form Auto can increases productivity and efficiency, driving down your cost per part. In this whitepaper, we'll walk through three manufacturing scenarios to explain cost per part and return on investment (ROI) calculations.
Download the White Paper
Fleet Control
Fleet Control is a suite of advanced features across PreForm, the print preparation software, and Dashboard, the online printer and consumables management tool, that enable centralized management of multiple Form 3 Generation printers and groups of users. 
Fleet Control simplifies management and oversight of your fleet of Form 3 Generation printers by identifying which printer is most suitable for each print job and by creating a continuously moving queue across all printers. With the Fleet Control extension in Dashboard, users can view and edit the queue for the Printer Group, as well as duplicate or reprint jobs without having to reopen PreForm. 
These features can be accessed from anywhere, so queue management can happen after working hours, from home, or from anywhere in the world. Operators can ensure the smooth running of the printer fleet without having to be there in person. 
These features drastically reduce the amount of time managers used to spend in manually assessing the necessary consumables and identifying the most suitable printer for each job, then updating the queue and sending new jobs as printers become available. Potentially hours of each day in manual oversight are now eliminated by automating print-to-printer assignments and queue management, enabling operators to spend more time on important tasks like design and planning. 
In addition to reducing labor time, Fleet Control's automatic printer assignment also minimizes the wear and tear on units resulting from unnecessarily frequent consumable switching. Previously, a manually created print job queue meant that whatever job was next got the first printer available, which often meant that the consumables needed to be changed out. With Fleet Control, the queue is optimized so that print jobs in the same materials are queued together, and consumables are changed only when necessary.
High Volume Resin System
Continuous production only happens with enough material to supply it. Formlabs' new High Volume Resin System ensures that printers will never run out of material while operators are away from the job. Fleet Control and Dashboard features will alert operators when consumables are close to needing a refill, so that changing resins can always be taken care of before leaving for the night. The High Volume Resin System packs five liters of material into one vessel, enabling multiple print jobs and days of productivity without changeover, complimented by a Resin Pump to ensure quick and efficient dispensing
The High Volume Resin System reduces packaging waste by a whopping 90+%, and requires you to keep less space set aside for storage. The System is priced at a discount so that each user with consistent and reliable production volumes can plan ahead and reduce ongoing material costs. Automation doesn't have to be massively expensive, and Formlabs wants to continue supporting customers who rely on the Form 3/B/+ for their means of production. The High Volume Resin System is just another way that Formlabs is lowering the barriers to automation.
Case Study: Spectra
At the Formlabs Manufacturing Service Bureau over 180 SLA and SLS printers run around the clock to produce sample parts. Of those 3D printers, the 140 Form 3 Series printers are run by a single operator, and produce about 440 parts each day, while another operator runs all the Form Washes and Form Cures.  
The print farm has high targets to hit, and has to remain agile and lean in the case of new requests, such as the introduction of a new material, a large production order such as the emergency swab production workflow Formlabs developed in 2020, or other external requests. With only one operator running such a large bank of printers, efficiency and productivity are of paramount importance. The team has been running beta units of Form Auto and testing Fleet Control since July 2020, and Print Farm manager Chris Pauwels says, "They are a huge help — it sort of replaces five printers, because you don't have to clean anything, scrape the parts off, or wash one platform at a time because we're washing in large batches."
The Formlabs Automation Ecosystem aims to reduce the number of interactions needed to keep the printers continuously running, thus freeing up the operators' time for higher-level tasks, or simply continuing productivity overnight and eliminating the need for more staff. "It's a big time saver, and the only interaction the print operator has is removing the basket in the morning. All I have to do is make sure jobs are always loading through Fleet Control, which I can do from home or my office," says Pauwels. 
Fleet Control has also eliminated miscommunication between operators and management. "It's been helpful in getting rid of miscommunication and the printers are managed more effectively because we don't have to spend any time thinking or discussing which file should go to which printer. It's also helpful for file control, being able to duplicate jobs directly from Fleet Control," says Pauwels.
Reaching New Levels of Productivity and Lowering Costs
The Formlabs Automation Ecosystem minimizes labor time, creates more flexibility for printer operators, and streamlines the 3D printing workflow so that their time can be used for tasks no one else can do. By automating the part removal, queue management, and printer prep tasks, you can reduce cost per part. Automation enables businesses to leverage 3D printing for production, making it easier to offer greater value for customers. 
Businesses that have leveraged 3D printing to speed up their production, take control over their supply chain, or digitize stages of their process can now take it one step further. Automation makes 3D printing even easier and more efficient, and Form Auto, Fleet Control, and High Volume Resin System work in concert to reduce costs and improve productivity.