Digitizing Insole Production With SLS 3D Printing
Kriwat GmbH is an orthopedic specialist medical provider headquartered in Kiel, Germany. From the beginning, the company has been characterized by their unique focus on combining sports performance with cutting-edge medical research.

Michael Kriwat started the business in 1987 as one of the first experts in Germany in gait analyses on the treadmill for both recreational and professional athletes. Since then, the company has expanded to six locations in Kiel, Hamburg, and Preetz, grown to a team of 75 people, and expanded its services to providing personalized care to patients in the field of bandages, insoles, orthotics, and orthopedic shoes.

The orthopedic care industry faces a severe shortage of skilled labor — there are few young professionals who want to take on the laborious process of creating orthotics and even fewer who want to take over the responsibility of running these small and medium-sized, often family-owned businesses.

Read on to learn how Lais Kriwat, Michael's son, developed a digital workflow for insole production with selective laser sintering (SLS) 3D printing to modernize the business and address these challenges, placing the company on the path to producing 10,000 pairs of insoles this year with 3D printing.
Transforming a Manual Craft With 3D Printing
The traditional workflow for producing orthopedic insoles is tremendously labor-intensive and messy for both the customer and the provider. First, the customer steps into a foam mold to create an impression of their foot. From that impression, a polymeric liquid is poured in to recreate the shape of the foot which is then used to produce a matching orthopedic insole.

This workflow requires specialized skills and hands-on labor in an environment filled with dust and chemical fumes. "This is something that bothered me a lot during my training. A lot of things had to be produced with chemicals. A lot of things had to be sanded on the grinding machine, so there was always a lot of contact with chemicals and dust. That's why I set myself the goal that I wanted to do things differently so that I wouldn't have so much contact with chemicals," said Lais Kriwat.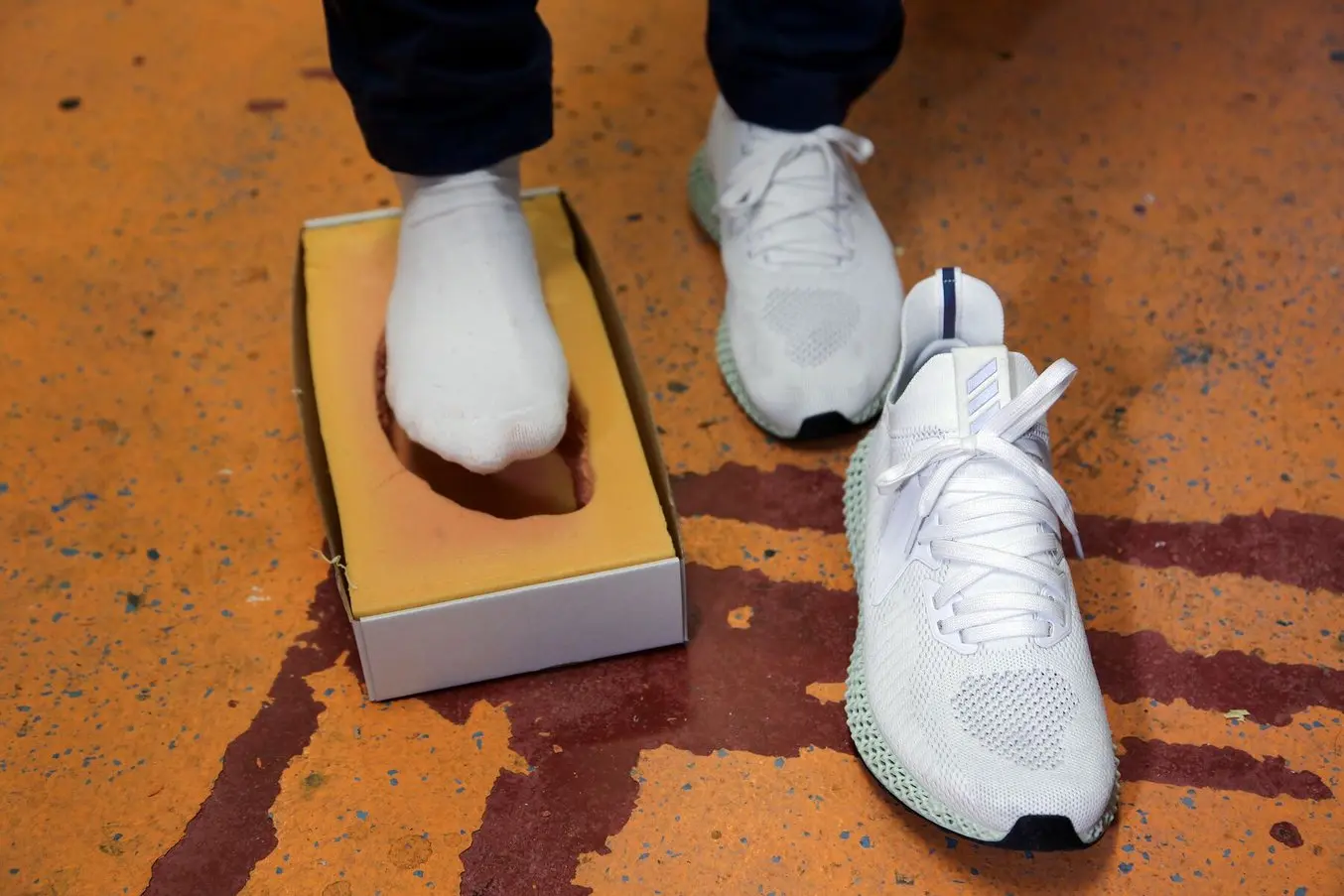 As someone who had recently entered the industry, Lais was able to experience firsthand the challenges that the traditional workflow posed and realized that changes would have to be implemented to stay relevant for employees.

"The biggest challenge of our industry today is clearly the lack of personnel. It is difficult to find people who still want to practice our profession and who are interested in doing handcraft as a job. We need to make the job interesting, and that's where new technologies are very important," said Lais Kriwat.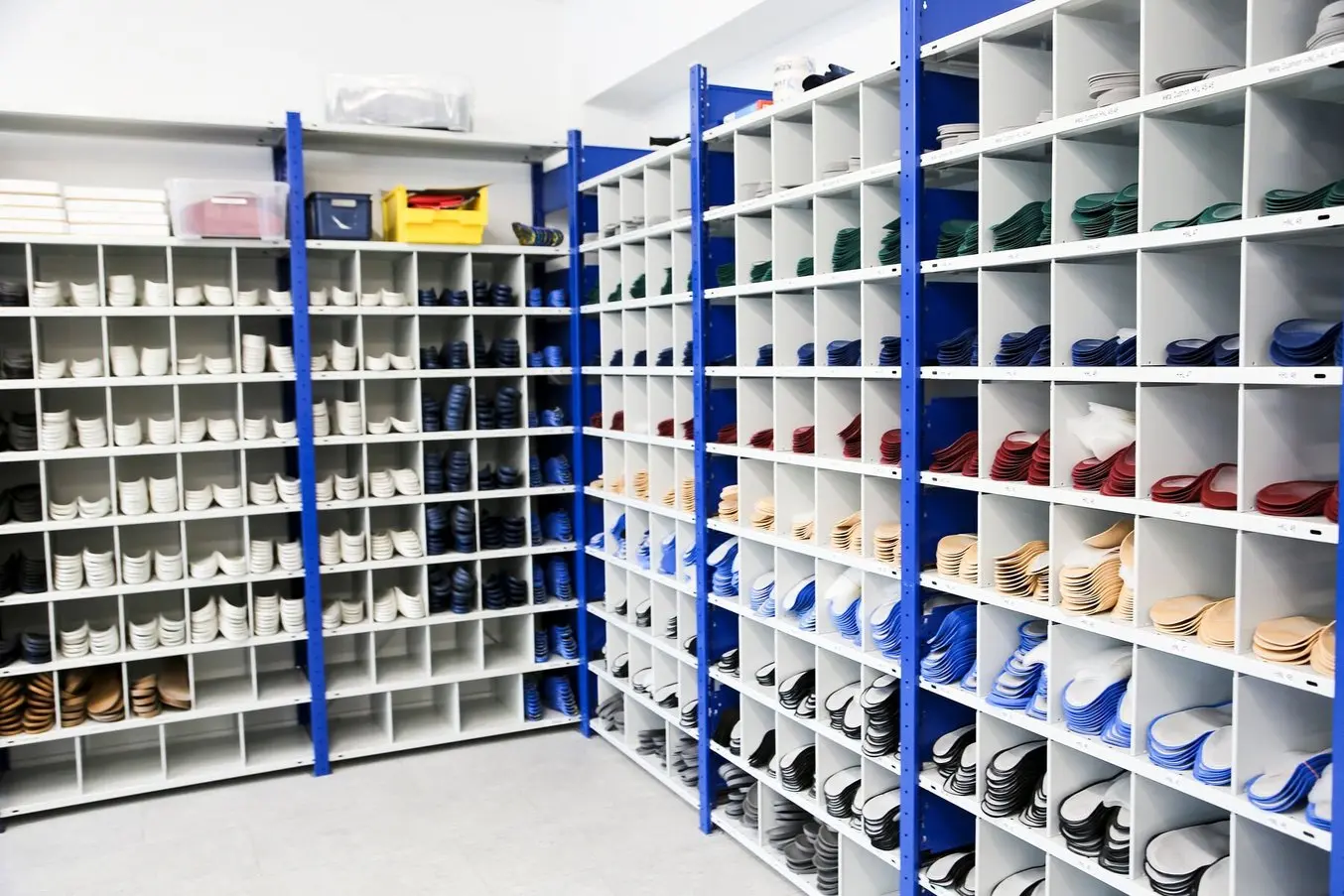 Lais first started experimenting with 3D printing in 2017, printing hobby projects and prototypes on a small fused deposition modeling (FDM) 3D printer. As he became more comfortable with 3D design and printing, he began to explore ways in which he could implement it at the family business. After discovering stereolithography (SLA) technology, the family business invested in a Form 3BL printer for human-scale models, opening up entirely new possibilities for orthotic production. Lais began mastering new applications step by step, and eventually turned his attention to the core part of their business, insoles.

"In the beginning, it was all a project where I didn't really know what the next steps really were. That's why I started looking for really good partners and came across Formlabs, and I have to say that it was an absolute stroke of luck for me because I was able to implement the idea I had in my head. I could send designs and they printed things out for me to see, first of all, whether it'd actually work in this 3D technology. These were all points where I had no experience and where Formlabs helped me tremendously," says Lais Kriwat.
 
Step by step, Lais digitized the workflow for insoles production and validated the end products by testing them internally and with customers. With the new digital workflow, manual foot impressions are replaced by 3D scanning, the long list of manual steps is reduced by digital design and 3D printing, and the 3D printed parts are combined with the traditional workflow to create the end product.
Application Guide
3D Printing Rigid Insole Shells
Learn how to produce strong, ductile insole shells exceeding 4 million bend cycles with Formlabs' compact, affordable SLS ecosystem. This comprehensive guide will help you hit the ground running with insole shell production on the Fuse 1+ 30W.
Download the Application Guide
What Are the Benefits of 3D Printing for Insole Production?
Kriwat's team uses two Fuse 1+ 30W SLS 3D printers and Nylon 11 Powder to produce individual insole cores and even entire insoles. Naturally, before moving their production digital, it was extremely important for Lais to show that the new workflow for producing an orthopedic insole really does have decisive advantages for both the company and the customers. Let's look at the key benefits he highlighted.
Time Savings
With the new workflow, it is possible to take a 3D scan, create a digital model from it on the same day, batch it together with other insoles, and print them all in the Fuse 1+ 30W overnight. Kriwat's team can then post-process the parts, follow the traditional workflow for producing the insole around the core, and finish the insoles the next day.
"We now have the ability to create a perfect fitting orthotic for a patient within 24 hours. This is something that of course offers an extreme advantage for us because we can provide care quickly, but at the end of the day the most important thing is the patient who has a problem and from whom we can provide the best possible care within the shortest possible time."

Lais Kriwat, Master Orthopedic Shoe Technician, Management at Kriwat GmbH
Cost Savings
Compare to traditional handcrafting, the new digital workflow offers financial benefits both in terms of material costs and above all, personnel costs. With the digital workflow, many of the steps are now digital and don't require materials or extensive labor. At the volume that Kriwat handles, purchasing a 3D scanner and design software one time is less expensive than the large quantities of foam and liquid chemicals. 
Additionally, workers can take on more patients in a day because the workflow is faster, which reduces the cost of a larger labor force. Lais estimated that the production costs dropped by around 15% to 17%, thanks to 3D printing.
Though the Kriwat team immediately recognized that bringing 3D printers in-house was the key to reducing costs and improving their workflow, most SLS 3D printing solutions were out of their price range, running well into six figures. The Fuse 1+ 30W SLS printer was the only machine that delivered the industrial solution they were looking for at a price point accessible for small and medium businesses. 
"With Formlabs, the big advantage is of course also the financial aspect. As a medium-sized company, I can afford this investment, which would simply not be achievable for us with other manufacturers, and neither for other companies in our industry."

Lais Kriwat, Master Orthopedic Shoe Technician, Management at Kriwat GmbH
Simplified Workflow
SLS 3D printing with the Fuse Series offers many features that simplify the workflow for insole production. The self-supporting nature of the process means that many insoles can be printed together in a single build, optimizing the workflow and lowering costs. Finished parts have a slightly rough surface finish, which is ideal for bonding additives and covers for the different types of end products. Nylon parts can also be machined and ground to achieve the perfect finish for the end product.
Formlabs Dashboard is an online tool that allows operators to manage multiple 3D printers, track prints and material usage, and get notifications about prints' status, which Lais found crucial for planning. After working with a long list of 3D printer slicer software over his career, he also found PreForm, the print preparation software for Formlabs printers, straightforward and easy to use.
"PreForm is the perfect software to get a quick print off the ground. For us, it is also important to take the employees with us and to show them how easy 3D printing can be. PreForm is ideal because it's child's play, easy to explain, and in the end, it's fast to get the print onto the printer," said Lais Kriwat.
Improved Logistics
Digitization also simplifies logistics management. Kriwat GmbH now has 3D scanners in their stores in Hamburg, which make it much easier to send the data digitally to the headquarters in Kiel, where the team can then design the individual products. In the past, they had to transport the manual impressions back to their headquarters where the insoles are produced, which was much more time-consuming and costly as they had to regularly travel long distances.
Sustainability
Besides cutting down on transport, 3D printing makes the workflow more sustainable in multiple ways. With the digital workflow, a lot less raw material is required to produce the end product as the creation of a replica of a foot is completely eliminated. Kriwat GmbH no longer needs to find disposal methods for the thousands of foot models, extra unused foam, and chemical waste. Through the Fuse Series' efficient system, unfused powder can be recycled into the next build, creating a circular workflow that can reduce or even completely eliminate waste.
"​​Sustainability is the most important topic for my generation. My goal was that we wouldn't have to throw away so much material in the end. One example is that we have a plastic garbage can here, where my goal was that it wouldn't have to be picked up every week, but that we can minimize waste so that it would only be picked up every four weeks. I also wanted to reduce the use of chemicals and throw away less of them. Formlabs' SLS technology is a perfect fit because we really only print what we really need," said Lais Kriwat.
Driving the Future of Insole Innovation
In the first full year, Kriwat's goal is to digitize around 50% of their insole production and print around 10,000 pairs of insole cores and full insoles. But their two Fuse 1+ 30W SLS 3D printers also offer many possibilities for the future.
"In the first step of digitization, our goal was to digitize the traditional craft. That means bringing the shapes of our insoles, the specific types of insoles into the computer and actually printing them out at the end via the 3D printer. In the next steps, we will also create completely new products based only on 3D technology," said Lais Kriwat.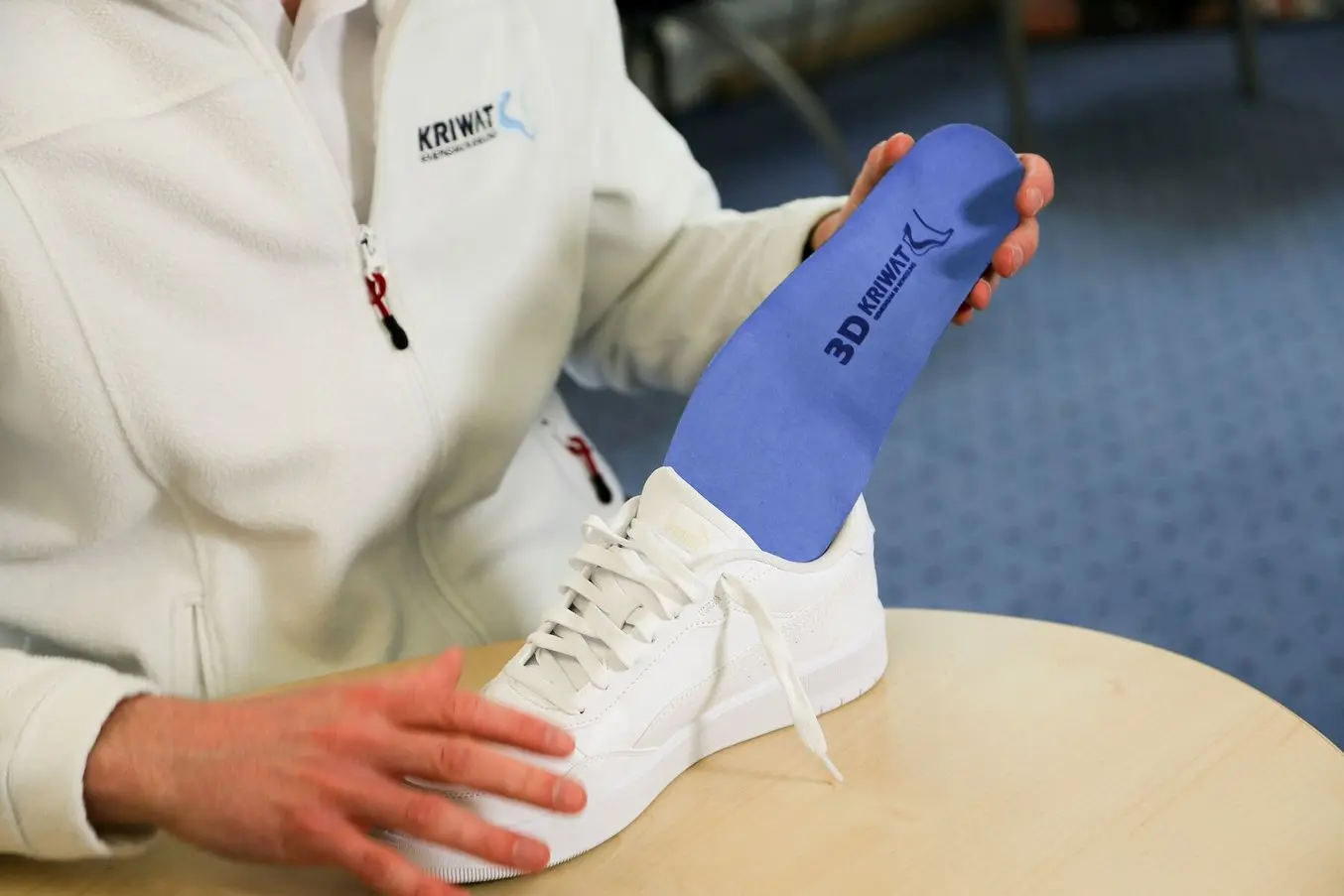 Possibilities enabled by the design freedom of SLS 3D printing include pressure redistribution during walking, individual premium products, certain supports that are not possible to produce with traditional methods, and thinner products that still provide optimal support for the foot for sports like running and football.
"I'm extremely excited that we will bring new innovations to the market that perhaps weren't possible 15 years ago, but now 3D technology offers many new possibilities. Things that we perhaps can't even imagine today will soon become reality."

Lais Kriwat, Master Orthopedic Shoe Technician, Management at Kriwat GmbH
Learn more about 3D printing insoles by visiting our application page or contact our medical experts if you have any questions about the workflow or Formlabs' 3D printing solutions.