Producing Custom Control Systems for Machines and Vehicles Using SLS 3D Printing
Based in Germany, IBL Hydronic provides custom electronic, hydraulic, and software solutions for construction, municipal, agricultural and forestry, and other specialized machines and vehicles. 
Equipped with a Fuse 1 SLS 3D printer, they are able to create functional prototypes within a very short time and produce complex hydraulic end-use components in-house.
In our interview, Tom Heindl, technical product designer for 3D printing at IBL Hydronic, talks about how SLS 3D printing promotes innovation in control solutions and how workflows can be optimized and accelerated as a result.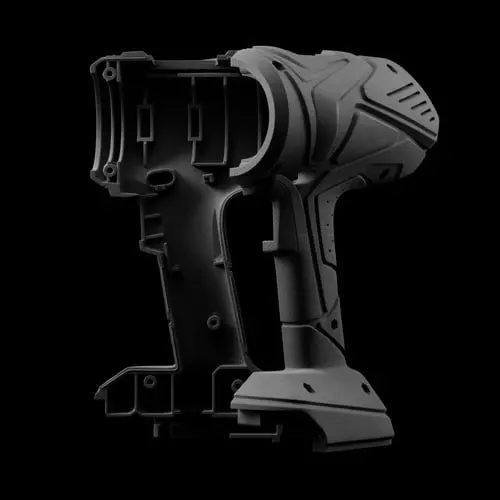 White Paper
Introduction to Selective Laser Sintering (SLS) 3D Printing
Looking for a 3D printer to create strong, functional parts? Download our white paper to learn how SLS printing works and why it's a popular 3D printing process for functional prototyping and end-use production.
Download the White Paper
Developing Automated Control Systems for Machines and Vehicles
IBL Hydronic develops and manufactures control systems for a wide range of industrial machines, such as construction vehicles, agricultural and forestry machines, and municipal vehicles. In this niche, the company offers both the hardware for the control components and the corresponding custom software. 
"We develop innovative hydraulic and electronic solutions. Our portfolio ranges from simple control blocks to ready-to-connect device controls that include an advanced user interface," explains Heindl. 
In order to be able to react quickly to individual customer requests, IBL predominantly produces components in-house, in which 3D printing plays a key role. 
"In our industry, it often makes sense to use 3D printing to manufacture products, since these are mainly small series and built of components that have to be constantly adapted."

Tom Heindl, Technical Product Designer for 3D Printing, IBL Hydronic
After some past jobs proved that IBL had reached the structural and design limits of conventional production processes, they increasingly started to consider 3D printing solutions. Initially, these jobs were fulfilled by external 3D printing service providers, but the demand was so high that in 2019 the company invested in their first in-house 3D printer. 
"With 3D printing, it has always been very important to us that optical features, such as the layer lines, remain invisible, and that we also maximize our design freedom. After initial quality problems with other 3D printing technologies, we decided on a Fuse 1 SLS 3D printer," says Heindl. 
Heindl sees the lack of support structures as the primary advantage of SLS 3D printing technology and printing with nylon powder on the Fuse 1. The process opened more and more doors for valuable new projects that otherwise would not have been possible to realize in this form. The easy handling of the printer is also key for Heindl and his team, as this gives as many colleagues as possible the option to work with the printer, empowering them to optimize development and production processes. 
"Having an SLS 3D printer means that we simply no longer have to use manufacturing methods such as CNC milling, turning, or machining. This of course saves us a lot of time, money, and also space," says Heindl.
"Thanks to the ease of use and the simple workflow with SLS 3D printing, you can concentrate purely on the product and the design. This simplifies our processes tremendously."

Tom Heindl, Technical Product Designer for 3D Printing, IBL Hydronic
Since 2019, IBL has been steadily expanding its 3D printing operations to meet the growing demand.
3D Printing Customized End Use Parts in Small to Medium Series
A significant advantage of having a Fuse 1 in-house is flexibility, which enables Heindl and his team to take their customer focus to a whole new level. 
IBL can rarely leverage off the shelf components when developing controls for agricultural machinery producers or municipal vehicle manufacturers. Instead, they focus on the individual challenges and needs of each customer and develops specific solutions using their in house SLS 3D printer.
This is a unique selling point in their market niche that sets them apart from the offerings of competitors that use subtractive methods or injection molding processes. Injection molding also comes with high costs and complexity, which would not be profitable for the company given the small quantities of a small series.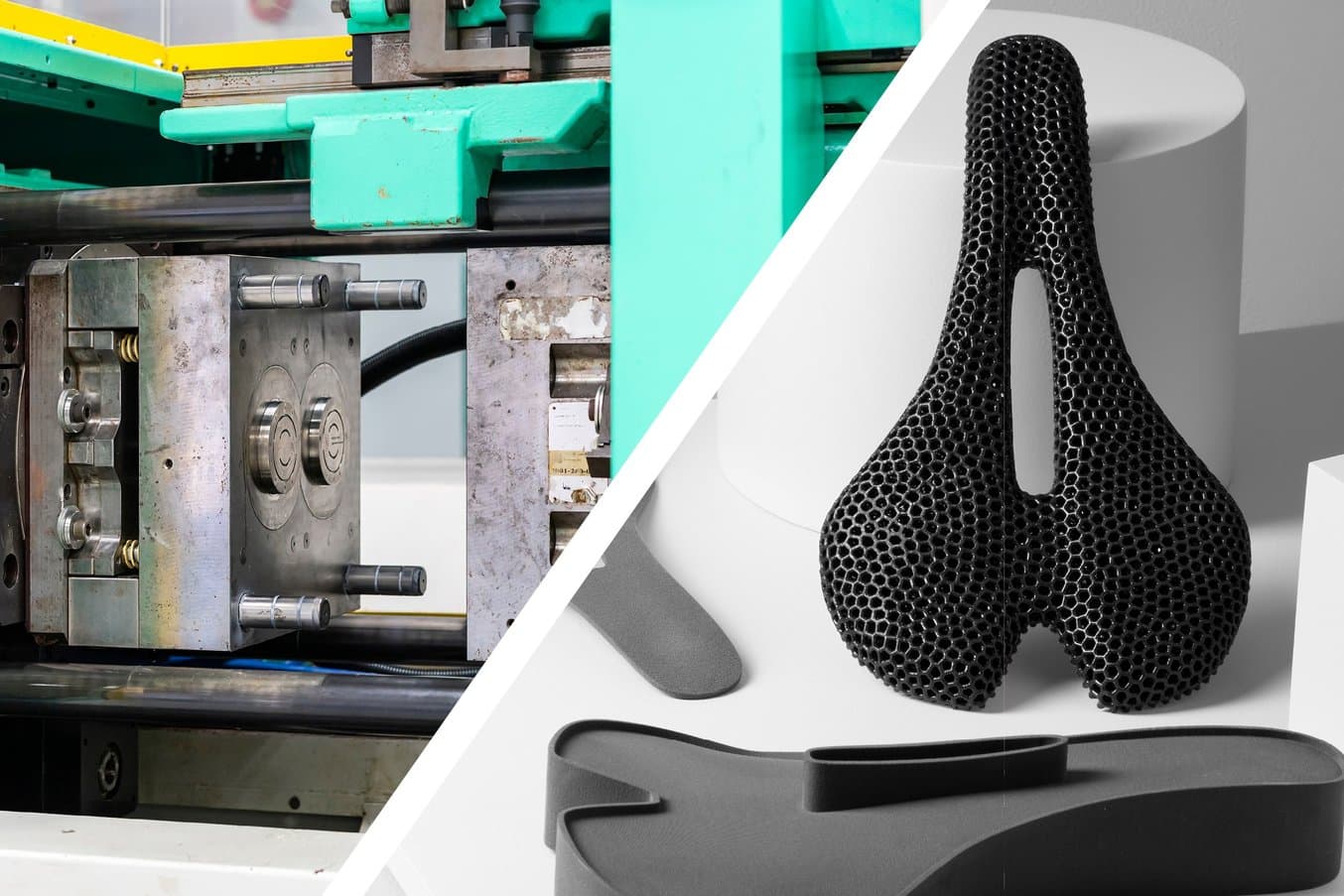 White Paper
SLS 3D Printing vs. Injection Molding: When to Replace Molded Parts With 3D Printing?
This white paper showcases the cost-dynamics for real-life use cases, and presents guidelines for using SLS 3D printing, injection molding, or both.
Get the Full White Paper
"Manufacturers in this industry typically make their vehicles and equipment in rather small series, which means we make a lot of things in batches of 100 to 250 parts. For us, investing in large fleets of in-house production machines that would only be used for occasional jobs and small quantities is completely out of question," explains Heindl. 
Thanks to the ability to make fast deliveries and use the 3D printer at full capacity, the return on investment for an in-house Fuse 1 SLS printer is positive. On top of that, the company can now acquire new customers through their increased manufacturing capabilities.
Interactive
Calculate Your Time and Cost Savings
Try our interactive ROI tool to see how much time and cost you can save when 3D printing on Formlabs 3D printers.
Calculate Your Savings
3D Printing a Control Module for Agricultural Machinery
A recent project that IBL Hydronic worked on involved developing a control panel for an agricultural machinery manufacturer that had to be tailored to a specific machine. The project was accomplished in record time. After just one month of development, the control module was complete and could be presented to the customer.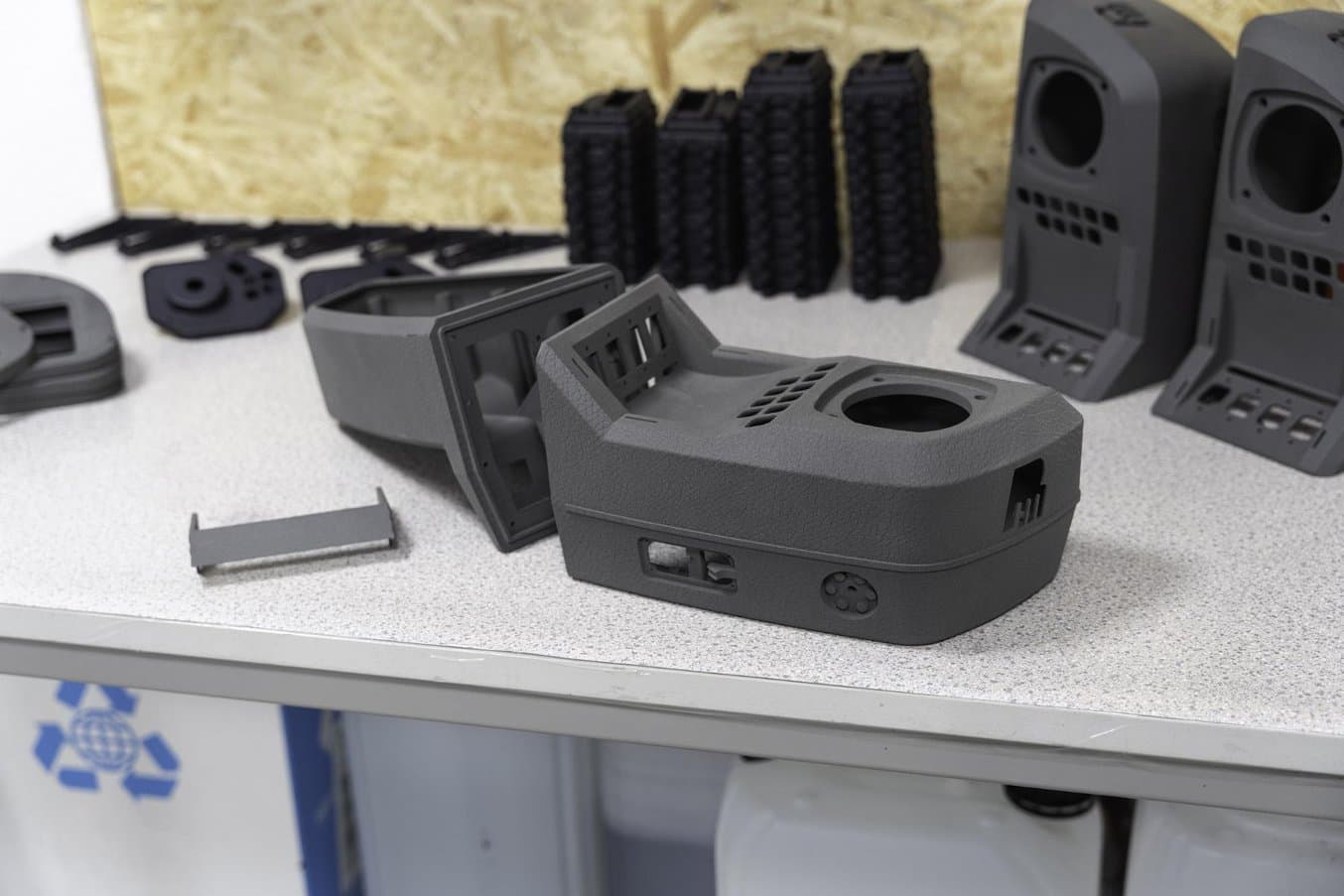 The components of the housings were printed using SLS 3D printing, then assembled and fitted with a leather armrest pad. In order to create a design that was not only functional, but also visually appealing, the team added a texture to the surface of the 3D model in the design process. The SLS 3D printed components were then smoothed, and colored using a dye bath. The result is an assembly consisting of end use components manufactured fully with SLS 3D printing, featuring a leather-like surface texture, which enhances the looks and rounds off the entire design.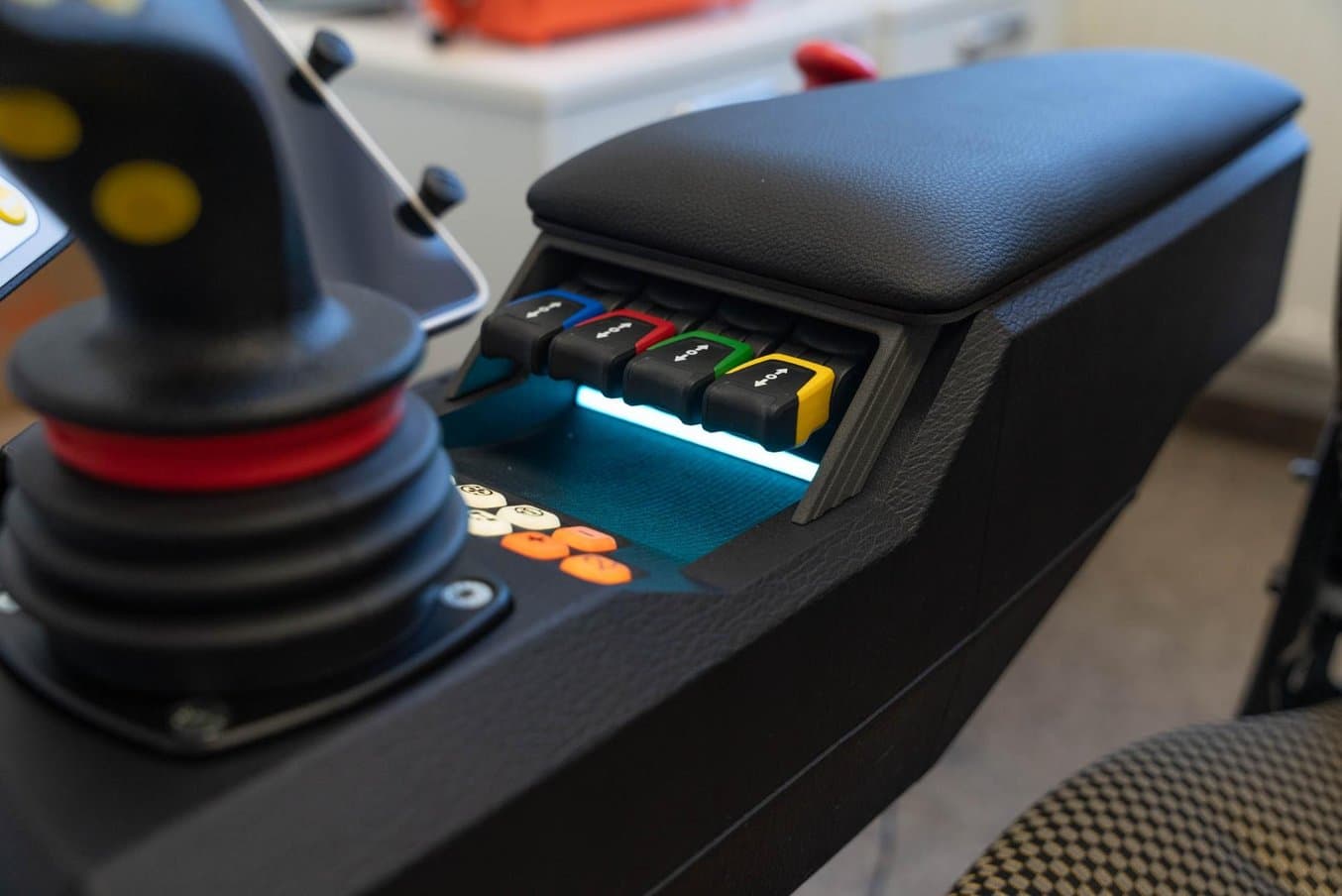 IBL's team uses both SLS and SLA 3D printing technologies to their advantage to leverage the full design and functional freedom that additive manufacturing can offer.
For example, smaller parts such as the white and orange buttons were produced on an SLA 3D printer, one of the few 3D printing technologies that allows translucent and transparent components to be 3D printed. In this control module, for example, functions could be integrated into the software to emit flashing warning signals from the keys in the event of a system error. 
Sample
Request a Free Sample Part
See and feel Formlabs quality firsthand. We'll ship a free SLS sample part printed on the Fuse 1+ 30W to your office.
Request a Free Sample Part
The speed and flexibility that additive manufacturing offers are fundamental to IBL's product development processes for new control modules. Long lead times that result from working with external manufacturing service providers during the discussion and planning rounds can be significantly reduced through in-house 3D printing and the company can deliver results to the customers more quickly.
"With 3D printing, I can provide our customers with the first prototypes in two to three weeks that almost match the quality of series production."

Tom Heindl, Technical Product Designer for 3D Printing, IBL Hydronic
In addition, changes to the design can be implemented much more easily and quickly than when using conventional manufacturing methods. 
"You can also work quickly in the completely opposite direction with 3D printing. The speed with which I can change the CAD file and print it without tooling or machine adjustments is unbeatable compared to other manufacturing methods such as CNC machining," says Heindl.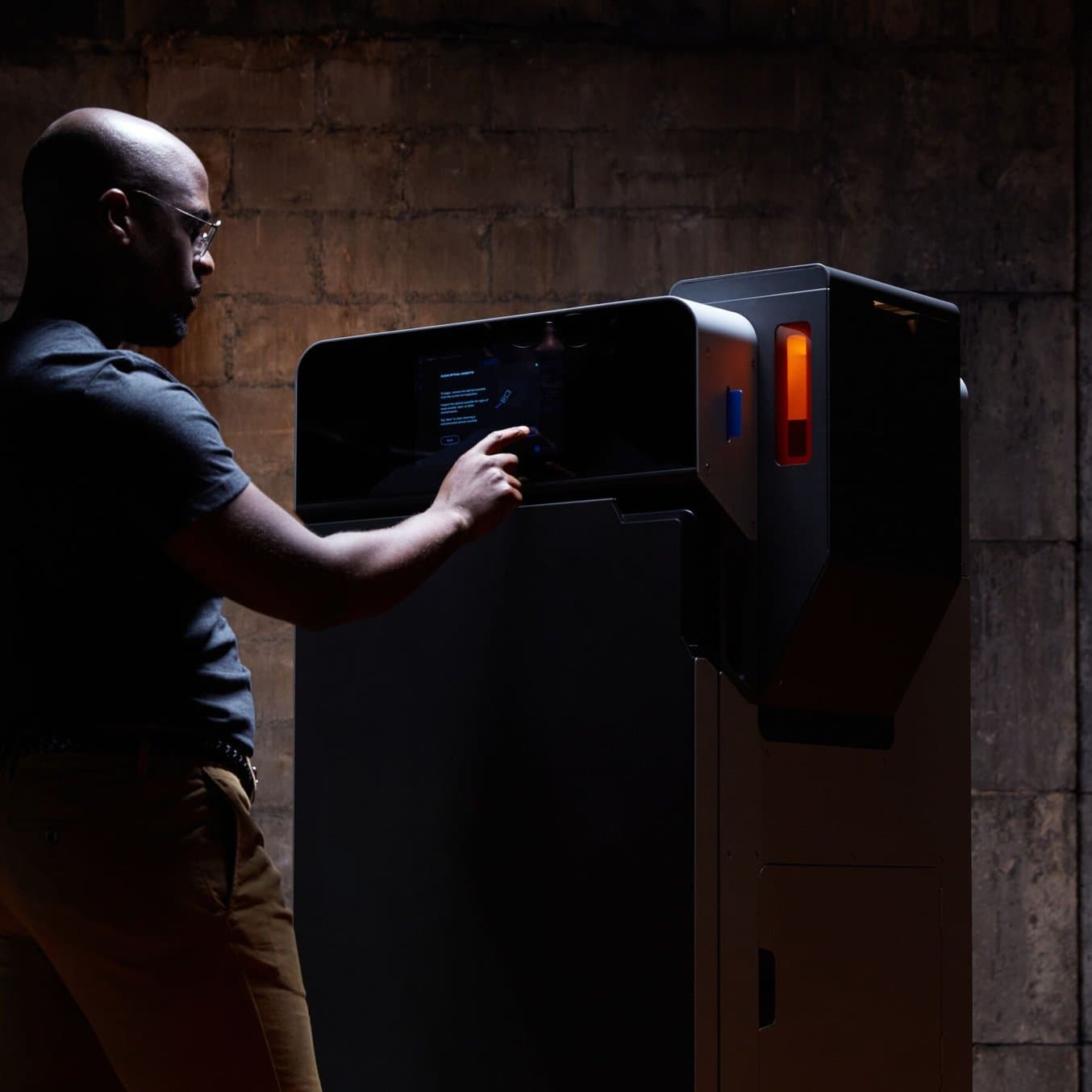 White Paper
Outsourcing vs. In-House: When Does it Make Sense to Bring SLS 3D Printing In-House?
In this white paper, we evaluate the value proposition of bringing SLS 3D printers in-house, in comparison with outsourcing SLS parts from a service bureau.
Download the White Paper
Increased Competitiveness Through SLS 3D Printing
Heindl and his team are planning to build upon the experiences they have gained and scale up to new materials, manufacturing capabilities, and design possibilites in the future. Projects such as this 3D printed control panel have laid the foundation for new approaches and broadened horizons for their future projects. 
"If we hadn't invested in our in-house 3D printers and learned the process, we wouldn't have gained certain customers."

Tom Heindl, Technical Product Designer for 3D Printing, IBL Hydronic