10 Technological Innovations in 10 Years
In the past ten years, Formlabs has grown from an MIT lab project to a multinational company valued at over two billion dollars. By continuously innovating their products, Formlabs has shown that no feature is too small to improve upon. From hardware to materials, everything is under consideration to be made faster, smarter, and more accessible, so that anyone can print anything. 
In this post, we are going to cover ten of the most groundbreaking innovations Formlabs has introduced, many of which have changed the game for the global stereolithography (SLA) and selective laser sintering (SLS) industries.
1. Laser Calibration (2011)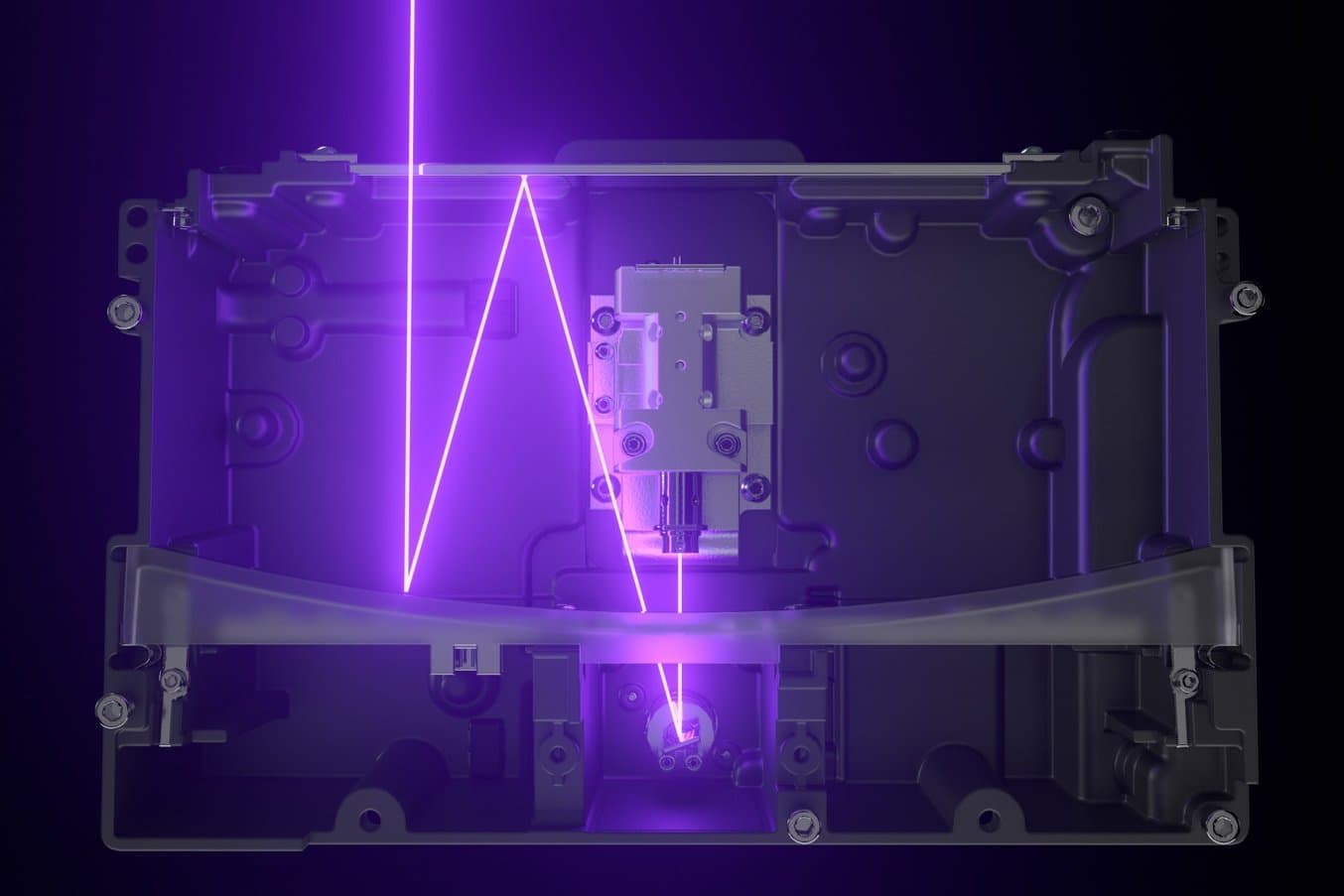 The innovation that started it all: While at the MIT Media Lab, Formlabs founders Max Lobovsky, Natan Linder, and David Cranor devised a method of taking a low-cost laser and calibrating it so specifically that it could match the accuracy and detail of printers ten times the price. They sourced a type of laser that other industrial manufacturers had overlooked—the same ones being used for the now-obsolete Blu-Ray players. Using galvanometers to reflect and aim the laser beam, the Formlabs printer was able to achieve tolerances previously only possible on prohibitively expensive machines. By leveraging a supply chain no one else saw, Formlabs created something completely new—a powerful, industrial strength SLA printer at a fraction of the price. 
Updated, custom versions of this galvo design are still being used in the Form 3/3B, Form 3L/3BL and Fuse printers, and ten years after the initial design, Formlabs has the single most produced galvanometer design in the world.
2. PreForm Software (2011)
For every breakthrough in hardware, the software has to be there to support it. Formlabs offered free, CAD-agnostic PreForm software immediately upon releasing the Form 1, and continues to release updated and improved versions throughout the year. The PreForm architects built a system that can intelligently recognize a model's geometry, and can adjust exposure in order to strategically ensure print speed, success, and quality. Besides just recognizing potential failures, PreForm can repair broken meshes, and predict optimal layouts for parts. Because it is a free program, and one that accepts files regardless of CAD program, its innovativeness is only trumped by its accessibility.
3. Tough V1 Resin and Flexible V1 Resin (2015)
Released in 2015, Tough Resin V1 and Flexible Resin V1 were the first materials available in the desktop SLA market with fully differentiated mechanical properties. Formlabs had just released the Form 2, changing the SLA market once again. Customers had the ability to create high fidelity parts, and increased demand intensified the internal focus on proprietary material formulations. Tough Resin V1 resembled ABS, the most commonly used FDM printing material, with strength and shatter-resistant properties ideal for rugged prototyping. Flexible Resin V1 was a rubber simulator, with a Shore hardness of 80A, allowing customers to print parts that bent and could be manipulated - ideal for seals and gaskets. This expansion of the resin suite gave Formlabs users the power to create functional prototypes and mimic end-use injection molded plastics.
4. Form Cell (2017)
In 2018, Formlabs partnered with a select group of customers to develop a customized, automated SLA production unit, the Form Cell. By leveraging the scalability of the Form 2, Formlabs and its partners created seven Form Cells, powered by multiple Form 2s and a custom-designed automation and robotics structure. Used on projects like the Gillette Razor Maker product, the Form Cell drastically reduces labor time and enables production level capacity—something previously out of reach to SLA users. 
The project showed Formlabs' unique ability to solve manufacturing problems in industrial companies that include Gillette, Hasbro Toys, Northwell Health, and more. Each of the Cells required a unique buildout, specialized infrastructure, and an ongoing partnership for support and maintenance. Formlabs had thousands of individual units installed smoothly in business across the world, but saw the desire to reach production capacity, and developed a product outside their typical offerings to meet that need. By starting with their industry leading printer and then innovating further, Formlabs created a true industrial solution at an accessible price point.
5. Fuse 1: Affordable SLS (2018)
With the Fuse 1 SLS 3D printer, Formlabs changed the powder sintering market just as they had the SLA market—by providing industrial quality machines at accessible price points. To do so, Formlabs made three key innovations that allowed a less expensive laser to power an industrial quality system: a sophisticated optics system, Surface Armor technology, and an internal computer vision camera. 
The optics system uses the same galvanometer technology as the original SLA line of printers, controlling and focusing the photons of the beam to achieve the same accuracy and tolerances as a much more expensive laser. With those industrial lasers, most SLS manufacturers opt for inert gas as a stabilizing force inside the build chamber, something that requires extensive infrastructure and maintenance. Instead of using inert gas, Formlabs developed a proprietary technology called Surface Armor, a partially sintered shell surrounding the part, to keep the powder stable and prevent defects. 
The third innovation that allows for end-use production parts is the Fuse internal camera. Though a visually exciting tool for user experience, the Fuse Camera serves a vital function. It constantly monitors the surface layer for powder contamination, light scattering, and print defects. Failures caused by temperature variation are avoidable, but require more than just typical heat sensors, which often cannot distinguish between the well-performing laser bed and an overheating failure. The camera and computer vision alert the user quickly, eliminating mess and maintenance time. 
Combining these three features, optics, Surface Armor, and the internal camera, allowed Formlabs to create an industrial machine at a fraction of the typical SLS cost.
Interactive
Fuse 1 & Fuse Sift Virtual Tour
Experience the Fuse 1 & Fuse Sift firsthand with an interactive walkthrough.
Click To Start
6. Biocompatible Materials (2018)
With the dental and medical 3D printing markets exploding, Formlabs answered the industry demand for optimized, fully biocompatible materials. Surgical Guide Resin allowed dental labs and practices to drastically reduce costs and labor time as well as deliver a higher level of care with customized drill guides that improved patient outcomes. Biomed Amber Resin and Biomed Clear Resin are approved for medical device applications, as well as clinical procedures. 
The medical device industry is experiencing a period of unprecedented growth and creating a surge in demand for customized healthcare products. Through extensive testing and material development, Formlabs has created a suite of certified materials to support the explosive increase in interest.  Accessible 3D printers with certified biocompatible materials democratize the medical device industry by allowing start-ups and smaller innovators to bring a product to market.
7. Form 3/3L Tank: Low Force Stereolithography (2019)
To build a part from liquid resin, the printer must build layer upon layer, and the mechanics required to move from one layer to the next put enormous strain on the parts themselves. The Form 1, Form 1+, and Form 2 all used tanks with a rigid bottom and a semi-soft PDMS layer on the top, and employed a 'slide peel' or 'peel and rock' motion to detach the build platform from the tank before moving onto the next layer. Those peel forces put the pressure on small features and delicate geometries, often causing print failures. 
To improve tolerances and resolution, the Formlabs team re-thought the entire tank and peel process for the launch of the Form 3. With the new Form 3 Resin Tank, the flexible film at the base of the resin tank gently peels away as the build platform pulls the part up. The Flexible Form 3 Tank and modularity of the Laser Processing Unit (LPU) mean that the laser slides into the build area gradually, spreading out the peel movement and drastically lowering the forces involved.
8. Rebound Resin (2019)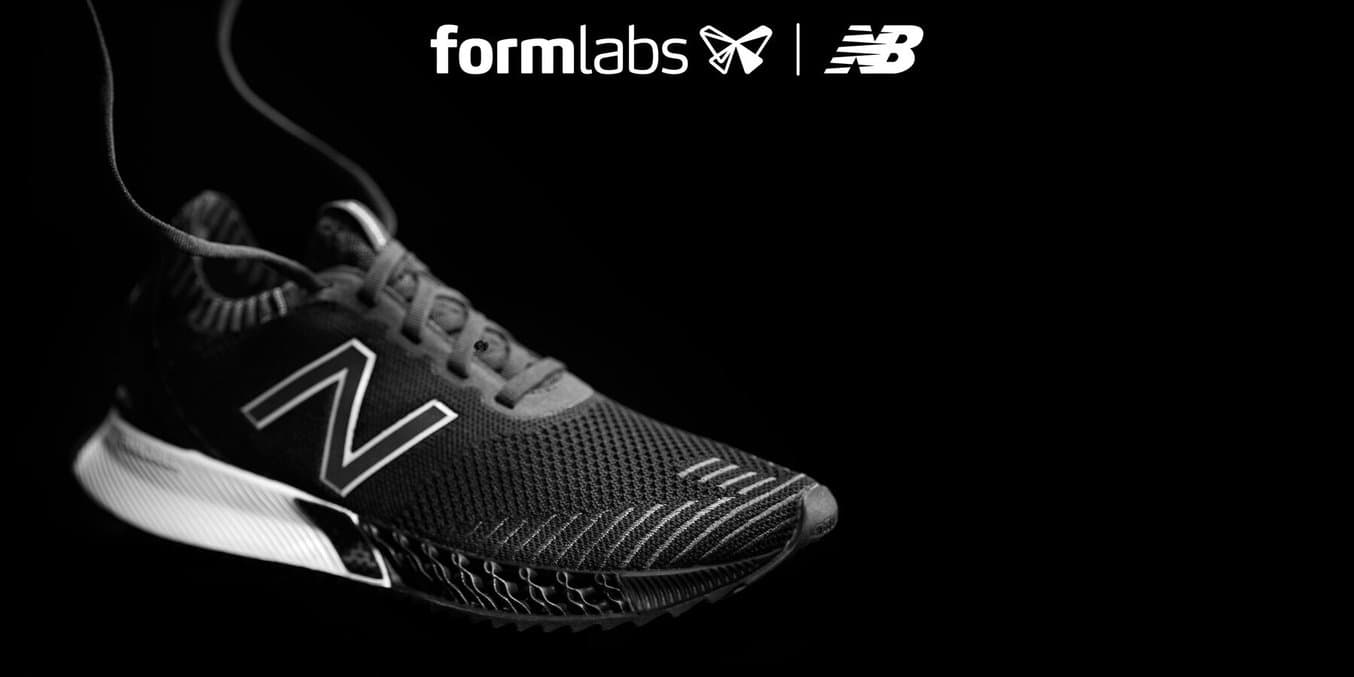 In cooperation with the footwear giant New Balance, Formlabs developed the custom Rebound Resin material for use in a New Balance sneaker sole. This was the first time Formlabs worked with an industry partner to create something customized and specifically attuned to customer needs. 
The Rebound Resin created an end-use product, worn by thousands of people in their everyday lives. Due to the 3D printed nature of the sole, it also eliminated the need for tens of thousands of injection molding shots, letting New Balance create a short run product at low volume, without sacrificing any margin, and eliminating waste. This partnership emphasizes the forward-looking nature of Formlabs engineering, and underlines the necessity of developing business relationships with industry leaders.
9. Fuse Sift (2019)
For end use parts, you need industrial grade materials, like Nylon powder. But the side effect of SLS technology is that this powder can be impossible to control and produces large amounts of waste. Stray powder particles in the air are a safety hazard, as well as an extreme annoyance. 
Formlabs recognized a need for not only an accessible SLS printer, but also a full end-to-end workflow that restricts any stray powder and encloses it safely. They went one step beyond that and added a recycling component to the Fuse Sift that mixes new and used powder into a new powder cartridge, reducing waste by up to 50%. The Fuse Sift's intuitive user interface ensures that customers can control their recycled to new powder ratios, and fine tune them to optimize both part quality and savings. The Fuse Sift creates a streamlined SLS printing process, where an end use part can be designed, printed, and post-processed at a fraction of the cost of typical industrial solutions. 
10. Covid-19 Test Swabs (2020)
In the spring of 2020, a collaboration between the University of South Florida (USF) Health, Northwell Health, and Formlabs, produced the first 3D printed nasopharyngeal design to be tested and validated for Covid-19 testing. Recognizing that Formlabs 3D printers were the most effective means of closing a supply chain gap in Covid-19 testing, the partnership worked around the clock to design, test, and validate the swab, using the Form 3B and Surgical Guide material, a Formlabs proprietary biocompatible resin. 
The design was shared nation-wide, and millions of swabs were printed on Form 2 and Form 3B printers to relieve emergency shortages at Covid-19 testing stations. Working in partnership with leading researchers and healthcare providers, Formlabs contributed to the Covid-19 relief efforts by leveraging their accessible printers and materials. 
To stay up to date on future innovations, follow us on social media: @formlabs.