Discover New Applications and Get Inspired at Formnext 2022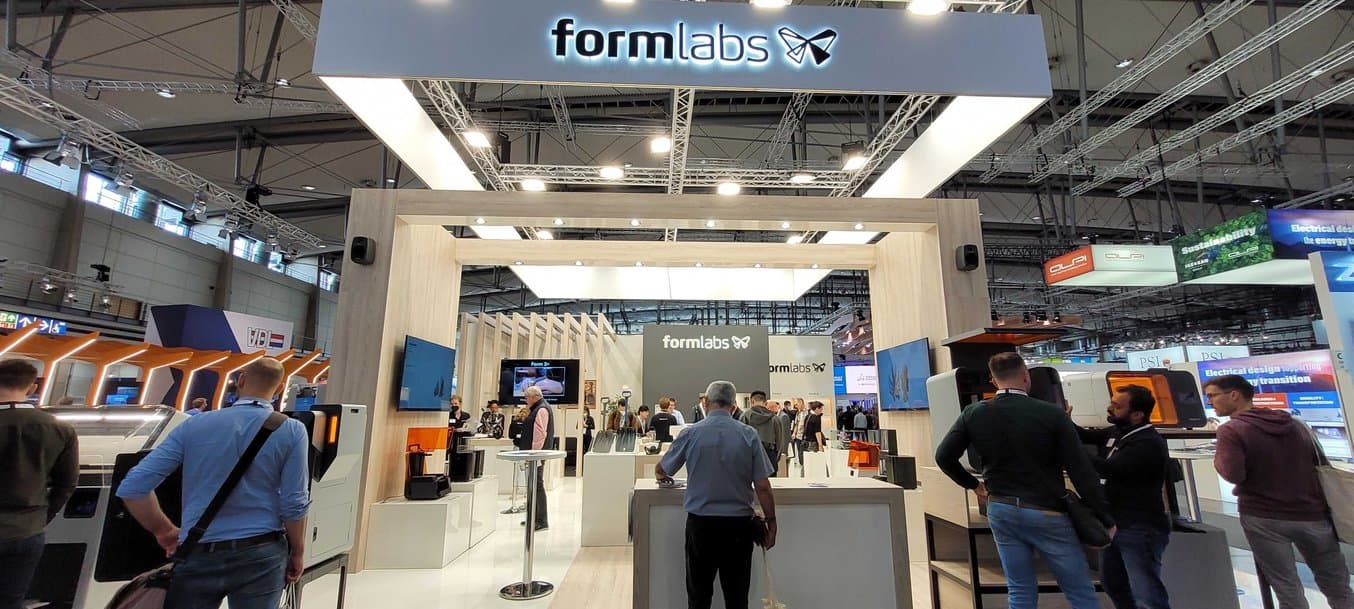 When you work with physical products—designing, developing, or manufacturing them—you know that there is no substitute for touching new materials, testing applications personally, and asking questions face-to-face, in real time. That's why we're packing up and hitting the road to bring our 3D printing lineup to Formnext, and we're excited to meet you!
Formnext is Europe's premier additive manufacturing conference and trade show, where the best minds in 3D printing will come together to exchange ideas, test new products and processes, and move the industry forward, face-to-face.
At the Formlabs booth this year, we'll lay out the applications, materials, and machines that you need to improve your workflow, and you'll get to see a host of real-life customer examples and meet their creators in person to help inspire your success.
Get a Feel for the Fuse 1+ 30W
Earlier this year we released the Fuse 1+ 30W,  a powerful, fast, and accurate SLS 3D printer to enable high-performance applications across every industry. At our booth, you'll be able to experience our easy to use and seamless SLS 3D printing ecosystem for yourself, and see how accessible the footprint of the Fuse 1+ 30W workflow really is. 
Our new material, Nylon 11 CF Powder, is strong, ductile, and highly impact and heat resistant—we'll have samples for you to test yourself. Most traditional SLS printers aren't exactly travel-ready, but the Fuse 1+ 30W can be set-up on the tradeshow floor easily, and in your facilities even easier.
Explore Real-Life 3D Printing Applications and Meet Their Creators
Rapid Prototyping
Designing your first product is hard. Improving on an already successful product can be even harder. We've done both, and we know how to support customers who are going through the trials of iteration and prototyping. At our Formnext booth, Formlabs experts are prepared to walk you through the extensive materials library, to explain how materials like Draft Resin, made for quick proof of concept models, and Nylon 11 CF Powder, ideal for prototyping engine components or consumer products, can expedite your iterative process. 
Our customer examples range from automotive components from Vital Auto to high performance sporting equipment prototypes from Black Diamond Equipment. Vital Auto's designers will be on-hand to talk you through their process, and how they've been able to leverage the Form 3L and Fuse 1 to become one of the most prestigious luxury automotive concept designers.
Want to discuss 3D printing for automotive? Meet Vital Auto's team at our booth.
Manufacturing Aids and Tooling
3D printing doesn't have to stop when the prototypes have been finalized—there are so many applications for 3D printed parts in the manufacturing process. We'll be walking through an injection molding workflow at our booth, using Babyplast injection molding machines, to show you how easy it is to get started.
Experience the low-volume injection molding at our booth.
3D printed tooling for injection molding, silicone molding, and thermoforming can save you thousands of dollars, and can help you be as agile as possible in the early stages of your product development—if design changes need to be made, you can pivot easily to a whole new design, without having to sacrifice a machined tool that cost you thousands. Before the show, you can read our workflow guides for each of these manufacturing processes, and then come to the booth with questions, we'll be ready and happy to help. 
You'll be able to see successful jigs and fixtures, as well as end-use tooling parts from customers like Lufthansa, Multiplus, and ARaymond Injectors.
End-Use Parts
It wasn't so long ago that people didn't believe in 3D printing as a real end-use solution. As materials science has progressed, we'll be able to showcase just how many of our customers are printing end-use, rugged parts in both SLA and SLS materials. For aftermarket parts, early-stage start-up manufacturing, customization, and replacement parts, the Form 3+, Form 3L, and Fuse 1+ 30W printers are being put to use in businesses all over the world. 
The range of material options and post-processing techniques enables an endless range of applications. At the booth, you can meet the developers behind the XSpecter camera equipment, who utilize both SLA and SLS technology to produce end-use parts. XSpecter will be at the booth to talk through the dual-technology process, why functional fit assemblies are so crucial, and how to choose the right 3D printer for the job.
At our booth, you'll also get to see a custom machine control system by IBL Hydrotronic that was produced with SLS 3D printing on the Fuse 1 and meet their team to get insights on their process.
Attend the Extra Events
On November 15th, we're proud to be a part of the TCT Introducing Stage, where our own Pierre Cerveau will be speaking on 'How to Address Supply Chain Bottlenecks With 3D Printing.' Supply chain is a topic that affects us all, as consumers and as businesses with the power to affect change for the better. 
3D printing can reduce lead times, provide stop-gap manufacturing options, and help decentralize operations to reduce shipping costs. Our customers have proved this time and time again over the last three years, and we hope that by sharing their success, global supply chains can rebound and re-energize, stronger than before.
If there are any questions that you'd like to spend more time on, you can book an appointment with our experts and get product demonstrations.
Book a 1-1 Consultation
After days of seeing what's new, we'll also be hosting a networking event at 6pm on November 16th in our booth, with drinks and snacks, so you can learn from Formlabs customers, interact with your peers in additive manufacturing, and discover new ways of approaching common situations in manufacturing. We're so excited to see you there, and we look forward to discussing, and shaping, the future of additive manufacturing at Formnext.