Introducing Formlabs Game Kit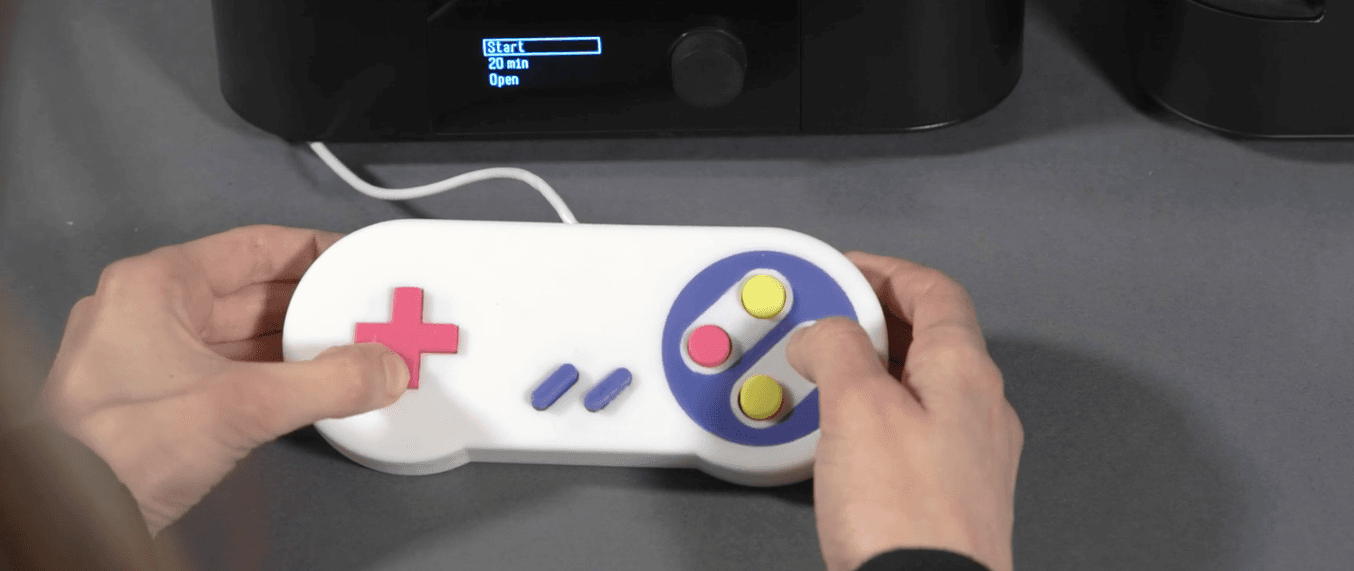 Notice the date of this post? While we're not planning on releasing "Game Kit" anytime soon, there is a real Easter egg hidden within Form Wash. Scroll through this post to find instructions for unlocking an actual game.
For years, Formlabs has helped you bring your digital designs to life, transforming virtual CAD drawings into three-dimensional physical models. But real life is static, permanent, and let's face it—boring. We asked ourselves: why not stay in the digital world?
With the new Formlabs Game Kit, we're changing directions to focus on the virtues of virtual worlds, and bringing you back from the physical into the best of digital. Use the Game Kit to immerse yourself in the full richness of the low resolution, black and white, 2-bit only display at the heart of every Form Wash and Form Cure.
If you have a Form 2, Form Wash, and Form Cure, you already have everything you need to start using Game Kit. Read on for four easy steps for transforming your 3D printing workflow into a digital adventure.
Don't have a Form 2 3D printer or the required hardware to set up the digital experience of Formlabs Game Kit? Head to the store to get the real-life tools you need to enter our virtual world.
Step 1: Print Your Gear
Start with your usual 3D printing workflow. Download Game Kit STL files (available April 2!), set up each model in PreForm, and send them off to your printer.
Each model is designed to be easy to print and require minimal post-processing. The controller, for example, is fully functional right away.
Step 2: Get Ready to Play
Once it's thoroughly washed and dried, your controller is ready to use. Simply plug it into the USB port on Form Wash and get ready to game.
Pro tip: For a fully immersive 2-bit experience, we recommend turning off all of the lights in the room you're in, and minimizing or eliminating any other potential real-life distractions.
Step 3: Unlock Your Games
Now, the fun part: leave the physical world behind and enter a pixelated universe. All of Game Kit's games are designed to provide a simple, streamlined gaming experience.
To unlock your first game, follow these instructions:
From the main menu, move the selection tool to the bottom ("Open"), then to the top ("Start") to reset the combination lock.
Dial the knob three ticks clockwise, six ticks counterclockwise, seven clockwise, and six counterclockwise.
Start playing!
The combo 3-6-7-6 spells "FORM" on a numeric keypad.
Step 4: Back to 3D
We've touted the value of a pure 2D virtual experience, but, to stay true to our roots, the Game Kit also includes the option for a 3D experience. To immerse yourself even further into a virtual reality, download and print Game Kit's VR headset.
Just the Beginning…
Game Kit is just the beginning of our digital journey. We're excited about this new direction, and look forward to sharing more about where we're headed in the coming days.
Check back tomorrow for our next big announcement.
Learn More About the Form 2