How Lufthansa Technik Uses 3D Printed Tools to Manufacture Escape Route Markings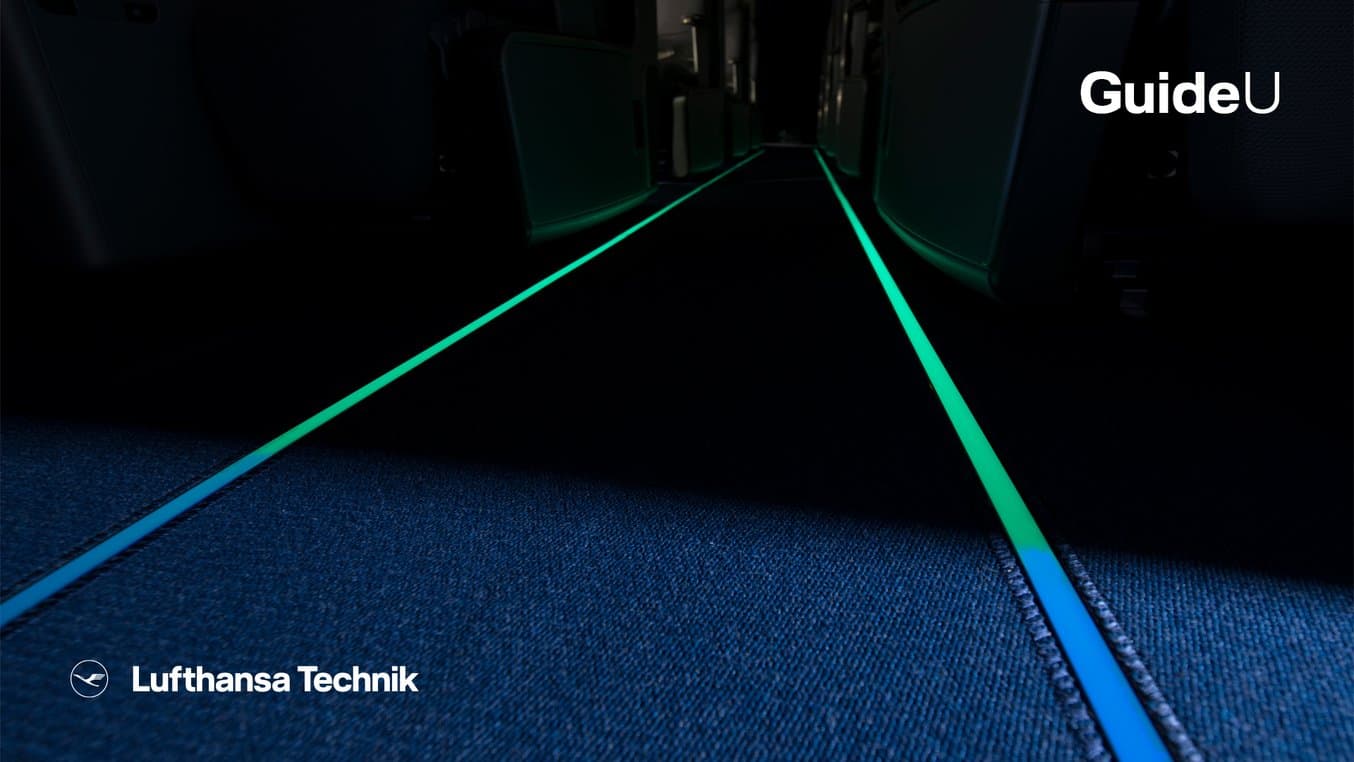 Lufthansa Technik AG, a subsidiary of the Lufthansa Group, not only takes care of maintenance and repairs in the aviation sector, but also sells aviation products and aircraft components to large original equipment manufacturers (OEMs).
One of these product lines is escape-route markings for the interior of aircraft, which are produced in an innovative way with the help of 3D printed manufacturing aids.
In an interview with Ulrich Zarth, project engineer at Lufthansa Technik AG, we talked about how the company uses these 3D printed tools as consumables in production and how 3D printing makes process optimization more flexible.
Escape Route Markings for Airbus, Boeing & Co
As one of the world's largest MRO providers (maintenance, repair, and overhaul) in aviation, Lufthansa Technik AG already makes extensive use of additive manufacturing. Since 2018, a cross-departmental division at the company has been responsible for research and development into various 3D printing processes for constructing aviation products, as well as tools and devices for their production. The largest customers for these aircraft components are primarily the large OEMs. 
One of Lufthansa Technik's products that use 3D printing is the Guide U escape route markings for aircraft interiors. These innovative floor markings are photoluminescent, which means they are equipped with self-luminous color pigments that are charged by normal cabin light and continue to glow in the dark in the event of an emergency without electricity. The self-illuminating strips along the rows of seats on the floor of an aircraft show the way to the emergency exits in case of emergencies.
This patented system has been produced in-house since November 2021 in Hamburg, Germany.
3D Printed Nozzles as a Consumable in Production
To produce these escape-route markings, Lufthansa Technik's team leveraged manufacturing aids produced by 3D printing. After testing different methods, stereolithography (SLA) 3D printing was chosen to use a nozzle as a tooling component for the manufacturing process.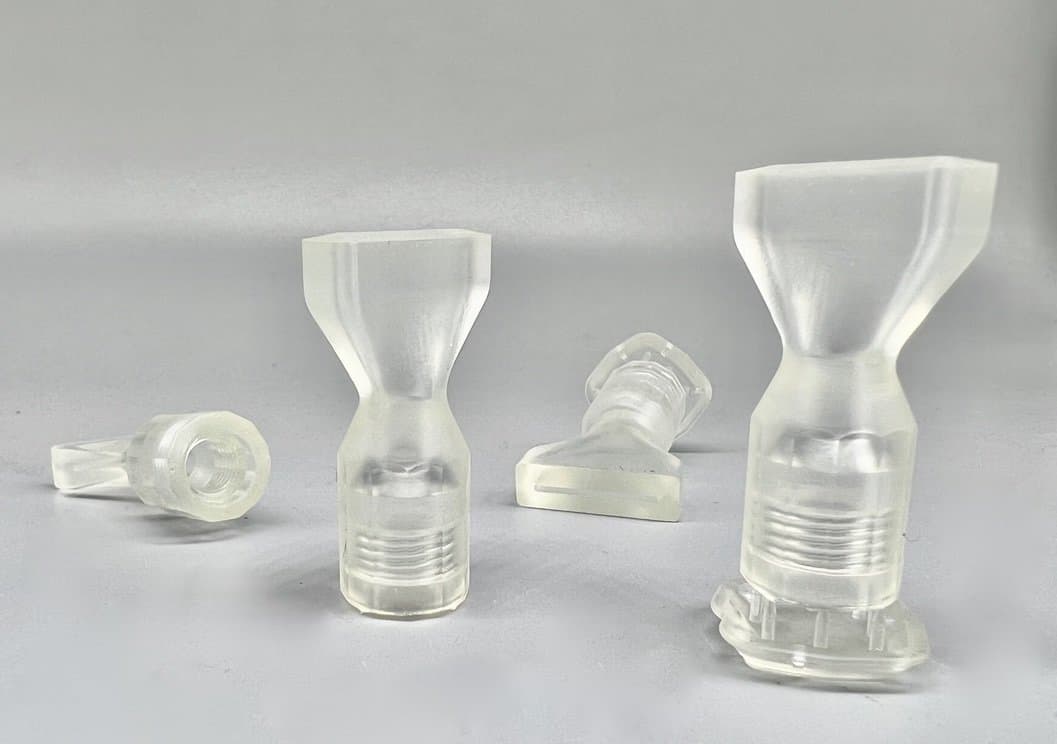 A special requirement was for this nozzle to be treated as a consumable. The 3D printed nozzle is a cost-effective alternative to a manufacturing aid that would otherwise be produced with a conventional process like machining or injection molding. The nozzle is produced with SLA 3D printing using Clear Resin, which meets the necessary quality and accuracy requirements for the tool. This solution enables Lufthansa Technik to replace the nozzle on a daily basis for an optimal production process.
"If you want precise geometries, especially in the plastics sector, and you want them quickly, I would always use 3D printing."

Ulrich Zarth
Whitepaper
Designing Jigs & Fixtures with 3D Printing
Download our white paper to learn about best practices for designing jigs and fixtures and applications of jigs and fixtures in manufacturing.
Download the White Paper Now
Dimensional Accuracy and Increased Flexibility With SLA 3D Printing
This production tool was printed on the large-format Form 3L in cooperation with Formlabs partner myprintoo. The large area of the build platform in the Form 3L allowed 72 nozzles to be produced in a single print run. In comparison, on the smaller version of the Formlabs SLA 3D printer, the Form 3+ would be able to print 25 nozzles in one build. The Form 3L saved a lot of time in the production of the application without sacrificing the printing accuracy of the nozzle.
"We followed the construction of the tool during the iteration process to make any adjustments to the layer thickness, print orientation, or even part of the component geometry, and thus ensure process reliability and the quality of the print," explains Jonathan Wulf from myprintoo.

After printing, the nozzles can be used in the production process of the Guide U light strips without any steps beyond the standard post-processing.

Several Formlabs materials were tested and the choice fell on the Clear Resin which, in addition to offering the right stability and surface quality, also helps Lufthansa Technik constantly optimize its production process.
Working closely with Formlabs partner myprintoo, Zarth, as the project engineer responsible, iterated five versions of the nozzle. Due to the quick and reliable service and delivery of the 3D printed parts from myprintoo, there are still occasional design changes to optimize the process.
"The great advantage of the cooperation was that we noticed in one afternoon, for example, that something in the process was not working as it should; the nozzle model was adjusted by the evening and we were able to print with the new nozzles the very next day."

Ulrich Zarth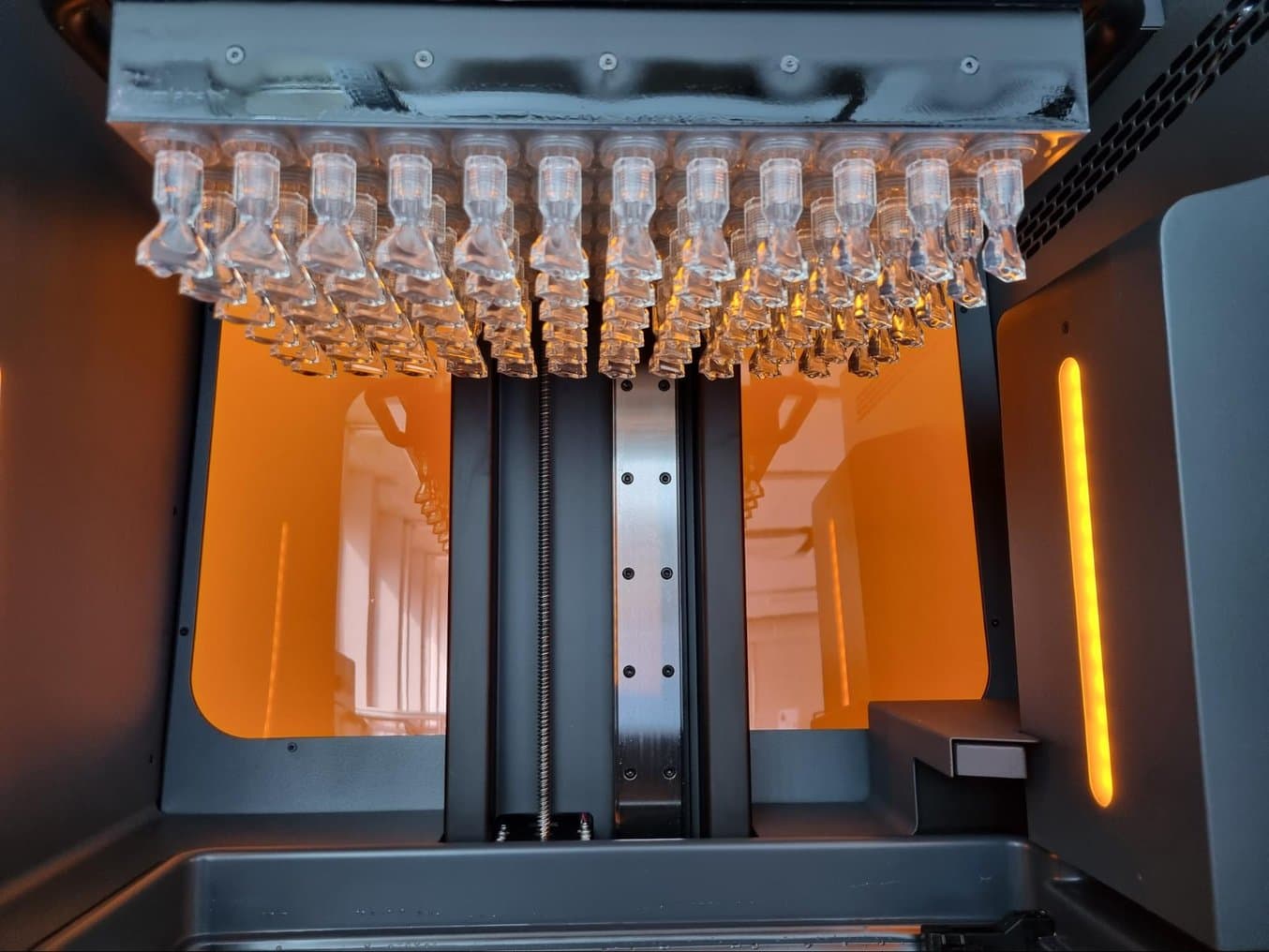 Flexible Process Optimization of Production With 3D Printing
Zarth and his team saved a tremendous amount of time and money in their production process by 3D printing this small component in-house. Compared to conventional methods for manufacturing tooling of this type, they were also able to avoid high minimum order quantities and remained significantly more flexible in their process optimization. 
"Theoretically, we could also injection mold our parts. But we would never have been so flexible in the shape and adjustment of the nozzle. That's where I see the great advantage of 3D printing," explains Zarth.
Also, compared to FDM 3D printing, SLA 3D printing has proven to be a high-quality solution for this application.
3D Printed Production Tools as an Alternative to Traditional Methods
Many companies manufacture their tooling for production processes from plastics and metals using injection molding, CNC machining, or other traditional processes, which are often outsourced to external providers and thus come with long lead times, excessive costs, and high minimum quantities. 
Depending on the application and its requirements, these processes can be substituted with 3D printed tooling. The nozzle in the production of the Guide U escape route markings at Lufthansa Technik is an example of a cheaper and more flexible alternative empowered by SLA 3D printing. 
"One application that many people may not yet see in the future of 3D printing is the use of 3D printed tooling as consumables in production, like we do."

Ulrich Zarth