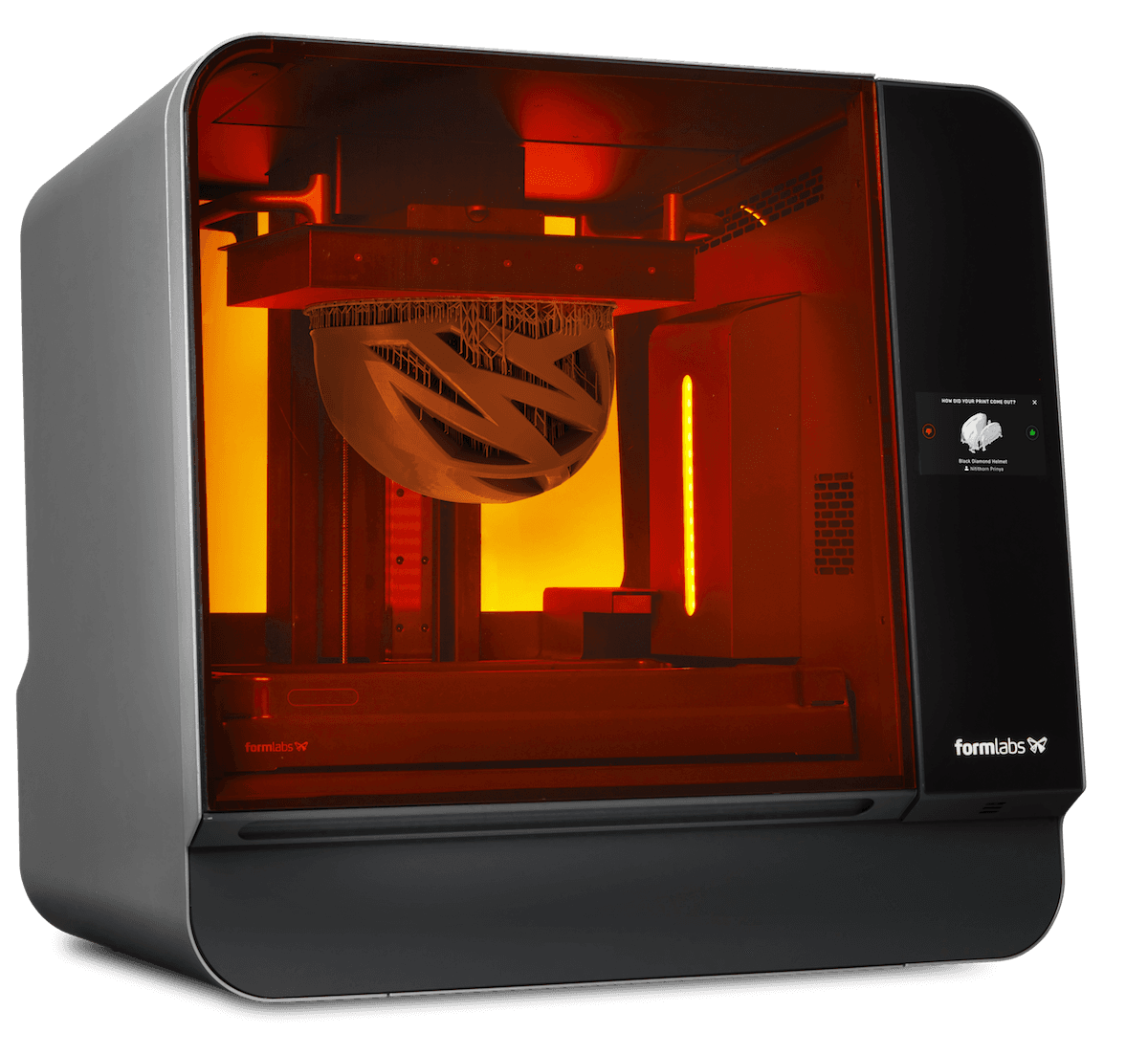 Form 3L
A Large Format 3D Printer Compact Enough for the Office and Robust Enough for the Factory Floor
Take control of large-format prototyping and bring your biggest ideas to life with the Form 3L, a cost-effective large scale 3D printer that doesn't compromise on the details.
Big Parts, Big Ideas
With a large build volume of 33.5 × 20 × 30 cm (13.2 × 7.9 × 11.8 in),
you can print full-scale bulky prototypes or detailed models.
Stop outsourcing large-scale prints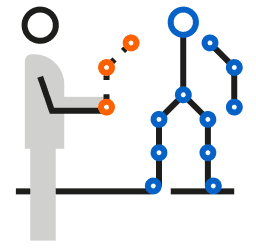 Life-sized prints for larger-than-life ideas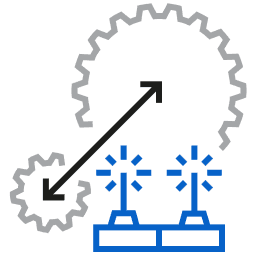 Perfectionism that scales
Part By
Black Diamond Equipment
Note: print time and cost will vary based on part geometry, material, layout, and orientation.
100,000,000 Parts Printed With Formlabs Technology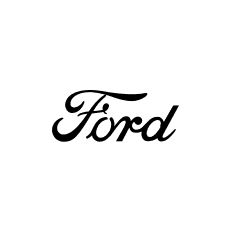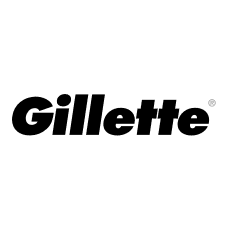 Intuitive
Intuitive and efficient
No specialized technicians required. The Form 3L offers automatic resin dispensing, simple print preparation software, and a thoughtfully designed interface.
High-resolution touchscreen interface:
A 5.5" interactive full-color display minimizes error and eliminates the need for constant monitoring.
Automated print setup:
 
Tested over millions of prints, our free print preparation software, PreForm, automatically suggests optimal orientation, supports, and layout, with the ability to manually refine as needed.
Continuously evolving:
We believe the best products grow better over time, and we're committed to continually evolving our hardware through software improvements.
Nonstop Printing
Print around the clock
The Form 3L constantly monitors print performance so you can focus on bringing your most creative ideas to life. Integrated sensors help maintain ideal print conditions for nonstop throughput with minimal supervision.
Cloud monitoring:
Remotely monitor and manage your fleet of large format 3D printers with the online Dashboard.
Fast-printing material:
Draft Resin balances detail and speed to save time on bulky prototypes and enable quick iteration.
In-field repairs:
The Light Processing Units, rollers, optics window, and other components can be replaced in-house to ensure 24/7 uptime.
Quality
Professional parts
Stop sacrificing on quality for large-format 3D prints. The Form 3L provides the smooth surface finish, fine details, and high-performance properties that resin 3D printing is known for.
Smooth surface finish:
Models printed on the Form 3L resemble polished injection-molded parts and can reach high translucency, for realistic looks-like prototyping.
Consistent precision:
A system of lasers and mirrors ensures uniform print quality, for an XY resolution of 25 microns across the entire build platform.
Advanced materials:
Each Formlabs material comes with optimized print settings to guarantee industry-leading print success and reliability, as well as standout mechanical, thermal, or biocompatible properties.
The Form 3L Workflow in Five Minutes
Get more done and work more efficiently with an end-to-end 3D printing workflow. From printing, to post-processing, each step of the process was designed with efficiency in mind. 
Watch the Webinar
Advanced Materials for Industrial-Quality Parts
Bring your parts to life with the most comprehensive library of high-performance materials on the market, developed specifically for Formlabs printers by a team of in-house materials scientists. With simplified material switching and automatic resin dispensing, the Form 3L allows you to walk away and focus on other work once your print job starts.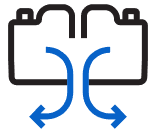 Total freedom with Open Platform
Enhance your printer's versatility with certified third-party materials, customizable print settings, or the ability to experiment with any unvalidated 405 nm photopolymer resin (optional, paid license). 
Switch materials in minutes.
Avoid the hassle and mess of purging materials with our swappable cartridge system, cross-compatible with other Formlabs SLA printers.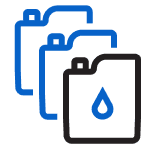 Automatic resin dispensing.
Our automated resin system dispenses resin as parts print. The Form 3L holds two cartridges of resin to avoid mid-print interruptions.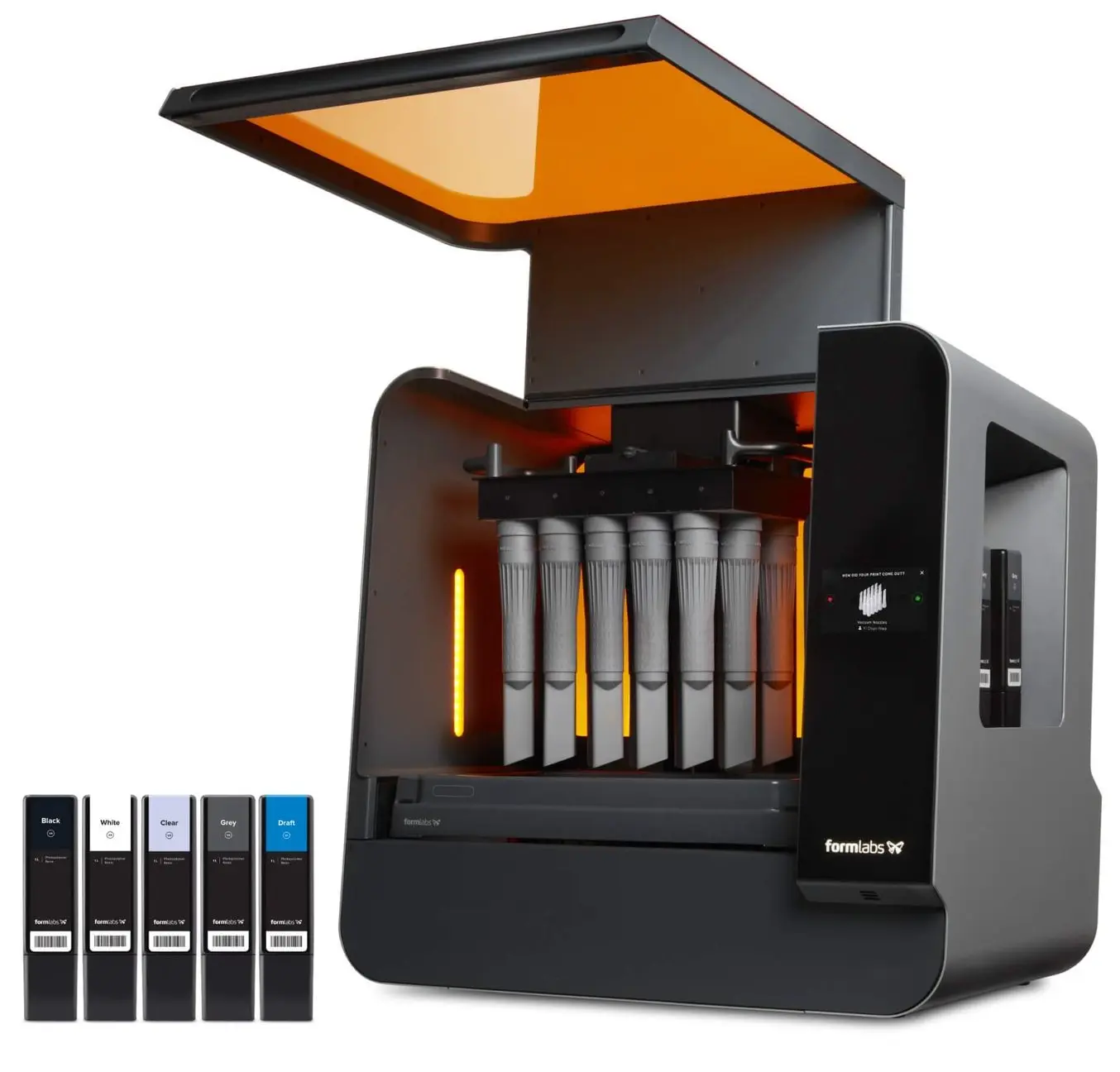 Part of the Formlabs Ecosystem
Formlabs is known for designing end-to-end additive workflows you'll be excited to use. The Form 3L brings the Formlabs experience to large format 3D printing.
Post-Processing, Simplified
Streamline your 3D printing workflow and consistently produce high-quality parts with our automated large-format post-processing solutions, Form Wash L and Form Cure L.
Learn More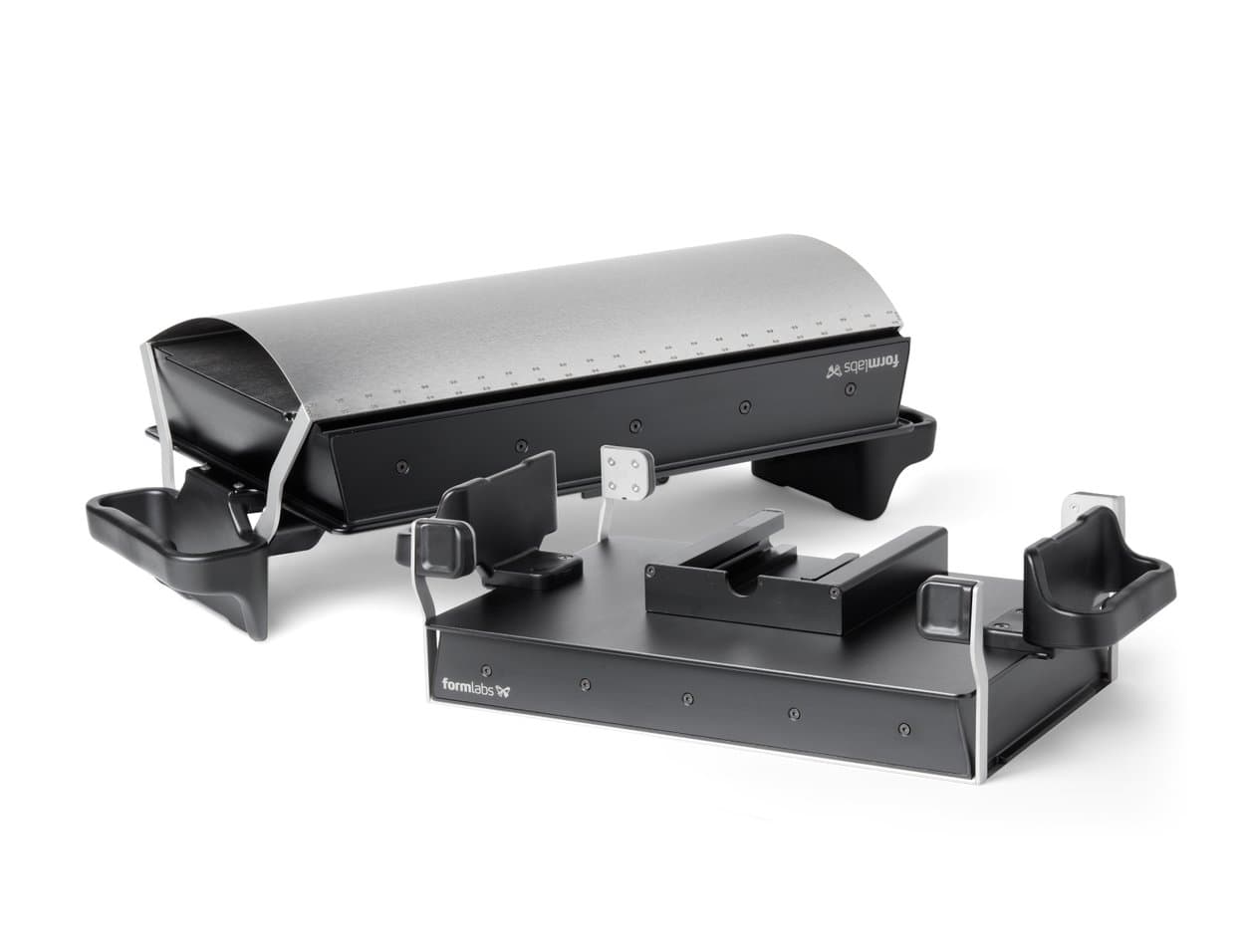 Quick Release Technology
Build Platform 2L with patented Quick Release Technology easily releases parts from the build platform in seconds - no tools required.
Order Build Platform 2L
Support When You Need It
Get help when you need it from a team of 3D printing experts. Premium support available for extra peace of mind.
Explore Service Plans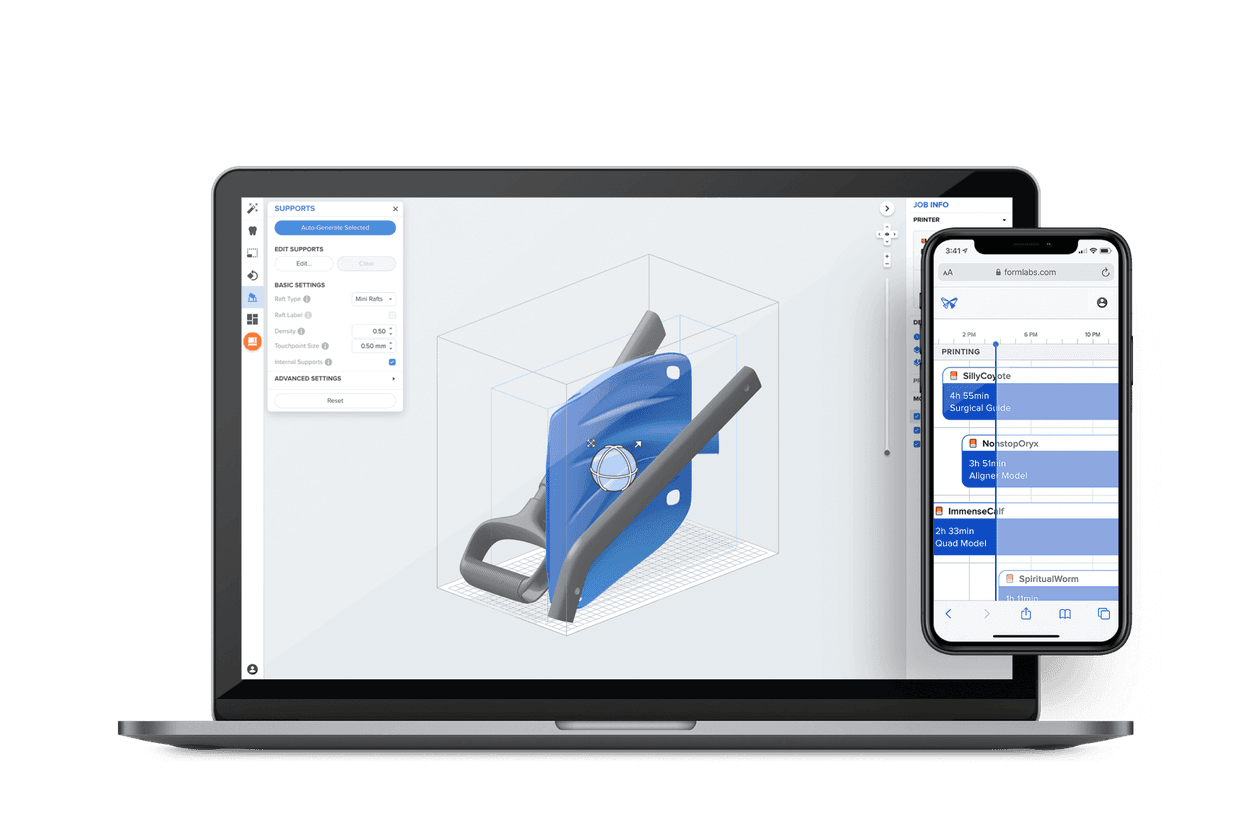 Industry-Leading Software
Tested over hundreds of million prints, PreForm assists you in automatically suggesting optimal orientation, supports, and layout to save time during print setup. Advanced users can also customize print settings to tailor their print performance.
Try PreForm for Free
Compare Formlabs SLA 3D Printers
Printer
Build Volume (W × D × H)
14.5 × 14.5 × 18.5 cm
5.7 × 5.7 × 7.3 in

33.5 × 20 × 30 cm
13.2 × 7.9 × 11.8 in

33.5 × 20 × 30 cm
13.2 × 7.9 × 11.8 in

XY Resolution
Biocompatible Materials
No

No

Yes

Laser Power
One 250 mW laser

Two 250 mW lasers

Two 250 mW lasers

Weight
17.5 kg
38.5 lb

54.4 kg
120 lb

54.4 kg
120 lb

Printer Dimensions (W × D × H)
40.5 × 37.5 × 53 cm
15.9 × 14.8 × 20.9 in

77 × 52 × 74 cm
30.3 × 20.5 × 29.1 in

77 × 52 × 74 cm
30.3 × 20.5 × 29.1 in

Maximize Your 3D Printer Fleet's Throughput with 24/7 Production
Reach new levels of productivity with a fully automated fleet of Form 3+ 3D printers that you can operate from anywhere. Skyrocket your ability to produce high-quality, affordable parts with 24/7 back-to-back production with Formlabs Automation Ecosystem: Form Auto, Fleet Control, and the High Volume Resin System.