Using 3D Printing to Create Emergency Adapters for Ventilating COVID-19 Patients
A year after the first cases, the COVID-19 pandemic continues to put immense pressure on healthcare systems worldwide. Poland is no different, the country was hit hard by a wave that reached its peak with over 20,000 new cases a day in November 2020.
As the virus sent tens of thousands of patients to hospitals in a matter of a few weeks, medical institutions in the country had to scramble to enlist all available devices for vital functions like ventilation.
With the original supply chains broken or parts not available at all to connect certain devices, the only opportunity for hospitals was to turn to unconventional solutions if they were to be able to use some of their equipment in a short time.
Read on to learn how the R&D center at the Wroclaw University of Science and Technology (WUST) worked with the J. Gromkowski Provincial Specialist Hospital in Wroclaw to develop two adapters that are now used to provide life support for dozens of patients.
Solving COVID-19 Supply Chain Challenges With 3D Printing
Last year, the National Centre for Research and Development in Poland launched an initiative to encourage the hospitals and research institutions to find and implement the solutions to the virus prevention or control of SARS-CoV-2 infection and COVID-19 disease. 
One of the aims of the joint proposal from the WUST and the J. Gromkowski Provincial Specialist Hospital in Wroclaw within this call is to encourage the use of additive manufacturing methods to produce spare parts and alternative medical parts as well as personal protective equipment (PPE) to fight the pandemic.
WUST operates an R&D center, called the Center for Advanced Manufacturing Technologies (CAMT), that carries out R&D projects for various industries such as automotive, aviation, medicine, and energy. The center's priorities are additive manufacturing, new materials, and industry 4.0. Since 2008, it has been operating as a Fraunhofer Project Center, researching product design, additive manufacturing, laser, and hybrid technologies.
A team of researchers from CAMT, lead by Prof. Tomasz Kurzynowski, joined the initiative to work on the development of new tools using digital design and 3D printing.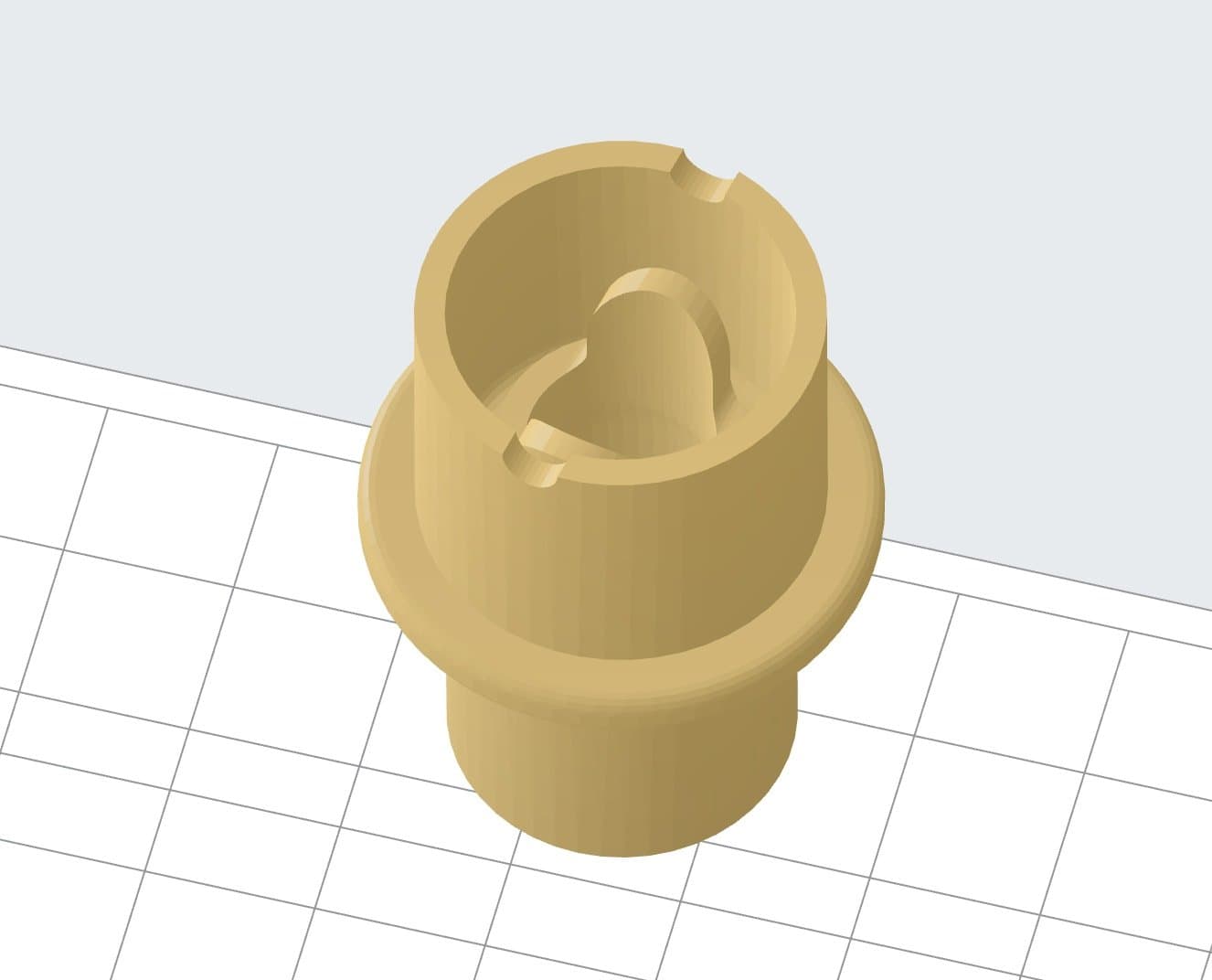 Adapter for an Oxygen Reducer
The first part CAMT worked on was an adapter for an oxygen reducer, a device used to regulate gas pressure. The use of a dedicated adapter ensures the proper and safe connection between the oxygen regulator and the tube leading to the oxygen apparatus. It is a necessary item to ensure stable and proper oxygen distribution.
This part was already an existing assembly item. However, as the global medical supply chain was disrupted, and it was not possible to get traditional parts in a short time. Additionally, the original element fit only one type of reducer available in the hospital. Due to the emergency, the hospital wanted to use all types of oxygen reducers that were available.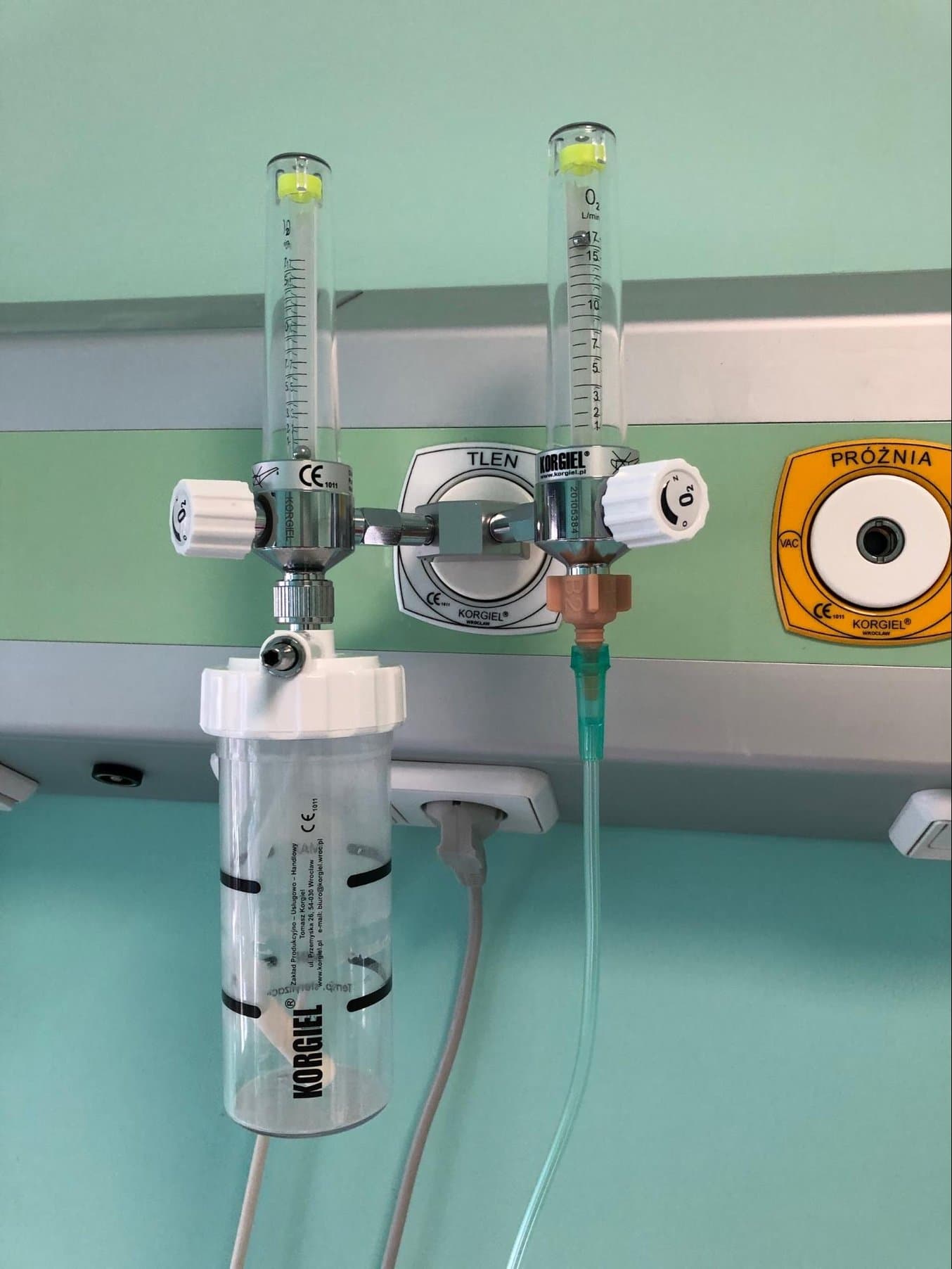 The 3D printed adapter ensures a proper and safe connection between the oxygen regulator and the tube leading to the oxygen apparatus.
The previous adapter consisted of two parts that didn't provide a tight connection. Using CAD design, the team managed to consolidate the design into a single part. The parametric CAD model also allowed the team to adjust the adapter and fit it to various reducer models using the appropriate thread types.
They printed the part on a Form 3B stereolithography (SLA) 3D printer, which made it possible to print 20 connectors in 12 hours. The re-designed adapter provides a more tight and safe connection between the tube from the oxygen supply and the tube for moisturizing oxygen.
There are about 50 printed oxygen reducer adapters currently in use at the J. Gromkowski Provincial Specialist Hospital, one of the critical hospitals in Lower Silesia dedicated to COVID-19 patient treatment.
Adapter for an AIRVO2 Nasal Humidifier
The AIRVO2 is a nasal humidifier that delivers high-flow warmed and humidified respiratory gases and is intended to treat breathing disorders. There was an urgent need for these devices, but there were no suitable nasal interfaces available so the traditional supply chain would have rendered them unusable for weeks. 
To allow hospitals to use the AIRVO2 nasal humidifiers, CAMT's team designed an adapter that connects the device to the nasal interface produced by another manufacturer. This interface is in direct contact with a patient.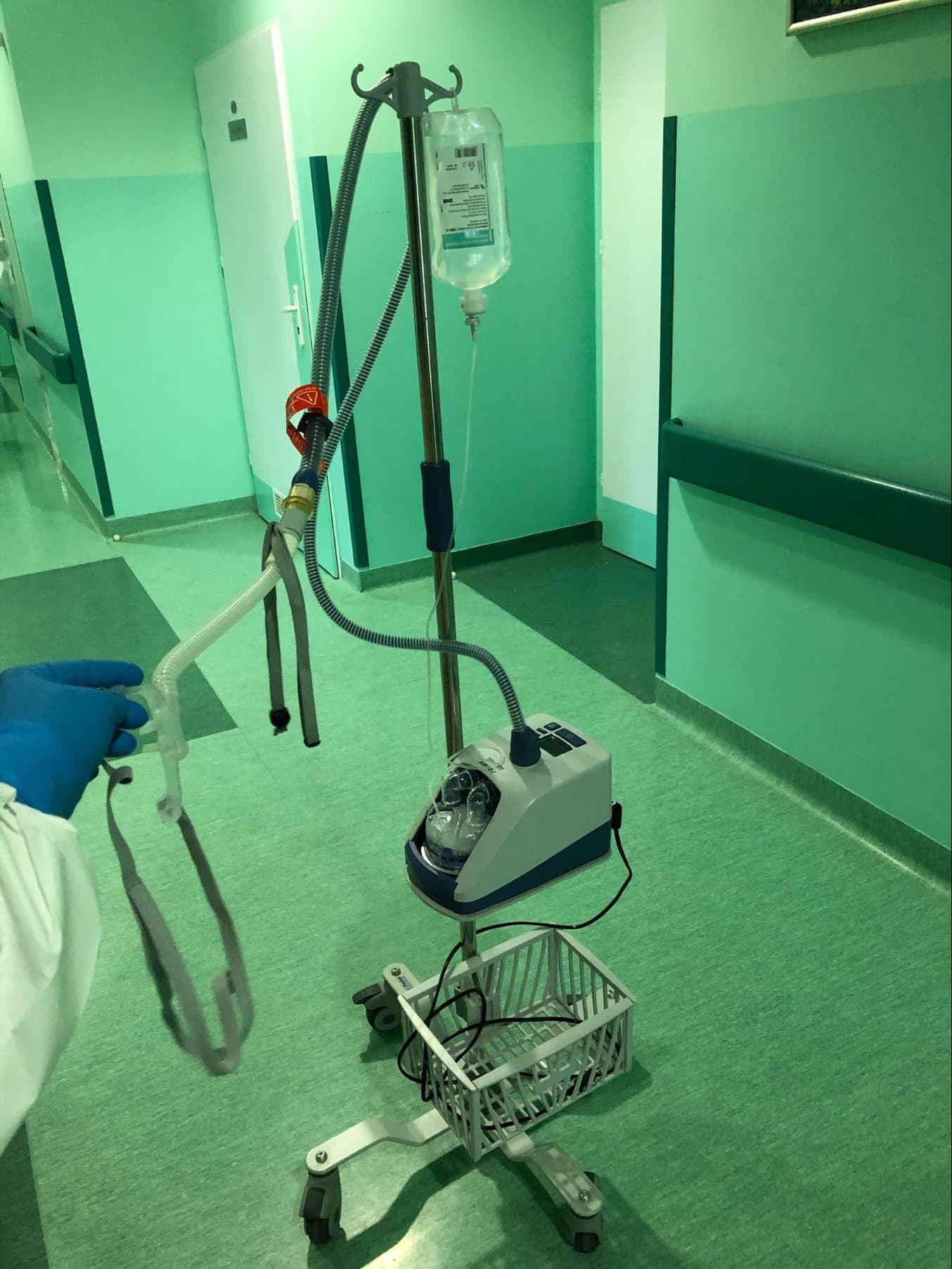 This adapter connects AIRVO2 nasal humidifiers to the nasal interface from another manufacturer.
Previously, the connection between the AIRVO2 and the nasal interface was easy to dismount by accident, especially when a patient has breathing problems and makes unconscious movements, which is common with COVID-19 patients. The redesigned adapter, produced on Form 3B, fits perfectly and secures the tight and safe connection between the heated breathing tube and the patient interface.
With the Form 3B, it was possible to print 16 adapters in 10 hours. While the team chose BioMed Amber Resin for printing the parts due to its biocompatibility and strong functionality, Formlabs also recommends BioMed Clear for gas pathway applications as it has been tested to ISO 18562 standards. AIRVO2 adapter does not directly contact a human body; however, it flows moisturized oxygen for the patient. The part works in an environment of 37 °C temperature and high moisture; so it was essential to ensure safe use conditions.
There are about 20 of the new adapters currently in use, also at the J. Gromkowski Provincial Specialist Hospital.
3D Printing Applications In Healthcare
Since March of 2020, Formlabs and the medical community have used 3D printing to address the pandemic and associated supply chain shortages on various projects spanning COVID-19 testing, PPE, and medical equipment. 
3D printing also helps hospitals provide on-demand, customized care through more effective workflows, patient-matched surgical tools, and visual aids for diagnosis and education, so the clinical innovators on the front lines can provide quick solutions to even the most unconventional problems.
This project was part completed through the initiative: "SZPITALEJEDNOIMIENNE/6/2020, The on-the-spot additive production method of spare and alternative medical parts as well as personal protective equipment (PPE) in a dispersed environment in crises - Virtual AM Storage Covid-19."
Disclaimer
Formlabs is working on many projects to address global healthcare-related supply shortages around the world, but in trying to mitigate these shortages, patient safety is still Formlabs' top concern. We must remind those who are helping to alleviate these shortages that masks, swabs, face shields, and other 3D printed products intended to prevent or treat COVID-19 are medical devices. These devices must be safe for their intended purpose and anyone considering the manufacturing of these products should consider the following items:
Formlabs is a manufacturer of 3D printing materials capable of fabricating finished devices according to their labeling and any other product manufactured from these materials should be verified and validated according to their intended purpose.

You may be fabricating a device that does not have the required regulatory approvals and clearances. If you are fabricating devices, follow the guidelines on the label for each material.  You may seek to obtain reliable regulatory advice. 

Please consider local regulations, material safety data sheets, software capabilities, sterilization requirements, and institutional requirements before 3D printing medical devices.

Regulatory agencies (such as the FDA) may consider expedited review of manufacturing information and/or premarket submissions.
Formlabs cannot warrant that any products not manufactured by Formlabs are suitable for their intended purpose.