Announcing New Castable Resin and Gesswein Partnership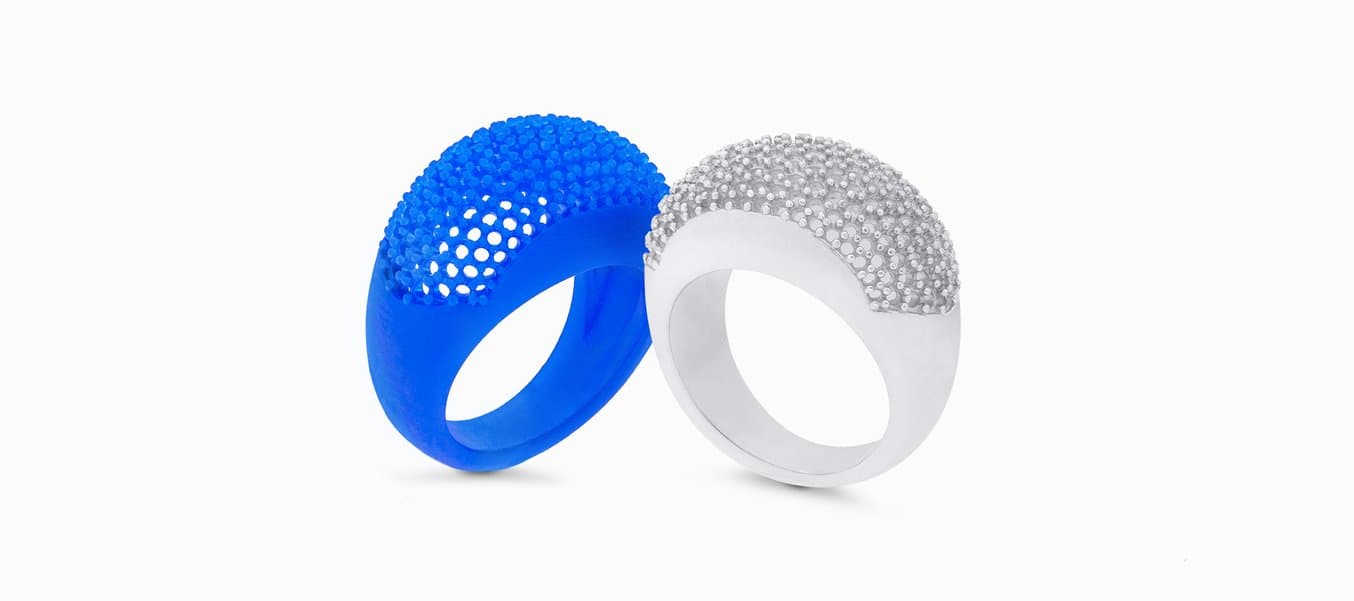 Jewelry is one of the most demanding art forms, and it requires precision that relies heavily on the tools that you use. Over the last few decades, the process of carving traditional waxes by hand has given way to detailed CNC mills, and more recently, the advances of industrial 3D printing. For 3D printing, jewelry represents the ultimate challenge, pushing machine resolution and material properties to the limits.
Today, we're excited to announce new Castable Resin, meticulously designed for the fine jewelry industry. Jewelers can now use this material with new Fine Detail print settings on the Form 2 3D printer that are designed to capture the intricate details of fine jewelry. We've made our original Castable Resin even better with some key updates:
Increased Opacity: New Castable Resin is designed to have an opaque surface like wax. This waxlike appearance makes it easy to inspect fine details and surface finish quality.
Accurate Prongs: Well-made prongs keep gemstones secure over years of wear. The new Fine Detail print settings reliably create accurately sized prongs as fine as 0.05 mm. The above ring was printed at 0.05 mm (50 micron) layers with Fine Detail print settings, with both larger and smaller prongs printing with a very small dimensional deviation of just ± 0.03 mm.
Smooth Surfaces: Traditionally, when a 3D printed ring is cast, every defect and layer line shows in the rough casting, resulting in more finishing work and metal loss. The new Castable Resin and Fine Detail print settings provide smooth surfaces that require less finishing to achieve a beautiful mirror polish.
Intricate Designs: By leveraging the upgraded technology of the Form 2, Fine Detail settings reliably produce minute details like filigree, milgrain, scrollwork and other organic, sculpted designs.
Clean Burnout: We've worked hand-in-hand with production casting houses to verify our burnout curve. By following our recommended post-processing guide and burnout curve, casters can reliably achieve beautiful results.
We have another exciting announcement: a new partnership with Gesswein, a leading global jewelry supplier with over 100 years of experience. With their broad catalog of jewelry design and casting equipment, Gesswein provides equipment to everyone from bench jewelers to large-scale production lines. This reseller partnership signals a shift in the jewelry industry toward 3D printing systems that unite desktop value with industrial-level quality.
"3D printing has already impacted the jewelry industry," says Luke Winston, our Head of Sales. "With over a hundred years of industry experience, Gesswein is the perfect partner to help bring jewelry into the 21st century."
"As a pioneer in desktop 3D printing, Formlabs is the perfect partner to help us grow in 3D printing," says Scott Petrillo, Vice President of Sales at Gesswein. "When it comes to 3D printing technology for jewelry professionals, Formlabs is the leader in this space. We are excited to partner with Formlabs and look forward to changing the jewelry industry together in the years to come!"
Ready to see the results in person? Request a Castable sample part, or book an appointment with us at JCK Las Vegas (booth B68075), from June 3-6, 2015.
Learn More about New Castable Resin