Safeguarding Supplies of Silicon Chips With ESD Resin
The business of making things, of creating and manufacturing tangible products, is tough enough to break into as a young company. But even tougher? The business of creating the equipment that manufactures those products. Stephen Hawes' company Opulo is doing just that–creating a 'pick and place' machine for mid-scale electronics manufacturers. Opulo's machine grabs and deposits electrical components onto a printed circuit board, creating the 'motherboard' that functions as a machine's brain.

To overcome the numerous obstacles posed by entering the manufacturing industry (that were heightened by the global supply chain crisis), Hawes innovates in two major ways: creating everything as open source and crowd-developed, and using 3D printing to reduce costs, protect supply chain, and improve agility and design freedom. His use of the Form 3 stereolithography (SLA) printer and ESD Resin helps him safeguard his supply chain by ensuring that the vital microchips that power his machines aren't damaged by electrostatic discharge, saving him thousands of dollars.
Webinar
How 3D Printing with ESD Resin Streamlines Electronics Manufacturing
Hear from HAVEN Indoor Air Quality lead engineer Phil Tsao of how they used ESD Resin to reduce the cost and lead time of ESD-safe production fixtures by up to 90%.
Watch the Webinar Now
The Product
In 2018, Hawes was in the process of growing a small electronic device manufacturing business with a rabid YouTube following. But as demand surged, he was running into a classic manufacturing problem–the circuit boards that powered these devices were incredibly laborious to assemble, but in too small a quantity to be traditionally manufactured using automation technology.
So, being a problem-solver, Hawes started the company Opulo, working on a pick and place machine that picks up tiny electrical components and deposits them on the green circuit boards that we think of as a machine's 'brain.' Opulo's IP is completely open-source, which has helped him develop an enthusiastic customer base as well as a community of experts to advise on the always evolving technology.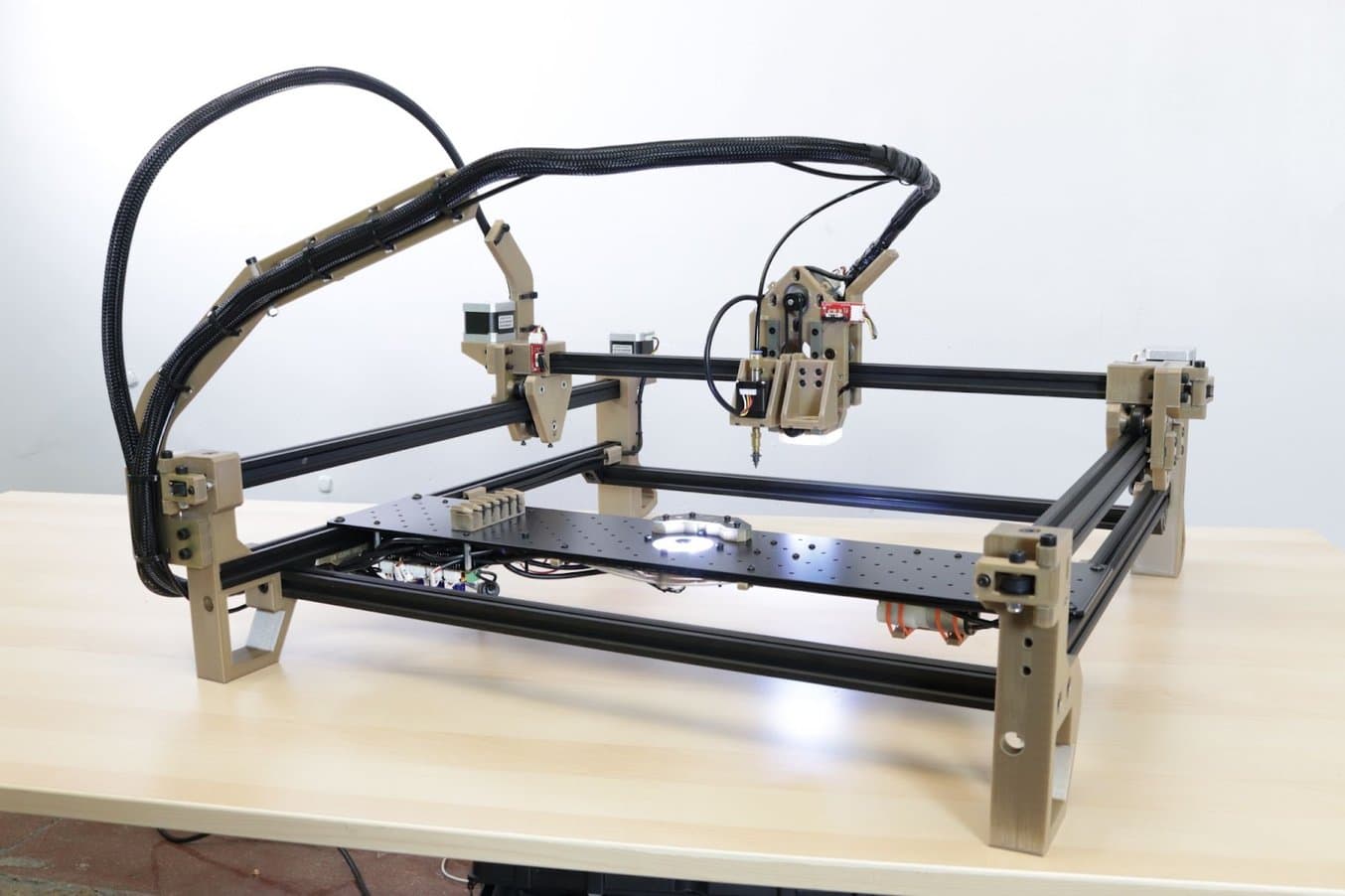 "I'm a generalist. I can do a little bit of everything, but I'm not the best electrical engineer, or mechanical engineer. Through open sourcing, I have people with PhDs who are saying, 'hey look how you can do this.' It's about building a community, building enthusiasm, helping people, and giving back to the community that helped me. And it's about getting help."
With the help of the community, Opulo has been able to develop the LumenPnP, and start shipping units to small and mid-scale manufacturers. They have hundreds of units out in the field, and their typical customers belong to three main groups:
Job Shops: small service bureaus that run short production runs on contract. 

Hobbyists: people developing small electronics projects who don't have time for hand- assembly.

Small Businesses: companies building their own product in-house, without the quantity to justify working with a contract manufacturer. Opulo themselves fall into this third category, using their own LumenPnP units to manufacture more LumenPnPs.
800% Increase in Cost of Silicon Chips
There was one major issue that arose during the development stage which couldn't be fixed by the open-source community. The circuit boards that powered the machine were failing at an alarming rate. After testing, the team realized the silicon chips that made up the circuit boards had electrostatic damage. They also noticed that the chairs they were sitting on kept physically shocking them, and deduced that the friction generated by the assembly process was causing electrical damage to the sensitive chips.
"These chips are expensive, we don't want them to fail. We checked the soldering a million times, that wasn't it. We started wearing ESD bracelets (that safely direct electric discharge to the ground), so we knew we weren't causing the issues. Finally we realized it was the trays that held the chips."
The cost of a failed chip became more impactful as the development process went on. In 2021 the supply chain crisis and widely reported chip shortage affected Opulo as well. Previously paying $3.60 for a single chip, the price went up to $60 for each chip. Every failure mattered.
"It's devastating, horrible, when a failure happens. When we get them in, they're gold. We cannot destroy them. Now more than ever it's time to invest in ESD safety. When you get product in house, it's critical to make sure they stay ESD safe."
To accomplish a totally ESD safe workflow, Hawes turned to the Form 3 printer and ESD Resin. By printing the custom trays that the chips are held in, they can eliminate the threat of ESD damage to the enormously expensive and integral chips. He told us that, "Having ESD Resin has been tremendous. It's so, so nice, knowing that when the chips are in there, we can now trust that they're okay. I don't know what we would do without it."
Options for ESD Safe Parts in Manufacturing
To Hawes' point, there aren't many cost-efficient alternatives to 3D printed ESD Resin for manufacturing. Having an injection molding tool would require sticking to a design and paying huge fees to get the die made. Similarly, there are ESD materials that can be milled, but this would mean the same type of commitment. There are filaments used for other kinds of 3D printers, but the lower resolution means that the extremely precise pick and place machines might not have a smooth, accurate surface to pick the chips from. And metal, though conductive and ESD safe, is extremely expensive to manufacture into tooling like this, and would again require the Opulo team to commit to one design for many production runs.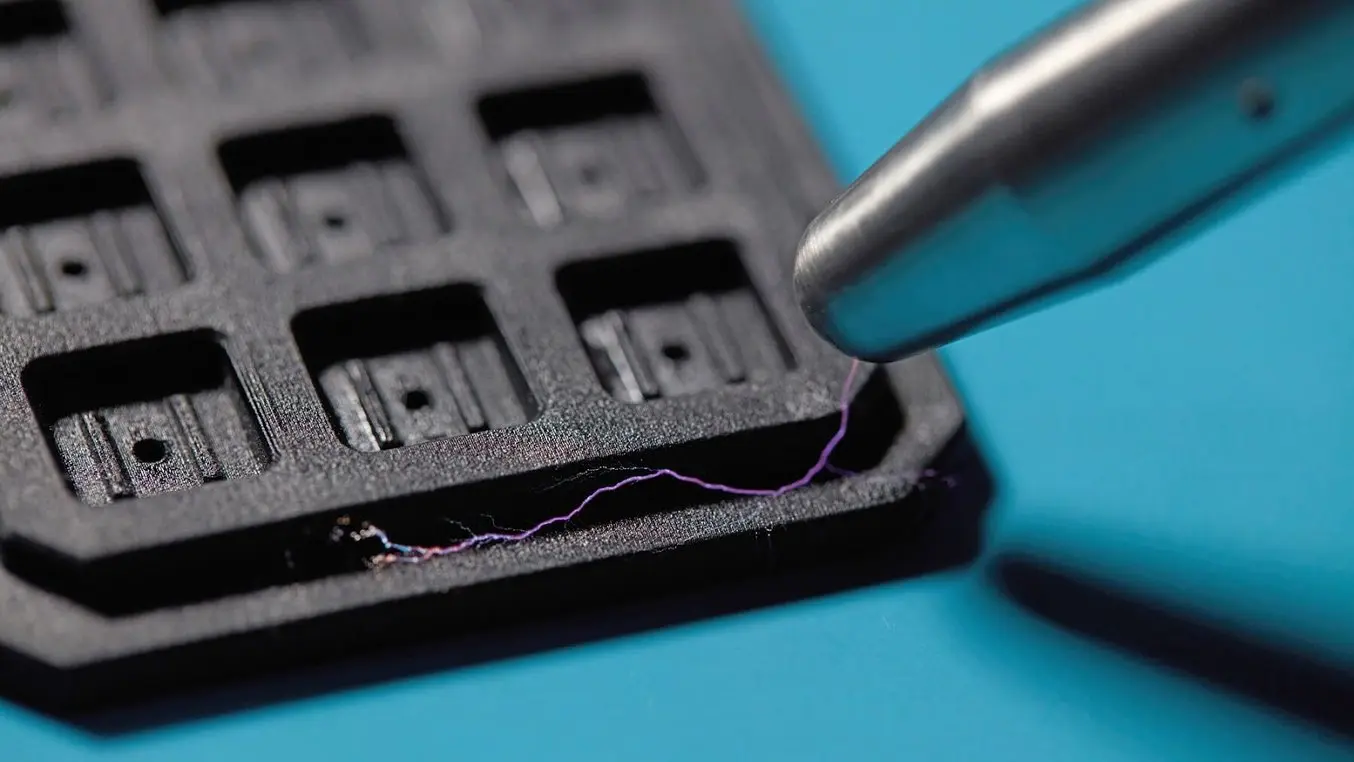 "You can get injection molded ESD safe plastics, but the upfront cost of that is astronomical… especially if the design is changing… you can mill it… but even then, it's not quick or worth it, and we don't have the space for a milling machine. It's easy to pop a Form 3 in the corner and put the Form Wash and Form Cure under it. I don't want to babysit a machine."
A Scalable Solution
For a young company just starting to ship units and grow, space is a huge factor. Many systems capable of the precision and material variability that the Form 3 provides require large amounts of infrastructure. "The fact that we don't need a dedicated space for it is huge. It doesn't have a big footprint so we have the ability to make really high resolution parts in our office–we can do crazy high precision stuff all in house," Hawes told us.
Perhaps the most important factor in choosing a 3D printer for the LumenPnP and circuit boards is precision. The robot itself is engineered to deposit tiny chips in similarly tiny geometries on the board, so the difference of a few microns can break the chip, costing the company $60 and impairing their ability to get product out the door.
"These parts, they're really fragile, delicate and precise. When it comes to holding a chip like this, it's great to have the precision of a Form 3 printer."
The variety of materials also makes the Form 3 a workhorse for Opulo. Besides ESD Resin, they also utilize the Tough and Durable family of resins for different applications. When printing certain component trays, using Clear Resins allows them to monitor the position of the chips from all angles through the translucent surface. For the jigs and fixtures that hold the circuit boards in place, they use Tough 2000 Resin to print load-bearing parts like brackets, or for prototyping parts of the robot itself.
"We use Clear Resin and Tough 2000 Resin. Clear Resin is nice because it prints well and fast, and it's nice to look through the geometries. Tough 2000 Resin is my favorite resin, it's the best. We use it for anything that requires strength."
Looking Forward With the Form 3
As Opulo looks ahead to scaling their manufacturing, they'll need to insulate their supply chain from further price hikes and material shortages. Recent international developments have put some of the world's biggest silicon chip manufacturers out of commission, and manufacturers like Opulo can't afford to lose stock to ESD damage. The Form 3 printer and ESD Resin allows them to protect their current stock and look forward to manufacturing at scale.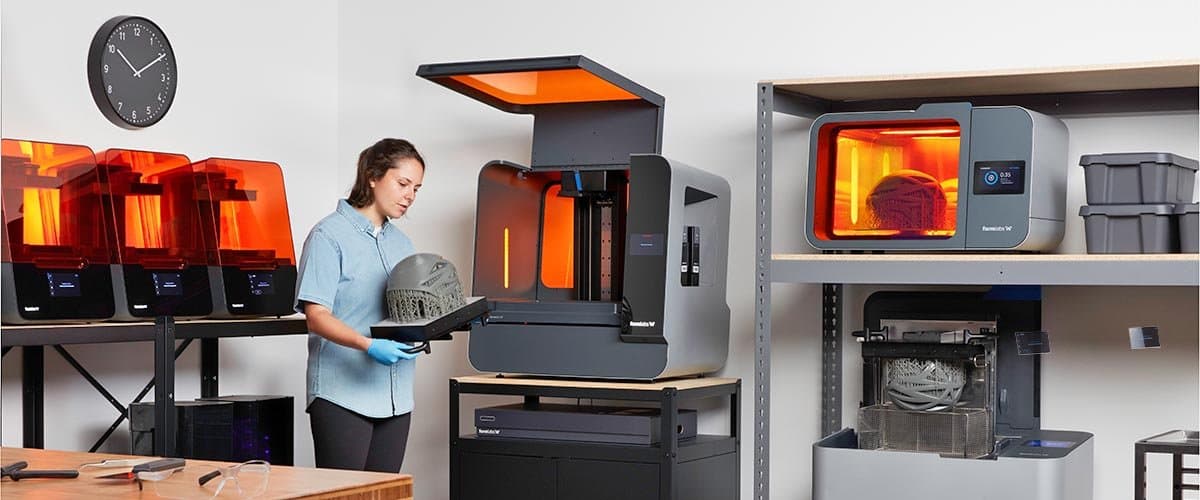 With hundreds of machines deployed and a long waiting list, Opulo is evaluating injection molding, and making sure to prototype on their Form 3 to ensure the final part is the best it can be. With the developer community iterating and advising alongside them, Opulo is excited about the future with the Form 3 and the Lumen PnP.
"Knowing that we have the right geometry out of the gate is huge–it's a beautiful little stopgap."