Topics at The Digital Factory 2023: Chaos to Convergence
At The Digital Factory conference, global manufacturing leaders come together to discuss the ideas, policies, and events that shape the way we operate in the present and the way we plan for the future. In today's ever-changing and increasingly digitalized world, manufacturers of all sizes are looking to accelerate their digital transformation, and in doing so, become more adaptable and agile. The theme of The Digital Factory 2023 is Chaos to Convergence — a chance to explore the ways in which the past few years of tumult can be harnessed and transformed into learning opportunities. 
To structure the discussion of such a wide-ranging and multi-faceted theme, the following five topics will serve as pillars: Digital Design, Digital Manufacturing, Workforce Development, Sustainability, and Supply Networks. Through keynote speakers, roundtables and panels, and informal discussions between attendees, these intersecting ideas will serve to guide the conference from big ideas towards actionable insights and measurable outcomes. 
Digital Design
Just as the product development process begins with a drawing, our manufacturing conference will begin with the basic building block of digital transformation — digital design. Digitalized tools not only accelerate the iterative cycle for new products, but they can also be used to modernize existing products and traditional processes through reverse engineering. This process of digitization has changed and continues to change the way we manufacture — creating new ways of working, delivering services, and engaging with customers.
By integrating digital design tools into every facet of their structure, from sustainability metrics and tracking to learning management systems that help employees continuously grow and adapt to new technologies, manufacturers become more adaptive, resilient, and profitable. By discussing not only what digital design entails, but also why it is important and how it can accelerate innovation and evolution, we can better understand how to leverage its power and improve equity, efficiency, and sustainability across the spectrum.
Digital Manufacturing
As the components of the larger manufacturing system have advanced and become even more interconnected, the system itself increases in complexity. Digital manufacturing is an overarching term that we'll define at the conference; by identifying and analyzing the inputs and outputs of a modern manufacturing enterprise, we can look at how those same components can be optimized through ideas like workforce development and sustainability. 
Digital manufacturing represents the convergence of decades of development in digital design, organizational behavior, computer programming, and materials innovation. Today, this goes beyond just data collection and automation and instead encompasses more wide-ranging elements like discrete event simulation, robotics, Industrial Internet of Things (IIOT) for downtime tracking, and supply chain and consumer demand monitoring.
The factory of the future relies on digital tools for the creation of products as well as the framework for oversight and communication. As the global manufacturing system becomes more complex and interconnected and consumer preferences evolve and become more demanding, digital manufacturing becomes more essential for players at all levels of the manufacturing sector.
Workforce Development
Every year, The Digital Factory draws the best and brightest of policymakers, business leaders, innovators, and educators. The benefit of bringing this diverse group together lies in their ability to attack problems that require multi-pronged solutions. Workforce development has historically been difficult to address because the responsibility, and the benefits,  are too broadly shared. 
The workforce needs to upskill — for the security of their livelihood, for the sake of sustaining innovation, and for the health of the local, national, and global economy. To facilitate that advancement in learning, the responsibility has to be shared by each stakeholder, policy, business, and individual. 
Workforce development is not just about training employees to use these new digital technologies, but rather about instituting a framework for education through all levels that can grow and evolve as new tools and technologies are introduced. 
With the increasing adoption of automation, it's critical to ensure that the workforce is adding as much value as possible to a workflow that has automated traditional repetitive tasks, and focusing on the most essential and highest-leverage aspects of their job. This framework will enable organizations to leverage the unique expertise and critical thinking skills of their workforce in conjunction with an ever-changing technical landscape.
Sustainability
New production tools and processes don't by definition lead to more sustainable manufacturing processes, but they provide more opportunities for organizations to make decisions that reduce environmental harm. 
Digital design and manufacturing tools, for example, provide greater flexibility to manufacturers so they can more nimbly embrace new workflows that decrease waste and inefficiencies, create products that are better suited to climate regulations, and opportunistically find ways to mitigate environmental damage. 
Though there are many organizations and conferences that focus solely on sustainability, the power of a manufacturing-first focus means that the changes necessary to reduce environmental impact and develop new, regenerative solutions are within the power of the attendees. The Digital Factory brings together those that can truly affect change. By sharing our past experiences and future goals from a manufacturing outlook, we can accelerate the rate of positive change.  By developing a network of digital tools and a workforce that can optimize their use, the digital manufacturer can be proactive in approaching sustainability.
Supply Networks
Manufacturers who have accomplished digital transformation, through the adoption of digital design tools and the creation of a workforce development framework, are constantly adding to and taking from our vast supply network of products, services, and information. 
Through improved communication and collaboration between policy, consumer, and producer, this system of give and take can be optimized so that everyone benefits more fully. By sharing information and resources, networks can preempt supply pitfalls and reduce bottlenecks or inconsistencies between supply and demand.
At this year's Digital Factory, the distinct, yet connected, actors within our global supply network will converge, and together discuss ways in which we can move forward, pursuing progress in innovation, sustainability, and the ways we work. 
The Digital Factory 2023: Chaos to Convergence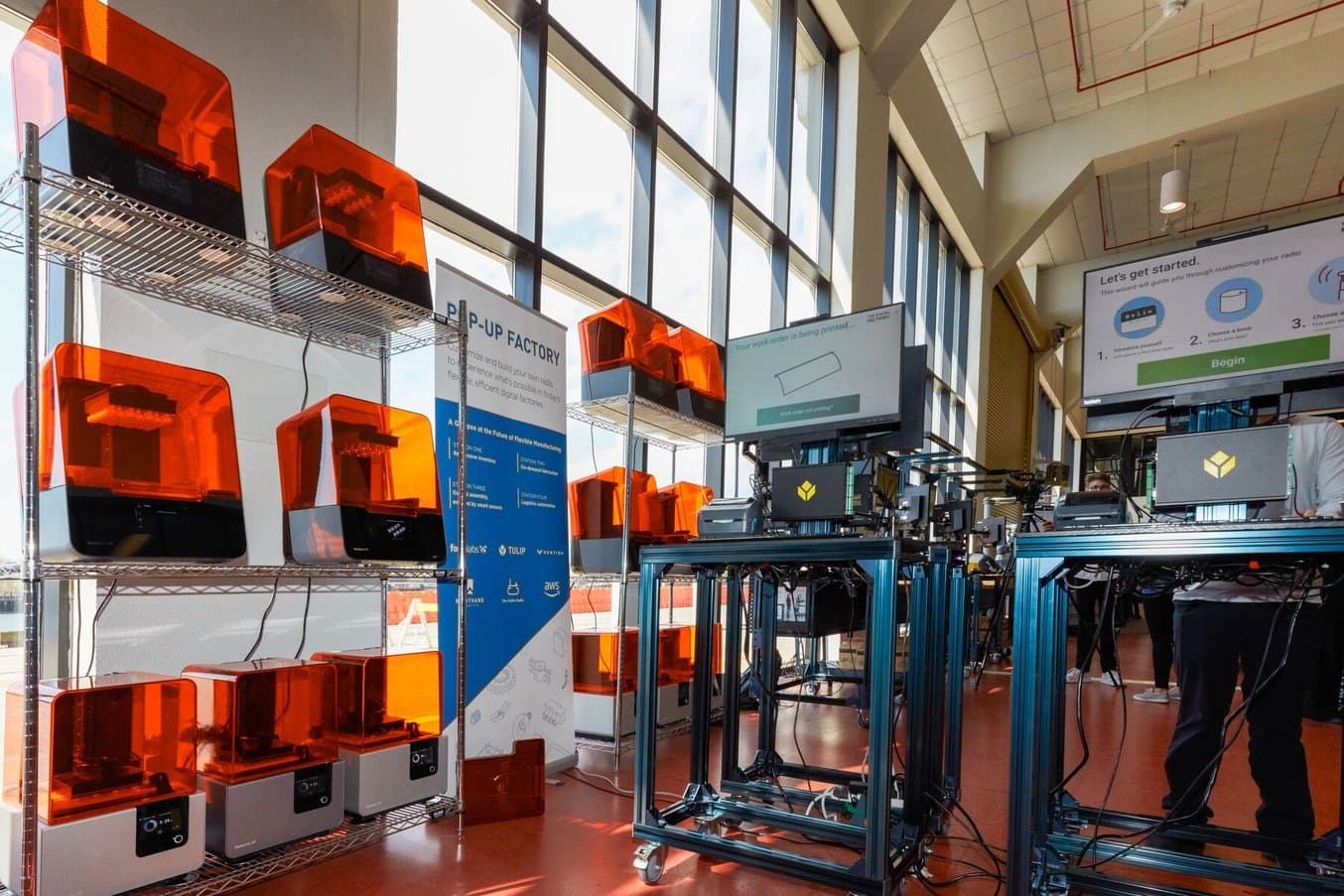 For such a diverse group of attendees, the possibilities are endless — both for discussion and for future action. By distilling the topics of discussion and analysis into these five themes, we hope that this group's collective experience, imagination, and ability to execute will be focused and harnessed for true transformation. We know that the factory of the future will incorporate digital technologies, require an adaptable workforce, be sustainable for both business success and natural resources, and be part of a global network. How to get there? We invite you to help us decide at the Digital Factory 2023.