New Build Platform 2L Enables Easy Part Removal for the Form 3L/3BL
Formlabs is proud to announce the launch of Build Platform 2L with patented Quick Release Technology, streamlining post-processing workflows for our large-format stereolithography (SLA) 3D printers, the Form 3L and Form 3BL.
White Paper
Why Large-Format Printing Matters
Want to learn more about the Form 3L and Form 3BL ecosystem, and how they compare to other methods of creating large prints?
In this free report, we look at how in-house large-format 3D printing with the Form 3L stacks up against other methods of production, chiefly outsourcing and using FDM printers.
Download Now
Building Bigger
Build Platform 2L is an evolution, built upon the success of our Build Platform 2 product for our desktop SLA printers and increasing scale and power to streamline post-processing for benchtop SLA. As Formlabs develops new products, we prioritize customer feedback and user experience, and the community was clear that the transformative power of the Build Platform 2 would make even more of a difference for large-format workflows. 
The Form 3L and Form 3BL have combined repeatable precision and superior surface finish with human-scale size and end-use capabilities, bringing resin parts into even more real-world applications. Build Platform 2L removes remaining barriers to the workflow by shortening post-processing time and making around the clock printing easier. From human-scale anatomical models to industrial-strength molds, Build Platform 2L helps users expand their applications by making large or heavy parts easy to post-process. 
The stainless steel material of the Build Platform 2L is gouge-resistant and strong — it's a product that will stand the test of time, no matter how often you're printing. Its Quick Release Technology is the same that's relied upon for the Form 3+ and Form 3B+ accessory, the Build Platform 2, which enables 24/7 when used with the Form Auto.
Enabling New Applications
Though the build volume and versatile materials library have made a massive impact on the range of applications possible with SLA 3D printing, certain workflows have been too time consuming to perform often. One of these workflows is the creation of large-format 3D printed injection mold inserts. There are simple, proven workflows for creating molds with Formlabs desktop printers and materials such as Rigid 10K Resin. For larger-format molds, there have been a few extra considerations, such as size, print orientation and speed, and the part removal.
White Paper
Low-Volume Rapid Injection Molding With 3D Printed Molds
Download our white paper for guidelines for using 3D printed molds in the injection molding process to lower costs and lead time and see real-life case studies with Braskem, Holimaker, and Novus Applications.
Read the White Paper
Certain materials are more difficult than others to remove from build platforms manually, with a scraping tool or putty knife. The density of the resin makes the adhesion to a normal build platform incredibly strong, and the part removal process can be quite laborious. To avoid the adhesion problem, users often print the molds at an angle; rafts and support structures are easier to remove than parts printed flat on the build platform, and can be done with less dexterity, as damaging support structures isn't a concern. 
However, printing molds at an angle increases the print time and, depending on the size of the mold, can double the print time or make it too tall to print at all. An additional concern for molds destined for an industrial strength molding machine is that material properties need to be completely consistent throughout the part — there cannot be any deviation in density or strength that will be exacerbated by the industrial pressure process. Before Build Platform 2L, users who wanted to produce industrial strength 3D printed molds had no foolproof process.
With Quick Release Technology and Build Platform 2L, users can now print large injection molds in Rigid 10K Resin directly on the build platform with no supports. The parts will have completely consistent density and strength, are easily and cleanly removed, and can be used in an injection molding process. We spoke with Matthew Deutsch, Additive Manufacturing Technician at the Siemens Energy Orlando Innovation Center, to learn more.
New Molding Workflows Made Possible
At the Siemens Energy Orlando Innovation Center, Matthew Deutsch manages a fleet of FDM and SLA 3D printers, responding to requests for parts and process guidelines from Siemens Energy departments and customers across the world. Deutsch uses his two Form 3L printers to produce everything from models of engines for trade shows to fixtures and tools critical in repairing gas turbines halfway across the world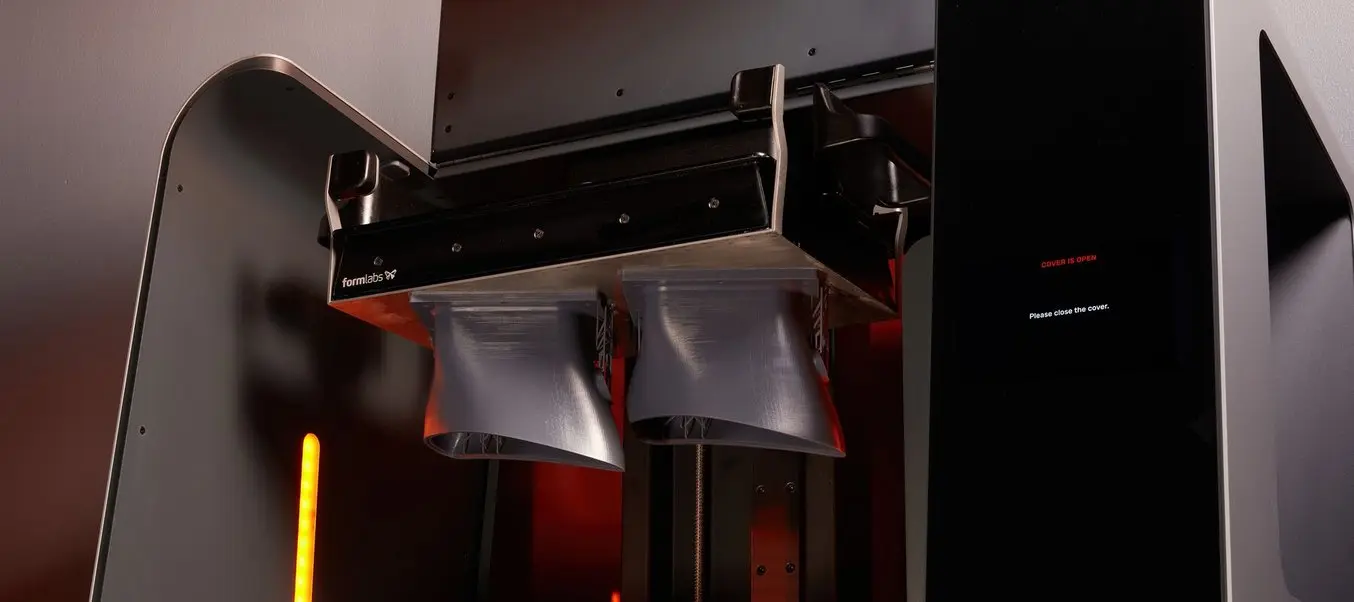 Producing mold inserts on the Form 3L with Rigid 10K Resin is a process that Deutsch has been working on perfecting for a while. With larger molds in the high-density resin, Deutsch had issues removing them when printing directly on the platform. If he printed them at an angle, he ran into issues with pressurizing them evenly. Now with Build Platform 2L, Deutsch can print large molds flat on the build platform, easily popping them off after the print is done. "We're able to print full kilogram parts all at one time and flex them off the plate with no supports, and we couldn't do that before — the only other option was machining the molds," Deutsch told us.
3D printed molds enable businesses to produce products in low volumes without the high cost of a machined tool. For new products that might still go through design changes, having a cost-effective production method lowers the stakes for testing rounds. Businesses can now confidently produce injection molded parts in quantities of tens or hundreds with the 3D printing and Build Platform 2L workflow.
The wait was worth it. With molds, we can print and then start pumping out injection molded plastic parts within 24 hours. This is a genesis for the entire industry.

Matthew Deutsch, Additive Manufacturing Technician at the Siemens Energy Orlando Innovation Campus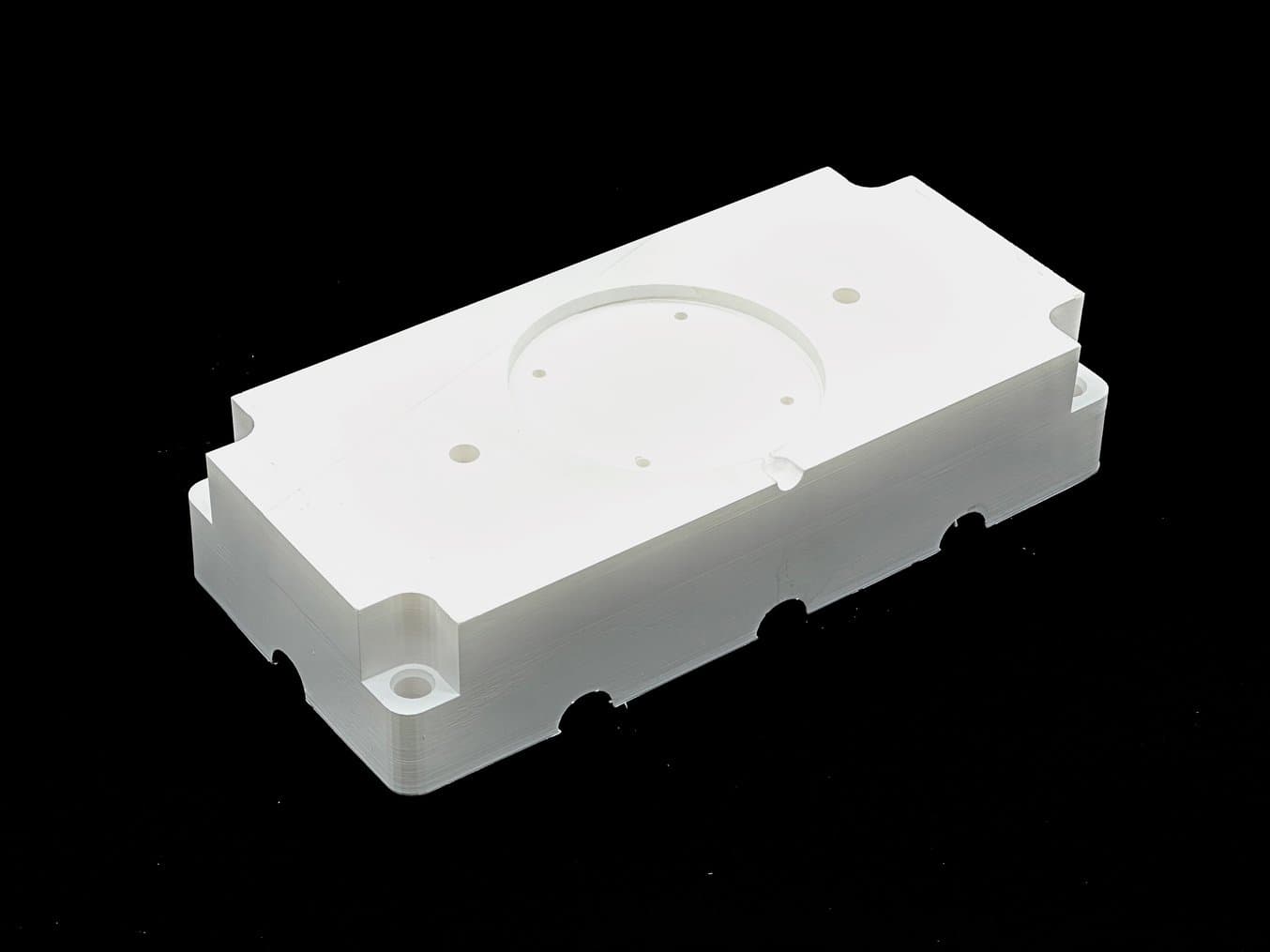 The benefits of printing directly on the build platform with Build Platform 2L also extend to overall print time and better material usage. Without the added height of an angled part or supports, print times are drastically reduced, and Deutsch can print more often. 
Print Data: Coin Mold
| | Print Time | Post-Processing Time | Total Time | Material Usage |
| --- | --- | --- | --- | --- |
| Without Build Platform 2L | 14 hours | 1 hour | 15 hours | 391.43 ml |
| With Build Platform 2L | 6.5 hours | 10 minutes | 6 hours 40 min | 363.20 ml |
Expanding Solutions
When they became available, the Form 3L and Form 3BL printers expanded the possibilities of high performance, superior surface finish SLA 3D printed parts. With each new material and accessory, that expansion continues. Build Platform 2L makes new workflows possible and existing workflows faster, easier, and more efficient. Previously, the removal of parts in high-density resins like Rigid 10K Resin might have dissuaded users from trying something new, but with a simple flex of the Build Platform 2L, parts will pop off easily, every time. 
Formlabs is helping users rethink what the limits of their workflows can be. The Build Platform 2L has been developed specifically for Form 3L and Form 3BL users to expand their capabilities, try new things, and open up new avenues for production with 3D printing technology. "With Formlabs, you can unlearn what you thought were limits to SLA 3D printing, and do things you thought you couldn't do before," says Deutsch. 
To learn more about Build Platform 2L, visit the store. To speak with a member of our team and order your own, contact our sales team.