PU Rigid 650 Resin
Pliable & Impact Resistant
Produce pliable and tough polyurethane parts that can withstand extreme impacts while maintaining true shape long-term. 
Impact-resistant components
Pliable mechanical connectors
Shock-absorbing bumpers and dampeners
Modulus
how easily an object will bend or stretch
Elongation
how far an object will bend or stretch
Impact Strength
how much energy an object can absorb suddenly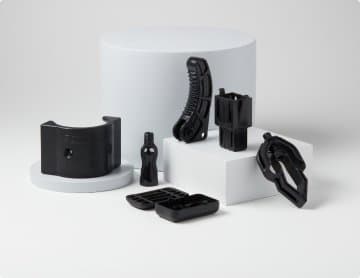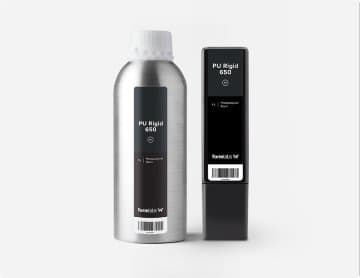 Which Polyurethane Material is Right for You?
Rebound Resin: A Production-Ready Elastic Polyurethane Material
With five times the tear strength, three times the tensile strength, and two times the elongation of other production-grade elastomeric materials on the market, Rebound Resin is perfect for 3D printing springy, resilient parts. 
Learn More
3D Printing Workflow with PU Resins
Polyurethane Resins have a longer workflow requiring additional equipment and set-up costs. More attention and time are needed when setting up your prints and post-processing your parts to get consistent, high-quality results. 
Step 1
Produce 3D File
Generate your print file in PreForm with proper supports, orientation, and layout. Send the file to the printer.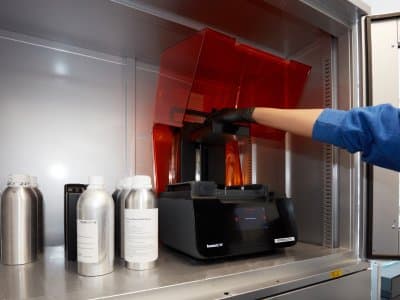 Step 2
Prepare the Printer
Fill the self-dispensing cartridge with the PU resin. Insert the cartridge into the printer, which is located in a dry cabinet. Load your Build Platform and Resin Tank.
Step 3
Print
Follow the prompts on the easy-to-use touchscreen to get your print started. 
Step 4
Post-Processing
Place Build Platform in a brief PGDA wash, then allow parts to air dry or use an air compressor. Remove parts from the platform and from supports. When dry, set the parts in the humidity cure chamber for a minimum of a couple days of post-curing.
Looking For More Information?
Need more information or help choosing the right material for you? Interested in ordering resin in bulk? We're here to help!
Webinar: Introducing PU Rigid Resins: Pushing the Limits of 3D Printing
Join our materials experts as they discuss the incredible properties of PU Rigid Resins and share a bit about the applications that put these materials to the test.
Register Now