High-Performance 3D Printed Parts for F1 and Beyond
As more eyes turn to global motorsport powerhouses like Formula One, there is mounting pressure to make every car even faster and more powerful. F1 teams already employ some of the brightest minds in engineering, but sometimes even these super teams look to external experts to provide that extra bit of horsepower. 
One of these experts is Mackart Additive, an engineering and manufacturing sub-contract facility based in Staffordshire, in the heart of the UK. With over two decades of experience in engineering design and additive manufacturing, Mackart has been able to push 3D printing beyond the traditional parameters of rapid prototyping. About 80% of Mackart's current projects are for F1 teams — these clients are constantly looking for incremental improvements in lightweight, power, reliability, and aerodynamic optimization. McCarthy's team has excelled in 3D printing complex tooling for carbon fiber reinforced plastic (CFRP) components that are setting standards and new expectations that were previously out of reach.  
Leveraging nine Form 3 Series stereolithography (SLA) printers and the Form Auto, as well as fused deposition modeling (FDM) and composite printers, Mackart manufactures carbon fiber tooling and silicone tooling as well as 3D printed end-use components. Working with Formlabs' official partner Solid Print3D, Mackart has scaled up to true production volume.
"We don't see 3D printing as a rapid prototyping tool — it's an efficient manufacturing process."

Steven McCarthy, Managing Director and Founder, Mackart
3D Printing Complex Tooling for Carbon Fiber Parts
McCarthy came from an aerospace engineering background, but since opening shop in 2016, Mackart has partnered with a wide range of industries, from plumbing equipment manufacturers to international motorsport titans. 
One of the most common materials employed in the world of competitive motorsport, and more recently making its transition into popular use in the automotive industry is carbon fiber (CFRP). CFRP components can withstand the high temperature demands of the racetrack with unrivaled strength-to-weight ratio properties that enhance every aspect of the racecar's performance.
Carbon fiber parts are typically manufactured using pre-pregnated (pre-preg) sheets of carbon cloth dosed with the correct volume of uncured resin. These pre-preg sheets are then laminated into, or onto, the mold and are then cured with heat and pressure in an autoclave. 
Traditionally, each mold is machined from metal in order to withstand the heat and pressure of the autoclave. This subtractive process has several drawbacks — it can be wasteful, slow, and expensive, and inhibits the iterative design process. As 3D printing materials and hardware have advanced, it has become a viable option for creating hard tooling for these applications.
White Paper
Carbon Fiber Parts Manufacturing With 3D Printed Molds
Download this white paper for composite mold design guidelines and step-by-step guides to the prepreg and hand laminating methods to create carbon fiber parts.
Download the White Paper
Combining Technologies for Carbon Fiber Tooling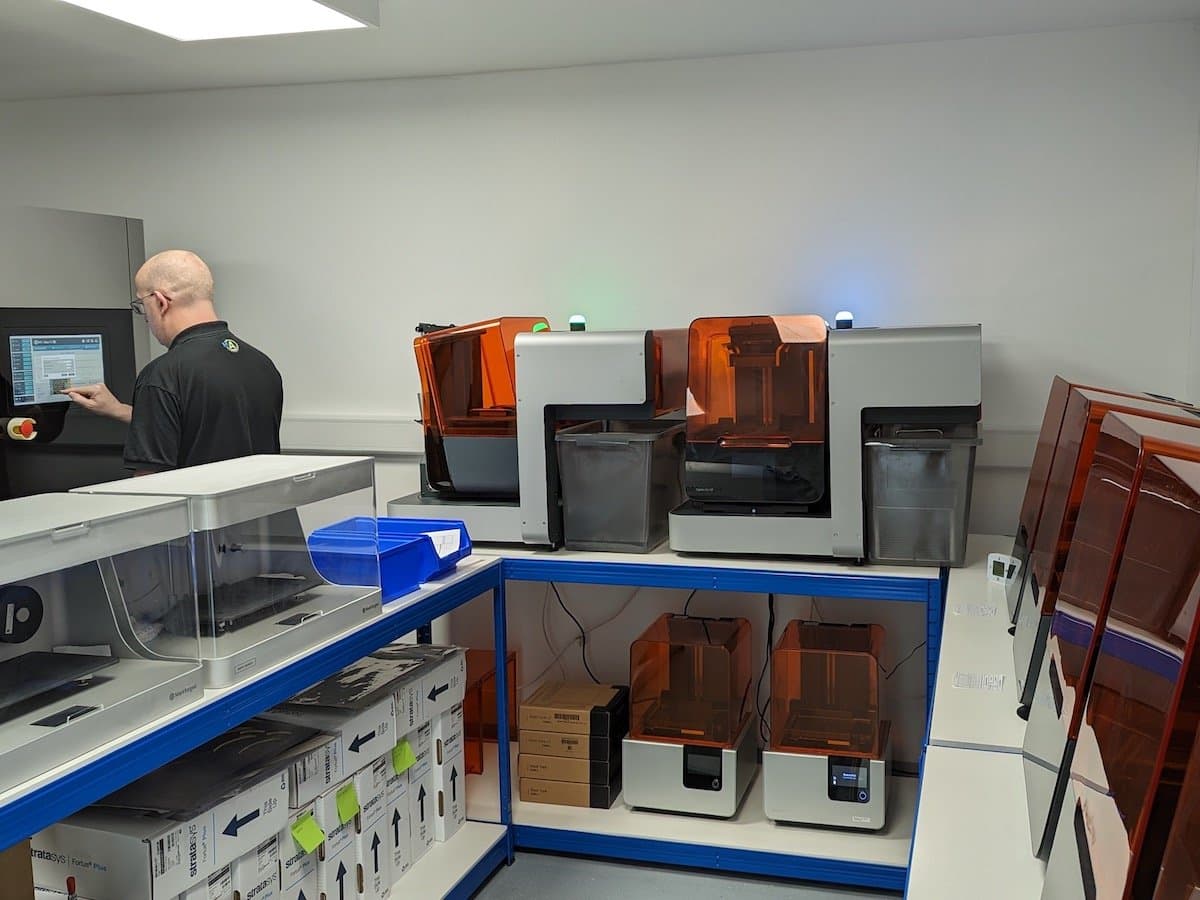 The key to success with industrial-strength tooling is optimizing print design and orientation — and the Mackart team has these parameters down to a science. They design and manufacture complex carbon fiber molds and mandrels using a combination of different 3D printing technologies and materials, each chosen for their particular attributes. 
After initially using Grey Resin, then Grey Pro, the team began testing Rigid 4000 Resin and Rigid 10K Resin, and found that the smooth surface finish and rigidity imparted the best results onto the end-use carbon fiber parts. "We tried single impression tools with the Rigid 4000 Resin and the results were excellent. We inspected it using laser metrology and dimensionally they presented phenomenal results — in some cases, we were seeing micron deviations from the nominal CAD geometry," says McCarthy.
The team often produces large tools by breaking them into smaller parts, then joining them together with carefully considered fasteners. "For larger tooling that exceeds the printer's build volumes, we frequently incorporate flanged joints to allow for assembly. We can produce assemblies of three or four components to achieve tools nearing 450 mm in length," says McCarthy.
Technology Comparison: Tooling for Carbon Fiber Parts
Lead Time
Pros
Cons
3D Printed Tooling
1 week
Design freedom
Control over lead time/supply chain
Cost-effective for lower volumes
Must consider thermal growth
Size limitations
Lower number of pulls per part
Traditionally Made Tooling
3-4 week
Thousands of pulls
Durable
Size
Long lead times
Design limitations
Dialing in Parameters and Optimization of the Process
During the autoclave curing process, temperatures can exceed the glass transition temperature of the tool's material, but the team has found that Rigid 10K Resin performs well, and won't degrade or lose its dimensional accuracy after repeated uses. "Rigid 10K Resin is a harder material and provides a slightly better surface finish. It's actually a great substitute for aluminum," says McCarthy. To optimize the surface for interacting with the carbon fiber sheets, the Mackart team lightly dresses the surface of the Rigid 10K Resin mold pieces to remove the glass particles that are evident as a result of Rigid 10K Resin's unique photopolymer conversion during printing.
The team has also dialed in their compensation factors for material creep during the autoclave process, so that the resulting  CFRP part is manufactured to tolerance. "It doesn't get too complicated, we can get it perfectly within tolerance. For the larger tools it's all about percentage," says McCarthy.
For the internal form of complex CFRP components such as ducts and tubes, traditionally soluble mandrels are employed. However, for smaller components (that fit within the printer's build volume) it is possible to produce extractable mandrels and avoid the complexity and time investment of the traditionally soluble solution produced by FDM. Mackart has used Durable Resin with excellent success for this application. For larger extractable mandrels that exceed the printer's build volume, Mackart alternatively uses their in-house deep vat SLA process.
The Devil's in the Details
Additive manufacturing is perfect for an industry like motorsport, where every incremental change in design, even down to the micron, could mean the difference of a second, or a final push across the finish line. Airflow around the car, and through it, means everything. 
"3D printing offers a great solution for motorsport by providing the freedom of geometry unconstrained from the subtractive traditions. Where space is at a premium aboard a racecar, that freedom of geometry allows the Teams to optimize the whole aerodynamic package. Without the ability to manipulate and weave rigid CFRP components around the car without compromise (the CFRP parts made from the printed tooling), we might not be witnessing some of the performance gains of the past few race seasons. The ability to produce tooling that unleashes this potential is through the adoption of 3D printed tooling optimized by careful, well-developed design technique," says McCarthy. 
In the past, the manufacture of relatively complex geometries in CFRP through traditional subtractive tooling methods led to the need for sacrificial, or 'spare,' material being built into the component to allow 'fettling' at the final fitment stage. The accuracy and stability of the 3D printed mold tools have largely alleviated this spare material need. There is now a standard of expectation of 'right' the first time, and we repeatedly achieve this in the resulting CFRP components.  What we do well is realize really wicked, accurate geometries," says McCarthy.
White Paper
Managing 3D Printer Fleets
Managing multiple SLA and SLS printers doesn't have to be complicated — any business can get a fleet of SLA and SLS printers up and running in just a day or two. By reviewing four different successful multi-printer scenarios, this guide will help you set up an efficient workflow for any volume or part type.
Download the White Paper
Adding a Third Shift With Form Auto
Mackart is an early adopter of Formlabs Automation Ecosystem; they began running the Form Auto in early 2023, and have been optimizing their automation workflow since. "There is an opportunity for maximizing capacity — the advantage of the Form Auto is that you can add a third shift overnight," says McCarthy. 
The Form Auto was retrofitted onto two of their nine Form 3+ printers, and runs continuously, working overnight and over the weekend to keep printing even when the team has gone home.
"With the Form Auto, you get that third and weekend shift going, and you don't have to plan swapovers or any changes of build platforms. It runs nicely and it's great for small components, and mid-size batch production runs of up to 1000 parts and beyond."

Steven McCarthy, Managing Director and Founder, Mackart
The Mackart team is always working on different projects, so while they still work hands-on with some of their newer, more complex parts, the Form Auto can handle many of their repetitive tasks and reduce printer downtime. "Our lead time has been reduced as a result of that, and productivity has increased," says McCarthy.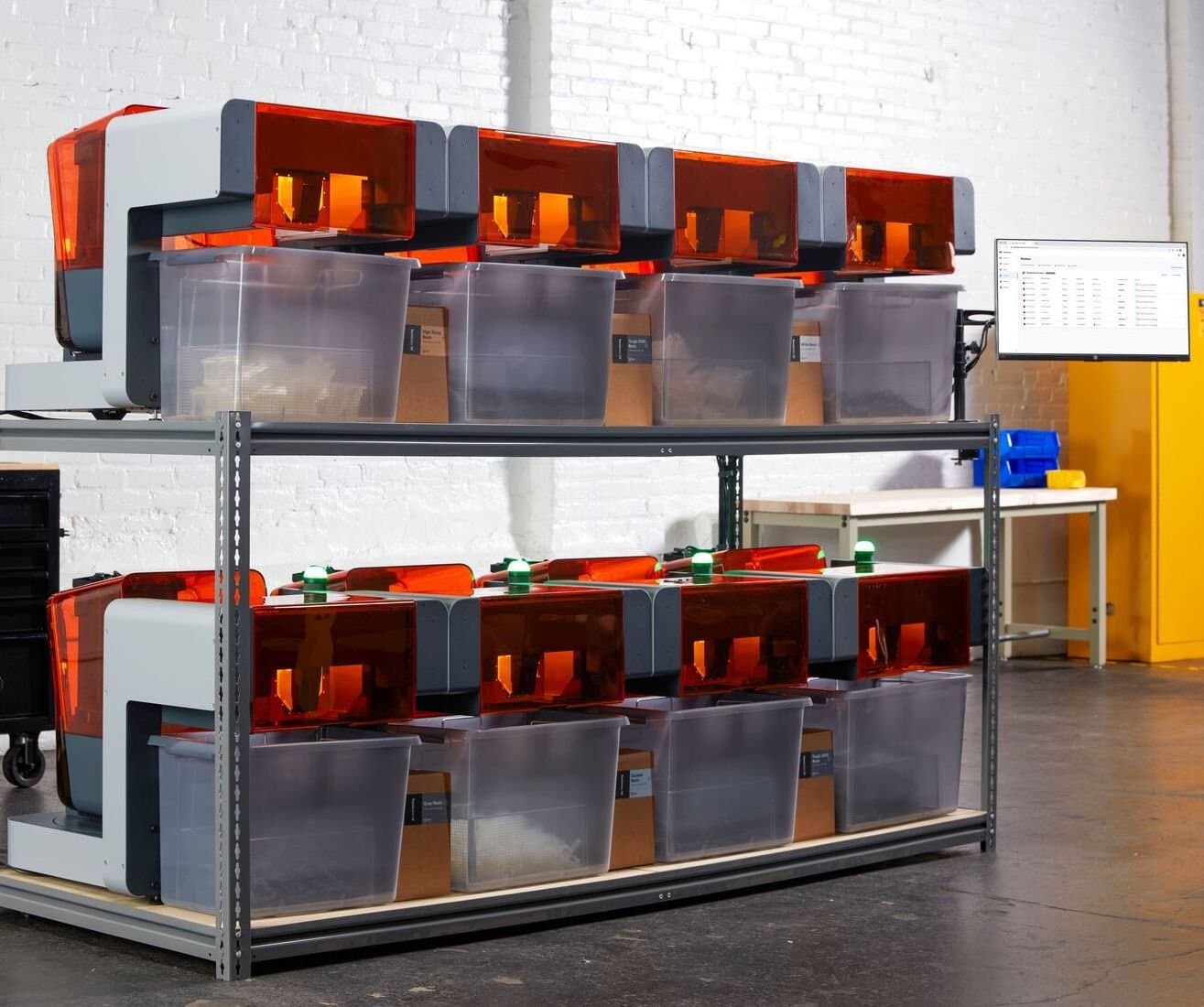 Webinar
Introducing the Formlabs Automation Ecosystem
Learn about the Formlabs Automation Ecosystem: From 24/7 non-stop part production that redefines throughput and productivity to an automated 3D printer fleet.
Watch the Webinar
Taking £10,000 Out of the Equation for Classic Car Parts
Some of those repeated tasks are for small parts that need to be produced in higher volumes, such as classic car parts. Typically these parts would have been injection molded (IM), but so many of these tools have long since been lost to history and the final stocks depleted. This situation led to a client reaching out to Mackart for help.
In the past, these parts may have cost £0.20 each when it was a stock item. 3D printing puts these parts in the region of five to 10 times the cost, but without the expense of new tooling, minimum IM production runs, set-up fees, and further, the inability to amortize any of those production costs viably into each individual component. 
The 3D printed component now offers a very viable solution. "By 3D printing these parts, you're taking amortization of the whole IM production cost l out of the equation  — we design by reverse engineering whatever they need, and they can purchase just one of them, without paying £10,000 or more for a new IM tool and all those other process related add-on costs. They then have an endless supply opportunity at the quantities they need" says McCarthy. 
In the automotive industry, having just one, or even just a low volume of something can be enormously expensive, making classic car restoration and maintenance a luxury pursuit. With 3D printing, Mackart can offer clients price breaks on quantity. "It's a much more flexible economic solution, and this is where the Form Auto comes out great. It arrives 'lights on,' minimal caretaking, and you could run 1000 parts, with just occasionally popping a new resin cartridge in," says McCarthy. 
After Proving the Case, Mackart Looks to Add Capacity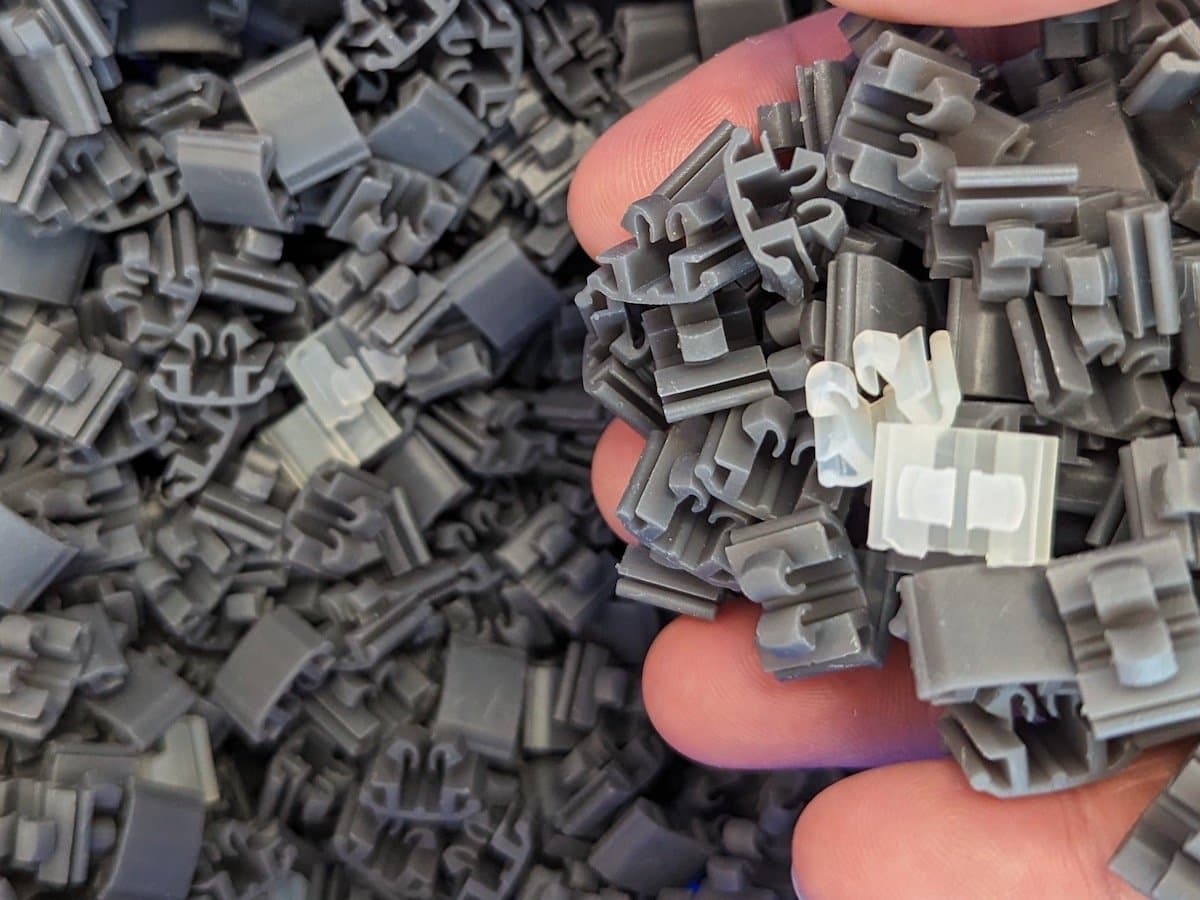 Mackart has taken the time to optimize their processes and make sure they're delivering high quality designs for their clients across a wide range of industries. They've done so by relying on a complementary set of technologies and leveraging different 3D printing methods and materials where most appropriate. 
Adding the Form Auto has increased their capacity and added a new, hands-off shift to their production week. From here, McCarthy is confident that as demand increases, they can use their fleet of 3D printers to enter new industries and attack new applications with the same precision and performance that made them a trusted partner for some of the top F1 teams in the world. 
Special thanks to our UK reseller partner Solid Print3D for advising and supporting Mackart with Formlabs 3D printing solutions. To learn more about 3D printing applications in the automotive industry, visit our resources page, or speak to our team about your specific application.