100% Silicone 3D Printing Made Accessible: Introducing Silicone 40A Resin
Formlabs is proud to introduce Silicone 40A Resin, the first accessible pure silicone 3D printing material made possible by our patent-pending Pure Silicone Technology™, that combines the outstanding material properties of cast silicone with the benefits of 3D printing. 
While elastomeric 3D printing options are widely available, there are limited solutions on the market today that offer pure silicone 3D printing with advanced material properties due to high costs or technical challenges. Formlabs invented a patent-pending Pure Silicone Technology™  that relies on Formlabs' stereolithography (SLA) ecosystem to produce 100% silicone parts in-house, in a matter of hours.
Silicone 40A Resin parts, with 40A Shore durometer, 230% elongation at break, and 12 kN/m tear strength, are ideal for applications requiring pliability and durability even through repeated stretching, flexing, or compression. Parts made with Silicone 40A Resin have a rebound resilience of 34%, excellent chemical and thermal resistance (-25°C to 125°C), and can have fine features as small as 0.3 mm and complex shapes that are challenging to achieve with traditional manufacturing methods.
Silicone 40A Resin parts are ideal for the following applications: 
Rapid prototyping, beta testing, and validation stages of the product development cycle for elastic consumer goods, automotive components, and industrial equipment such as connectors, grommets, actuators, keypads, and watch bands.
Cost-efficient low-volume or custom manufacturing of indoor end-use parts, such as seals and gaskets.
High-quality, long-lasting custom manufacturing aids and tools such as flexible casting molds, jigs, fixtures, and masking tooling.
Medical device components, patient-matched prosthetics, and audiology applications.
Complex geometry parts that are difficult to manufacture with traditional methods.
Why Silicone 3D Printing?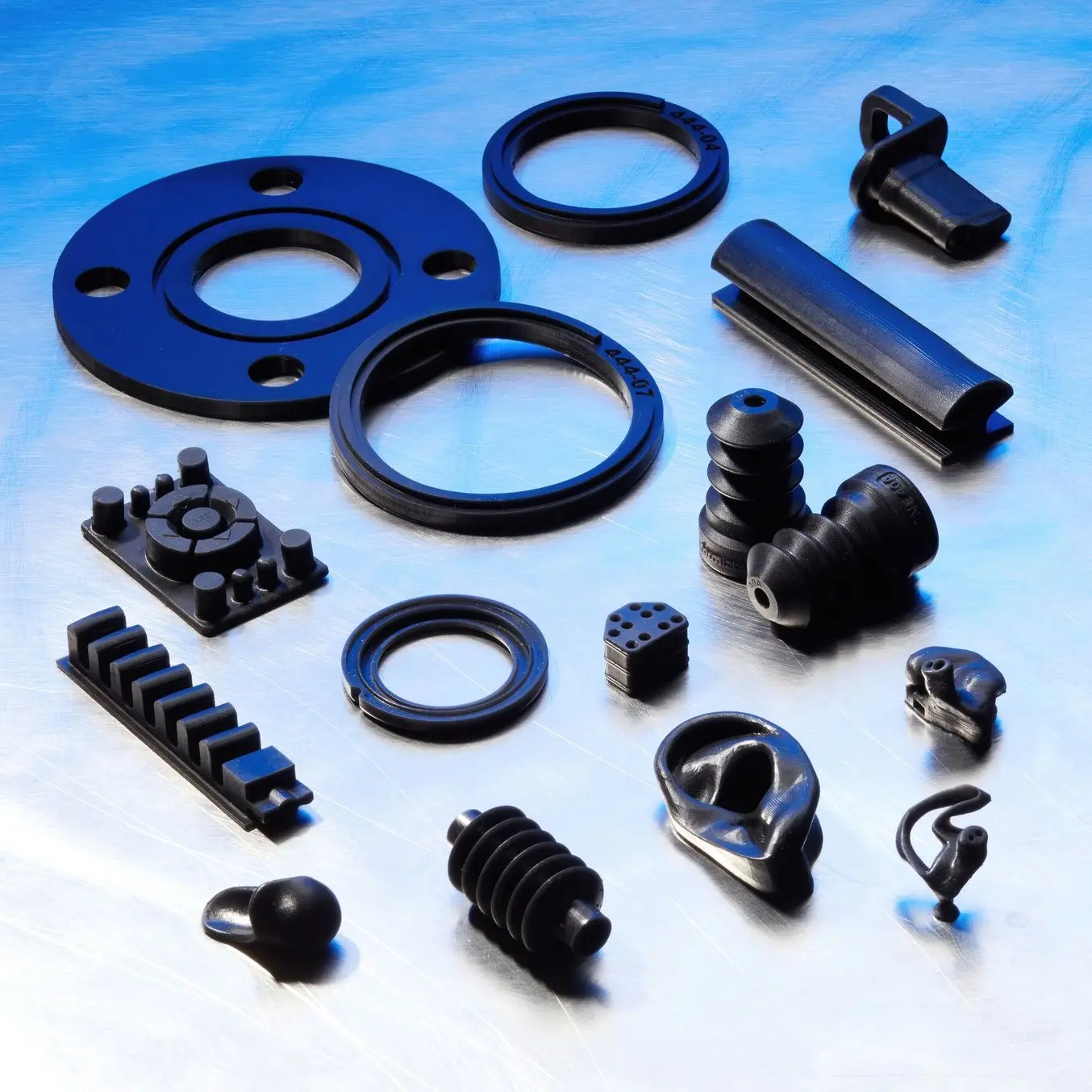 Webinar
Introducing Silicone 40A Resin
In this webinar, our 3D printing experts walk you through the key benefits and applications of Silicone 40A Resin and present the material properties and the workflow for this resin.
Watch the Webinar Now
Fast and Easy Fabrication of Pure Silicone Parts
Silicone parts, due to their pliable, durable, and compressive qualities, as well as chemical and temperature resistance, are used in a wide range of applications and industries, from seals and gaskets in automotive manufacturing to actuators and bellows in robotics, to consumer products like wearable, earphones, kitchen tools, and more. 
Mass manufacturing thousands of silicone parts is cost-effective and efficient through injection molding, compression molding, or extrusion processes. These workflows, however, require expensive tooling, machinery, and often the expertise of an external contractor who specializes in the design and fabrication of that tool.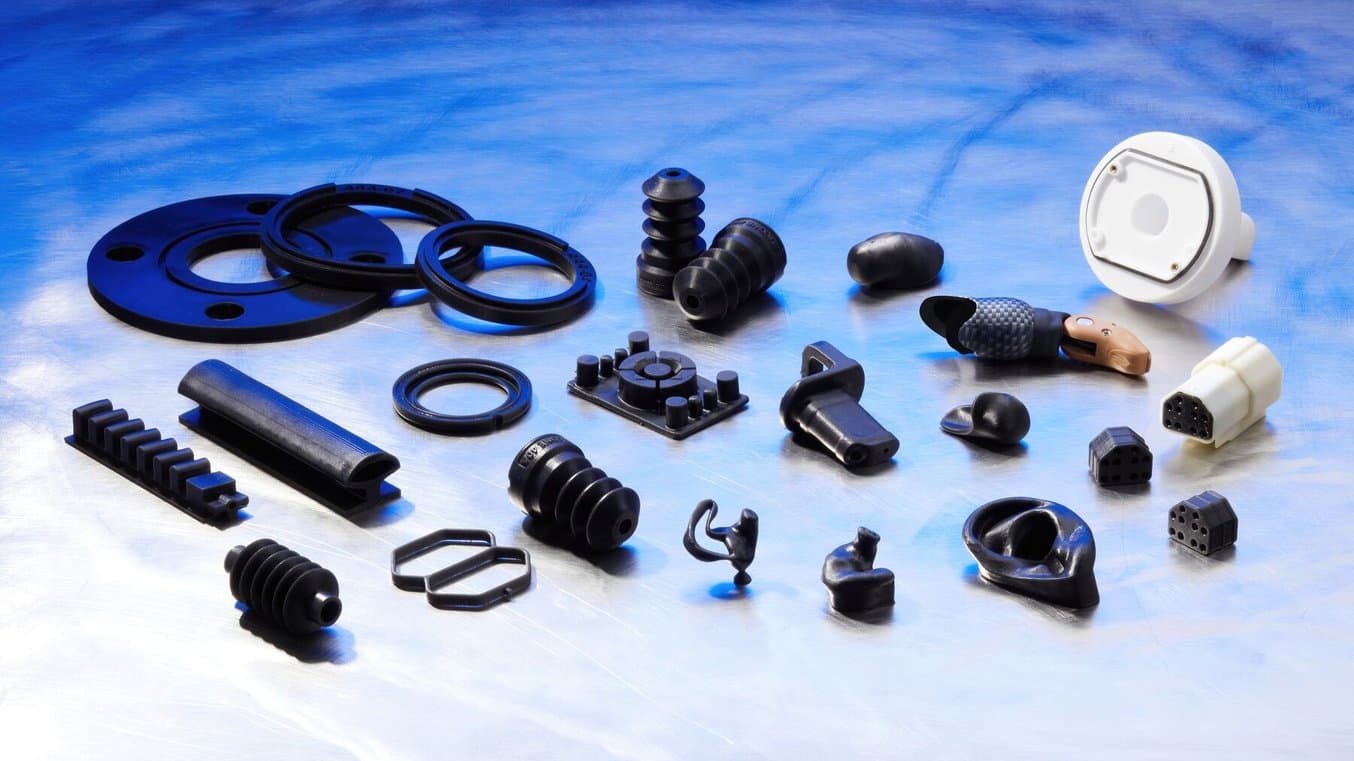 For engineers, designers, and manufacturers who are looking to produce pure silicone parts in lower quantities (1-1000), the cost and time it takes to fabricate a tool is an obstacle. Lower-cost processes like silicone casting are possible for low volumes but are labor-intensive, time-consuming, difficult to replicate perfectly, and have design or geometry limitations. 3D printing with elastomeric materials is also a quick and cheap alternative, but the properties of these materials are often inferior to silicone. Though some 3D printer manufacturers offer pure silicone materials for direct 3D printing of silicone parts, these systems cost $100,000+.
Now, with Silicone 40A Resin, there's no more trade-off between price, quality, and speed. Anyone with a Formlabs SLA 3D printer is empowered to directly 3D print pure, high-quality silicone parts fast, skipping the mess of casting, and avoiding the high costs of tooling.
"Previously, it required special training and more than 10 hours of work to create a quality cast silicone actuator, and even then the quality of cast parts was inconsistent. With Silicone 40A Resin, we are now able to make high quality silicone parts that behave similar to cast parts helping considerably speed up design testing for fabricating prosthetic fingers."
Rui Li, Industry Assistant Professor, General Engineering Program, NYU Tandon School of Engineering
Sample part
Request a Free Sample Part
See and feel Formlabs quality firsthand. We'll ship a free Silicone 40A Resin sample part to your office.
Request a Free Sample Part
Enable New Applications and Workflows
Pure silicone 3D printing has been out of reach for many businesses that can't afford expensive traditional silicone 3D printers. With Formlabs' accessible platform, these businesses and individuals can now create end-use quality parts in a material that is familiar to manufacturers and consumers. This new workflow puts control back in the hands of manufacturers who were previously reliant on outsourcing for silicone parts and increases the productivity of prototyping teams at large companies.
Rapid Prototyping
Soft silicone cover to protect a clutch actuator cylinder in a vehicle from water, dirt, and debris. Because Silicone 40A Resin offers excellent chemical and thermal resistance, internal components like these can be used as an end use part for automotive applications.
3D printing with Silicone 40A Resin shortens the product development timeline by providing a method to quickly 3D print multiple iterations of soft and flexible components and functionally test them the same day, without the need to rely on an external contractor for tooling or labor-intensive silicone casting. For performance applications, such as consumer goods, automotive, aerospace, or robotics design, the ability to 3D print and functionally test parts like wearables, grippers, actuators, gaskets, and seals can help teams optimize their designs and move through beta testing and validation stages much more quickly. 
Testing products and components that behave exactly like the eventual injection molded silicone parts creates security and confidence in the development process. Avoiding any instances of redesign and obsolete tooling can save thousands of dollars, improve the credibility of a product, and help companies capitalize on market opportunities.
Manufacturing Aids and Tooling (Direct Printed Silicone Molds)
For a busy manufacturing center, being able to quickly and cost-effectively produce manufacturing aids, such as flexible fixtures or masking tools, and rapid tooling in-house can save them thousands of dollars a day by avoiding downtime and optimizing workflow. 
Silicone parts are often used in cushioning and compressive applications, making them ideal for manufacturing aids that need to extend the lifetime of machinery or protect components from friction. Silicone 40A Resin's chemical resistance also makes it a great choice for masking tools where parts that are inert to different types of chemicals are required. 
Since manufacturing aids are often not planned for, Silicone 40A Resin and the Form 3+ offer a fast and affordable way to create them on demand. Soft replacement parts can take weeks to be made with traditional manufacturing methods, but 3D printing silicone parts on-site can get a piece of equipment back up and running within a day. 
The qualities of silicone and the geometric flexibility of 3D printing make silicone 3D printing ideal for creating tooling on demand as well. For casting urethane, epoxy, resin, wax, plaster, or other materials that require a flexible and reusable mold, 3D printing with Silicone 40A Resin is a fast, clean, and efficient way to produce the end result with a 3D printed flexible and reusable silicone mold.
Low Volume or Custom Manufacturing
For consumer product manufacturers, the ability to customize silicone products has been out of reach — the high cost of tooling inhibits their ability to efficiently produce short-runs or one-off product lines. For medical device and healthcare product manufacturers, Silicone 40A Resin can open up new applications in audiology, patient-matched prosthetics, and personalized medicine. 
With direct 3D printed pure silicone, especially when combined with the scalable nature of the Form 3+, manufacturers can now offer customized silicone products such as wearables, grips, and more, at a fraction of the cost it would take to traditionally mold them. For a far lower price than with manufacturing tooling for different silicone product lines, manufacturers can now print pure silicone parts with a fleet of Form 3+ printers, answering the demand for personalized products. 
Webinar
3D Printing Pure Silicone: Applications and User Cases
In this webinar, Formlabs' Product team will discuss the applications of Silicone 40A Resin with experts from the automotive industry.
Watch the Webinar Now
Case Studies
FINIS Prototypes Swim Goggles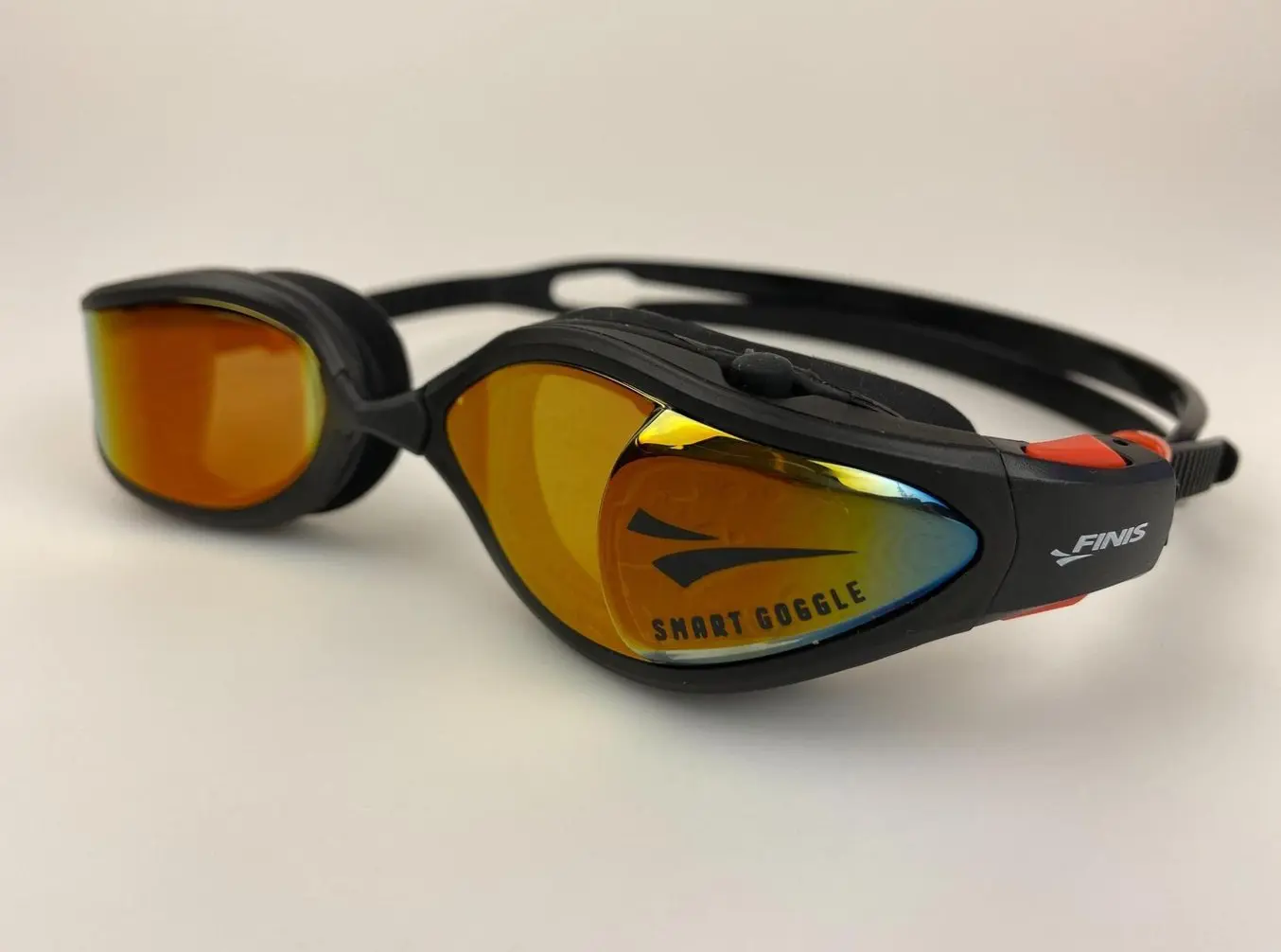 FINIS, Inc. is renowned for developing cutting-edge products that have gained the trust of swimmers across all skill levels due to their exceptional quality and performance. Based in California, USA, the company is dedicated to continuously advancing its innovative product offerings, keeping a keen focus on the changing requirements of swimmers and coaches.
In the past, they cast their silicone parts, which was labor-intensive and had long lead times. Now, equipped with the Form 3+ resin 3D printers and the new Silicone 40A Resin, they 3D printed swimming goggle gaskets similar to production quality within a mere eight hours and at a fraction of the cost, significantly undercutting the usual expenditure of over a thousand dollars and a three-week timeline associated with outsourcing. The 3D printed silicone gaskets underwent rigorous water tightness assessments within a swimming pool environment, helping the team shorten their product development schedule.
Prototyping Gasket Prototypes for Swim Goggles
| | Lead Time | Cost |
| --- | --- | --- |
| Urethane Casting | 2-3 weeks | $1220 for one set of two gaskets |
| 3D Printing With Silicone 40A Resin | 8 hours | $10 for each gasket |
"[With silicone casting and outsourcing], it'd take a month or so to make the tool. [With Silicone 40A Resin] I can come up with a different idea, make a modification, and print it overnight. The next day I can come in, take it off, clean it up, and try it in the pool right away. So what used to take weeks, I can now do in hours and I think that's kind of the real advantage."

David Beittel, Senior Designer at FINIS, Inc.
Dorman Products Tests Auto Parts Faster With 3D Printed Gaskets
Dorman Products, a century-old manufacturer of aftermarket automotive parts for both light-duty and heavy-duty vehicles, has turned to 3D printing to speed up their production timelines and increase quality. They rely on their twelve 3D printers, split between two locations, to help them keep pace with the constant addition of new makes and models from the original equipment manufacturers (OEMs). 
The company has a vast in-house testing environment where they validate new designs. For pressure testing components, they need to be able to seal up certain ports and faces. But they don't always have the mating geometry to seal every part, so the team has to come up with creative ideas, which most of the time comes down to making custom gaskets and fixturing.
Traditionally, they'd measure components in their lab, get metal dies made, and then cut the custom gaskets using the dies in an arbor press. "It was like cutting cookies out of a sheet. It was very inefficient in terms of material use and time spent by our lab techs," said Dorman's Additive Manufacturing Lead, Chris Allebach. 
Switching to 3D printing allows the team to drastically reduce lead times and costs, especially considering the large number of new components. "We printed hundreds of custom gaskets for our throttle body tester to seal up both ends of the throttle body and then do flow tests on that," said Allebach.
While Formlabs' silicone-like Elastic 50A Resin was at times suitable for this purpose, the new Silicone 40A Resin expands the range of applications.
Gaskets for Validation Testing
| | Lead Time | Cost |
| --- | --- | --- |
| Cutting Silicone Sheets With Machined Metal Dies | 2 weeks per set | $250 per set |
| SLA 3D Printing With Silicone 40A Resin | 3 hours per set | $12 per set |
"Being able to make custom gaskets that are going to be tested in a heat aging oven, or sealing it in an environment that's going to mimic the engine compartment from a testing standpoint, or to be able to test under air, water, coolant, oil, anything that the part's going to see under real life — that's huge, especially for us."

Chris Allebach, Additive Manufacturing Lead, Dorman Products
HGM Automotive Validates Silicone 40A Resin For End Use Connector Seals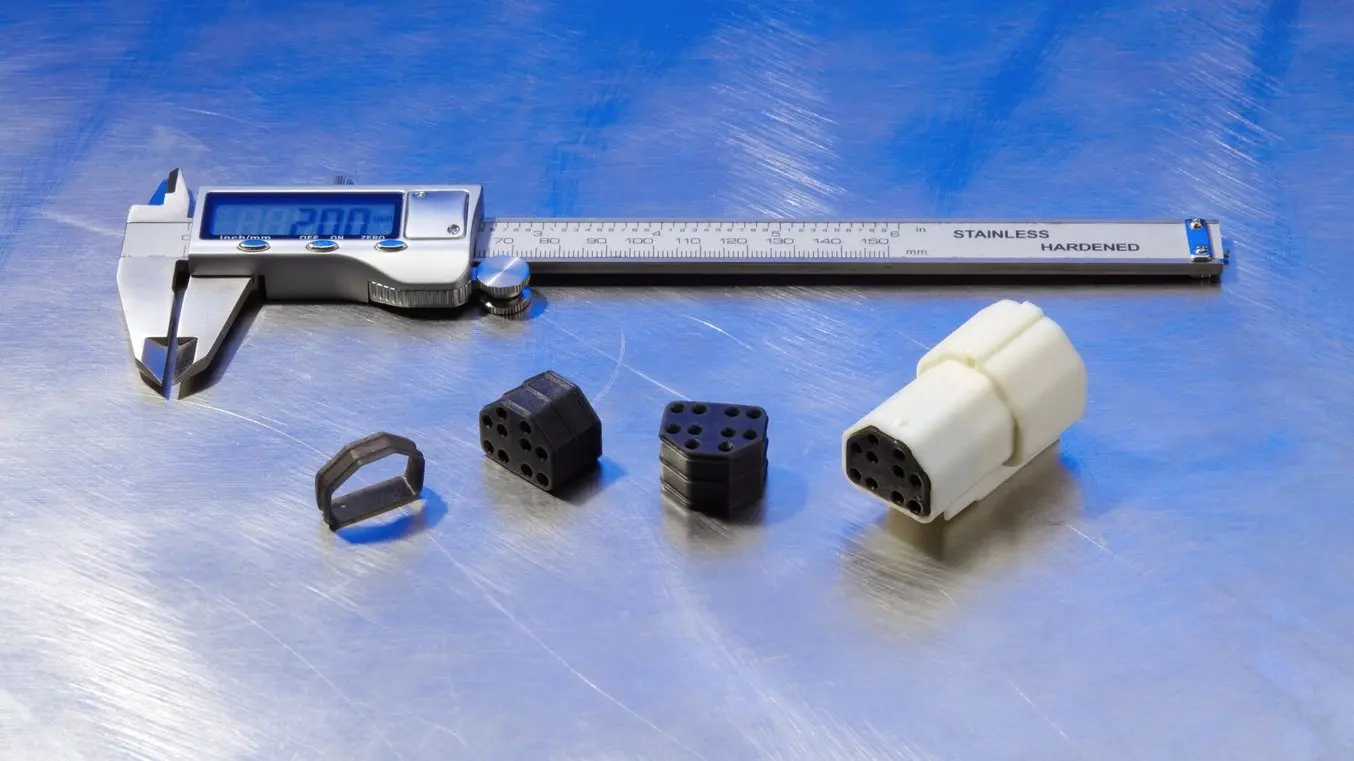 HGM Automotive Electronics is a specialty transmission controller manufacturer that designs and supplies leading-edge electronic systems for automotive aftermarket use.
They turned to 3D printing for prototyping and low-volume production because it is the best option to fabricate parts on demand, in house. However, it's a regulated industry that needs to follow specific requirements such as ingress protection (IP) rating and chemical resistance, therefore the choice of material is very important.
Through rigorous chemical and mechanical testing, they demonstrated that the parts printed in Silicone 40A Resin have excellent mechanical properties and chemical resistance, similar to injection molded silicones that they have traditionally relied on. After six weeks of thermal cycling in an engine bay under normal operating conditions and additional chemical fluid exposure tests, they have qualified 3D printed Silicone 40A Resin parts for end-use automotive parts.
Compared Method
Advantages of 3D Printing With Silicone 40A Resin
Outsourcing Injection Molding
Reduced lead time by 90%
Reduced costs by 98%
In-House Pourable Silicone Casting
Achieved challenging, complex geometry with fine feature resolution
Reduced labor, risks of mistake, and lead time
Repeatable and scalable from 10 to 1,000 units of production
"Silicone 40A Resin gives me the flexibility to do designs that previously could only be done with a very expensive and time-consuming molding process, allowing us to explore new markets and manufacture products that would have been prohibitively expensive or complicated before. Other 3D printing solutions can print some kinds of elastics, but only the Formlabs SLA printer using Silicone 40A Resin can create soft connector seals that match the quality and durability of a silicone or TPU molded part."

Guy Cardwell, director of research and development at HGM Automotive Electronics
Compare Formlabs Elastomeric Materials
Elastic 50A Resin is an acrylic-based, soft, and transparent elastomeric material that is ideal for rapid prototyping. 
Silicone 40A Resin is our first pure silicone material. With a Shore hardness of 40A, it's ideal for producing soft and pliable parts for a wide range of applications well beyond prototyping. Parts printed in Silicone 40A Resin are resistant to chemicals, thermally stable, and can handle repeated cycles of flexing, wear, and tear.
Advantages
Ideal For
Silicone 40A Resin
Durability: tear strength 12 kN/m, elongation at break 230%, Ross flexing fatigue > 500,000 cycles
Stretch: rebound resilience 34%, glass transition temperature -107 °C
Thermal stability from -25 °C to 125 °C
Chemical resistance
Softer 40A Shore durometer
Functional prototypes and internal testing
Beta, validation, and pre-production parts
Low volume manufacturing of end-use parts
Jigs and fixtures
Soft molds

Elastic 50A Resin
Lower price
Transparency
Harder: 50A Shore durometer

Proofs-of-concept prototypes
Looks-like prototypes
Works-like prototypes

Besides these soft materials, Formlabs also offers harder elastomeric materials, such as Flexible 80A Resin for rubber-like flexible prototypes, the production-ready polyurethane Rebound Resin, and TPU 90A Powder for SLS 3D printing functional prototypes or durable end-use parts on the Fuse Series.
Easy Workflow and Great Printability
The workflow for printing and post-processing parts printed in Silicone 40A Resin is easy and straightforward, just slightly different from the regular workflow with Formlabs SLA 3D printers. Visit our support page on Using Silicone 40A Resin for the details.
Silicone 40A Resin offers design freedom that's unprecedented for flexible 3D printing materials. However, as with every elastomeric printing material, there are some design guidelines to follow. Visit our support page to learn more about printability and design guidelines, using tear-away support structures for nub-free surfaces, and some additional finishing techniques to improve surface finish.
"The printability of the resin is unbelievable. I didn't think a material this soft would be able to print fine features so well. We tried to print parts that we never would make in a 40A material. They would always be injection molded. So we really pushed the printability levels where it was just insane. I just couldn't believe the quality of the small geometry of parts we printed. Everyone was blown away by the feel of the material and how it rebounds."

Chris Allebach, Additive Manufacturing Lead at Dorman Products
Get Started With Pure Silicone 3D Printing
The Form 3+ and Form 3B+ SLA platforms offer small, medium, and large businesses opportunities to access high-resolution 3D printing at affordable, and therefore scalable, prices. With 45+ different materials developed specifically to optimize different workflows, Formlabs printers are unlocking the potential to directly 3D print parts in a wide range of industries and applications. With the addition of Silicone 40A Resin, these highly versatile 3D printers have just become the first truly accessible pure silicone 3D printers on the market, and the new material demonstrates our commitment to continuously developing materials that unlock new applications.
With Silicone 40A Resin, you can now directly 3D print gaskets, seals, grippers, actuators, dampeners, wearables, and more. By avoiding the long lead times and high costs of tooling, and skipping the secondary silicone casting process, businesses can iterate more thoroughly, be more responsive, and reach the market faster. 
To learn more about material properties or to test the part for yourself, contact our sales team or request a free 3D printed silicone sample.