A Product Development Company Using 3D Printing To Do It All
Glassboard has a clear mission statement: to serve the world's most ambitious companies in building products that people love to use. Their team wants to do more than just create a CAD file and a slide deck; they've set out to be a holistic product developer, helping businesses manufacture, negotiate pricing, and set up their supply chains to bring a product to market.
Working across a range of industries, Glassboard Design has found 3D printing to be an invaluable tool for building cutting edge products, with VP of Operations Grant Chapman saying, "Glassboard is a Jack of all trades product development firm, but we try to have enough expertise in the house to tackle just about anything. We're not in one industry vertical. We're not just in cycling, we're not just in healthcare, we're not just in consumer electronics. We do a little bit of everything. And Formlabs has one tool that will follow us through all of those verticals, as well as a breadth of material that allows us to do what we want."
In this post, meet the Glassboard team and how they use a Form 2 and Form 3BL to break down barriers between their customer's ambition and their solutions, creating cutting edge products in the process.
A SLA Material For Every Project
Glassboard is candid in their reason for using Formlabs 3D printing: there is a material for everything.
The team at Glassboard works on a wide range of products, with each project requiring a different workflow or technique to create the perfect prototype: from injection molding, to thermoforming, and silicone molding. The team needs a 3D printer that can keep up and deliver solutions. According to Chapman, "the bigger the material library gets, the better my life gets. That's a linear function."
A recent project exemplified this dilemma, as Glassboard has been working with period care company Sunny. Sunny is attempting to bring a new menstrual cup to market, and wanted to find an innovative way to make the product stand out.
Glassboard knew this type of product - a flexible consumer product used on the human body - would require extensive prototypes and testing. Chapman turned to one of his most reliable teammates - his two Formlabs SLA 3D printers - and started printing in Elastic 50A Resin and Flexible 80A Resin to simulate the cup.
"For the Sunny product, we really used the breadth of the resins Formlabs has from the flexiest, most elastic, and the gummiest, all the way up to the rigid materials, using just about everything in-between on this product." - Grant Chapman
For other projects, the team needed a material that could pass impact testing - the opposite requirement of a sensitive healthcare device. They turned to Tough 2000 Resin, printing and pushing the part through strenuous fall and strength testing. Chapman said, "We are also working on a safety product that has passed its impact testing certification with Tough 2000 Resin, withstanding multiple drops. And then all the rest of the plastics in that product were polycarbonate vacuum formed parts made with bucks printed on the Form 3BL as well."
Without the extensive resin library, Chapman doesn't think that many of these projects would see the light of day, or have come out as good as they did, adding, "That safety product prototype exists only because the 3BL can do what it does, and made it through the actual certification testing in prototype form, let alone with production polymers."
Glassboard Design's three favorite resins for solving product development problems are:
Tough 2000 Resin: The team told us, "It's all about functionality. It's so close to real plastic you can actually prototype functional parts such as snap fits and living hinges with it."
Draft Resin, because it was "just unbelievably fast for how accurate it still is, all of that while still looking good", according to Senior Product Development Engineer Ben Ettinger.
And finally one of Chapman's personal favorites, Rigid 10K Resin: "When you guys released Rigid 10K, I thought I was dreaming, because the technical data looked good to be true. I immediately ordered a liter to test, the results are in...it is the best."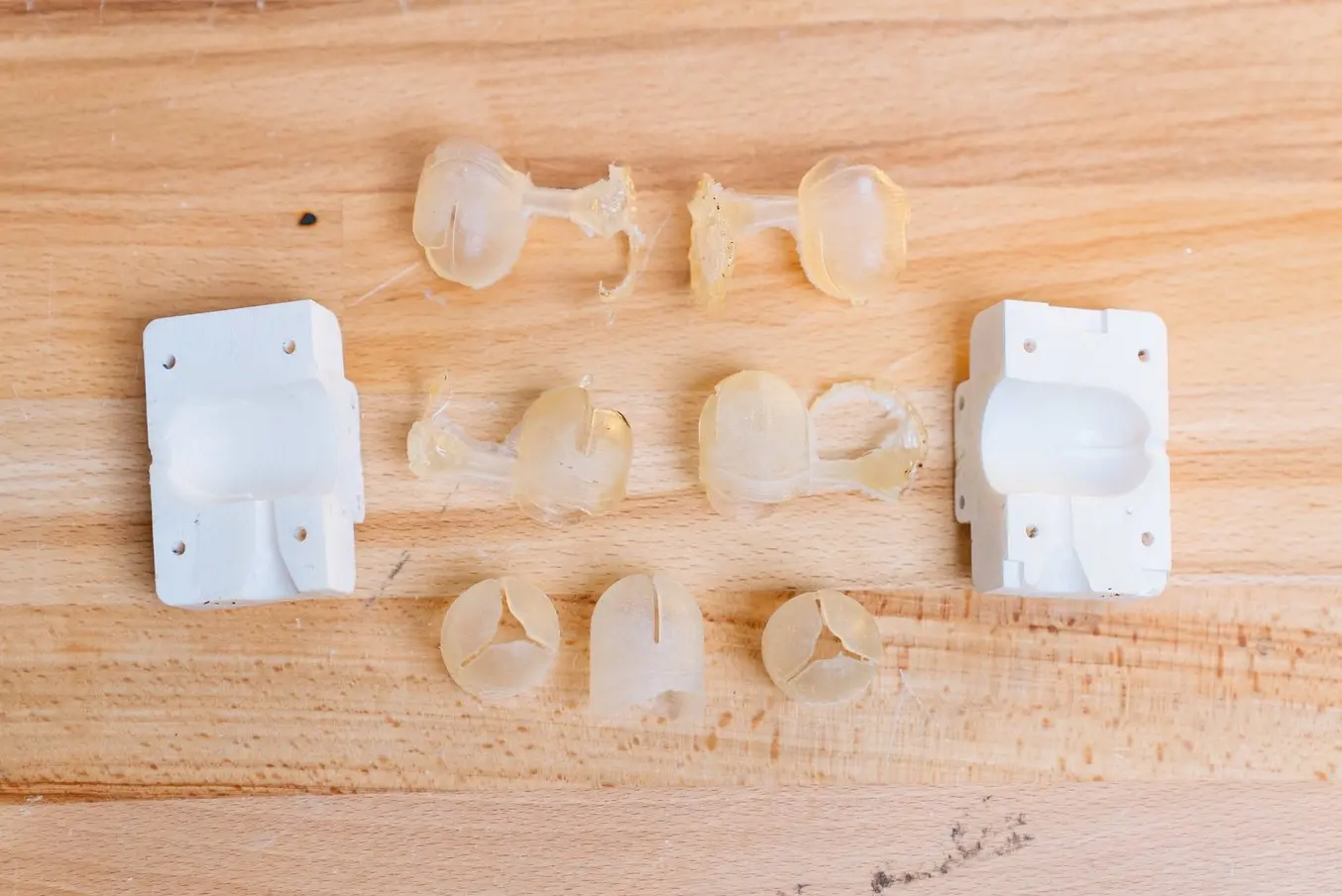 The benefit of this resin library for product development is clear: the Form 2 and Form 3BL are versatile machines able to keep up with Chapman and Ettinger's imagination, and the demands of their clients. Chapman said, "all of our other tools are more focused and they just do one thing well. Whereas, you guys have a resin for everything. What crazy resin are you guys going to think of next? Because no matter what it is, it's going to be great. It's going to be an industry or vertical that we haven't been able to touch, or it's a kind of material we haven't been able to prototype, and it'll enable us to do really cool stuff."
Form 3BL for Product Development
Due to their early success with vacuum forming, the team has been expanding its use across other projects. Chapman explained, "for a different product we've done a lot of vacuum forming. Starting to print some vacuum forming bucks out of Draft Resin on the Form 3BL for very large vacuum formed parts. Previously, these molds would have been printed in multiple sections on a Form 2 and assembled together, a process requiring additional print time. In the past, designers used to think about vacuum forming only to make packaging, or bathtubs, or helmet shells. But we're starting to learn that you can use vacuum forming to create a lot more complex parts if you're willing to do some tricky tool design or some tricky vent design. It also gives you a way to get you into production thermoplastics in prototyping without having to go to injection molding. I think we're just now starting to unlock this technology, and I'd be on the lookout for what we're able to crank out in the next year."
Grant Chapman

"It's truly a 24 hour process for vacuum formed parts, printing bucks overnight, curing it in the morning, forming the thermoplastic sheets and trimming at the end of that day. And you have the real part in your hand to test. That's the definition, for me, of rapid prototyping."
One unexpected use case for the Form 3BL has been using the larger build platform to print many small parts at once. The team first expected to use it primarily for large scale prototyping of parts and large molds, but as Chapman explained to us, due to the high-quality precision delivered from the Low Force Stereolithography technology, they began to rely on the Form 3BL to replace the Form 2 in some cases. Chapman explained, "for a client where we're also doing some two-part urethane moldings, they needed a bunch of prototypes of this small flexible part overnight. And we ended up, instead of using the same mold and cleaning it out and re-shooting it, just printed 30 molds on the Form 3BL overnight, and we were able to assemble them all, and shoot the mold the next day, and ship them all out. And that took three or four prints on a Form 2 to literally just one overnight print on Form 3BL."
Chapman added, "we are beyond impressed with 3BL so far, and the software changes we've seen even just in the last five months from getting the support settings on the resins from beta to release has been night and day. It's just an awesome increase in quality of life for support removal in such a short development time. So I'm really happy with that product line."
White Paper
Why Large-Format Printing Matters
In this free report, we look at how in-house large-format 3D printing with the Form 3L stacks up against other methods of production, chiefly outsourcing and using FDM printers. We also compare costs between methods, and review when it would be best to bring the Form 3L in-house.
Download Now
Successful In-House Thermoforming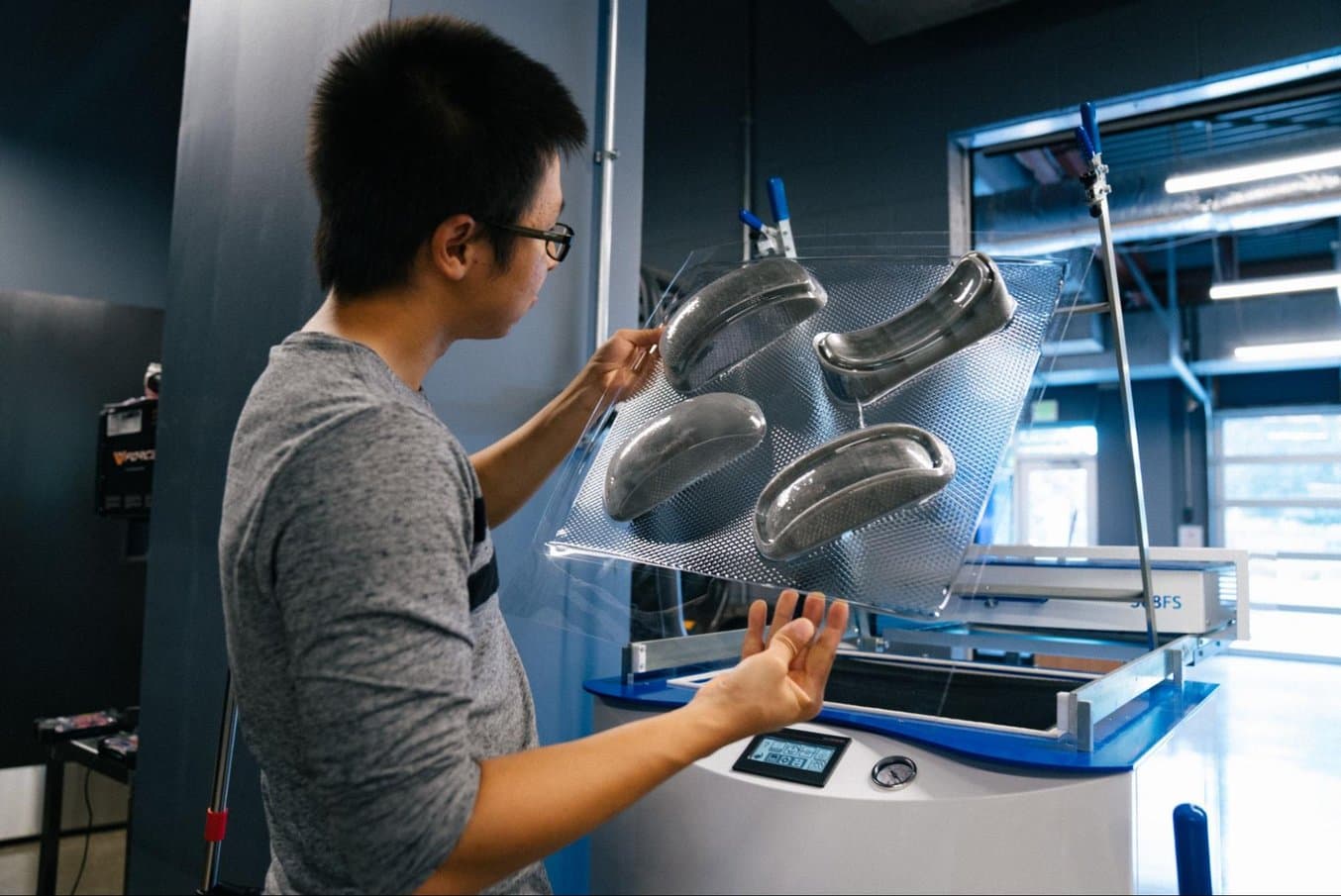 Glassboard shared with us two other projects that highlight how much 3D printing has improved their design process: a test puck and a helmet. They created molds which are hollow, with cross members inside the parts to increase strength and avoid breakage of the mold under vacuum forming. The molding surfaces comprise small air holes of 1.5mm in diameter for the vacuum process. The test puck is a simple geometry with 0.5mm to 0.8mm wall thickness and draft angles of at least two degrees. The helmet has a 4mm wall thickness and carries more challenging design features, in particular some undercut areas. The mold was designed in multiple parts in order to be able to separate it from the thermoformed product.
The tools were printed overnight with Formlabs Draft Resin on the Form 3L at 200 microns layer height. Because of the large size of the helmet, the team chose to print with Draft Resin, the fastest-printing Formlabs resin, to increase the speed of iteration. After removing all the supports, they needed about 20 minutes of sanding and smoothing to finish the parts. It did not require any polishing or the use of mold release. For smaller parts, they usually print with the Grey Resin in order to reduce warping, in particular with long thin sections.
The team fabricated 15 units of the test puck and two units of the helmet. They did not encounter any issue forming the sheets in the vacuum former: no melting or deformation was observed on the sheets, nor were the bucks cracked or burnt. They did not test the molds to failure, but believe they could withstand many more cycles if the eight-10 minutes of cooling time is respected. Cooling time could be reduced to two to three minutes by choosing a 3D printing material with higher thermal properties, such as Rigid 10K Resin.
Until now, the team was outsourcing tooling. By 3D printing it in house with a Formlabs printer, they reduced the costs by 10X and the lead time from weeks to days.
| | Outsourced tool | In house 3D printed tool |
| --- | --- | --- |
| Equipment needed | Thermoformer PC sheets | Thermoformer PC sheets Form 3L, Draft Resin |
| Mold production time | Two to Four Weeks | One Day |
| Mold production cost | $5,000-10,000 | >$400 |
White Paper
Low-Volume Rapid Thermoforming With 3D Printed Molds
Download our white paper to see how to create complex molds with 3D printing fast and learn about tips and guidelines that you'll want to follow when preparing your mold parts.
Download the White Paper
Formlabs Biocompatible Materials for Product Development
Grant Chapman

"Having access to materials you can feel good about giving to people for skin contact changes the game for prototyping parts people need to touch and feel to test. "
Dental LT Clear V2 has been a standout material for not only biocompatible part prototyping but also mold making, and the team has been using their Form 3BL to create large-sized molds. Chapman told us that, "with Dental LT Clear V2, the standout feature is that it's mucous membrane safe, and we can feel pretty confident using it in an application where my end client might need human-skin contact, such as with platinum cure silicone molds or direct 3D printed parts. And then the other benefit with Dental LT is just it prints really accurately with really easy support removal. And that's just the bonus at the end of the day of that material."
Creating transparent molds with Dental LT Clear V2 was also a plus, with Chapman adding, "it's also transparent. When we fill molds, we can see if we accidentally get any air bubbles or gaps in there we can pull or vacuum on it."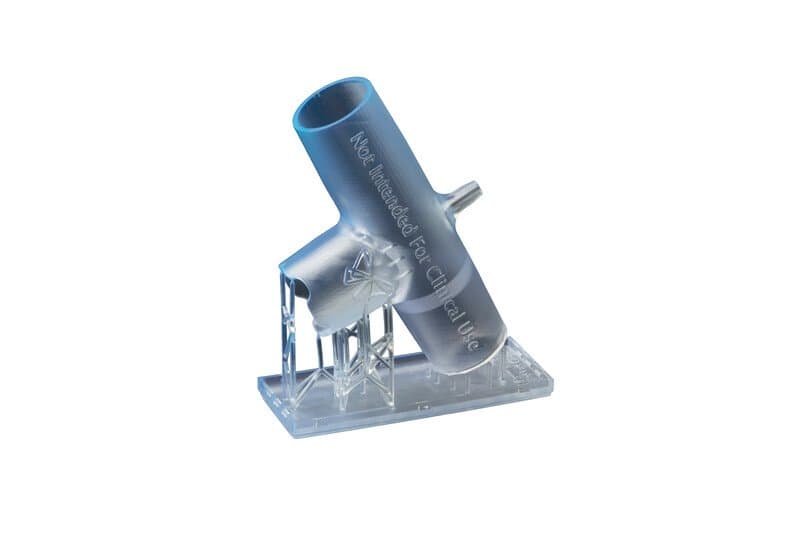 sample part
Request a Free Sample Part
BioMed Clear Resin is a hard, strong material for biocompatible applications requiring long-term skin or mucosal membrane contact.. See and feel Formlabs quality firsthand. We'll ship a free sample part to your office.
Request a Free Sample Part
For many consumer products, designers are not trying to reinvent the wheel and solve technical problems. For Sunny, the product already exists in legacy form. The problem is how to create a superior consumer experience compared to those legacy devices, and that is where iterating on small features can make or break a new product.
According to Ettinger, "that's what they've been so appreciative of, is basically that timetable of feedback from them to design iterations and updates to new prototypes that they can test and keep driving that feedback loop. I think that has been probably the most satisfactory portion of the whole process."
Reliability is Key
No matter the challenge, the team at Glassboard doesn't make excuses, and they need a tool that can keep up. Reliability is critical for success and speedy turnaround on the Sunny project. The need to print dozens of prototypes meant that failed prints could set the project back.
Chapman told us that "reliability is huge. And it's not the fact that if a printer goes down, it's not the two hours it would take to fix it that is the problem, it's that if the printer went down overnight, and that part you were counting on that day to ship to meet your client's deadline overnight, was now missing. And that is where reliability is absolutely key. It's not the downtime. It's the missed print opportunity that you promised a client and you thought it'd be ready. If a printer fails or has some issue, you're missing a deadline, and that's why it's important."
Ultimately, the team created over 100 prototypes between the applicator and the cup for Sunny. Because the product comes into contact with the human body, and in such a sensitive area, the team knew they wouldn't be able to perfect the design in just a few prints. The product has to look good, fit well, and function on a range of bodies. That's why Chapman said rapid iterations are so important: "our goal with almost every product we develop in-house is how do you prototype as fast and as easy as possible? And then blend that into how can we test the product in as close to a production state for them as possible before they have to go kick off tooling, before we have to interface with the manufacturer? How do you basically test as much as you can in a prototyping venue?"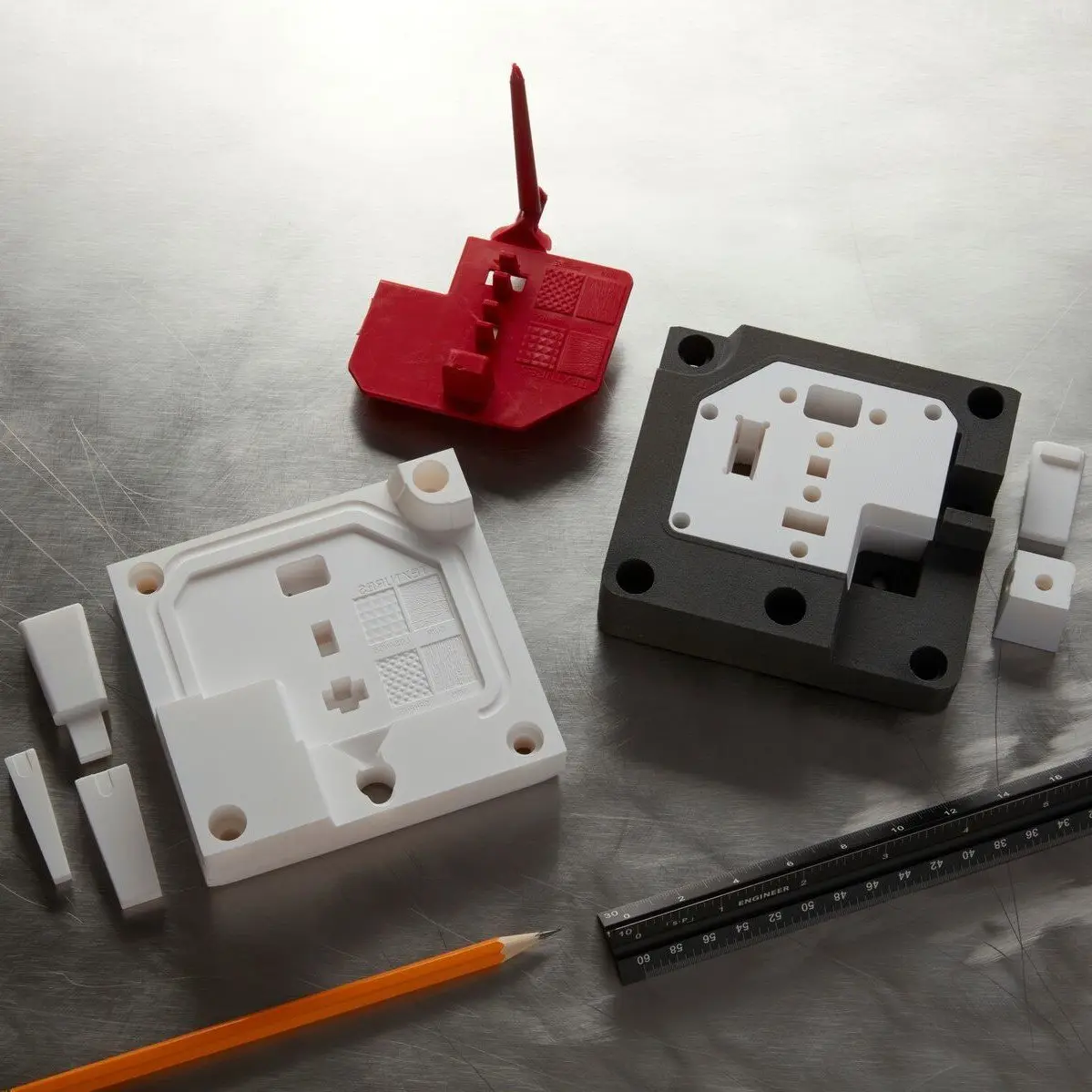 White Paper
Guide to Rapid Tooling
In this white paper, learn how to combine rapid tooling with traditional manufacturing processes like injection molding, thermoforming, or casting.
Download the White Paper
Learn More About 3D Printing for Product Design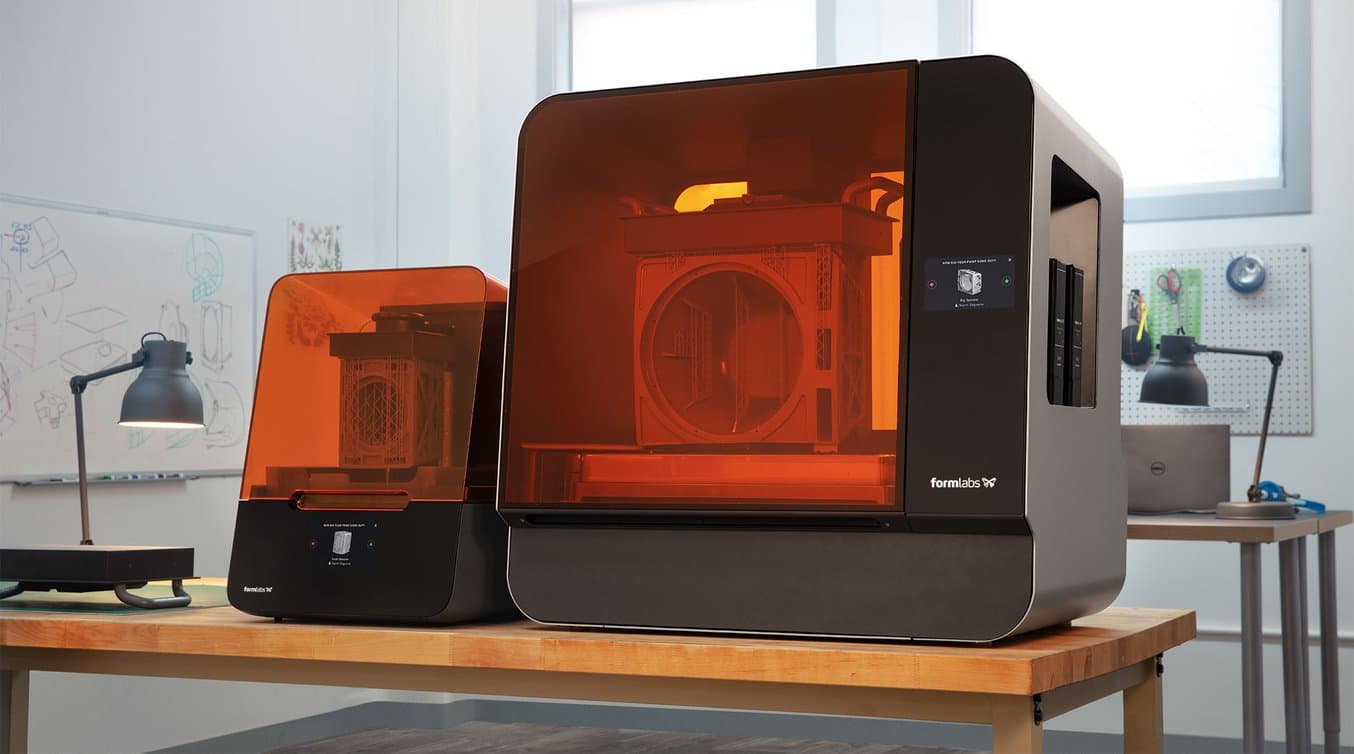 Chapman summarized his thoughts on using 3D printing by saying, "it is a tool I wish I would've learned years ago because it's now a go-to." Given its versatility and reliability, Glassboard foresees the Form 2 and Form 3BL being incorporated into every project going forward.
To learn more about Glassboard and to follow future projects, visit their website.
To learn how large-format 3D printing can be used on your products, visit our Form 3L page. Or, request a free-sample part printed on the Form 3L below.