Putting the Plug in Brain Drain: Penn State's Plan for the Future of Manufacturing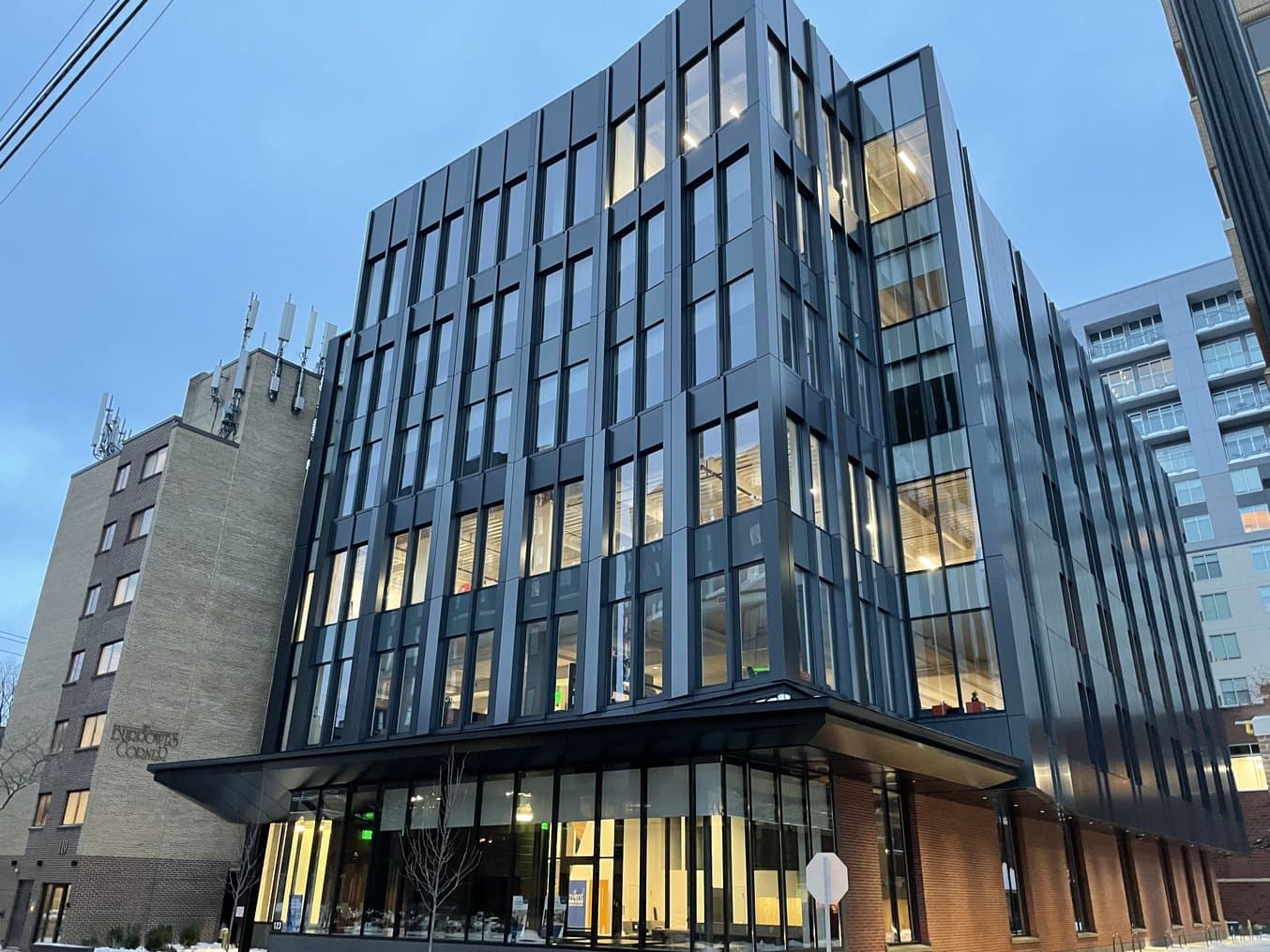 Most institutions of higher education are focused on preparing their students for the workforce of the future. The Pennsylvania State University is focused on the current workforce as well and has recently invested millions of dollars into building the Eric J. Barron Innovation Hub, which serves the public as well as the university community.   When Ryan Mandell was hired as the Director of the new Origin Labs at the Innovation Hub, he was tasked with creating the university's first space with advanced manufacturing capabilities that was not solely for the students and faculty, but also for the local community. 
"We're unique in that we will get traffic from everywhere across campus, but we're also open to the public. There are fabrication labs and makerspaces all over the place, but they are traditionally tied to specific academic units, and only for students and faculty in those disciplines. We're completely unique in that regard," says Mandell. 
The impetus behind this initiative is years in the making. Mandell spoke to us about the federal and state level support behind the investment, as well as his approach to setting up the space, including the addition of a full suite of Formlabs printers: the Form 3+ and Form 3L stereolithography (SLA) printers, and Fuse 1 selective laser sintering (SLS) printer.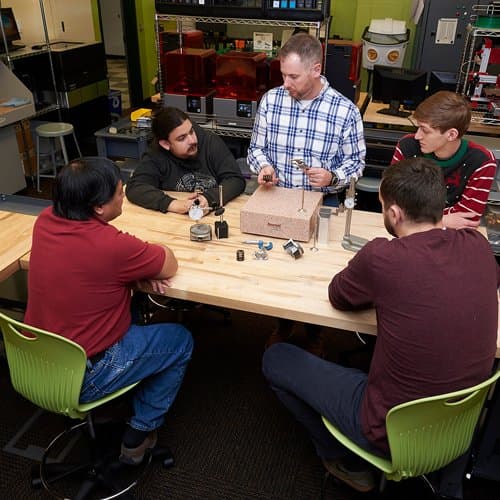 White Paper
Guide to 3D Printing In Education
In this guide, we'll discuss the benefits of 3D printing in education, from improved student collaboration to workforce development and empowered creativity.
Download the White Paper
State Economy in Flux
Since the beginning of the COVID-19 pandemic in March 2020, Pennsylvania had the second-most small business closures in the country, and according to the US Bureau of Labor Statistics, it has recovered a lower percentage of jobs than other states. This might be attributed to 'brain drain' as well, with over 4,000 Pennsylvanians leaving the state to find work in the time period between summer 2020 and summer 2021. 
The Appalachian mountain range in western and central Pennsylvania has historically been the center of the nation's coal mining industry, and enjoyed a solid and prosperous economy in the first half of the twentieth century because of it. As global and domestic economies shifted away from coal, the Appalachian region suffered, with a higher rate of joblessness and one of the lowest household income rates in the country, as reported by the Appalachian Regional Commission.  
 
Over the last two decades, leadership at the local and state levels have sought to change that through investments in manufacturing, education, and technology. The Appalachian Regional Commission offers $1 million grants to "support educational opportunities and institutions, especially by connecting skill development and workforce training with local and regional business interests and opportunities."
Penn State has been focused on providing these skills to their students for years, with one of the most robust and well-attended engineering programs in the country. Until now however, its fabrication labs and makerspaces have remained open only to the university population. The new Innovation Hub and Origin Labs will change all that by acting as a resource for the community and a connector between town, gown, and industry.  "The Innovation Hub is part of a larger initiative launched by Penn State President Emeritus Eric Barron, called, 'Invent Penn State,' which leverages the university's resources to develop an entrepreneurial economy across the state. There is a very keen understanding at the local level that there is a brilliant workforce coming and going when students move into town to learn, then move out of town (or the state) to start a business. We want to have a support system in place to make it more alluring to stay."
"There is also a real push at the state level to reskill and upskill the workforce to offset losses in the coal industry and an emphasis on creating more tech-centric jobs. The Governor is looking to move the state's economy in a new direction, towards industry 4.0, through automation, advanced manufacturing and technology training," says Mandell. 
Building On Experience
Monetary investment and clear policies from the federal and state levels can certainly start the engine of change, but to put the wheels in motion, there are many details and processes to work out. That's part of the reason Mandell was hired to head up the new space. 
Previously director of fabrication labs at Indiana University's school of art, architecture and design, Mandell has gone through the steps to outfit an advanced manufacturing space before, and relied on the Form 2, Form 3, and Fuse 1 at Indiana University to provide art and design students with high quality 3D printing. In his new role at Penn State, Mandell draws on his previous experience with 3D printing technology to strategize his approach to the task at hand.
"Our mission, at its core, is to provide entrepreneurs and startups with the tools and expertise for product development and prototyping. More and more people understand that 3D printing is a great way to make complex prototypes and create a finished product that can be a viable solution. There is an inherent sense that it's a key tool and we should embrace it," says Mandell.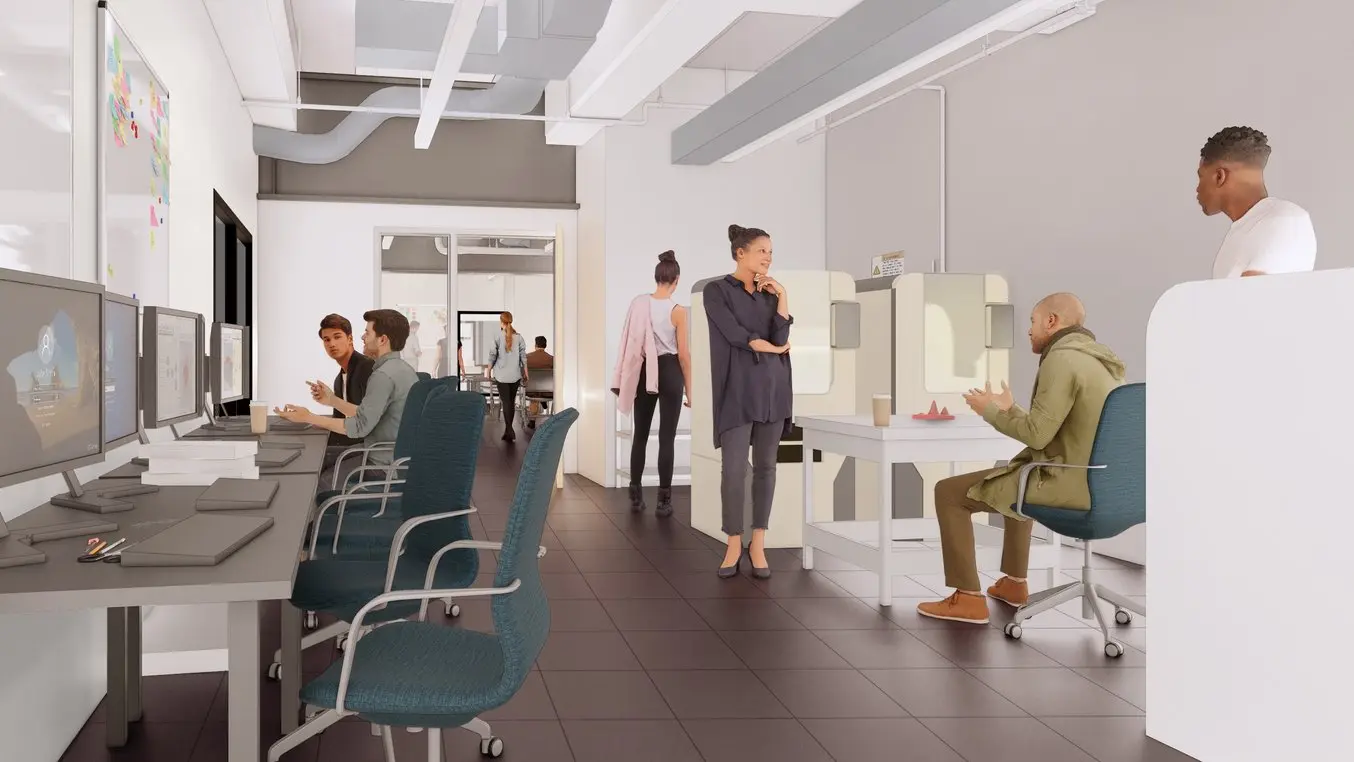 To further narrow the search, Mandell visited many labs on Penn State's University Park campus that had 3D printing capabilities, seeing mostly fused deposition modeling (FDM) technology printers, and very few easily accessible, affordable options for high-quality parts with material variability. 
"With the price point of cost-per-print coming down with SLA, especially with Formlabs systems, there's not a need for FDM. In terms of workhorse machines, the obvious choice is the Form 3+. I want to have a small fleet of those so people can prototype quickly. Then, have the ability to do larger scale work or end-use products on the Form 3L and the Fuse 1," Mandell told us.
Streamlined Workflow for Multiple Technologies
With the ambitious goal of offering varied high-end technologies to such a diverse user base, the cost, depth of the material library, and management of the printers are always factors to consider. 
Mandell told us, "The Fuse 1 is a great way to prove the need for an SLS machine without overextending ourselves budget-wise. From my previous experience I know it's a viable solution for high quality parts, specifically because nylon has all these end-use applications, and it can be used to more effectively sell an idea because it accurately mimics the quality of an actual product."
Mandell notes that another advantage to adding the Form 3+, Form 3L, and Fuse 1 at once is that it streamlines the maintenance, support, and management for his lab manager. He has one point of contact for ordering, support, and maintenance for all three machines, as well as one software to take files and send them to the different printers.  
"Minimizing the number of suppliers improves the experience of both the people using the lab and the shop manager, and obviously [PreForm] is really well thought-out. The emphasis on unifying and streamlining, using the same software for the Form 3+, Form 3L, and Fuse 1. It's a great software, easy to use, and easy to demo and teach to others," says Mandell.
A One-Stop Shop for Entrepreneurs
In addition to the physical lab space, The Penn State Innovation Hub houses Happy Valley LaunchBox powered by PNC Bank, which provides early-stage startups with support and resources they need to build a sustainable and scalable business and a viable plan for growth. They offer no-cost programs and services to community members and those affiliated with the University including coworking space, accelerator programs, legal and intellectual property advice, and expert mentorship from Penn State's extensive network. Until now, LaunchBox hasn't been able to directly assist customers with physical prototyping or product design guidance. 
"There was no easy way for people to prototype if they had a great idea. With the addition of Origin Labs, we'll provide access to the best tools possible in order for individuals and groups to develop a strong proof-of-concept, to generate investment in their idea," says Mandell. 
 
The reliability, extensive material library, smooth surfaces and large format size possible on the Form 3+ and Form 3L printers make it easier for Innovation Hub users to prove their case with a well-thought-out concept conveyed by a polished product. This can help stop the 'brain drain' that happens as students graduate and take their ideas out of town to urban centers of investment and technology. 
"We had no errors or downtime on the Form 3+. The redesign from Form 2 to the Form 3+ to make the components more modular, like the laser processing unit (LPU), makes in-field maintenance possible. For the Form 3L, in the past, it was a lot of effort and added time to workflow to slice the part in two, then put them together in post-processing, adding tons of very skilled labor and cost. The ability to print a larger monolithic object is an asset, especially for startup groups that have ambitious or larger scale projects. Also, it will really allow us to do limited life span production runs," says Mandell.

Ryan Mandell
Developing The New State Economy
In one instance, Origin Labs was contacted by Penn State Small Business Development Center about a local company looking to rework their product but had no funding to create new tooling. They asked Mandell about the viability of a limited production run using the 3D printers at Origin Labs. 
"A local business owner wanted to print 20 plastic parts, so we looked at the array of Formlabs materials, found a match, and determined it was possible to run 20 plastic widgets in one build on the Form 3L. They had been turned down by injection molding companies because 20 parts was too small-scale, so it was the perfect 3D printing use case."
It's instances like these that Mandell sees as an opportunity to provide practical solutions and assistance to the community both inside and outside the university. With support from the university and at the state level, Origin Labs hopes to reinvigorate the local economy with new, industrial quality technology and the training individuals need to succeed.