Prototyping a Multifunctional Bottle With SLA 3D Printing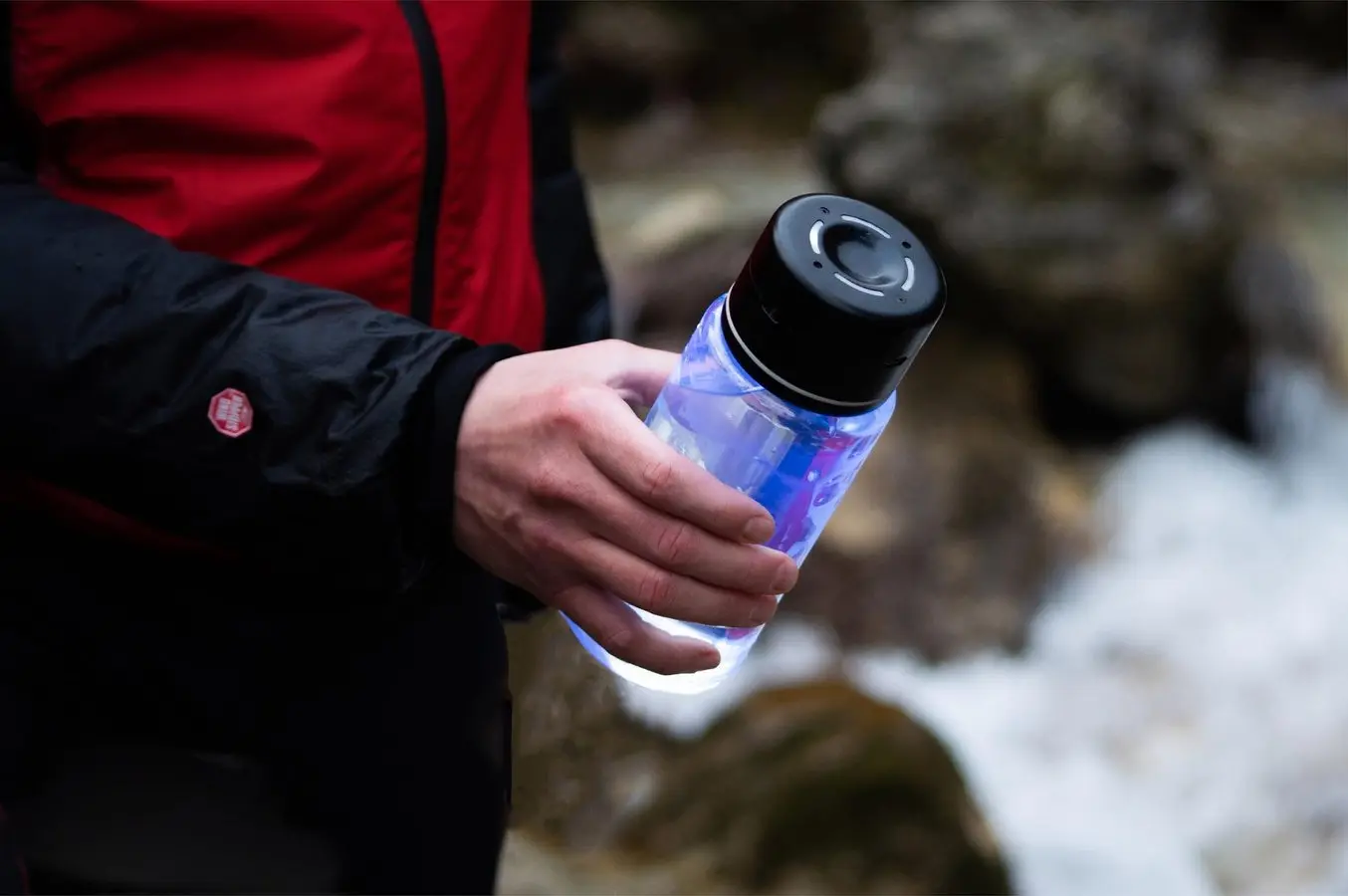 Two young makers and design lovers from Italy, Damiano Iannini and Ferdinando Petrella founded idea3Di in 2014 to develop products built upon innovative new technologies. Their first projects included Geizeer, a compact, eco-friendly desk cooler, and Levia, a levitating marble lamp. 
The duo's latest project is a step towards larger-scale production. iUVì is a smart and multi-functional bottle that purifies water after 60 seconds using ultraviolet LEDs, transforms into a flashlight, lantern, or signaling device, and also has a power bank built into it.
Read on to learn how idea3Di's team prototyped the smart bottle, including beautiful clear parts that are indistinguishable from the final product.
Replacing Single-Use Plastics with a Multifunctional Tool
"The idea was born one year ago. Back then, there was a lot of talk about single-use bottles and plastics and how they're causing problems [to the environment]. We had the idea to create a better bottle than the ones that were already on the market," said Iannini.
As avid hikers and nature lovers, the designers wanted to create a device that can replace multiple items in the average hiker's backpack.
After they came up with the design, they 3D printed the first prototypes with a fused deposition modeling (FDM) 3D printer. Then, once they required more accurate mechanical and aesthetical prototypes, they turned to stereolithography (SLA) 3D printing.  
"To obtain a prototype as close as possible to a product manufactured with traditional manufacturing equipment, we used a Formlabs 3D printer with SLA technology. You can have working prototypes with detailed aesthetics, the right tolerances, and other things that are impossible to have with FDM. All the parts are easy to finish and paint. There are no layers on the parts, so you can finish them easily without using a lot of sandpaper. The results we obtained with this printer have been impressive," said Petrella.
The final design consists of a cap and the bottle itself. The cap is composed of five plastic parts, the internal electronics, and a battery. The designers used Black Resin for the cap, while they printed the bottle in Clear Resin.
Prototyping the Clear Bottle
Prototyping clear parts can be very complicated as most desktop 3D printers cannot produce clear parts, while traditional tools take a long time and require expensive tooling. 
SLA 3D printing is great for producing parts requiring translucency. Formlabs customers have used Clear Resin to create an entirely optically clear lens for a fully 3D printed camera, tiles for a Fresnel lens installation in Times Square, light pipes, millifluidic devices, and more.
"One of the more complex steps in the creation of the prototype was the transparent bottle.  Using the Formlabs Clear Resin and a long and precise post-production process, we managed to obtain transparency equal to that of a mass-produced part through injection molding. The result is impressive and almost impossible to distinguish from a final product," said Iannini.
"The most difficult process was to have the surface of the printed part totally smooth because that's the only way to have a completely clear bottle. We used different grit sandpapers to get a smooth surface finish. Then, we used soap to remove the grease from the parts and increase transparency. At last, we finished the bottle with polyurethane spray. Overall it took one or one and a half hours to create only one bottle," said Petrella.
Moving Towards Production
Like with their previous products, the designers now turned to crowdfunding to acquire funds that would cover the costs of the first batch of the final product. 
"The hard part with moving to production is always the molds, they're the most expensive part," said Iannini.
From size and fit testing to blending prototyping and production: find out how successful companies leverage rapid prototyping in product development. Curious to see the quality firsthand? Order a 3D printed sample part to your office.