A Stiff and Pliable Material Now Certified For Skin Contact: Tough 1500 Resin
We're excited to share that Tough 1500 Resin has been evaluated for skin contact safety in accordance with ISO 10993-1, and has passed the requirements for the following endpoints:
| ISO Standard | Description |
| --- | --- |
| ISO 10993-5 | Not cytotoxic |
| ISO 10993-10 | Not an irritant |
| ISO 10993-10 | Not a sensitizer |
Paired with Tough 1500 Resin's stiff and pliable performance, these test results make Tough 1500 Resin ideal for extended skin contact applications such as wearables, personal protective equipment, and other consumer goods.
Differentiating Between Formlabs' Biocompatible Materials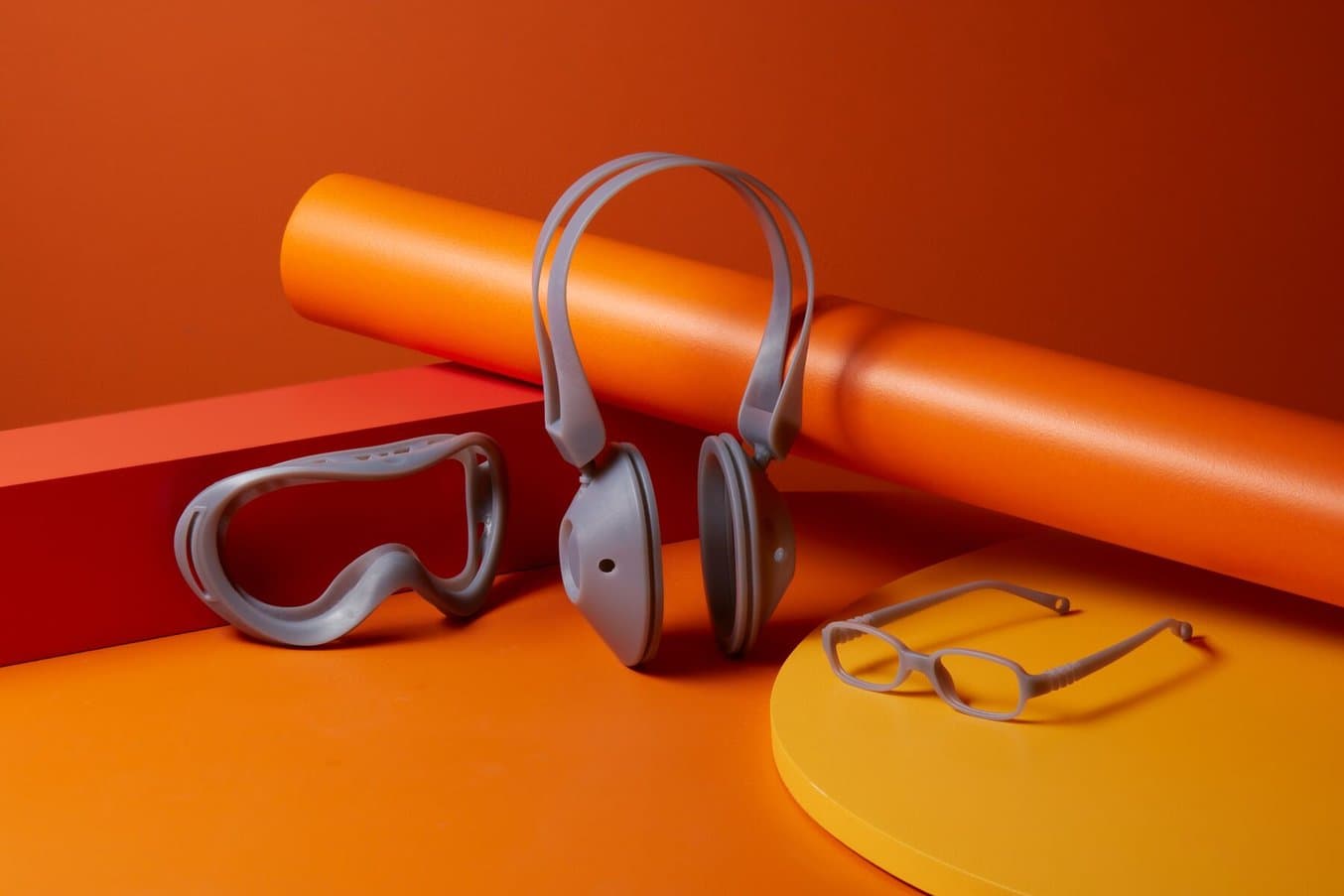 Although the ISO standards and descriptions of body-contact safety are the same for Tough 1500 Resin and our Dental and BioMed Resins, the test methods used are different. The relevant test methods for evaluating cytotoxicity, irritation, and sensitization are selected based on application requirements. As our Dental and BioMed Resins can be used in the mouth and in contact with other mucosal membranes, the device use environment, cells the device contacts, and subsequent type of cytotoxicity, irritation, and/or sensitization vary from Tough 1500 Resin use cases (topical skin contact only) and as such are tested differently.
Our Dental Resins and BioMed Resins for clinical use are exclusive to the Form 3B and Form 3BL and are manufactured under ISO 13485 compliance, a rigorous Quality Management System that ensures traceability and strict quality assurance. Comparatively, Tough 1500 Resin is not manufactured under ISO 13485 compliance.
Tough 1500 Resin is a performance-focused material that is more relevant to engineering, manufacturing, design, and education use cases, where performance and safety requirements for the product are determined by the manufacturer. 
Biocompatible Materials in Formlabs' Ecosystem
Tough 1500 Resin is skin-safe according to relevant ISO 10993 testing and will continue to be supported on all Formlabs stereolithography (SLA) 3D printers, the Form 2, Form 3, Form 3B, Form 3L, and Form 3BL. This makes Tough 1500 Resin the first certified skin-safe material available on the Form 3 and Form 3L. 
As Tough 1500 Resin's performance meets many of the requirements for consumer products and wearables production, Formlabs evaluated parts printed with this material for skin contact safety per growing customer requests. Other Engineering and Standard Resins may also pass similar testing, but this has not been evaluated at this time. Manufacturers can choose to conduct these tests independently if the other resins meet their specific application needs. Although we will strive to continue adding value to our existing material portfolios, Formlabs does not guarantee this path for every resin. 
In order to differentiate which of our latest SLA 3D printers will serve your needs, you can use the following framework:
The Form 3B and Form 3BL are advanced desktop 3D printers developed for healthcare. These printers are compatible with all Formlabs materials including materials that meet  regulated ISO 13485 compliance standards required for validated workflows, such as the production of biocompatible end-use medical devices. 

The Form 3 and Form 3L are high-performance, industrial-quality 3D printers compatible with a wide range of performance-based materials for prototyping and production, including materials like Tough 1500 Resin that are useful for performance-based, skin contact applications.
Sample part
Request a Free Sample Part
See and feel Formlabs quality firsthand. We'll ship a free sample part to your office.
Request a Free Sample Part
Biocompatible Workflow
For parts to be certified for skin contact, the recommended Tough 1500 Resin post-processing conditions must be followed without deviation:
After printing, wash with Isopropyl Alcohol (IPA,  ≥ 99%) in a Form Wash for 20 minutes or until clean. Note: Make sure IPA does not include residues from other Engineering or Standard Resins.

After washing, let the part dry for at least 30 minutes. Note: Drying times may vary depending on ambient conditions and part design.

After drying, post-cure your parts in a Form Cure for 60 minutes at 70 °C.
Get Started Today
Formlabs is eager to continue expanding the viability of our materials portfolio and deliver new innovations to the 3D printing market. The latest skin contact safe certification for parts printed with Tough 1500 Resin adds more versatility and continues to further the idea that anyone can make anything.