Meet the Winners of the 2022 Formlabs Impact Award
This October we hosted our fourth annual Formlabs User Summit, where 3D printing innovators, experts, and enthusiasts come together to learn, discuss, and celebrate. The community shared their experiences and inspired the global audience through over 40 virtual sessions in eight different languages. 
During the two-day event, Formlabs' Chief Business Office Luke Winston presented the Formlabs Impact Awards, honoring the achievements of our incredible community for their work in pushing innovation forward.
Impact in Every Industry
In previous years, the Impact Award has been given to a single person or group that has contributed, through 3D printing, to move society forward. In 2019, Impact Award winner Matej Vlasic accepted the trophy during the in-person inaugural User Summit, and celebrated his achievement in designing and 3D printing custom prosthesis solutions for his son. 
During the height of the COVID-19 pandemic, Dr. Summer Decker and Jonathan Ford from University of South Florida and their collaborator Todd Goldstein from Northwell Health received the Impact Award for their work in developing a 3D printed nasal swab, and presenting a solution to the supply chain shortages that crippled anti-pandemic efforts. 
In 2021 Julien Montenero won the Impact Award for his invention of a new prosthetics workflow for breast cancer survivors. These three winners, all in the healthcare field, are exciting examples of the incredible impact that 3D printing can have on our health, and thus our quality of life. Moving forward, we wanted to acknowledge the never-ending possibilities of 3D printing, and the impact that anyone can have, regardless of industry. 
This year in 2022, we opened up the Impact Award to eight different industries, and nominations flooded in. We had the community vote on the winners, and the following standouts have been chosen by the Formlabs User community for their brilliant work in making the world, our products, our experiences, and our lives, truly better.
The Award: Nervous System Does It Again
The art and design collaborative Nervous System has been one of Formlabs most staunch supporters since the beginning, and we couldn't think of a better team to design the Impact Award trophy.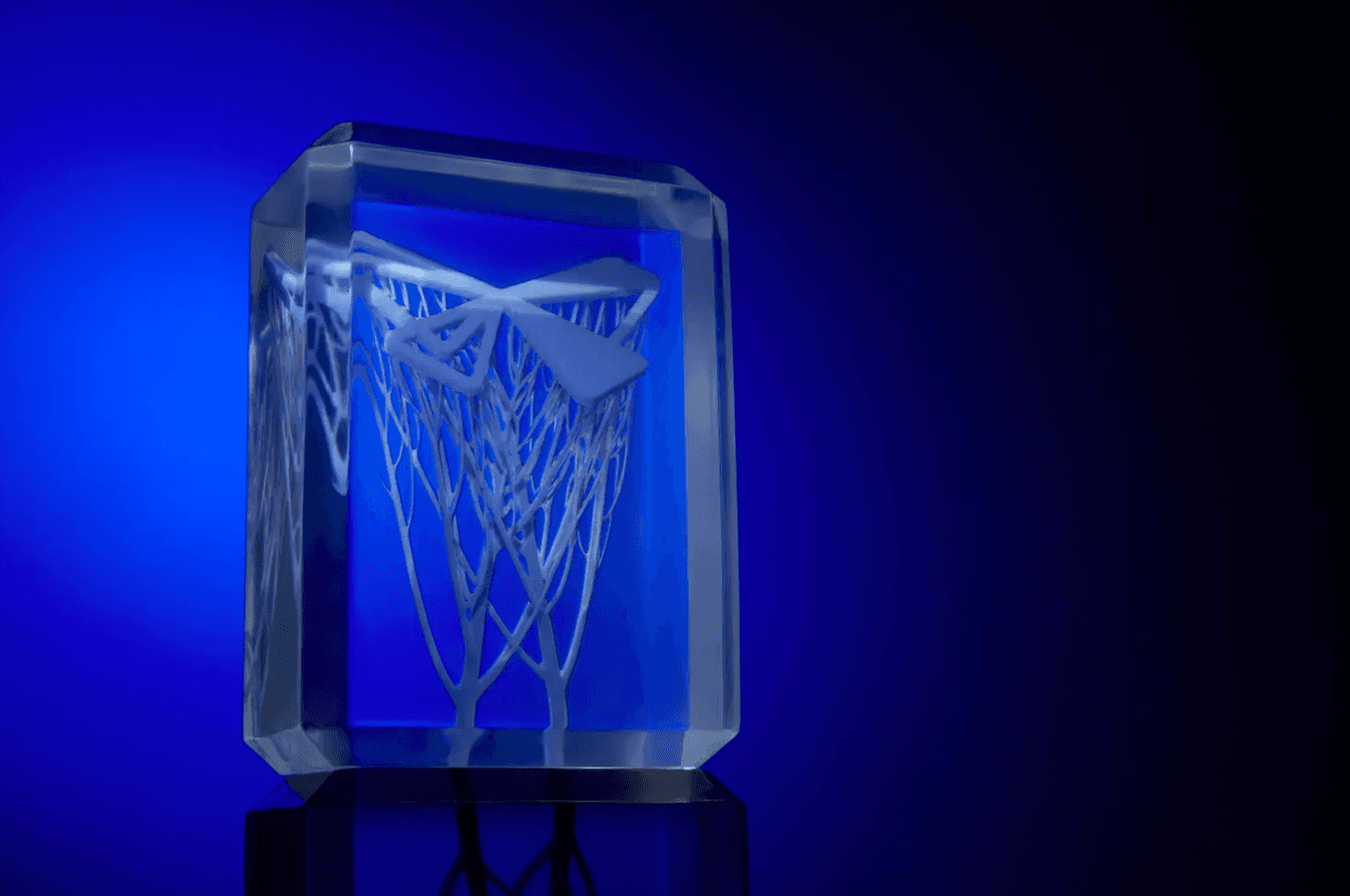 By drawing on their experience in the medical 3D printing space, the team designed a fluidic reimagining of our tried and true butterfly logo. The trophy mimics vascular pathways through the human body and uses fluidics techniques to create a well for dye, encased in a highly polished prism of Clear Resin. The sub-millimeter channels are all thanks to Nervous System's Hyphae generative design system and extensive research into organ functionality, and allow the dye to move and return through the channels after fully permeating the butterfly. Art, science, nature, innovation, and that intangible factor of awe, Nervous System has done it again, and we're thrilled our Impact Awardees will have this to remind them of their incredible achievements.
Manufacturing: Patrick Marr, Hasbro
Not just anyone can "disrupt the design and manufacturing status quo," as Winston put it in his introduction, but the Hasbro team certainly has with their industry-changing Selfie Series project. Leveraging the power of scanning and 3D printing, anyone can see their face, their hair color, and their skin tone, reflected back at them through their favorite superhero. Not only replicating personalized features, but producing them at scale, Hasbro has set the bar high for mass customization. "On behalf of the Hasbro Selfie team, I'm thrilled to accept the Formlabs Impact Award. The partnership has been a labor of love for the last two years," said Marr.
Research and Education: Andrew Bergeron and James Crigger, Canadian Nuclear Laboratories
It's difficult to summarize the impact of researchers and educators, or to pick one from among them. After all, it's a wide-ranging discipline. Research can include environmental sustainability, going to space, or finding the cure to cancer, and educators are shaping what the future will look like as they mold, nurture, and influence the leaders of tomorrow. So choosing one to receive an award was not an easy task.
Nevertheless, our community voted, choosing an Impact Award Winner that focuses on research in a very impact-ful discipline — nuclear power. Andrew Bergeron and James Crigger are scientists at Canadian Nuclear Laboratories, who use the Form 3 in their lab as they optimize nuclear fuel pellet geometry and design. They're working on making nuclear energy, a zero-emissions fuel source, safer and more efficient. "3D printing allows a lot more flexibility in design of parts, and when applying 3D printing nuclear fuel, what that allows us to do is make fuels that are better designed to remove heat, which ultimately makes fuels safer and perform better," says Bergeron. As the world searches for ways to lower carbon emissions, increase transportation efficiency, and develop cleaner methods of power generation, Bergeron and Crigger's work is instrumental in providing solutions. We couldn't be prouder that the Form 3 is a part of it.
Dentistry: Dr. Yurdanur Uçar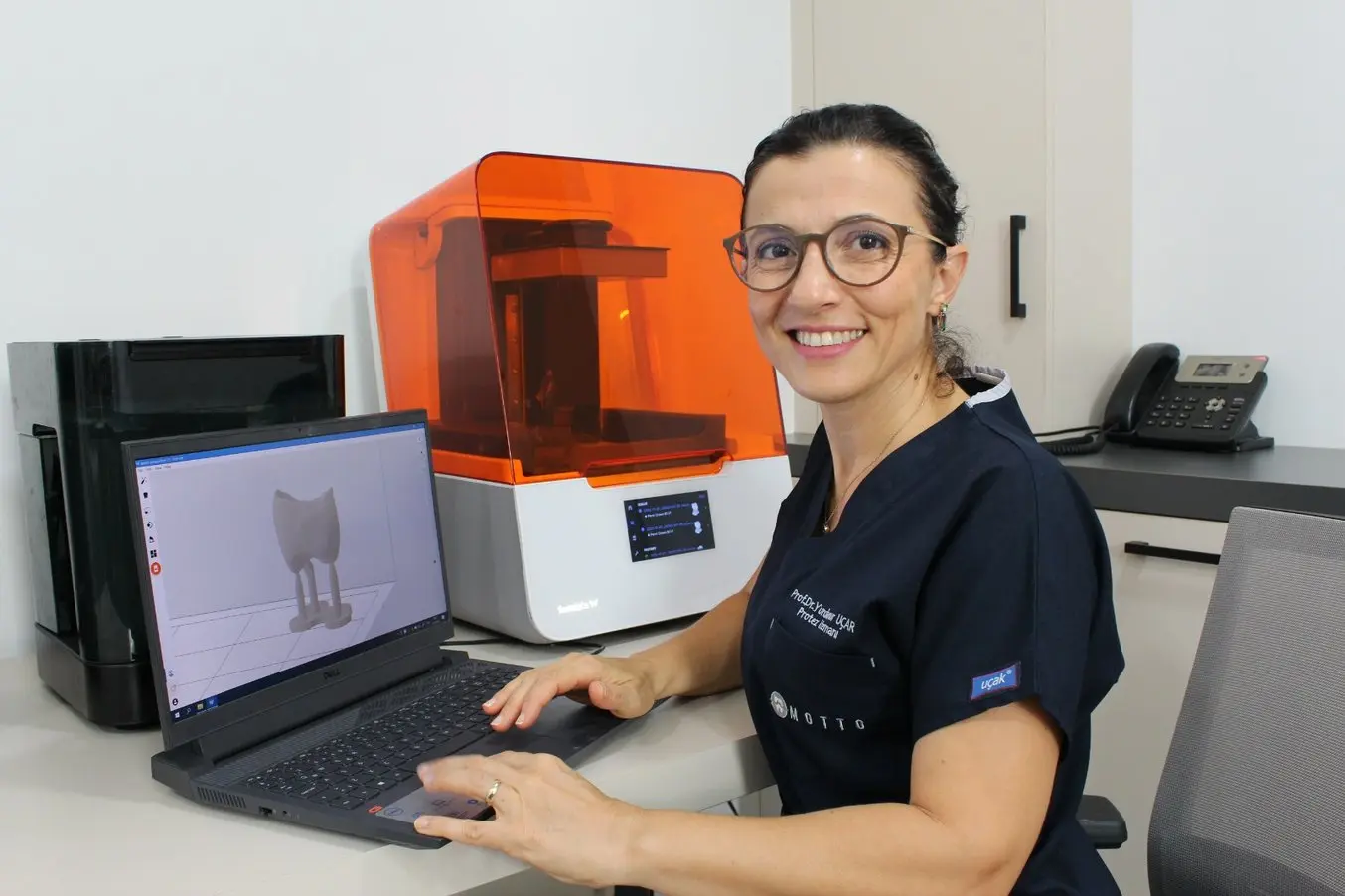 Since the beginning, Formlabs and dental professionals have worked together to provide better, faster, more accessible patient care. Today's 3D printing tools owe much of their success to dentists, researchers, and lab managers; through their commitment to pushing the envelope, printers and materials have gotten better. It's a cycle that we're proud to be a part of, and we're so excited that we get the chance to work with wonderful individuals like prosthodontist, educator, and researcher Dr. Yurdanur Uçar. 
Dr. Uçar has contributed to the dental 3D printing field by conducting extensive research, and both her anecdotal support as well as her clinically conducted and peer-reviewed studies have helped foster the widespread adoption of Formlabs technology and 3D printing technology as a whole in the dental industry. Through her more than two decades of practice and research, Dr. Uçar has never strayed away from her mission to provide a better patient experience. Upon accepting the Formlabs Impact Award, Dr. Uçar said, "I've always loved dentistry, but thanks to 3D printing, I fell in love with my job again, because it helps me serve my patients with a high standard in an increased time period. It's a lot easier to make patients happier thanks to 3D printing." Making people happy with 3D printing? That's a positive impact that we'll always support.
Sustainability: Ferran Navarro, SiOCAST
Conversations around the positive benefits of 3D printing tend to point to the business impacts, like shorter time to market, higher frequency iterative cycles, design freedom, lightweighting, the list goes on. So many of these business impacts share a common ancillary benefit — they're better for the environment. It's when better sustainability practices become better business practices as well that we'll see mass adoption of solutions that can protect, conserve, and improve our environment. 
Siocast is a plastic part manufacturer that has developed a new machine that bridges the gap between injection molding and resin casting. They also developed molding and casting materials that are 100% recyclable, resulting in a zero-waste workflow. In their work, Formlabs prints to make high quality 3D printed masters. During the User Summit, Winston spoke live with Navarro about the Siocast process and what it means to develop a sustainable practice in an industry that has historically produced tons of plastic waste. Navarro detailed the 0% plastic waste technology, and cited the numerous environmental benefits of bringing both 3D printing and molding and casting processes in-house, both for Siocast, and their customers.
Healthcare: Brian Albers, St. Louis Children's Hospital
Though other industries were honored this year as well, elevating innovators in the healthcare space was no less important than in previous years. There is such a diversity of applications, backgrounds, and approaches in the 3D printing healthcare field, but the common thread remains the same — to help people by improving the quality of their care. 
Brian Albers, the 3D printing engineer at St. Louis Children's Hospital, has developed 3D printing protocols for two different children's hospitals, impacting the outcomes for hundreds of patients. As a 3D printing expert in point-of-care deployment, his experience is invaluable to the thousands of hospitals and practitioners looking to implement the benefits of 3D printing in their own facilities. Albers' work has contributed to better outcomes for patients in the operating room as well as helping families deal with trauma through bereavement models. "These models give physicians a better understanding and a platform to practice and plan these procedures. But at the same time, help parents better understand what's going on with their child… better understand what repairs are being done and maybe ease a little bit of that stress in the waiting room," says Albers.
Art and Design: Jenny Wu, LACE by Jenny Wu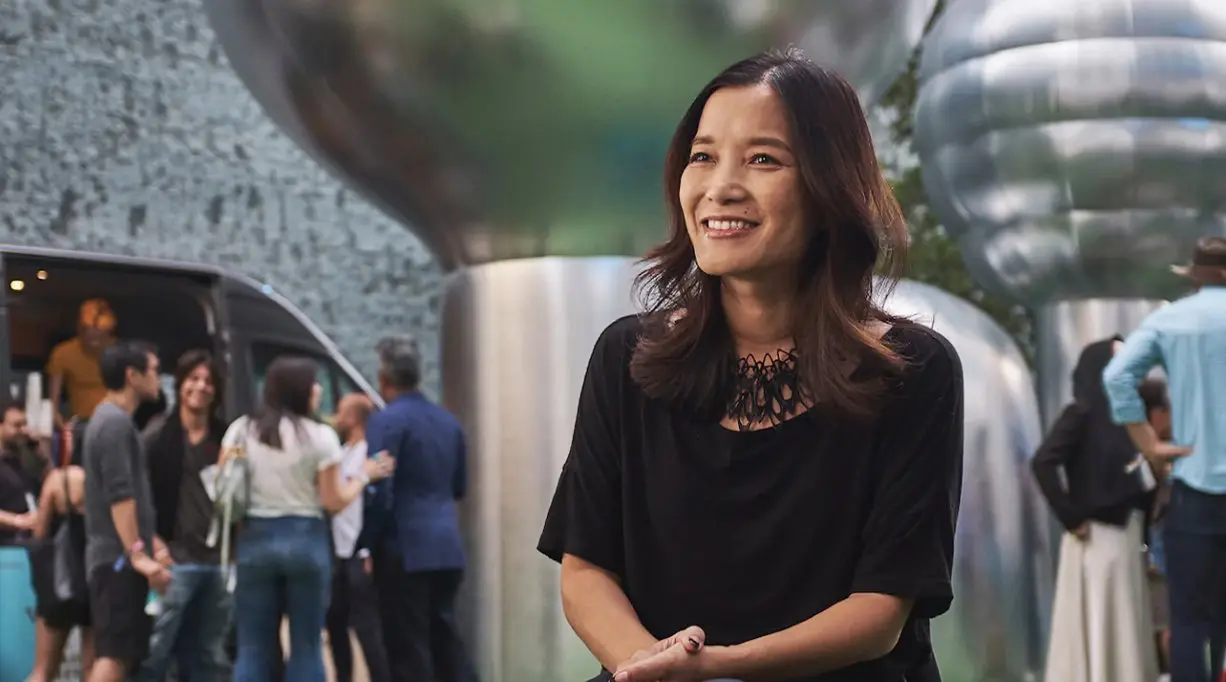 Jenny Wu is the definition of a multi-hyphenate. Architect-designer-founder-business owner-entrepreneur-innovator, the list goes on. 3D printing has informed her work as an architect and partner of OylerWu Collaborative, a multidisciplinary design firm in Los Angeles, and she used that experience to draw on her jewelry design business, Lace by Jenny Wu. Custom jewelry is a niche market, made expensive and inaccessible by the long lead times, high prices, and necessary in-person meetings to determine fit and size. 
Wu's 3D printing and design ability leverages the Fuse 1 SLS printer to make inexpensive try-on models for customers to determine fit, feel, and final design. Once finalized, the pieces are made in casted gold. Historically, fine jewelry has been a gated and private industry. Wu has made it accessible to more consumers by using 3D printing to provide a custom, luxury experience without in-person meetings or expensive iterations. "It made sense to me to experiment with 3D printing for my jewelry brand. What I didn't realize eight years ago was that 3D printing would be a complete game changer. It has shaped the ethos of my brand from design, to production, to marketing," says Wu. 
Product Design and Engineering: Charlie Byrd, M2 Optics
We owe quite a bit to fiber optic technology. It transmits information faster and more clearly than other types of transmission, and is a key foundation of our entire digital infrastructure. When one company can have such a large impact on how fiber optics components are made, manufactured, and distributed, it deserves an Impact Award. Charlie Byrd designs for M2 Optics, a technology company that designs and produces lighter, more precise fiber optic components. They use 3D printing for design and manufacturing, bringing more of their supply chain in-house. For their primary customers, aerospace, defense, and communications manufacturers, shorter timelines and reduced costs can make a massive difference. 
Upon receiving his award, Byrd leaned on the benefits of additive manufacturing to "decrease reliance on supply chains to and create custom solutions in hours or days rather than weeks or months." We have fiber optics to thank for much of the way we live, gather information, share ideas, and work these days, and companies like M2 Optics are improving each of these experiences through 3D printing.
User Achievement: Thinnest Print by Britt Ransom, Carnegie Mellon University
A lot of talk in the 3D printing industry is about tech specifications. How small, how big, what's the particle size, the spot size, how fast, how tall, how much? There are some differing opinions on the answers to these questions, but we do know one thing for certain: Britt Ransom at Carnegie Mellon University is printing some pretty slender stuff. 
Ransom is a sculptor and an associate professor at CMU who leverages environmental data to create digitally manufactured sculptures with references to both natural and manufactured human environments. This combination of influences and inspiration lends itself to 3D printing, and especially resin 3D printing. The immensely complex organic structures of nature are made replicable by advanced software and brought to life by the fluidity of the resin medium. "In particular Formlabs machines allow me to replicate things in nature that other things can't do, and keep scale and materiality somewhat similar….3D printing is a really important part of a larger idea of what it means to capture something, manipulate something and also look at something in our landscape that we can touch, see on the screen, and see in real life. 3D printing allows me to move between those senses and feel the world and see the world" says Ransom.
Looking Forward to Impact in 2023
The 2022 Formlabs User Summit was a truly joyous celebration of our community and the amazing impact that our customers have on the world around them. Whether someone designs jewelry on the Fuse Series or fiber optics on the Form 3L, the User Summit creates a space to share, learn, and collaborate. 
Looking forward is part of our ethos, and the 3D printing industry as a whole; what can we do better, faster, more efficiently? What impact can our community have on the people and world around them? Well, that last one is on you to decide.