Introducing The Form 2D, A New Dimension In Desktop Printing
Go from design to printed image faster and more reliably than ever before with the latest innovative desktop from Formlabs–the Form 2D. After setting the industry standard for laser powered 3D printing, we're excited to explore an entirely new industry with our game-changing 2D printer. 
Less Is More: Eliminating the 3rd Dimension
We've spent the last decade pushing 3D printing technology to new heights and standards of accessibility, affordability, and professional quality. Now, Formlabs is pushing 2D printing technology further than it has ever gone before. Formlabs co-founder and CEO Max Lobovsky says, "Our mission is to make this technology simpler, easier to use.  We are constantly asking ourselves what can we remove from the challenge of using a 3D printer.  And we realized that most of the complexity comes from the 3rd dimension.  If we can remove that, we can revolutionize 3D printing."
The Formlabs engineering team took the technology used in the Form 3+ laser processing unit (LPU) to new heights, creating a print engine that can develop high resolution drawings, photos, and text in minutes.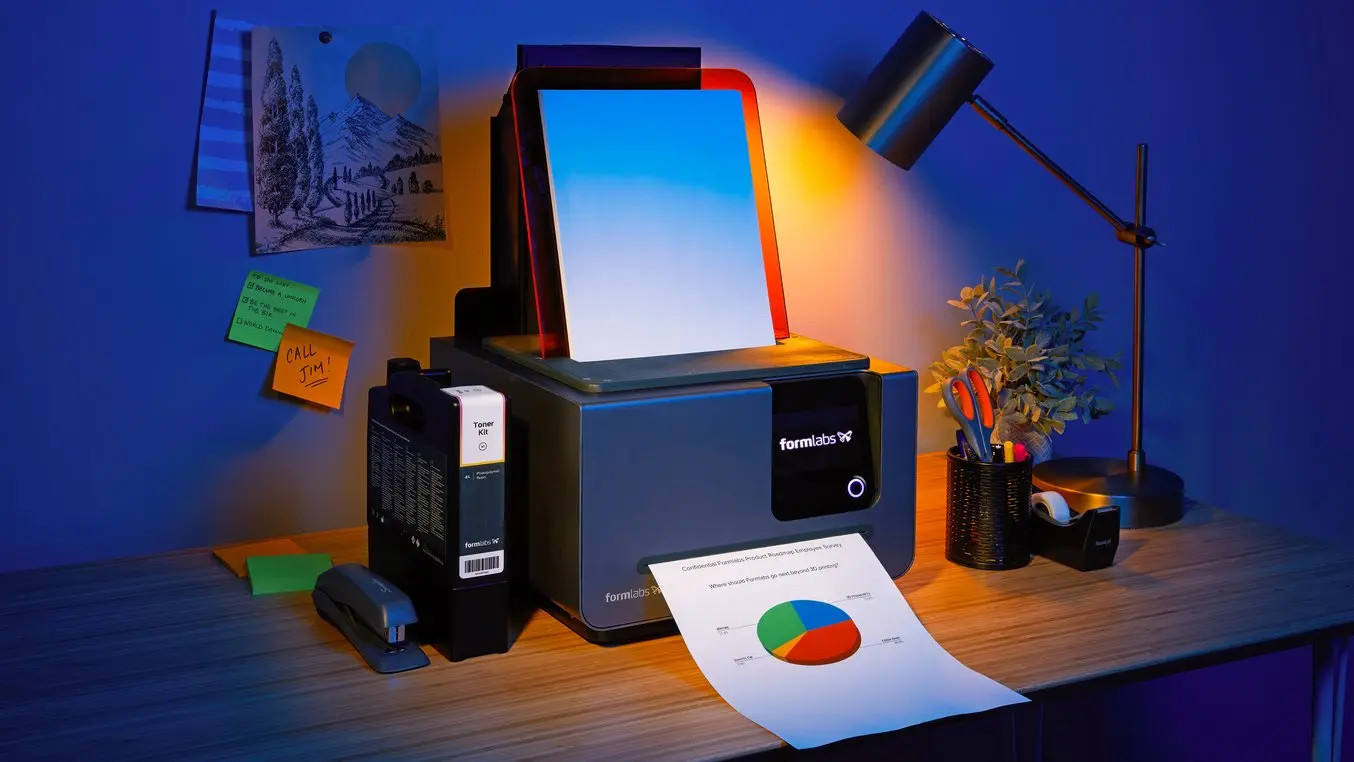 Intuitive Workflow: Bring Your Documents From Digital to Physical
The Form 2D integrates seamlessly into your existing workflow–there is no need for digging around for that thumb drive you had in college, or bringing your SD memory card to the pharmacy. Formlabs' acclaimed print preparation software, PreForm, takes your 3D file and exports easily to the Form 2D, delivering a beautiful rendering of your part on high quality paper. The Form 2D comes equipped with a broad spectrum Toner Kit, taking the success of the Color Kit for our stereolithography line, and delivering a kaleidoscope of colors for your prints. Traditionally, replacing toner cartridges is a time consuming and laborious process, often requiring tools, complicated instruction manuals, and hours of time that is better spent in the design process.  With the Form 2D, you simply use the top-loading slot to replace the toner cartridges, much like replacing a resin cartridge on the Form 3+. 
For customers receiving important documents via email, but longing for the days when losing a piece of paper was both believable and a valid excuse for not meeting a deliverable, the Form 2D is the ideal business solution. Now everyone can print documents, disseminate information through thick binders and folders, and extend the length of your meetings by asking every attendee if they are, literally, on the same page.
In the age of remote work, hybrid workspaces, and interruptions to the daily grind, the Form 2D can be easily moved from location to location, allowing you to print documents wherever you go. And similarly to the Form 3+ and Form 3L, the Remote Printing feature allows you to send documents to the printer from another location, so that when you come into the office, a sheaf of high quality prints awaits you. If multiple people are printing on the same Form 2D, PreForm allows you to add your name to the upper or lower margins, similar to the AP header format you learned in high school. 
The Form 2D is Formlabs' first entry into the two dimensional space, and we couldn't be more excited to reintroduce the joy of seeing your files, flattened and compressed, in a high resolution 2D print. 
Make it this far?…April Fools'! We're going to be staying in the third dimension for the foreseeable future with our Form 3+, Form 3B+, Form 3L, Form 3BL, and Fuse 1 printers. We're excited to see all the innovative products our customers will make, and who knows, there might even be a new paper printer getting made out there already!