The Next Generation of 3D Printed Surgical Instruments
restor3d is on a mission to empower surgeons and healthcare providers who repair and reconstruct the human body. The company has pursued an approach driven by additive manufacturing due to its design freedom and affordability, which offer a path to disrupt traditional medical markets. 
The restor3d team drives innovation in precision surgery by changing the way implants, surgical instruments, and preoperative models are developed and utilized. Traditional instrumentation systems are slow to evolve, have significant upfront costs, and often present complications in the surgical workflow. restor3d leverages 3D printing capabilities to drastically improve surgical care delivery by printing procedure-specific and often patient-specific metal implants and polymer instrumentation.
With a fleet of over 25 Formlabs 3D printers in its production line, restor3D is already printing the next generation of surgical tools. Their products are helping to:
Replace large, expensive surgical trays with single-use, procedure-specific tools.
Dramatically reduce supply chain and sterilization costs for hospitals.
Reduce the need for intraoperative navigation systems via patient-specific instrumentation.
Read on to learn from restor3D's team and surgeons working with their tools how 3D printing is enabling the creation of accessible and truly personalized medical devices. 
Webinar
Proven Uses of Additive Manufacturing by Leading Medical Device Companies
Learn how medical device companies use additive manufacturing over traditional processes in this panel discussion with Enovis Surgical and restor3d.
Watch the Webinar Now
A New Frontier of Surgical Instrumentation
restor3d is comprised of a team of highly skilled biomedical engineers and material scientists who initially focused on 3D printed implants for cervical spine surgeries. In developing these new implants, the team kept running up against a recurring bottleneck: traditionally manufactured stainless steel instrument systems.
Cambre Kelly, Chief Technology Officer, explained the situation, saying, "We were developing an innovative implant that has features that are only achievable with 3D printing, but expecting surgeons to use a very traditional instrument system to deliver the implant. So we realized pretty quickly that evolving the instrument offering alongside the implant innovation was going to be an important differentiator for us."
However, the high cost of traditional instrumentation trays disincentivizes hospitals to customize their workflow, evolve their approach, or try new tactics. 
"Traditional instrument trays are typically machined from stainless steel and cost upwards of $50,000 per tray. As a medical device manufacturer, if you're going to make the investment into buying 10 instrument trays at $50,000 each, you're going to be locked into using those for a really long time. You're really not going to be willing to iterate the design, throw away a tray, and start from scratch or change some seemingly small features," says Kelly.
restor3d has leveraged the power of in-house additive manufacturing and now offers instruments and accompanying trays at an accessible price so that hospitals can be agile and customize treatments cost-effectively. Creating single-use, procedure-specific tools required a truly agile development process, closing the gap between surgeon feedback and product development to an extent not previously attempted. 
"We are uniquely capable of delivering true just-in-time products because of our in-house manufacturing and the ability to quickly tune design and geometry based on feedback from the field. With directly printing single-use instruments, we're able to iterate and revise our designs pretty nimbly," says Kelly.
Unlocking New Clinical Workflows Through Rapid Product Development
Nathan Evans, Senior Vice President of Product Development said, "Surgeons are most comfortable with what they trained with. And if they trained 20 or 30 years ago, this technology might not have been available. We see adoption really start to pivot when surgeons see case reports from some of their peers and see the outcomes that are able to be achieved with technology that they have not yet tried and how it's unlocking new value, new outcomes, new approaches or clinical workflows."
To get a clinical perspective, Formlabs spoke with Dr. Erik Westerlund, a fellowship-trained orthopedic surgeon who specializes in the spine. Dr. Westerlund has been highly impressed with the first-generation anterior cervical discectomy with fusion (ACDF) system created by the restor3d team, saying, "The current development process has been the same for the last 20 years. A company has a new implant and/or instrument system. The company shows up, does some prototyping, and a few days or weeks later there is something to look at. Several weeks later a beta instrument shows up. But now, restor3D isn't turning out a prototype in a few weeks, they're turning out the real instrument in a few days. To me, that completely changes what is possible."
He continued, "It's not just the implants that are important, but the implants and the implant technique. That's what makes a successful procedure. This new approach by restor3d is a systems approach. Using additive manufacturing, there is integrated parity between the implant and the instrument – the ability to change both to create the best outcome for the patient."
Working directly with surgeons has become an indispensable part of how restor3d views the creation of their medical devices. In fields such as orthopedic oncology, every surgery is unique. Unlike normal orthopedic operations where the goal of the surgery is to match the patient with existing implants, cancer causes distinctive bone damage in each patient. restor3d has to work closely to deliver procedure-wide specific tooling, collaborating with surgeons from beginning to end.
"We get feedback from surgeons constantly. 3D printing allows us to quickly iterate on the design to take surgeons' feedback and deliver a new solution quickly."

Nathan Evans, Senior Vice President of Product Development, restor3D
Ben Wesorick, Vice President of Patient Specific Engineering added, saying, "We start with CT scans, sometimes X-rays, and carry them from scans through a planning meeting with a physician and then design all the way through to surgeries. So it's an end-to-end process, starting from patient imaging, working with surgeons along the whole process."
Webinar
Intro to Medical 3D Printing
Join Formlabs for this introduction to learn best practices for medical 3D printing and see the latest Formlabs Medical ecosystem, including multiple new medical-grade products!
Watch the Webinar Now
Planning and Tools for the Perfect Surgery
The planning phase of a complicated surgery is critical. It has become a major part of the value restor3d delivers to surgeons and generally includes the creation of anatomical models and patient-specific cutting guides.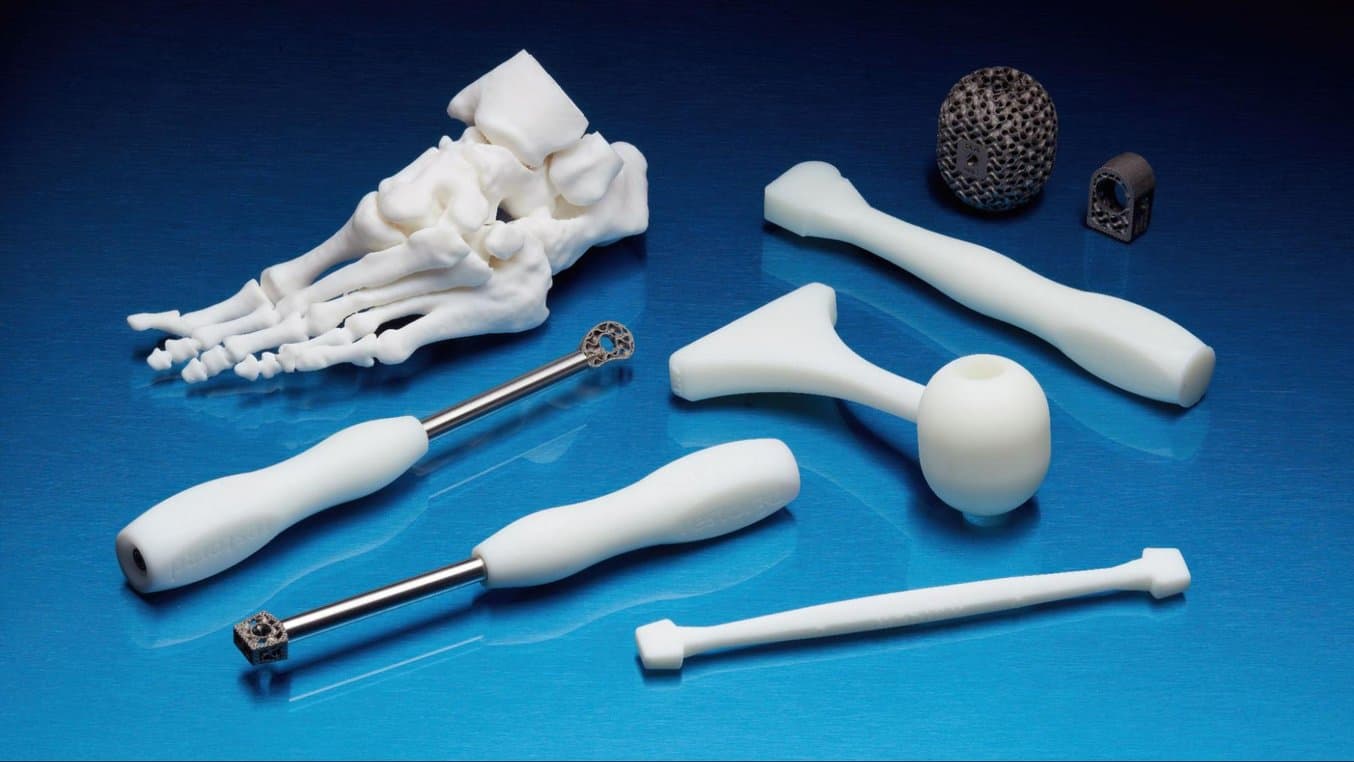 Even for common surgeries that physicians have performed thousands of times before, planning is crucial. Every patient has a unique anatomy, and even if the implant itself is designed perfectly, the process of placing it inside the body is completely individual. The restor3d team recognizes this and provides additional components for the planning process to ensure a successful operation. "We can make a nicely contoured implant that's meant to fit in a specific hole, but if they don't actually have that hole in the right spot, we didn't achieve the final goal and make their plan a reality. So the cutting jigs and instruments that we provide are really the key to making that happen," says Wesorick.
To fully understand the impact restor3d has during the planning process, we spoke with Will Eward, MD, DVM Orthopaedic Surgical Oncologist at Duke Health. When asked what was unique about the preoperative planning experience at restor3d, he said that "One of the nice things is that restor3d is really good about giving us polymeric templates of not only the patient's body, but the implant, the cutting guides, really the whole instrumentation, everything from sleeves for our drill bits to our screw holes." 
The complete package of planning tools enables surgeons to prepare and even practice their approach on anatomical models before working with the patient directly. This preoperative preparation reduces operating time and improves surgeons' confidence, leading to better results and faster recovery.
"Since working with restor3d, I use our intraoperative navigation system much less. The reason for that is how good the cutting guides are. Computer navigation in surgery is great. It's fascinating to see. Medical students love it, but it does add a lot of time to the case. It adds a lot of radiation to the patient. And when we can accomplish the same thing with well-engineered cutting guides, it's good for everyone."

Will Eward, MD, DVM Orthopaedic Surgical Oncologist at Duke Health
How Formlabs Supports restor3d's Approach
To create such detailed and customized preoperative planning kits, restord3d relies on their in-house 3D printing fleet. The range of materials available, the accuracy of the printers, and their ability to respond to surgeons' requests on demand make it possible to deliver such a customized product so quickly. 
"In most of our cases, we'll provide between one and three metal implants and between six and eight Formlabs components. So the Formlabs instruments are really central to the completion of the case and most of what we're doing."

Ben Wesorick, Vice President of Patient Specific Engineering
Powerful Materials
restor3d's surgical tools combine metal and polymer parts, created to replace the fully stainless steel instruments many surgeons have used for their entire careers. Their engineering team assesses the range of materials in order to find a polymer that could handle threading and would stand up to use during the surgical procedure after either gamma or steam sterilization. 
Formlabs offers a library of 30+ materials, including a wide range of biocompatible materials for healthcare professionals. Wesorick felt that the performance of advanced resin materials was impressive, "The reason that we like Formlabs resin materials is their inter-operative characteristics. Primarily, they're tough. They allow us to print what we want without too much concern about material thinning or breaking. We've actually seen these be pretty resistant for things like impactors and cutting tools and drilling guides. So they really provide surgeons with pretty good tactile feedback. I would say the other thing that these materials do for us really well is that they're flexible from a design perspective."
The restord3d team puts every instrument and implant through rigorous tests to ensure that the product delivered to surgeons is of the highest quality and can be used even in high-stress environments. They conduct bending, impaction, torque, and simulated clinical use tests with surgeons to make sure their tools will withstand the requirements and loading conditions inside an operating room. 
Sample part
Request a Free Sample Part
See and feel the Formlabs quality firsthand. We'll ship a free sample part to your office.
Request a Free Sample Part
Design Flexibility
3D printing some components in resin allows the restor3d team to try new orientations, materials, and types of design features.  
"What we really like about using Formlabs printers is the flexibility that they provide us on the design end. With Formlabs we find that we're almost always able to fulfill a surgeon's request, which we don't find in some of the other printing modalities that we use," says Wesorick.
When designing titanium implants, there are lots of design for additive manufacturing (DfAM) considerations that must be taken into account, like plate orientation and all the things that come with 3D printing.
"Compared to titanium 3D printing, Formlabs is a lot more generous and allows us to have flexibility. So one of the things that's nice is if we can't provide something in metal, odds are that we're able to provide it in resin and get the function that we need due to that flexibility of the printing process."

Ben Wesorick, Vice President of Patient Specific Engineering
Biocompatibility
To further reduce costs and time to market on the development side, Formlabs offers medical device firms multiple biocompatible SLA and SLS materials. Formlabs BioMed Resins are designed for healthcare professionals who are seeking medical-grade materials for a wide range of applications where performance and biocompatibility are critical. These materials are developed and manufactured in an ISO 13485-certified facility and are compatible with common disinfection and sterilization methods.
Evans explained the benefits of working with a material supplier with a robust quality management system in place, saying, "When a supplier has approvals and testing already in place for biocompatibility, for example, ISO 10993 testing, that is really helpful, particularly for an early stage startup, when you might be looking to avoid the super long lead times associated with that testing as well as all the costs. Having that testing in place does allow us to get to market faster, and also allows us to justify only doing certain endpoints and not the full gamut of testing. That is a vital thing with Formlabs."
Easy to Scale
restor3D has an impressive lineup of metal 3D printers, creating tooling and implants in cobalt, chrome, and titanium alloys. Alongside room-sized metal printers, the company hosts a print production facility of Form 3B+'s and other polymer machines. The restor3d team relies on their fleet of Formlabs printers for both single-use instruments as well as patient-specific customized devices. 
Formlabs printers are an ideal solution for restor3d's unique workflow due to their scalability, ease of use, and range of material options. One advantage is the ability to scale on their own terms, adding additional printers to their 3D printing fleet over time. The plug-and-play nature of the Form 3B+ allows restor3d to grow their manufacturing capabilities with demand, instead of having to invest a massive amount of capital upfront with a long return on investment. Second, the flexibility that comes with using the same machine and material during the development process allows the team to move machines into production when needed.
Kelly put it succinctly, saying "The two reasons we have stuck with Formlabs are production flexibility and the ability to incrementally scale. The investment into a Formlabs printer is significantly less than investing half a million dollars to buy one metal printer. So over time, we can continue to tack on to our Formlabs fleet as we need to scale incrementally, and do so in a sustainable way that doesn't require a huge capital investment upfront."
Next Up: Addressing Problems All Across the Body
restor3D has established itself as a leader in using 3D printing to bring innovation to the operating room. Their industry-leading preoperative planning kit, highly accurate and innovative implants, and end-to-end solution provided by the instrumentation kit have helped hospitals reduce costs and improve patients' experience.

Kelly thinks the company is just getting started — they are starting to make plans for expansion into foot and ankle operations as well as different spinal surgeries. Additional orthopedic applications such as trauma, upper extremity, and sports medicine aren't far behind. "We're really positioning ourselves to have the infrastructure and the foundational technology platforms to support addressing problems all across the body and with multiple segments of medicine."

The company recently moved into a massive, brand-new office complex to help them scale the company and their production to the next level. The new office will support growth in their current product lines and allow additional specialties to be developed.

Wesorick concluded by saying, "There are a handful of companies that are using 3D printing and orthopedics, but the number of firms doing it completely insourced is very, very low. And what insourcing allows us to do is improve and be the fastest product on the market. That's obviously easier said than done, but moving into the new facility really is going to allow us to build out that vision of taking everything from either resin or powder to finished part here in Durham, North Carolina."

Learn more about how 3D printing can be used for medical applications and explore Formlabs' range of biocompatible medical materials.