Designing the Wheelchair of The Future With 3D Printing
"I've even given up on going to the grocery store just two blocks away."
When Satoshi Sugie, founder of WHILL, heard this phrase, he knew people deserved better. Today, he leads a wheelchair company whose mission is to deliver fun and innovation to pedestrian travel.
Building the next generation of wheelchairs wasn't easy. WHILL's engineers turned to Formlabs printers and a generative design process to push what the team could accomplish, resulting in a truly unique product.
Read on to hear from Mr. Yasuhiro Hirata on the development of the WHILL wheelchair.
3D Printing to Accelerate Development
Startups face an array of problems, chief among them time and cost pressure. This is especially true for hardware startups (we would know!) who are often trying to solve a brand new problem from scratch. One of the true tests of any startup is overcoming unforeseen hurdles, which are potentially expensive and time-consuming. WHILL faced numerous problems due to the complex parts required for their wheelchair, given that low volume part production can be a challenge with traditional manufacturing methods. In order for the company to survive, they had to find a way to reduce the cost of each wheelchair.
The company decided they need to quickly create prototypes for many of the complex wheelchair parts, and so turned to an outsourcing 3D printing firm. WHILL quickly learned the cost and speed limitations to outsourcing 3D printing; it wasn't feasible for the team in the long-term. Mr. Hirata knew WHILL couldn't complete the project without physical prototypes, so they decided to bring the 3D printing in-house.
"If you are not sure which shape is better, make it and verify it"
Mr. Hirata wasn't impressed with some older fused filament fabrication (FFF) printers he had previously used. But he had been following the success of Formlabs, and decided to invest in one of our machines. WHILL introduced the first Formlabs printer to the team in 2016. Since then, it has been used for various projects and achieved exactly what the team needed: quick, high quality prototypes. Part prototypes directly touched by users are the most important. For such prototypes, he prints need to look and feel realistic, not cheap and hollow. In a Formlabs SLA printer, Mr. Hirata found exactly what he needed for end-use prototypes: high quality, detailed, and affordable parts.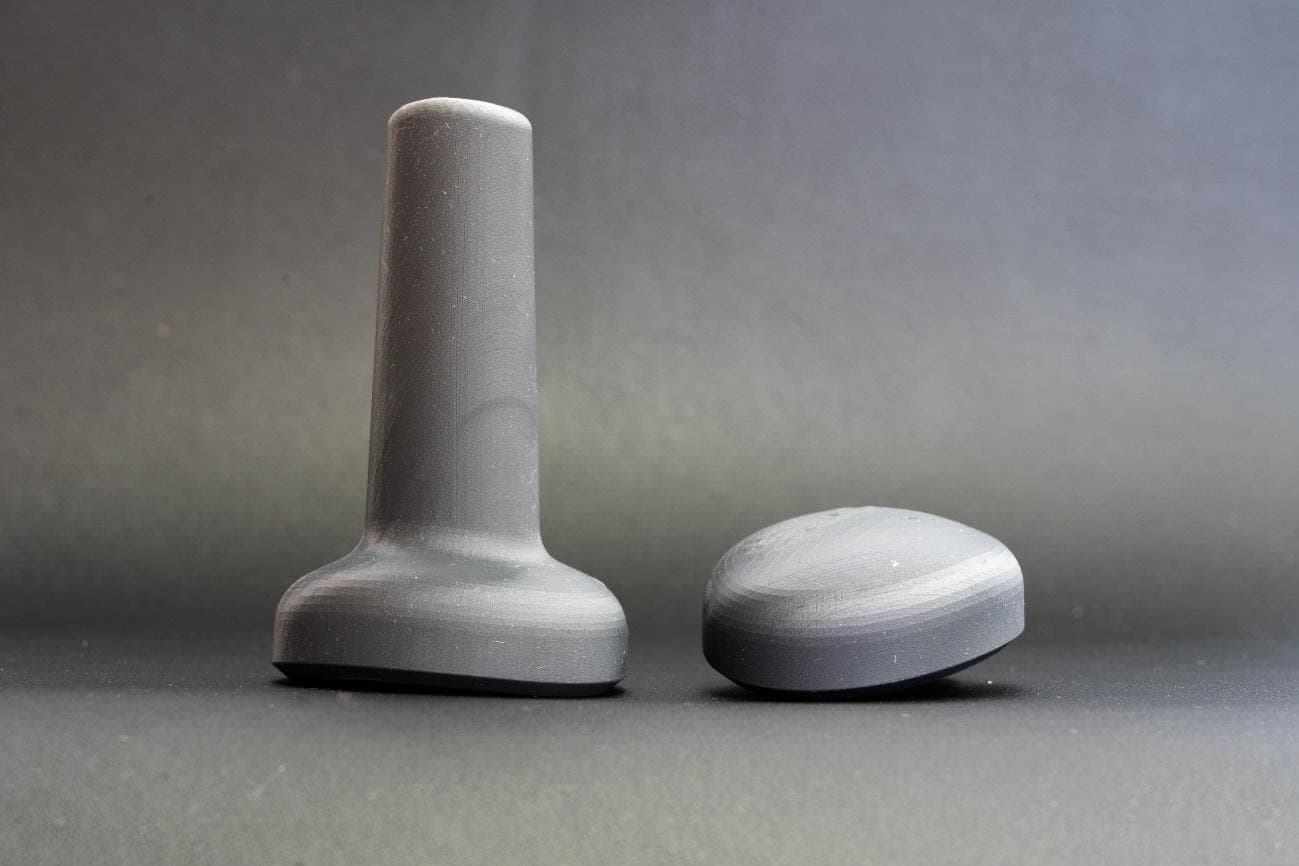 The introduction of a high-definition 3D printer within the WHILL development team was indispensable in creating a final product. When conducting evaluations including tactile sensations, verification is meaningless unless the parts are of at least equal quality to the final-use mass-produced products. WHILL found the Formlabs parts to be an almost perfect stand-in, allowing for both internal and user testing on prototype wheelchairs. 
"We try to make as many prototypes as possible for the parts that users touch, such as controllers, and verify them. If the prototypes are outsourced as in the past, the number of points to manufacture and the opportunities for study are limited due to budget and schedule constraints. With Form 2, there is a Flexible Resin with a tactile sensation close to that of actual mass-produced products, so we can model and verify high-precision prototypes without compromising the number. "

Yasuhiro Hirata
The team used various resins on a single project, showcasing the versatility of a single Formlabs printer. While Flexible Resin was ideal for parts requiring tactile sensation, Clear Resin was used for translucent parts around the wheelchair display, while Tough Resin was used for parts that would undergo a bit more strength testing. Having one machine that can successfully print multiple parts in different materials depending on the use case is a major time and cost saving source for a hardware startup.
"Form 2 is not only accurate, but rarely breaks down. Thanks to this, we created prototypes of multiple variations every day and accumulated verification to contribute to quality improvement." (Hirata)

Yasuhiro Hirata
Prototyping is more than just perfecting a single part. By testing various designs, multiple parts can be optimized and combined to achieve assembly consolidation. WHILL was able to reduce the final manufacturing cost of their wheelchair by decreasing the total number of parts in their product. This was a major breakthrough for the team made possible because of in-house 3D printing and complex generativity designed parts. 
Generative Design
Generative Design is the process of using algorithms to create hundreds, or sometimes thousands, of optimized designs while considering key design goals, functions, space conditions, materials, manufacturing methods, and cost constraints.
The team at WHILLS wanted to create one, solid part for the middle of the wheelchair. They turned to generative design, and were able to analyze multiple designs at once. The issue with one-off complex designs is they can be expensive and not-feasible to build using traditional workflows.
"If you ignore the cost, you can use a light material such as carbon, but it is not realistic. When thinking about the goal of reducing the weight with a realistic material, the idea of trying a generative design came up. We needed to make prototypes of complex shapes in less time, but I think that could only be achieved with 3D printers and resins from Formlabs. "

Yasuhiro Hirata
The new, complex part was first printed in-house using Formlabs' Castable Wax. The team used Autodesk Fusion 360 to create the main wheelchair body part, then prototyped the generative designed part in-house, something that highly impressed the team. The end result: WHILL was able to lighten the wheelchair frame alone by more than 40%.
In-House Prototyping With Formlabs
WHILL is one of many companies that have made incredible products thanks to in-house rapid prototyping. Download our free rapid prototyping e-book to meet six other companies who changed their business after buying a Formlabs printer.