Automotive Supplier Magna Chooses the Form 3L for Prototyping Large Parts
Magna International is a company of entrepreneurs dedicated to delivering new mobility solutions for automakers. With 157,000 employees, their products can be found on most vehicles, and come from 344 manufacturing operations and 93 product development centers in 27 countries.
Robert Esser and Mitchell Wesley work in the advanced product development department at Magna, working within the mirrors divisions to drive the future of automotive innovation. We spoke with them about how they use 3D printing, and why they recently augmented their printing fleet with a Form 3L.
From the Form 3 to the Form 3L
Vehicles are composed of thousands of parts, from tiny sensors to large housing components. Like many automotive companies, Magna International uses 3D printers to help them design and prototype these parts. Over time they expanded their fleet beyond fused deposition modeling (FDM) printers by adding Formlabs stereolithography (SLA) printers, mainly to access the printer's wide range of engineering materials. The Form 3 found use on a multitude of projects, but some parts were just too big to fit on the build platform. For this reason, the team decided to purchase a Form 3L. 
With the Form 3L the team had access to a build platform five times the size of the Form 3, while maintaining access to a family of engineering resins such as Rigid 10K Resin - a glass-filled material designed for precise industrial parts that need to withstand significant load without bending.
The Form 3L is not a replacement to Magna's existing fleet of printers. Instead, the team sees large-format printing as a complement to their current capabilities. The ability to print parts at the same quality as the Form 3, but 5x larger, is going to expand what the team is capable of. And since the Form 3L supports many of the same engineering resins as the Form 3, the team already knows they can create the reliable, sturdy parts that their projects demand. According to  Robert Esser, "sometimes we have four parts in the queue, and all need different resins. Now, we can print across the Form 3 and Form 3L at the same time, with different materials in each printer."
Sliding the Form 3L into their existing Form 3 fleet was easier than expected. "The onboarding was above even the Form 3. There was care and time put into the packaging, it really felt like an industrial standard was put into the entire package" said Robert Esser. The Form 3L uses the same print preparation software, PreForm, as other Formlabs printers, meaning teams already using the Form 3 can easily load up their pre-existing software and start printing. 
"We were also impressed with the aesthetic design of the Form 3L itself. We have customers come through the facility and we like to show off our 3D printing room. From the LED strip lights to the casing that encloses the machine, it gives off a great first impression." - Mitchell Wesley 
The ability to have large parts, but the same surface finish quality as the Form 3, is something the team is looking forward to. The team also paints prints to give looks-like prototypes that extra polish needed to truly invision and bring their automotive parts to life. Robert Esser said that "the materials are so inexpensive compared to other SLA devices, it allows us to affordably prototype parts. On top of costs, the Form 3 and Form 3L were designed to make switching resins easy. A lot easier than other 3D printers we have used in the past."
White Paper
Why Large-Format Printing Matters
Want to learn more about the Form 3L and Form 3BL ecosystem, and how they compare to other methods of creating large prints?
In this free report, we look at how in-house large-format 3D printing with the Form 3L stacks up against other methods of production, chiefly outsourcing and using FDM printers.
Download Now
Learn More About the Form 3L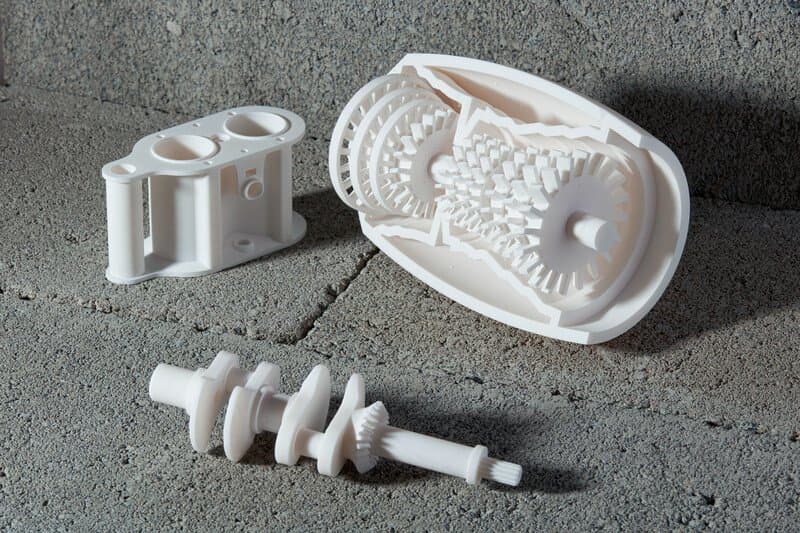 We're excited to see what companies like Magna are capable of producing with large-format 3D printers like the Form 3L. 
Looking to learn more about SLA 3D printing with Formlabs? Request a sample part of one of the materials Magna International is using to build the future of automotive technology. 
Tough 2000 Resin: Choose Tough 2000 Resin for prototyping strong and sturdy parts that should not bend easily.
Rigid 10K Resin: This highly glass-filled resin is the stiffest material in our engineering portfolio. Choose Rigid 10K Resin for precise industrial parts that need to withstand significant load without bending. 
Form 3L Sample: See the full potential of our large format Form 3L printer with the vacuum nozzle printed in our Grey Resin.