iRSM: From Cancer Reconstructive Surgery to COVID-19 Test Swabs
The Institute for Reconstructive Sciences in Medicine (iRSM) was founded 27 years ago and specializes in head and neck reconstructive surgery for cancer patients. An early pioneer in digital workflow technology, they have been using 3D printing for various medical use-cases in order to improve patient outcomes.
When the COVID-19 pandemic hit Canada in 2020, Alberta Health turned to iRSM, a class 1 medical certified institution, to see if they could help. Read on to learn how iRSM has used 3D printing to improve patient outcomes, and how Executive Director Dr. Hameed Khan and team went from producing zero test swabs to ramping production to over 40,000 swabs per week.
3D Printing Better Patient Outcomes: Reconstructive Techniques
Post-cancer surgery recovery can be grueling, as patients need to regain lost functionality. In order to help patients, iRSM first invested in 3D printing in 2008, making them an early adopter of in-house desktop printing. Once iRSM could confidently prove that 3D printing helped improve patient outcomes, the technology was an easy sell across departments. Printers quickly spread to multiple internal groups: the bone conduction hearing clinic, speech-language pathology, facial reconstruction program, jaw reconstruction and rehabilitation, surgical design and simulation.
One prominent example of 3D printing is the ability to equip surgeons with patient-specific solutions such as cutting guides for cancer surgery. These guides reduced both surgery time and the chance of human error. Surgeons used to study 2D scans of a patient to understand where a cancer is growing, and how they can best remove the cancer once a patient is undergoing surgery. With a custom cutting guide, a surgeon reduces both surgery preparation time, and time inside a patient during operation. With less risk and quicker surgery, iRSM sees biocompatible surgical guides printed on a Formlabs printer to be a major opportunity for continued expansion in the coming years. 
"Our decision is driven by patient outcomes, and I think it's easy for labs to justify the investment on those grounds."

Dr. Hameed Khan
Addressing Supply Chain Shortages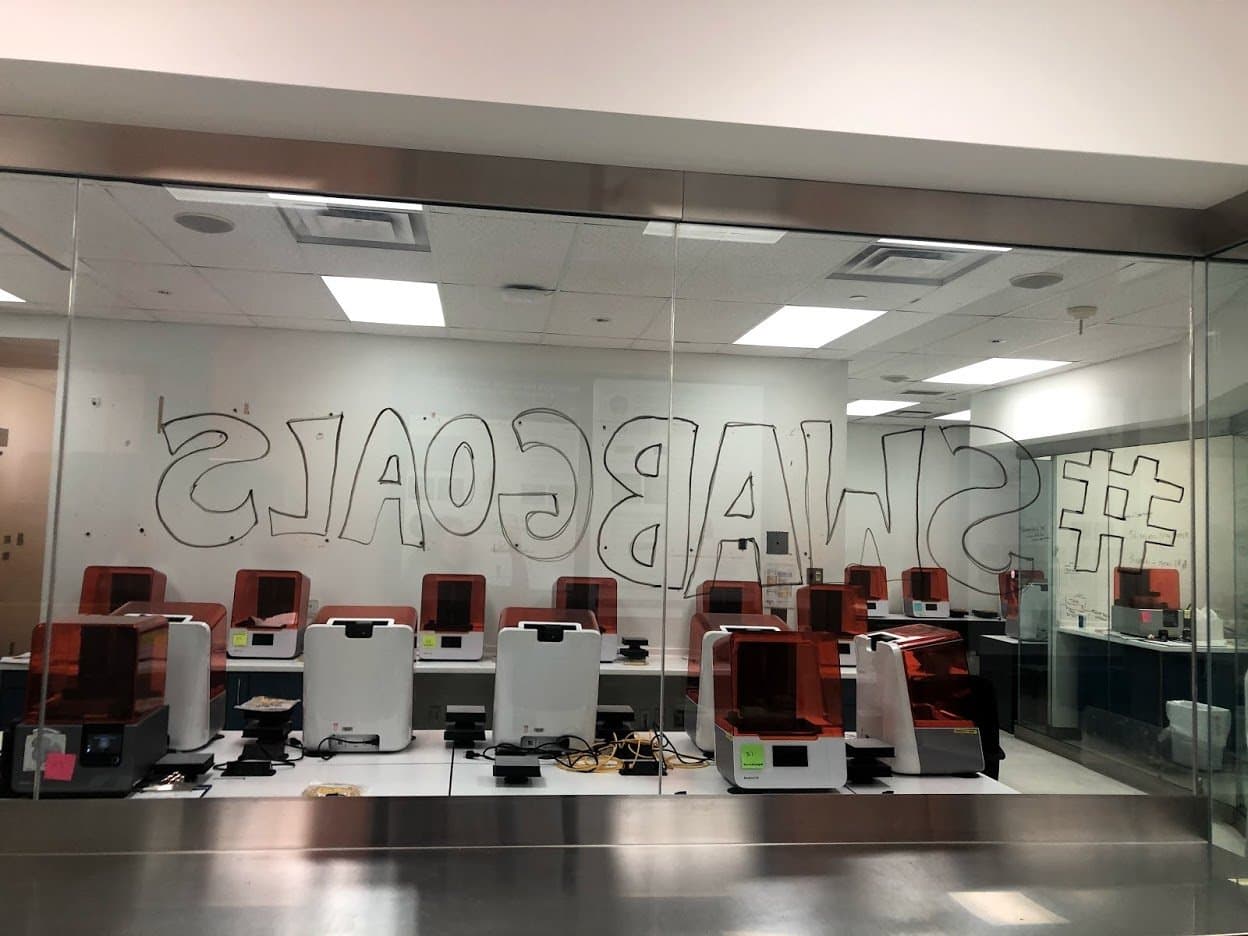 When the COVID-19 pandemic first started, technicians at iRSM anticipated the need to 3D print PPE accessories such as face mask holders and ventilator splitters. But the team soon realized that there was a dire need for test swabs. When it became clear that the Alberta government was unable to meet their daily testing targets, the IRSM team began looking at what solutions were available.
The IRSM team noticed that Formlabs was offering "a start to finish solution for swabs. This included the printer, the biocompatible resin, the STL files." USF Health and Northwell Health had developed the first swab prototypes using Formlabs' 3D printers and biocompatible, autoclavable resins, and the swab files were now available to other institutions.
With this information, and after some validation, iRSM decided to once again leverage in 3D printing, but on a larger scale.
iRSM invested in 22 Form 3 printers in order to massively ramp up their production of 3D printed test swabs for COVID-19 response. After receiving the printer fleet, it took technicians one week to figure out the ideal printing process. The goal: to have printers running 24/7 in order to print 40,000 test swabs per week. This volume means a single printing facility such as iRSM can make a significant contribution to Alberta's swab production total every month. Fears of a second wave of the virus mean even as test case demand slowed over the summer of 2020, the institute can readily begin to stockpile swabs for the fall.
Dr. Khan felt the set up went smoothly. "We had a few issues here and there, it took about a week to get the new printing fleet established. We wanted to make sure swabs were being printed at all times, so no one machine is sitting idle."
At the start of the COVID-19 outbreak, the provincial government set an ambitious goal for testing 60,000 people per day for COVID-19. "I told the government that, without 3D printing, we are not hitting those targets. In fact, we are getting ready to invest in our printing fleet to expand print capacity even further."
Dr. Khan also sees iRSM contributing to other provinces by printing excess swabs to ship across Canada. "Alberta started sharing its PPE with other parts of Canada that have been hit hard by the virus. Our long-term goal is to print swabs for any providence that needs them." As COVID cases in Canada declined in the summer of 2020, iRSM was able to switch parts of its fleet back to patient care, and away from swab production.
Advice for 3D Printing Investment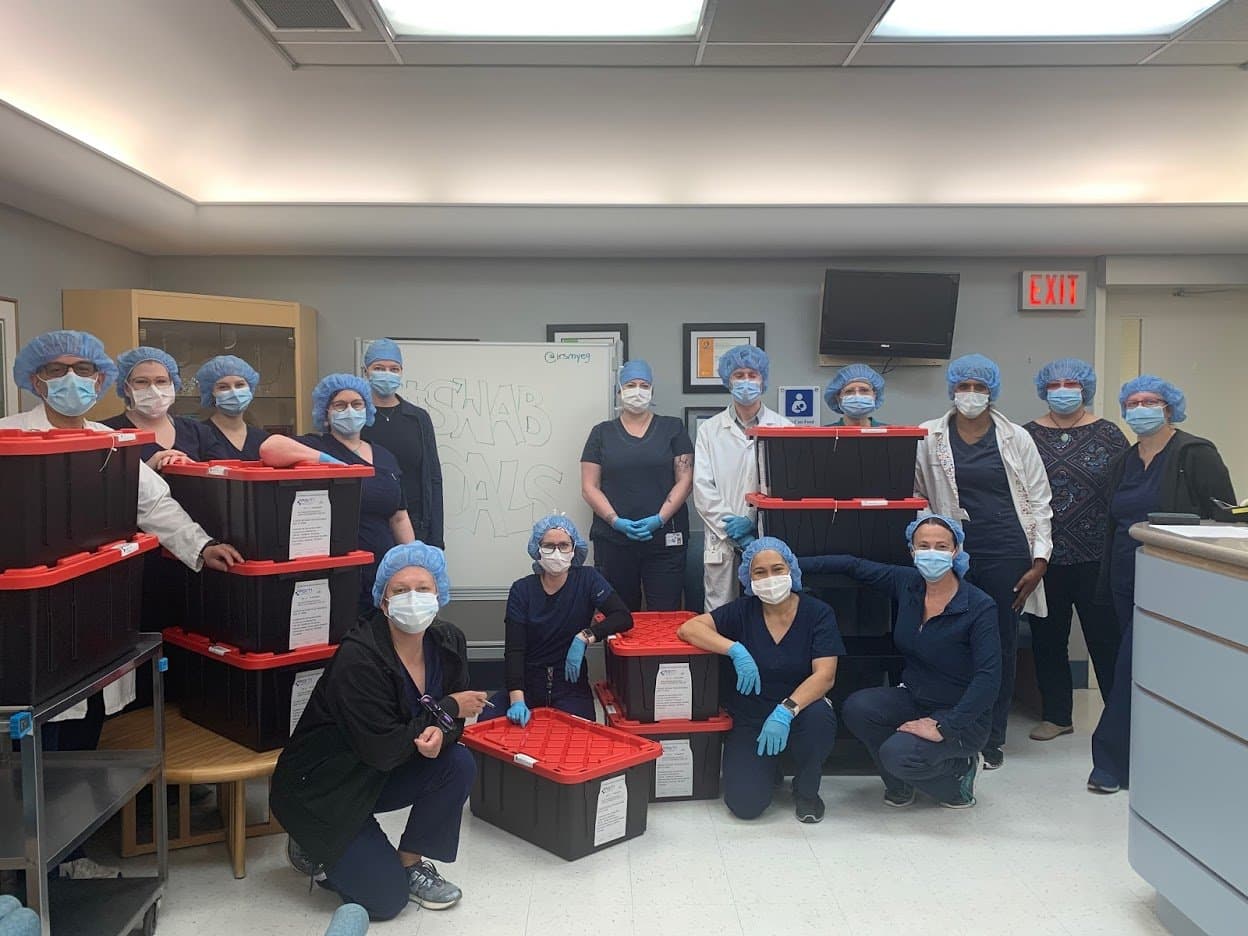 "Get in there and try it! There can be a steep learning curve for the digital design software, but the learning curve is worth it."
iRSM has been a pioneer in 3D printing since they purchased their first printer in 2008. Their early experience with 3D printing assured them that the printers were the right solution to address the COVID-19 pandemic and associated supply chain shortages.
Each hospital and team have their own philosophies and preferences for the best way to approach a surgery. Dr. Khan has seen an increasing number of surgeons adopting 3D printing, as the benefits to patient care become widespread. iRSM has come a long way since their early investment in 2008, but the team feels like the learning curve and years of trial and error paid off. iRSM uses a long list of medical software, which oftentimes presents the biggest challenge for those looking to adopt a digital workflow. Ultimately, Dr. Khan believes the benefits to medical providers will be too significant to ignore, from cutting guides to helping address medical supply chain issues.
Some of the software iRSM uses includes:
Materialise Mimics Innovation Suite
Materialise Proplan CMF
3D Systems Geomagics Freeform
Dentsply Sirona Simplant Solution & Dental Wings coDiagnostiX
Geomagic Control X
Rhinoceros
3 Shape Dental System
 "It's not always plug and play. There is trial and error, but you will find success."
Healthcare organizations such as IRSM continue to drive innovation to help patients overcome their cancer surgery. Formlabs is dedicated to working with organizations such as IRSM, hospitals, health systems, and government agencies around the world on various projects spanning COVID-19 testing, PPE, medical equipment development, and implementing patient specific solutions.