Rigid 10K
Rigid, Strong, Industrial-Grade Prototypes
This highly glass-filled resin is the stiffest material in our engineering portfolio. Choose Rigid 10K Resin for precise industrial parts that need to withstand significant load without bending. Rigid 10K Resin exhibits a smooth matte finish and is highly resistant to heat and chemicals.
Short-run injection mold masters and inserts
Heat resistant and fluid exposed components, jigs, and fixtures
Simulates stiffness of glass and fiber-filled thermoplastics
Modulus
how easily an object will bend or stretch
Tensile Strength
how much load an object can bear before breaking
Thermal and Chemical Resistance
the ability of an object to remain dimensionally stable when exposed to high temperatures and different chemicals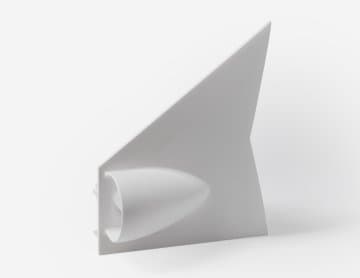 Which Material Is Right for You?
Trying to choose a material within our Rigid family? A good place to start is the tensile modulus which is a measure of stiffness. A higher tensile modulus indicates a stiffer material.
We need parts that not only can handle the temperatures and pressures, but are accurately located in the mold and are not going to bend, deflect, break. And, you know, they need to be able to handle those pressures.
The family of Rigid Resins have many shared applications. Identifying the best material for a specific use case involves understanding your design constraints and the key tradeoffs between the materials.
Rigid 10K Resin
Choose for extremely stiff and strong industrial-grade parts requiring complete rigidity and high stability.
Rigid 4000 Resin
Choose for stiff and strong engineering-grade parts that withstand minimal deflection.
Looking For More Information?
Need more information or help choosing the right material for you? Interested in ordering resin in bulk? We're here to help!
Fireside Chat: Draft Resin and Rigid 10K Resin
From prototype to production, our expanding library of materials supports you at every step of the journey. Together, Draft Resin and Rigid 10K Resin complement the natural progression of product development and expand what is feasible with SLA materials.