BioMed Amber Resin 1 L
RS-F2-BMAM-01
Formlabs is committed to ensuring every medical facility has access to the latest tools to improve care and provide the best patient experience.
BioMed Amber Resin is a strong, stiff material for biocompatible applications requiring short-term skin or mucosal membrane contact. Parts printed with BioMed Amber Resin are compatible with common solvent disinfection and sterilization methods. BioMed Amber Resin is manufactured in our ISO 13485 facility.
BioMed Amber Resin is suitable for strong, rigid parts such as functioning threads.
Supports print resolutions: 100 µm and 50µm
Post-curing is required.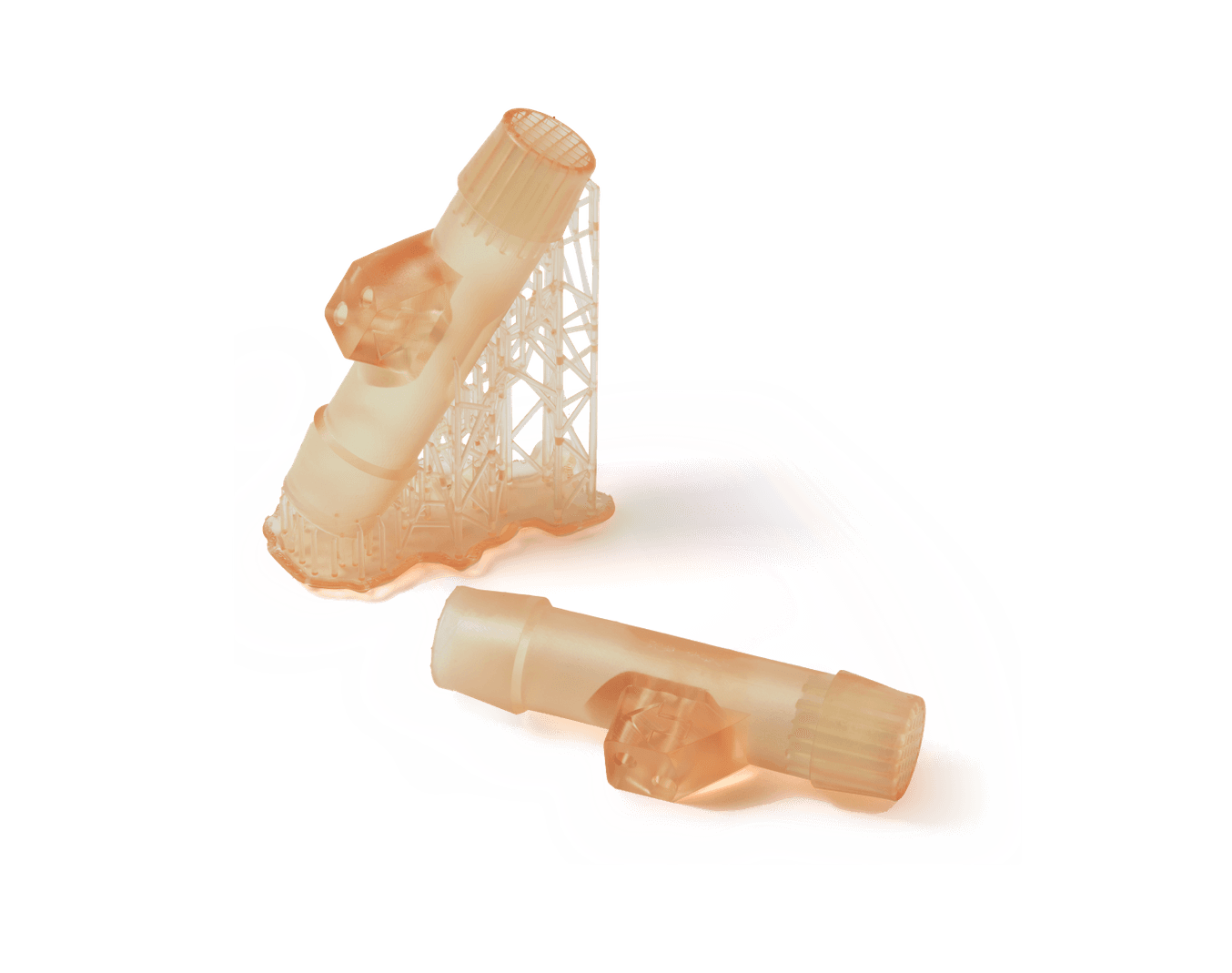 Why Choose BioMed Amber Resin?
Fuel medical innovation using 3D printing and BioMed Amber Resin for producing end-use devices where performance and biocompatibility are critical.
Medical-Grade Material
Leverage a material manufactured within our Quality Management Systems, with strict adherence to ISO 13485.
Biocompatible and Sterilizable Parts
Testing conducted by Formlabs for common use cases is intended to instill confidence that this material is suitable for biocompatible applications.
Semi-Transparent
Visibility through parts allows light to pass through.
Excellent Definition
Produce parts and assemblies with complex designs and geometries.
Applications
Use BioMed Amber Resin for producing rigid, transparent parts for point-of-care and medical manufacturing applications requiring biocompatibility.
Consider BioMed Amber Resin for:
*Unlike Formlabs Dental Resins, no intended uses are provided for BioMed Resins. Material properties may vary based on part design, manufacturing practices and other methods. It is the manufacturer's responsibility and its respective customers and end-users to determine the biocompatibility and performance of all printed parts for their respective application and use. To instill confidence in potential users, Formlabs has tested biocompatibility and sterilization compatibility for common use cases and manufactures BioMed Resins in an ISO 13485 certified facility. We can offer representative examples of what customers have done with our products and the supporting documentation we make freely available. 
Material Properties
Post-cured at 70ºC for 30 min
Ultimate Tensile Strength
73 MPa
Heat Deflection Temp @ 0.45 MPa
78 ºC
1 Material properties may vary based on part geometry, print orientation, print settings, temperature, and disinfection or sterilization methods used.
2 Data for post-cured samples were measured on Type IV tensile bars printed on a Form 2 and Form 3B (impact and thermal measurements) printers with 100 µm BioMed Amber Resin settings, washed in a Form Wash for 20 minutes in 99% Isopropyl Alcohol, and post-cured at 60°C for 30 minutes in a Form Cure.
3 BioMed Amber Resin was tested at NAMSA World Headquarters, OH, USA.
Form Wash Settings
20 min in IPA or until clean
 
Wash until clean in ≥ 99% IPA. Biocompatible resins must be washed in a dedicated biocompatible IPA bath. They cannot be washed in IPA that is cross-contaminated with other resins.
Form Cure Settings
70 °C (Form 3B+/3BL)
60 °C (Form 2)
Follow the post-curing indications to achieve maximum material properties.