Accelerating Custom Car Part Development: 3D Printing at Ringbrothers
"Custom" is at the core of the Ringbrothers brand. The shop, co-founded by brothers Jim and Mike Ring, has made a name for itself by building award-winning custom cars and producing a line of high-quality, uniquely crafted billet accessories and fiberglass and carbon fiber pieces. 
But creating unique products can be a challenge. Businesses must create novel designs and high-quality parts that set them apart from the competition while also balancing the cost of designing, testing, and manufacturing custom pieces. 
"You're trying to create something new that nobody's seen before and that's getting harder and harder," said Jim Ring. "We really want people to appreciate the Ringbrothers brand and the effort that goes into it and the extra machine time. That's really our goal in everything we do."
Watch the video to learn how Ringbrothers leverages in-house fabrication tools like 3D printing to cost-effectively produce custom parts and hedge against competition.
Over the past year, the Ringbrothers shop has built up its in-house equipment, from 3D printers to CNC mills, to help strengthen their product development and production workflows, counteract competitor copycats, and continue to lead the market. 
Read on to learn:
Strategies for countering the idea of "good enough" and strengthening product development workflows with 3D printing
How and why the shop took steps towards vertical integration
Examples of using 3D printed end-use parts to get products to market faster and increase innovation
The team's biggest challenge yet for 2019
 
Bridging the Gap Between Digital and Physical to Accelerate Development and Innovation
As a product development specialist, Matt Moseman is familiar with the tradeoffs that come with the intent to create highly unique, high-quality parts and the need to keep costs down and move quickly. One of his goals is to help counteract these compromises. 
"It's all about getting products to our customers faster, because it's less of an industry about driving and trying to protect your intellectual property, but being first to market and how you can get there. The best defense is really offense when it comes to any industry like this," Moseman said.
3D printing has been a game changer in unlocking room to experiment with and perfect designs, instead of facing the compromises that come with the commitment of other expensive and time-intensive manufacturing processes.
"Nobody wants to say something's good enough, because you feel it in your stomach. I've already invested x thousand into this tool or in labor to get this far, and I really only want that small change done and nobody's ever going to know. Those compromises can really eat away when you do a large scale project," Moseman said.
"Being able to 3D print, you don't worry about filling a 50 gallon drum full of prints if you had to because you just want to dial in on what you had envisioned, what everybody else envisioned."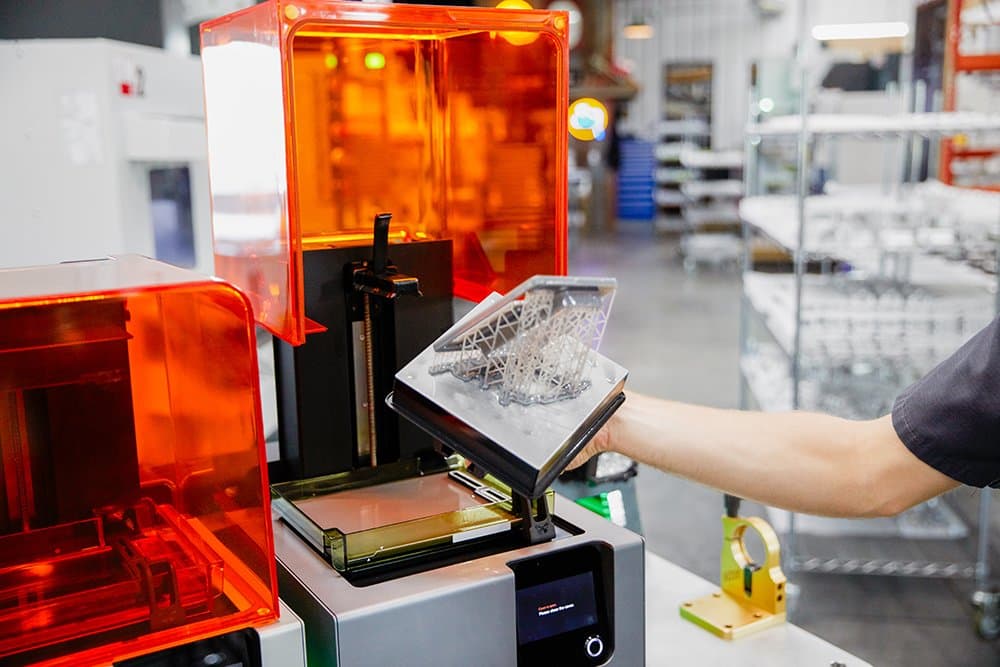 Moseman uses in-house stereolithography (SLA) 3D printing to increase the cycles of iteration between digital design and machined part and shorten the distance between idea and final successful product. 
The technology has helped change the team's product development mindset. The team uses 3D printed parts to test the fit, feel, and function for a lot of their custom parts, ultimately getting them to market faster.
"When it's on the screen in CAD, the scale and perspective really just plays with you. It's part of any product development. If you think you've got it the first time, you're going to be sadly mistaken, because it just never happens that way. I don't care how good of a product brief or notes you create, all the sketches you've done, it still comes down to that scale perspective and subjectivity," Moseman said.
"[With 3D printing,] you're not trying to refine everything right off the bat, you're just trying to get it to the printer right away, so you can see the next change or what you need to move on to first. And then, you just start dialing it in."
"Being able to 3D print, you don't worry about filling a 50 gallon drum full of prints if you had to because you just want to dial in on what you had envisioned, what everybody else envisioned."

Matt Moseman, Ringbrothers Product Development Specialist
"[3D printing has] changed the way that we can get our vehicles or our projects done faster and increase that level of creativity, freeing up people in other areas to maintain the level of detail they want on the pieces that we have to machine or we have to form out of sheet metal. They get their time, so they're not rushed or forced in any way to make compromises. And with the printers, you're able to keep moving," Moseman said.
Vertical Integration: Bringing Tech In-House to Stay Ahead of the Curve
The Ringbrothers shop today looks much different than it did a few years ago. As industrial equipment becomes more accessible, more and more companies are finding ways to raise the bar in speed to market and innovation. 
One way Ringbrothers continues to stay ahead is vertical integration. Moseman has helped lead the charge on bringing in more technology in-house.
"The goal is to be able to serve our customers better and hedge against how we're seeing the industry change, because it's becoming far more common for people to be able to buy the three-axis vertical mills and introduce machining into their shops," Moseman said. 
The team started with bringing their first CNC mill in-house. From there, after seeing the impact of in-house machining on creating new products, they built up momentum for vertically integrating more tech and finding new ways to enhance the speed and creativity of the team. 
"Previously everything was outsourced; everything was contracted out for manufacturing, engineering, and all the design. While we still do work with a lot of contract designers, engineers, and machinists, but the more we can bring in-house the better we are, especially with the 3D printers, all our CNCs, and we're even updating to five-axis machines now," Moseman said. 
"Taking it to another level in the machining is a harder way for people to steal because there's less of those; people shy away from the investment. So you can do things more cost-effectively which helps to beat your competitors. I think the biggest thing in this is to stay current on technology and stay ahead of the curve."
"You can do things more cost-effectively which helps to beat your competitors. I think the biggest thing in this is to stay current on technology and stay ahead of the curve."

Matt Moseman, Ringbrothers Product Development Specialist
In terms of weighing decisions for what technology to bring in-house when, one of the considerations is balancing investments with tech maturity.
"As far as innovation goes for me, it's weighing if the product that's out there today is ready yet. Like metal 3D printing, I mean I'd love to have them, but I don't personally feel like it's there at a reasonable enough price for somebody at our size. It's definitely on our radar in the future, but it's just not in our future right now because we just financially can't swing that," Mike Ring said.
While metal 3D printing is in the distance, the team brought stereolithography 3D printing in-house as a prototyping tool to iterate faster and more cost-effectively. Since adopting the technology, they've found ways to use 3D printing to push the quality and creativity of their work with end-use parts.  
Taking 3D Printing to the Next Level With End-Use Parts
While in-house 3D printing started as a tool for expediting prototyping, the team quickly saw opportunities for using 3D prints in other ways.
"The industrial design aspect of trying to get the visual—that's what really the printer started as. But, as you start using them, you realize this material is actually tougher than you expected and holds a lot better properties. Why can't we make pieces that are going to live on that vehicle forever that came off a printer?" Moseman said.

For a mirror project, the team used 3D printed parts as part of the final assembly; the part acted as a permanent assembly fixture bonded inside a carbon shell that additional parts are bolted onto.
"Had we machined that part, it would have been really cost prohibitive," Moseman said.
In another case, the team used Formlabs Castable Wax Resin, to create an emblem for a custom car project. 
"We found the opportunity to make an emblem that wasn't really suited to be machined out of aluminum. It could have been done, but by the time you chrome that and match it to the rest of the exterior of the vehicle, a lot of the detail would have been lost in that emblem. And, knowing the customer and knowing the level of what he really wants in the vehicle, we just knew he wouldn't have been happy," Moseman said.
"That next level detail wouldn't have been possible had we not been able to 3D print the wax and have [our local jeweler] cast it in-house."
Ringbrothers' Greatest Challenge Yet: A Fully Digital Car for SEMA 2019
At the 2018 SEMA show, the world's premier event for automotive specialty products, the Ringbrothers team revealed a custom 1971 Chevy K5 Blazer, which included unique features from their catalog of custom parts prototyped with 3D printing. In 2019, they have even bigger plans.
"I think everybody's going to be excited when they see what's in store, because we're really going to be trying to push the envelope for 2019," said Jim Ring. "It's going to be a completely digital car." 
"To get to that, it was tough to accept that we had to take a slower year to kind of build up, get all that in the works. But then, it also goes back to getting the architecture of the rest of the business ready for that. I've been focusing with the team that we have and really bringing all the products that we have under our roof and streamlining. We've got a lot of work ahead of us."
Learn more about the 3D printers and materials that have helped push Ringbrothers to the next level. Start by requesting a free sample part of any Formlabs material printed on our industry-leading SLA 3D printers.
Request a Sample 3D Printed Part